Brie Larson on Self-Care, Scent, and Channeling the Confidence of Her Role in Captain Marvel
With work on pause, Brie Larson decided to start a YouTube channel back in July as a way to express herself and talk about important issues. In the four short months she's been creating videos, Larson has broached topics from Animal Crossing to social justice, made a vegetarian Crunch Wrap Supreme with a two-foot zucchini from her garden, and explored 39 ways to calm down — something we could all use this year.
Although 2020 is a slow year for films (her next project is Captain Marvel II, where she plays the lead, and is in preproduction but isn't scheduled to come out until 2022), Larson has been busy with a new type of role — this time in the beauty industry. The Japanese beauty brand Decorté Cosmetics announced Larson as its new muse for its 50th anniversary and its "Embrace Your True Beauty" campaign. "I just love the products," Larson told POPSUGAR of her new partnership. "There's a sense of ritual to them, but it's not like it's like a multistep process. I'm still simple at the end of the day; I only like to use a couple of things."
Ahead, Larson shares more of those out-of-the-box ways she's learned to calm her nerves, how her relationship with beauty has changed in 2020, and the movie role that has forever changed her life and self-confidence.
The Unexpected Self-Care Activity Brie Larson Has Fallen in Love With
Larson's YouTube channel is so relatable, it's as if you're watching videos made by a close friend or your favorite vlogger, not an actress who stars in one of the most popular film franchises of all time. With stress levels at a high, Larson's channel offers a bit of reprieve. In the video mentioned prior where she put 39 different relaxation methods to the test, she tried everything from taking a long bath to playing music and jade rolling. Most of the methods she tried were your run-of-the-mill self-care activities, but there were a few unexpected activities that even she was surprised by.
"I tried watercolor, which I had never tried before," Larson said. "I'm competitive, so I was pretty sure I was going to find a way to make it a stressful experience, but it was really amazing." She discovered this new hobby on a particularly busy day when she had back-to-back phone calls and opted to take them outside while she painted instead of sitting indoors.
Most of all, what she's learned is that taking time for yourself doesn't require some grand gesture. "The thing for me now has been learning how to incorporate it, even into the small moments of my day."
How Her YouTube Channel Pushed Her to Become Her Own Glam Team
The theme of 2020 for Larson has been all about self-discovery, and that sentiment expends to her relationship with beauty. The biggest adjustment she's made has been becoming her own glam team.
"Because of the YouTube channel, I've been more regularly applying makeup to myself," Larson said. "In the past, I had makeup artists do it, and then [I'd] wipe it all off and go home. This has been a time for me to learn how to explore it and feel confident."
It's hard to picture Larson anything but confident, but she explained that she didn't always feel this way: "Those first couple of YouTube videos, I was so nervous. Because I was like, 'Oh my gosh, am I good at this?' And I just feel like I've been able to gain confidence with it and have a lot of fun."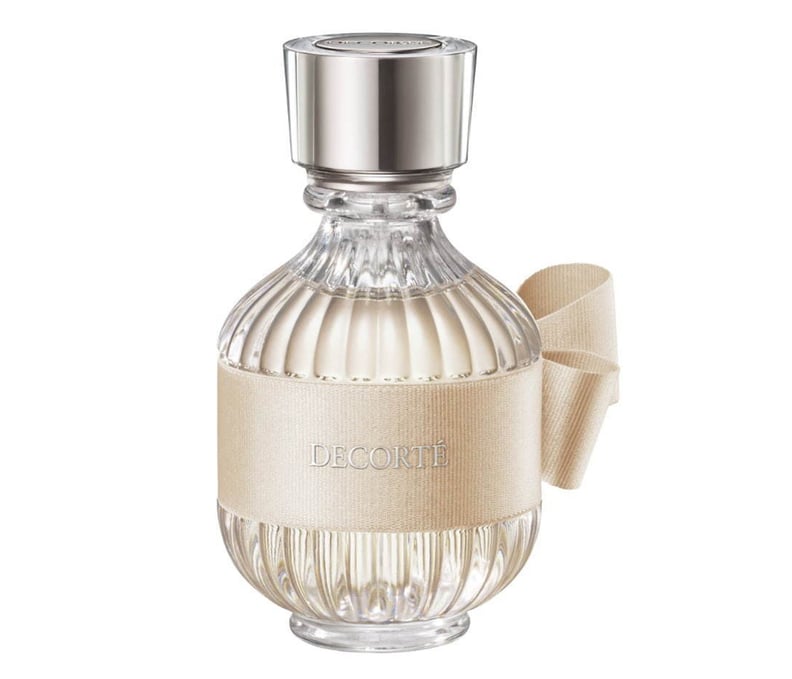 On the Power of Scent and Her Favorite Fragrance From Decorté
Larson has been leaning on the power of scent and aromatherapy as another way to unwind, which is fitting given that she's the face of Decorté's new fragrance collection. "I found out that using scent as a way to transport myself has been absolutely incredible," she said.
From the new four-piece collection, her favorite is the Kimono Kihin Eau De Toilette ($75), with floral-fruit notes of jasmine, peach, and lemon mixed with musk and vanilla. "To be able to incorporate something right now that feels so light and fresh and mood-boosting without being overpowering is it's really nice," Larson said. "Three of the four fragrances were designed by women — I just think that's a cool fact."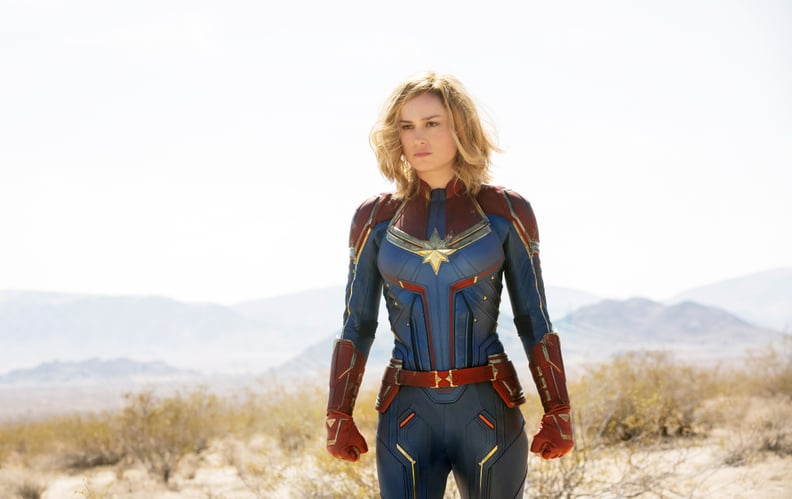 The Movie Role That's Made Her Feel the Most Empowered
As for the movie role that's made her feel the most empowered, she quickly responded, "Captain Marvel, playing Carol Danvers by far." Larson trained vigorously for nine months before they even began filming and learned she could do things she had never thought possible — like deadlifting 200 pounds.
"It changed me on like a cellular level," she said. "I was not the same person that I was before. When you overcome something, you start to realize the unlimited potential we have, and that's just been infectious to me."
Now, any time she needs a confidence boost, all it takes is thinking back to that role. "Since then, there has been this deeper understanding and knowing that I can do more, accomplish more, and be more confident with myself than I thought previously."