Brie Larson, Joshua Weissman Vegetarian Crunchwrap Supreme
Brie Larson Made a Vegetarian Crunchwrap Supreme With a 2-Foot Zucchini From Her Garden
Brie Larson's YouTube channel is the gift that keeps on giving. In a video posted to her channel on Aug. 20, Brie teamed up with cookbook author and TikTok star Joshua Weissman to make a vegetarian version of Taco Bell's famous Crunchwrap Supreme. The secret ingredient? A massive zucchini that she grew in her garden. "This isn't even the biggest one. This one was just the easiest one for me to grab," Brie told Joshua as she held up the 2-foot-long squash.
During the video, Brie noted that she tries to stay as plant-based as possible but doesn't put a label on her diet. Joshua added that, for anyone not following a plant-based diet, seared steak would also make a delicious protein to add on top of the dish. The pair even made their own homemade tortillas, and Brie had a couple of . . . complications.
"OK, I actually burned the tip of my thumb, but that's OK. It is so worth it," she said, adding as she held up an oblong heart-shaped tortilla: "I'm connected to this tortilla. This is not a normal tortilla." In the end, their Crunchwraps turned out looking incredibly tasty, and I'm tempted to head to the kitchen to make one for myself now. Watch Brie and Joshua's full video here and find out how to make a vegetarian Crunchwrap Supreme for yourself ahead.
Vegetarian Crunchwrap Supreme
Joshua Weissman and Brie Larson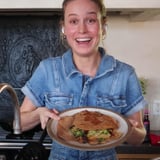 Ingredients
Spicy Crema Sauce:
1/2 cup sour cream
2 tablespoons jalapeño salsa
2 teaspoons garlic powder
1.5 teaspoons chipotle
2 teaspoons sweet paprika
Juice of 1 lemon
Salt to taste
Herb Salad:
1/2 head fricassee or iceberg
1/2 bunch cilantro, roughly chopped
Zest of 1 lemon
Roasted Vegetables:
2 tablespoons olive oil
6 trumpet mushrooms (cremini is also fine)
1 zucchini
2 teaspoons chipotle powder
4 cloves garlic, thinly sliced
1 tablespoon hot sauce
Salt and pepper to taste
Directions
To make the spicy crema, mix together the sour cream, garlic powder, chipotle, sweet paprika, jalapeño salsa, and lemon juice. Add salt and pepper to taste and set aside.
Next, slice your fricassee or iceberg lettuce as thin as you can using a sharp knife.
Bundle and chop your cilantro before adding it to a medium-sized bowl with the chopped lettuce.
Zest one lemon (or orange) over the salad and toss to coat. Set aside.
Slice a zucchini into medallions about 1/3 of an inch thick.
Slice your garlic cloves as thin as possible using a sharp knife.
Add 2 1/2 to 3 tablespoons of oil to a pan over medium heat.
To the hot pan, add your garlic, mushroooms, zucchini, chipotle powder, salt, pepper, and the hot sauce of your choice.
Sautée the vegetables until fully cooked.
Lay a large tortilla on a cutting board and coat the center with the spicy crema, leaving about an inch of space from the edge of the tortilla.
Add about 1/4 of the cooked veggie mixture on top of the layer of crema.
Next, add a sprinkle of your favorite cheese and a tostada or tortilla chips on top.
On top of the tostada, add a handful of the citrus herb salad and chopped tomatoes (optional).
Cut out the center of a second tortilla to top the Crunchwrap. Make sure the piece you've cut is large enough to cover any exposed ingredients once the base tortilla is folded over.
Fold the edges of the base tortilla around the Crunchwrap until none of the other ingredients are visible.
Carefully add the Crunchwrap to a hot pan folded side down to cook it until it is sealed shut.
Flip the Crunchwrap and cook until both sides have turned a nice golden brown. Enjoy!
Information
Category

Main Dishes

Prep Time

15 minutes

Cook Time

10 minutes

Total Time

24 minutes, 59 seconds