Cardi B's Chunky Red Highlights Are Peak 2007 Emo Culture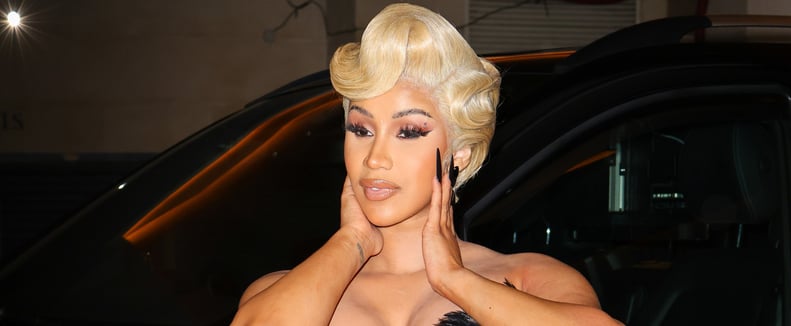 Getty | Pierre Suu / GC Images
Cardi B is making a case for bringing back chunky highlights — with an emo twist. Between blue bangs, a blunt blond bob, and her most recent pink, Y2K bowl cut, Cardi B's hair catalog has been nothing short of exquisite. On Aug. 2, hairstylist and wigmaker Tokyo Stylez shared a video of Cardi B rocking a new set of black pigtails streaked with chunky red highlights. Inspired by hairstylist Davontae' Washington's recent 2000s-inspired hair session with YouTuber Quenlin Blackwell, Stylez used a lace wig from Wig Dealer to give the rapper a hair makeover à la Hot Topic VIP.
Draping past her rib cage, Cardi B's new hair features a zigzag middle part, face-framing highlights, and feathered curls swirling from the roots of her lengthy pigtails. Complete with cherry-red highlights, the look is perfect for a trip to the mall or feeling like a badass while you listen to your high school emo-rock playlist. With other celebrities like Tinashe hopping on board the emo-hair trend, we suspect this won't be the last we see of the edgy look.
To complete Cardi B's look, makeup artist Erika La' Pearl used the Pat McGrath Labs x "Bridgerton" Love at First Blush Divine Blush and Glow Trio, Pat McGrath Lip Fetish Balm in Nude Venus, and Pat McGrath Permagel Ultra Lip Pencil in Contour. La' Pearl also applied IEnvy by Kiss Bare 06 Lashes and eyeshadow from the New Mothership X: Moonlit Seduction Eye Palette to the singer's eyes. Cardi B paired the finished beauty look with a Balenciaga hoodie, a silver bag, and translucent red boots that showed off her pink pedicure, which perfectly matched her bejeweled manicure.
While not everyone embraced their inner emo kid in high school, Cardi B's new look is making those of us who did nostalgic for 2000s beauty looks (butterfly clips, anyone?). Take a look at the rapper's new hairstyle — and the original look that inspired it — ahead.
Quenlin Blackwell's Red and Black Pigtails