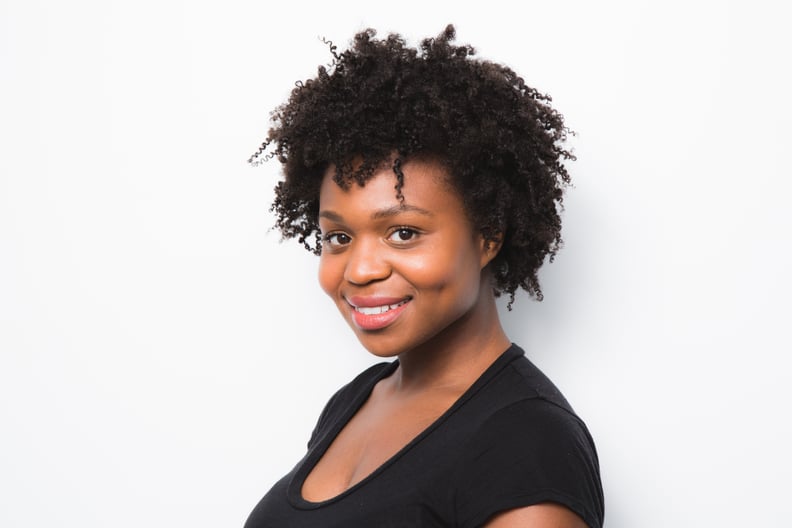 POPSUGAR Photography
POPSUGAR Photography
As POPSUGAR editors, we independently select and write about stuff we love and think you'll like too. If you buy a product we have recommended, we may receive affiliate commission, which in turn supports our work.
Whether you are a beauty novice or experienced artist, color correction is a crucial part of any woman's makeup routine. Like contouring, the celebrated technique requires various formulas of different shades to even out the skin's overall pigment. The process seems complicated at first glance, but YouTube tutorials have made it less daunting — and simpler to incorporate into our everyday look.
For women of color, these videos are especially important since our undertones can vary widely, especially on certain areas of the face. For instance, while the under-layers of your T-zone may be yellow, the chin and temple areas may have a dark salmon hue. When this happens, it's essential to choose color correctors for each of your complexion's needs, whether you want a palette or a single correcting concealer.
If you're makeup obsessed and are rocking a deeper skin tone, read on! These eight YouTube color corrector tutorials will brighten up your day.
Color Correction With MAC Cosmetics
Destiny Godley's tutorial focuses on the MAC Cosmetics Studio Conceal and Correct Palette ($40), which she declares ideal for covering under-eye bags and acne scars. She uses it in conjunction with other products from the brand, giving viewers a crash course on the iconic company. Her application techniques make this tutorial perfect for beginners and seasoned pros alike. However, if you have oily skin, you may want to pair the palette's creamy formula with a powerful setting powder to prevent it from fading.
How to Cover Dark Spots With L.A. Girl
Beauty gals on a budget will love Lida Parks's quick and easy tutorial using L.A. Girl HD Pro Concealer ($4). This five-minute how-to is best for those with severe acne scarring and discoloration, because a little dab of this product can cover dark spots with ease.
Lida also recommends that those with darker skin around the mouth area use the orange corrector — this will neutralize any uneven tone for a flawless complexion.
How to Cover a Faux Mustache
If you want to avoid "cake face" and cut your product usage in half, Jackie Aina's tutorial is a godsend. She recommends color correcting your complexion as your first step, particularly on the area around the mouth where discoloration typically occurs on deeper skin. By applying a corrective formula first, you'll create a perfect base for your foundation.
She's obsessed with MAC Cosmetics Prep + Prime Highlighter in Peach Luster ($26), mainly because of its easy-to-use brush applicator. The orange tones in the product completely neutralize unevenness!
How to Get Full Acne Scar Coverage
Destiny Lashae's full-coverage routine begins with the affordable NYX Conceal, Correct Color Palette ($12). Using just the orange shade, she makes discoloration and acne scars disappear with a few finger swipes. Although this is an everyday look, it requires quite a bit of product, so low-maintenance girls may want to skip this tutorial.
How to Conceal Under-Eye Bags With Lipstick
Beauty hack alert! Sometimes concealer alone doesn't get rid of those nasty under-eye bags. If you want maximum coverage without spending extra money, BeautyRebelle recommends applying your favorite red lipstick around the eye and blending it with your go-to concealer.
Mixing a lighter-toned formula with the red creates a salmon shade that is perfect for correcting darker imperfections. Want to copy this tutorial exactly? BeautyRebelle used Studio Gear Cosmetics Lipstick in True Red ($12).
How to Color Correct With Bobbi Brown
Who better to teach us about color correction than the ultimate makeup guru, Bobbi Brown? This 10-step makeup lesson includes an incredibly detailed section on how to properly color correct the under-eye area. Bobbi emphasizes the importance of matching your products to the undertones of the skin. This is especially important for women of color, since our undertones tend to vary with each section of the face. After mastering her techniques, shop a few of the products used in this easy how-to, including the Bobbi Brown Corrector ($28) and Bobbi Brown Concealer ($21).
How to Color Correct For Beginners
Although Brandi Johnson's concealer tutorial doesn't recommend specific products, this is a top-notch option for beginners who have never even held a makeup brush. She uses easy-to-understand terms in the short video. Though her techniques are mainly focused on under-eye circles, this is the most common sign of fatigue, making this video an ideal first step in mastering color correction.
How to Conceal Deep-Set Under-Eyes
What we love about Chanel Boateng's detailed tutorial is how it highlights every aspect of the makeup routine, including skin care. She also recommends putting color corrector both under and on the lid if you have deep-set eyes, acting almost as a highlighter to bring those features forward and make them appear less sunken. After applying foundation on top, she goes back to the under-eye area with another creamy concealer formula, ensuring that dark circles are completely gone. From there, she recommends using that same product to highlight the entire face.