The Met Gala Beauty Had 1 Theme This Year: Crystals, Crystals, and More Crystals
The Met Gala returned on Sept. 13, 2021 after a year hiatus.
The theme was "American Independence," and many celebrities interpreted that with embellished beauty looks.
From Amanda Gorman and Saweetie's hair to Julia Garner and Ella Emhoff's makeup, crystals were everywhere.
Celebrities didn't just walk down the 2021 Met Gala red carpet, they dazzled. . . especially those whose hair and faces were embellished with more crystals than we can count.
Makeup artists and hairstylists really pulled out all the stops to make sure no detail was spared at fashion's biggest event of the year, and it seems that rhinestones were featured heavily in the interpretations of this year's theme: "In America: A Lexicon of Fashion".
From the moment Amanda Gorman walked the red carpet wearing a major crystal makeup moment (courtesy of makeup artist Joanna Simkin), we knew it wasn't going to be the only gem-filled look of the night. Sure enough, others followed. Ella Emhoff and Julia Garner were up next wearing silver rhinestones in delicate placements around their eyes. And then Maisie Williams took the crystal theme and turned it full goth by adding two black gems to the centre of her lower lashes. Even actor Ben Platt got in on the action with teeny tiny rhinestones added to his lower lashes. It's not just makeup that heavily featured crystals though, celebrities like Alicia Keys and Saweetie took the gems right up into their hair for a dazzling result.
Of course, you can only really get a sense of the true rhinestone makeup magic at the 2021 Met Gala by having a look through all the photos, so read on to see some of the most fabulous crystal-embellished looks on this year's red carpet.
Julia Garner's Crystal Eye Makeup at the Met Gala 2021
Why do a black winged liner when you can do a silver gem-encrusted winged liner instead? It seems that Julia Garner and makeup artist Pat McGrath thought just that. On the red carpet, Garner wore five tiny individual gems placed from the outer corners of her eyes extending up towards her temples and three smaller gems on the inner corners of her eyes.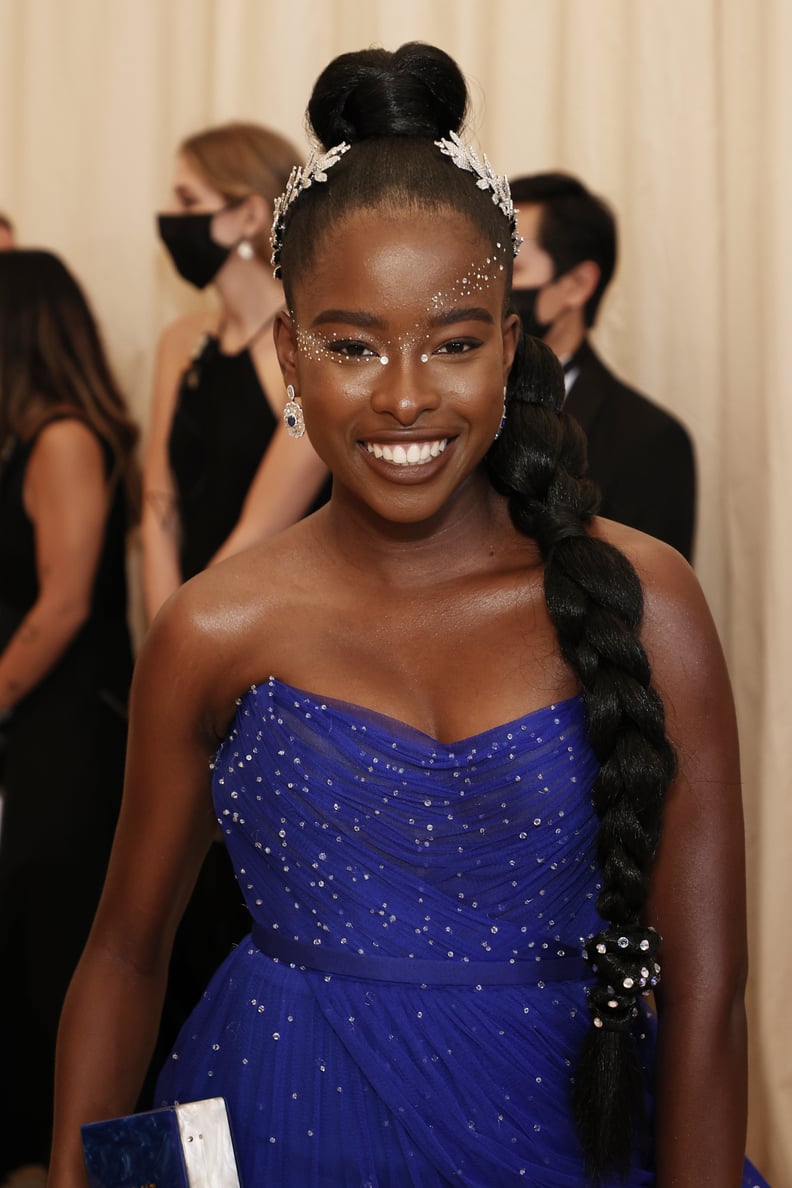 Amanda Gorman's Crystal Face Makeup at the Met Gala 2021
It's safe to say Amanda Gorman and her team won the award for most crystal embellishments used on the red carpet. Over the top of a very subtle glittered base, makeup artist Joanna Simkin added dozens of tiny gems swooping from one side of Gorman's face to the other, punctuated by two larger gems placed on the inner corners of her eyes.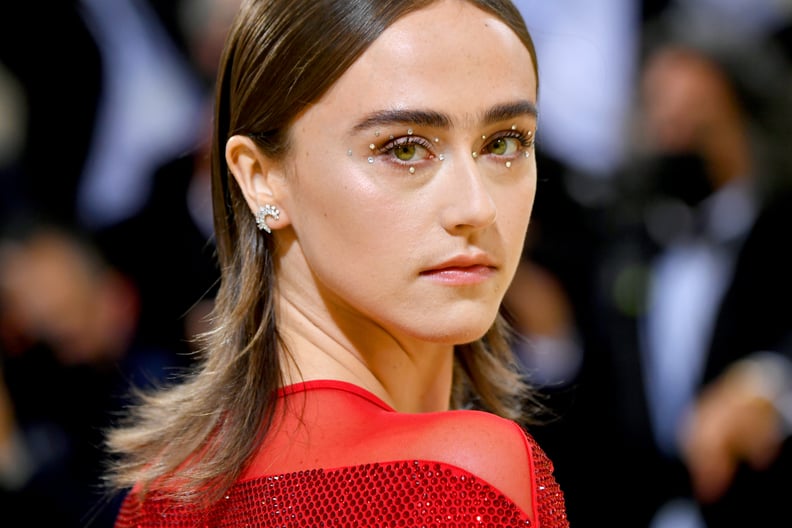 Ella Emhoff's Crystal Eye Makeup at the Met Gala 2021
Ella Emhoff's simplistic but dazzling look caught our attention early on in the night. Small gems were added in a circular placement around both of her eyes becoming the focal point of her look.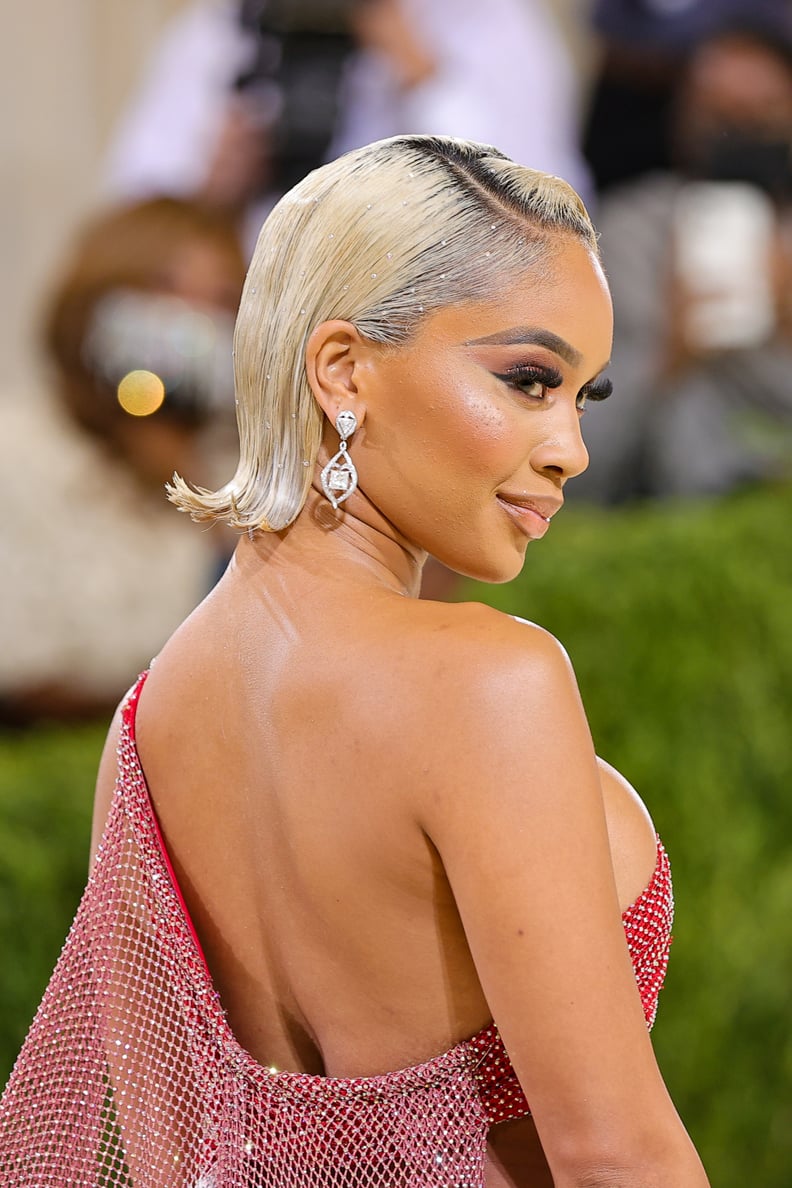 Saweetie's Crystal Hair Studs at the Met Gala 2021
Saweetie's look featured rhinestones, rhinestones and a little more rhinestones, most notably in her hair. Her wet-look flipped-up blonde bob was encrusted with dozens of gems from root to tip and matched her custom Christian Cowan gown perfectly.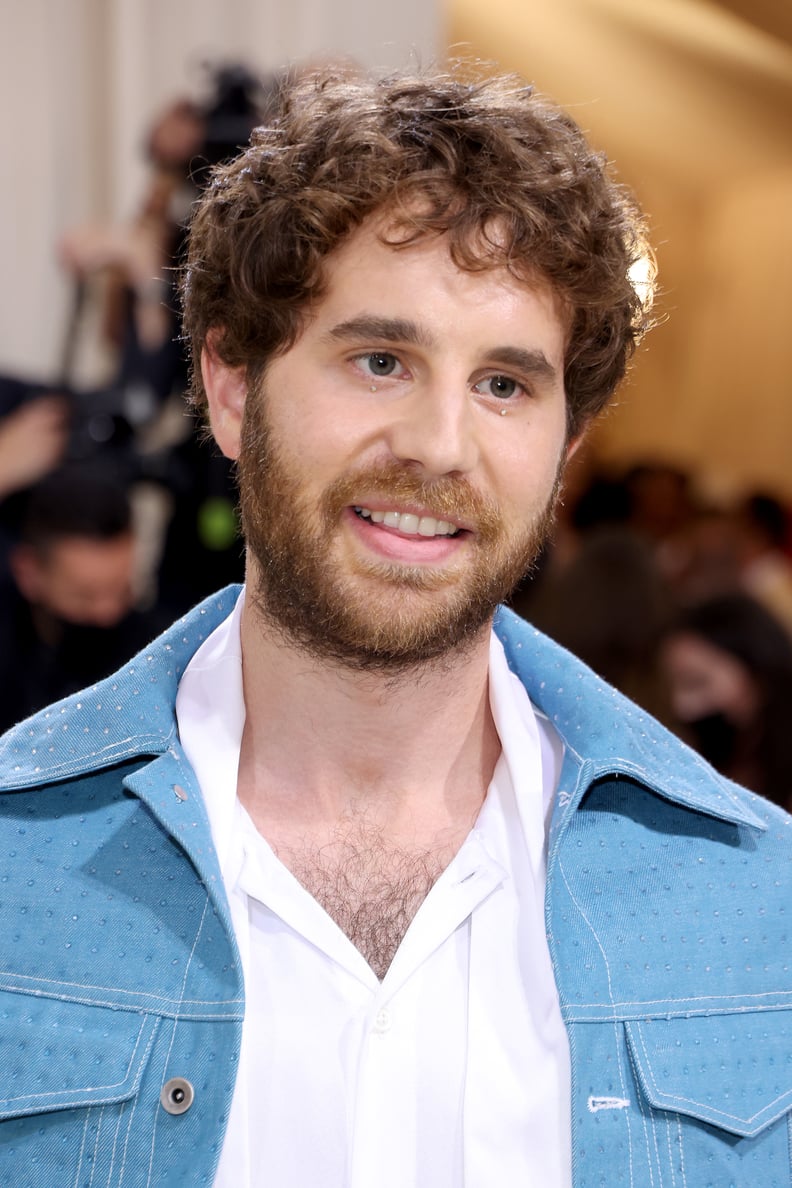 Ben Platt's Crystal Eye Makeup at the Met Gala 2021
Ben Platt showed us exactly how to take this Met makeup trend and try it IRL with two simple rhinestones added to both her his lower lashes. Blink and you'll miss this wonderful detail.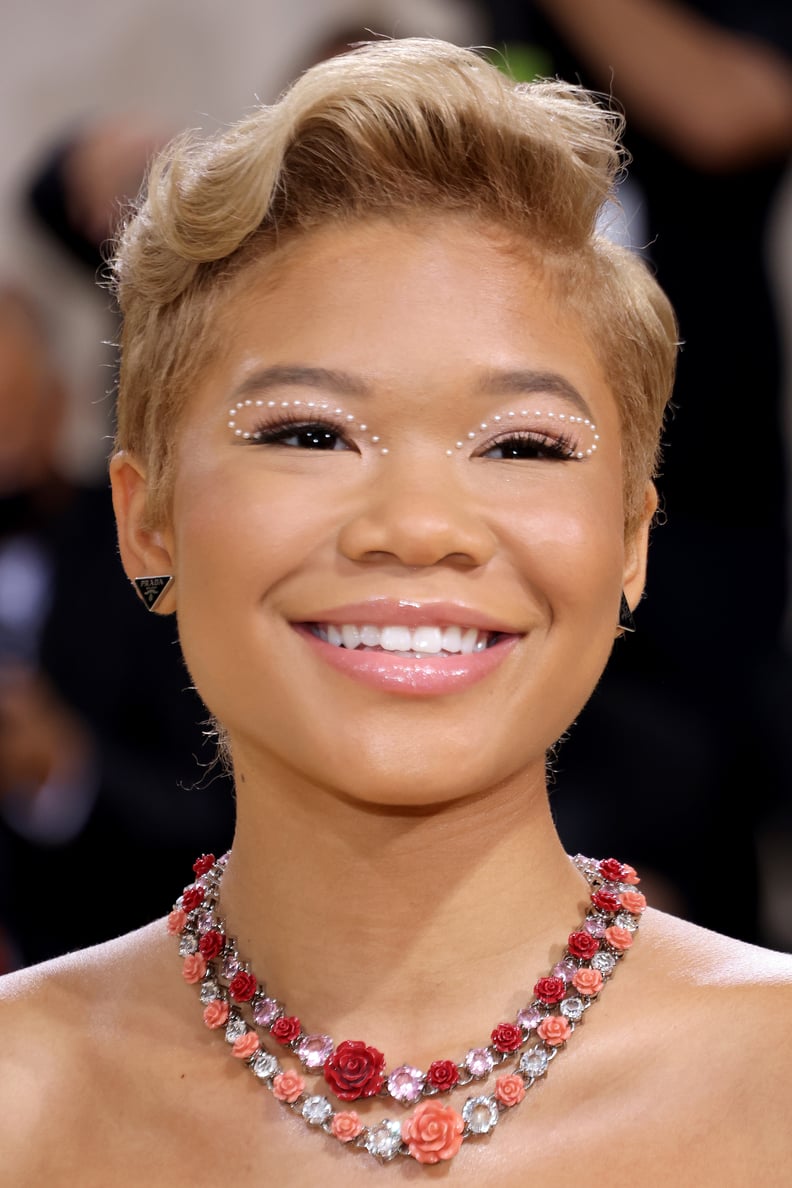 Storm Reid's Pearl-Studded Eye Makeup at the Met Gala 2021
For her ever first Met Gala, Storm Reid went full-on pearl-themed with this beautiful statement eye look. Makeup artist Paul Blanch created a swooping shape with teeny pearl studs around Reid's eyes and kept the rest of her makeup a pretty pink using all Maybelline products.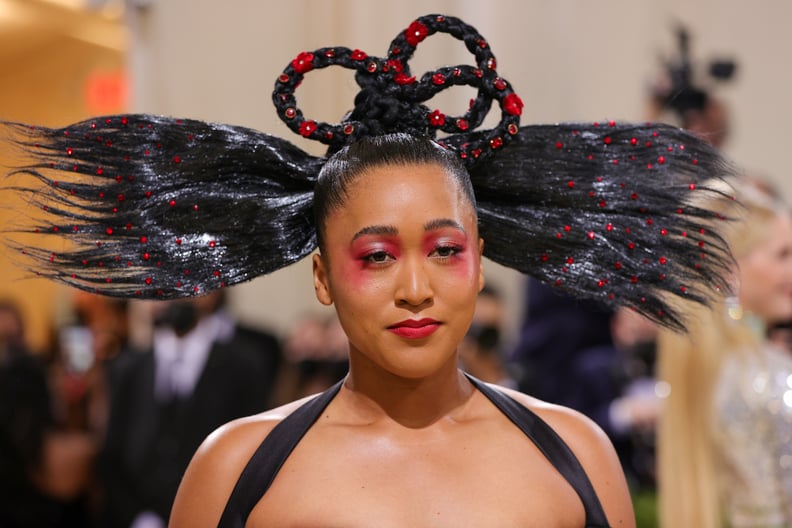 Naomi Osaka's Crystal-Studded Hair Bow at the Met Gala 2021
We have just one word to describe Naomi Osaka entire look: major. Let's just say Osaka's hairstylist Martin-Christopher Harper nailed the assignment. "When I began to think of this project and it's layers it was important for me to bridge their cultures and ethnicities we often are asked at times to pick and choose whom or how we represent (speaking from experience). In this realization of the #metgala the theme is really inclusion, awareness and the now," he wrote on Instagram. To create the hair sculpture, he used Dyson and NatureLab Tokyo Haircare and topped it off with plenty of Jennifer Behr red crystals.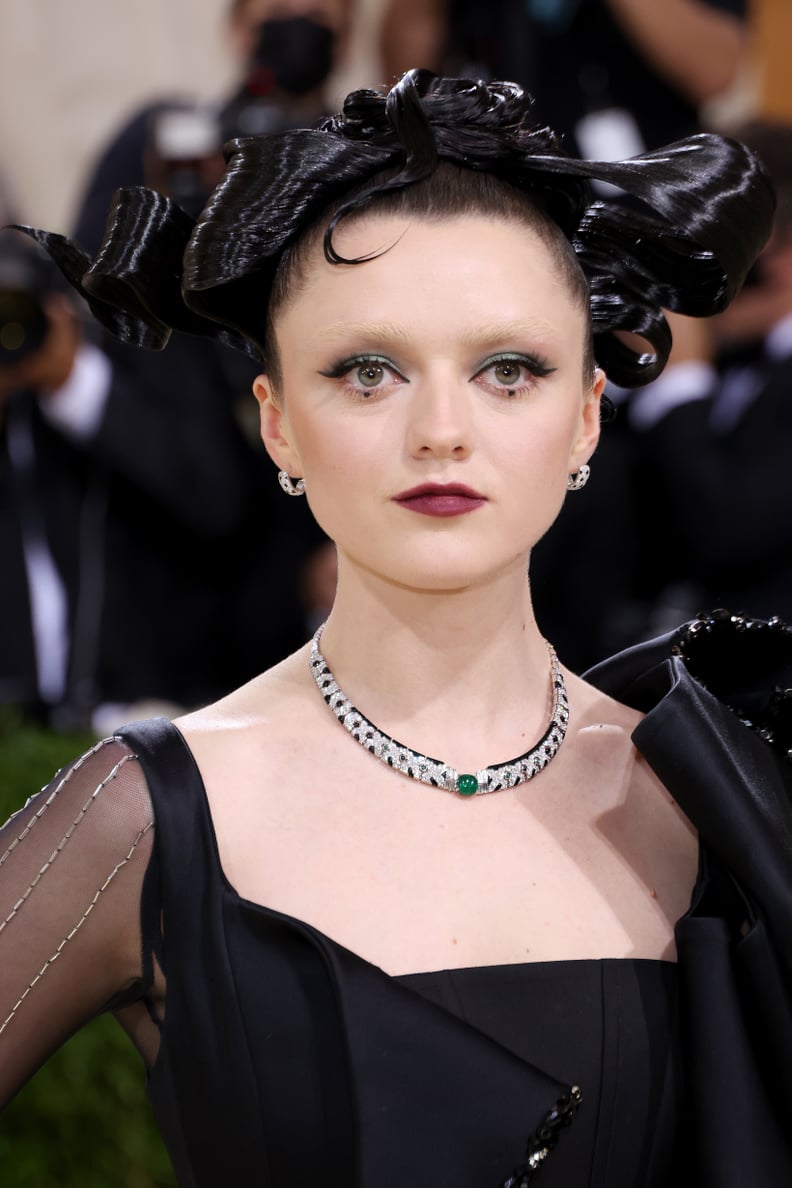 Maisie Williams' Crystal Eye Makeup at the Met Gala 2021
It was Maisie Williams' hair that truly took our breath away, but the black rhinestones added as a final embellishment gave us major goth/Halloween/villain vibes — and we absolutely here for it.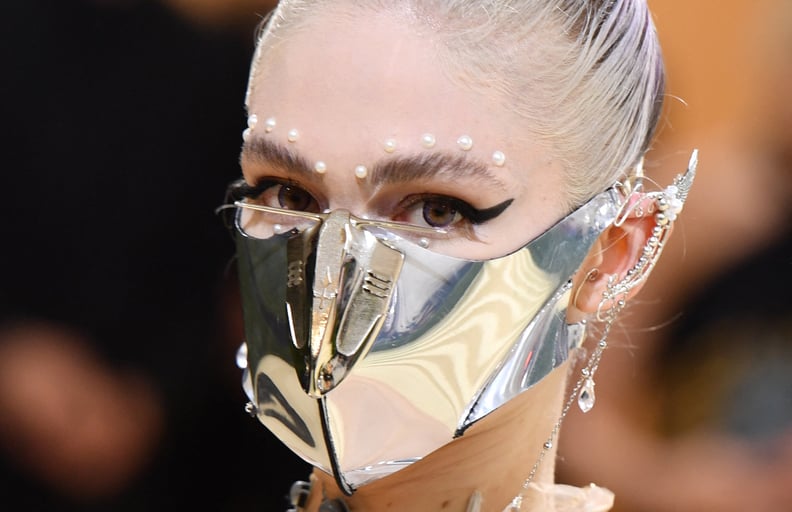 Grimes Pearl Eye Makeup at the Met Gala 2021
Trust Grimes to take any theme and fully run with it. The 2021 Met Gala was no different but this year her makeup was something you might actually be able to recreate at home. To show off that epic mirrored face mask, bold black winged liner was the focal point of her makeup. To soften the whole look up and add some extra detailing, pearl gems were added along the top of her eyebrows, as well as underneath her lower lash line.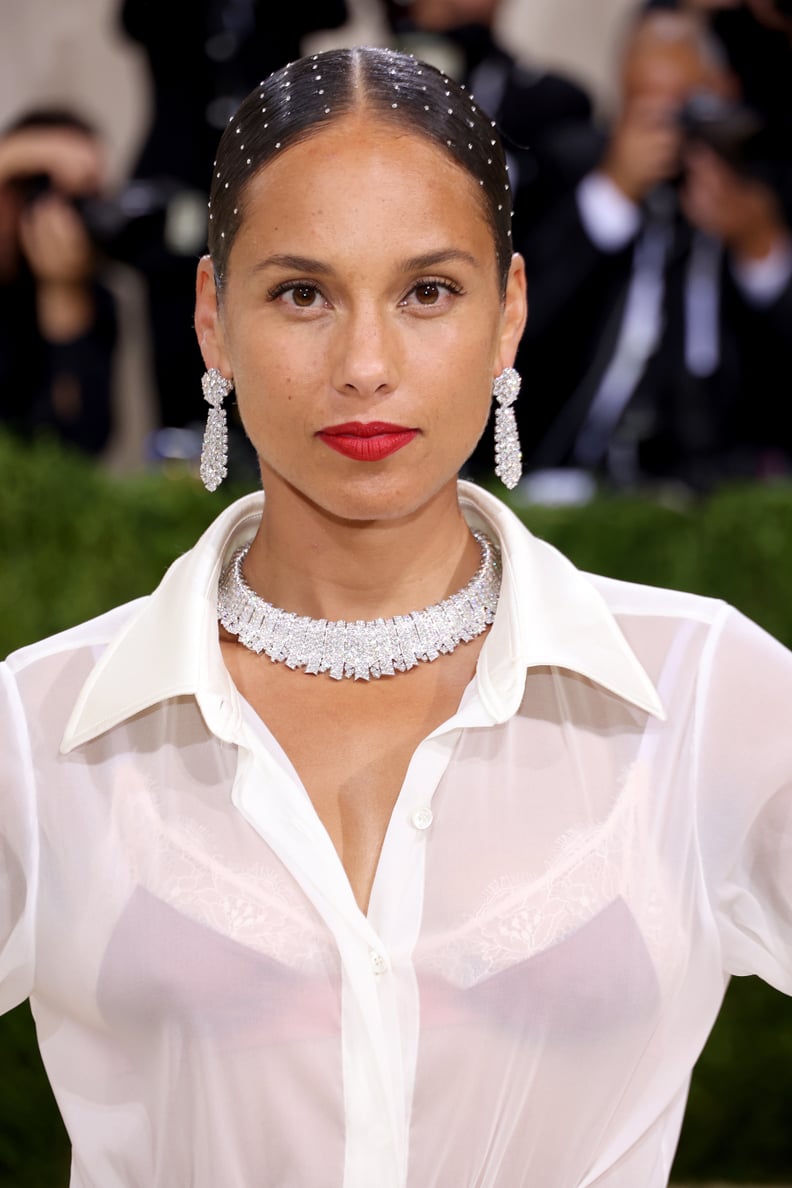 Alicia Keys Crystal Hair at the Met Gala 2021
Alicia Keys's 2021 Met Gala look fully made us want to embellish our entire head. Hairstylist and curl expert Nai'vasha worked with Keys to create this beautiful Swarovski crystal-encrusted chignon. "A Royal ode to classic American glamour," Nai'vasha captioned her Instagram post.