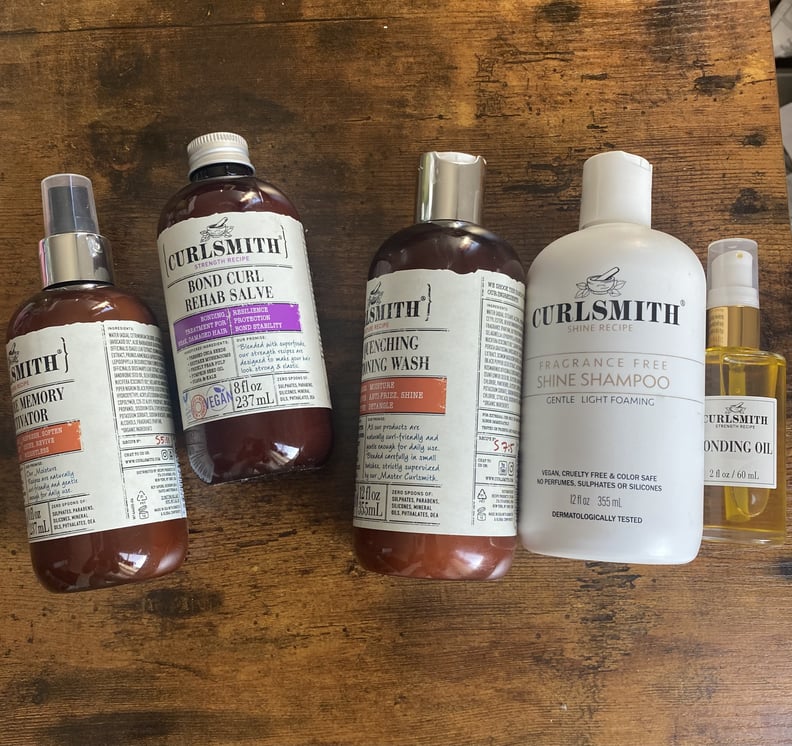 POPSUGAR Photography | Ariel Baker
POPSUGAR Photography | Ariel Baker
As POPSUGAR editors, we independently select and write about stuff we love and think you'll like too. If you buy a product we have recommended, we may receive affiliate commission, which in turn supports our work.
No matter how much time you dedicate to caring for your curls, finding out the products that work best for coily textures can feel like the hardest part. Figuring out your hair's porosity, hair type, and general behavior when it comes to styling can feel like a lot.
With slightly scary accuracy, my Instagram feed tends to suggest products that just make sense. So when influencer @afrozuri_ showed up on my timeline wearing the most gorgeous twist-out hairstyle I've ever seen, and attributed that style to the brand Curlsmith, I knew I had to take a deeper dive into the brand's offerings.
Since Curlsmith's inception in 2017, the company has made it a point to cater to every curl pattern on the spectrum, from subtle waves to hair types 3 and 4 and everything in between. Plus, the ingredients lists across the range often read like a food recipe — you'll find avocado oil, kale, rosemary, coconut oil, and loads of butters — and there are never any potentially drying actives (the first no-no for any curl product) like sulfates, alcohol, or artificial dyes.
Over the past few years, people started to take notice, and products like its Curl Defining Styling Souffle ($27) have become cult favorites. Because I, for one, will always fall for a highly curated, worryingly specific ad, I had to try the products for myself. Read ahead for the best Curlsmith products that deserve a spot in your curl-care routine.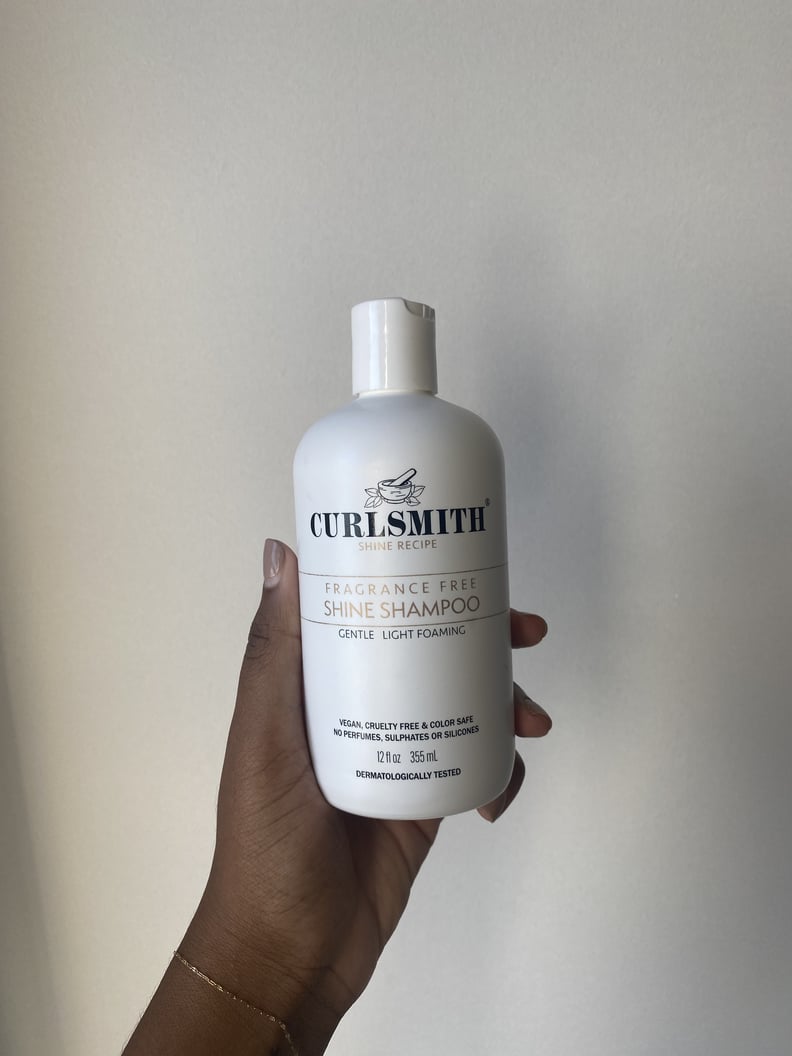 Curlsmith Fragrance Free Shine Shampoo
I have a dry scalp that can sometimes lead to quite a bit of itchiness. After a particularly rough bout of scratching, I was nervous to use this shampoo as others have irritated my already sensitive skin. Thankfully, Curlsmith's Fragrance Free Shine Shampoo ($26) was gentle and did not cause a single reaction — not even a tingle. Instead, I was able to comfortably massage the jasmine- and hops-infused formula (hops are the flowers of a plant typically used to add bittering flavor to beer, but also work as a softening agent in shampoo) onto my scalp and rinse with no zero issues. I will say that this is an extremely light foaming shampoo, so if you prefer big suds when washing your hair, you may want to try a different formula.
Rating: ★★★★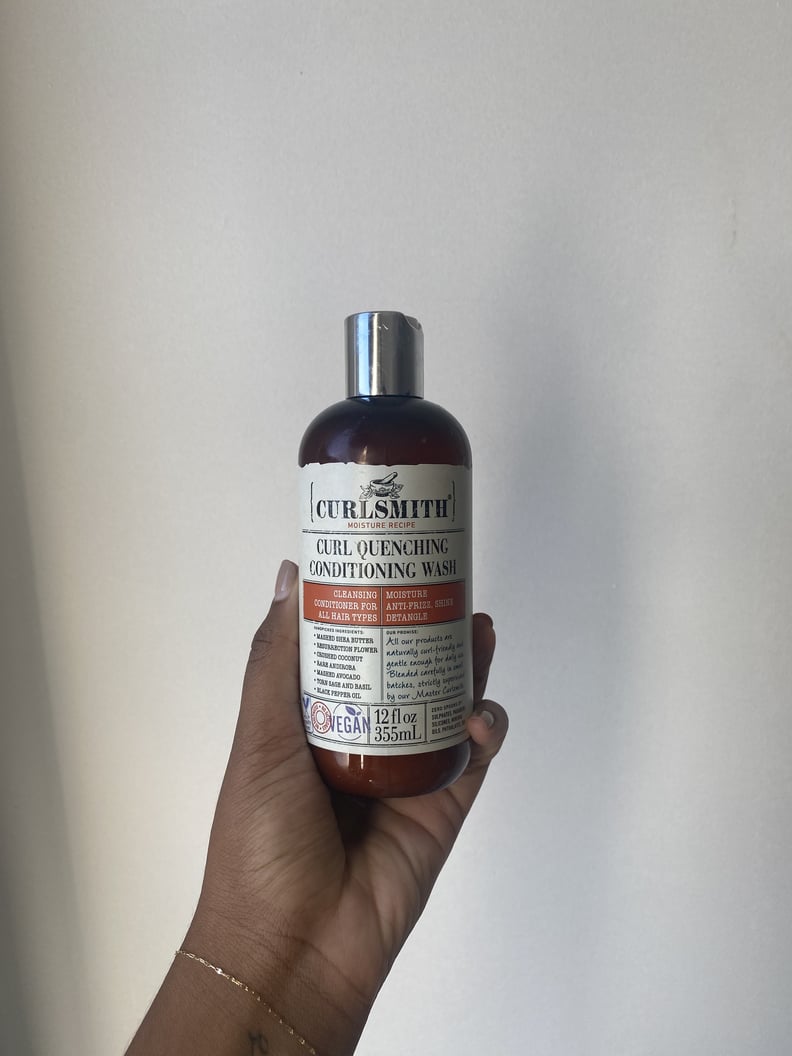 Curlsmith Curl Quenching Conditioning Wash
For me, conditioners are one of — if not the most — important parts of any hair-care routine. Not only do they need to soften and hydrate, but it should also have enough slip to act as a detangler. The Curlsmith Curl Quenching Conditioning Wash ($25), which doubles as a co-wash, accomplished that and more thanks to its shea butter-infused formula. I used it just as I would a normal conditioner since I don't co-wash anymore. After sectioning my hair, I applied the conditioner to each section, detangled it, and twisted it to keep it out of the way. Doing so allowed my hair to remain detangled and allowed the product to actually soak in for the three minutes that the brand instructed on the label.
I was impressed with how my comb glided through my curls without any painful snarls, and when my hair was fully detangled and ready to be washed again, it felt soft to the touch. This conditioner now sits next to my holy grail detangler, and I am more than comfortable switching between the two of them without a second thought. That's how good it is.
Rating: ★★★★★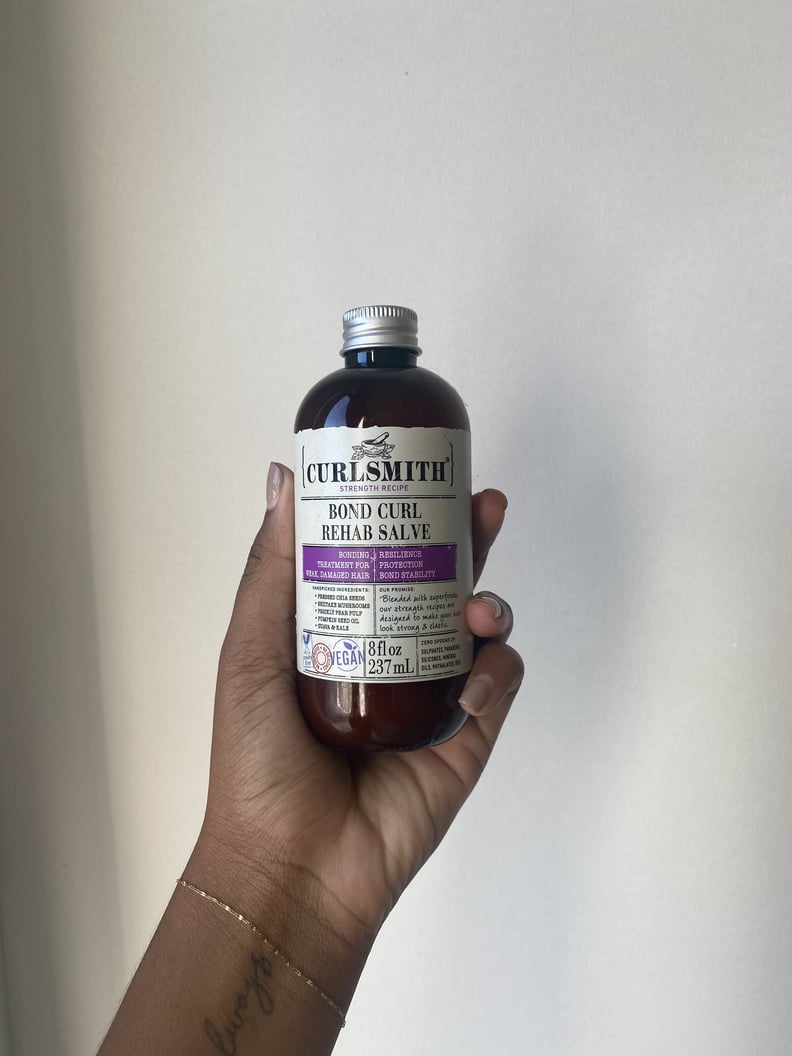 Curlsmith Bond Curl Rehab Salve
I recently got highlights, and the coloring process caused some dryness, especially at the ends of my hair. So during my wash day, I made sure to do a treatment with the Curlsmith Bond Curl Rehab Salve ($29), which features ingredients like prickly pear pulp and pumpkin seed oil, which in combination with the rest of the formula, are meant to strengthen. I used it on damp hair in the shower, making sure to give special attention to the tips of my hair, and let it sit for 15 minutes. Immediately after rinsing it out, I noticed the highlighted sections were softer and more defined, but I knew the true test would be when I blow-dried my hair. Thankfully, when I did, my ends didn't look frayed or extra puffy as they had been for the past few weeks, and my hair textures actually matched for the first time in a while. Needless to say, I will be keeping this product in my weekly wash routine for the foreseeable future.
Rating: ★★★★★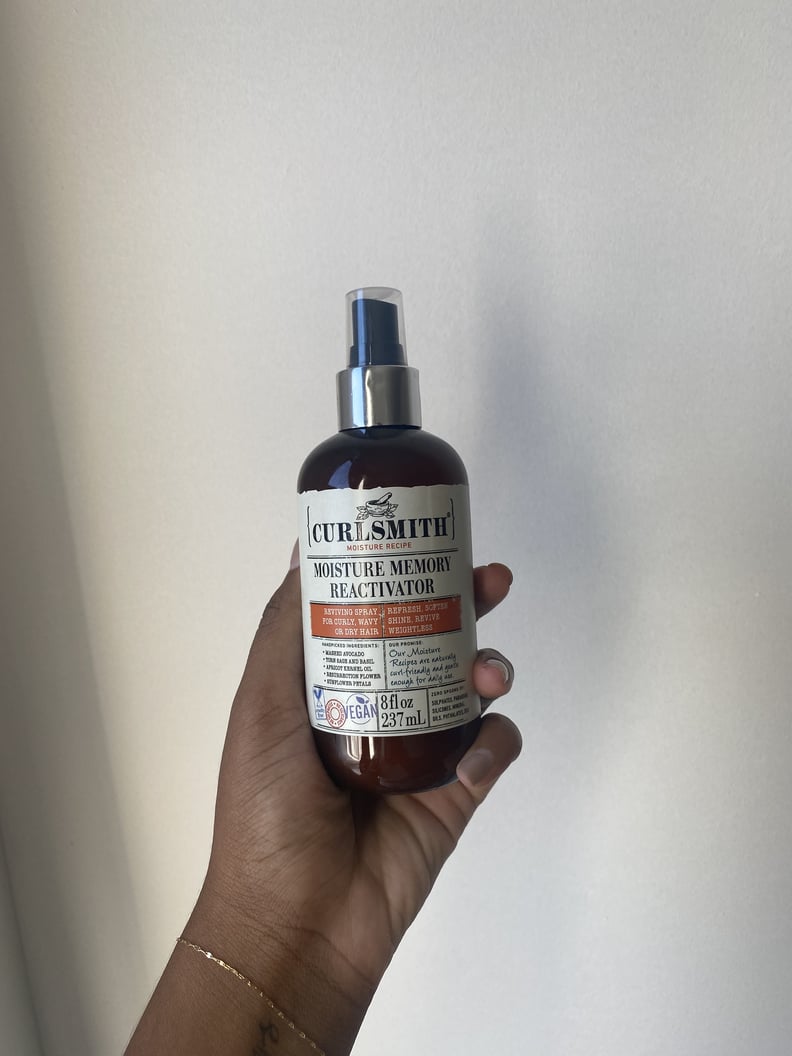 Curlsmith Moisture Memory Reactivator
I used the Curlsmith Moisture Memory Reactivator ($24) in a slightly unconventional way: prior to blow-drying and using any heat protectant, I sprayed the formula all over to give my hair some extra moisture. It worked. Not only did my hair look shiny and healthy, but it didn't cause any buildup on the comb attachment that I was using with my blow dryer. So whether or not this is the "right" way to apply the moisture memory reactivator — which is technically to refresh a curly hairstyle, or use as a leave-in conditioner prior to final styling — this step is now cemented into my routine.
Rating: ★★★★★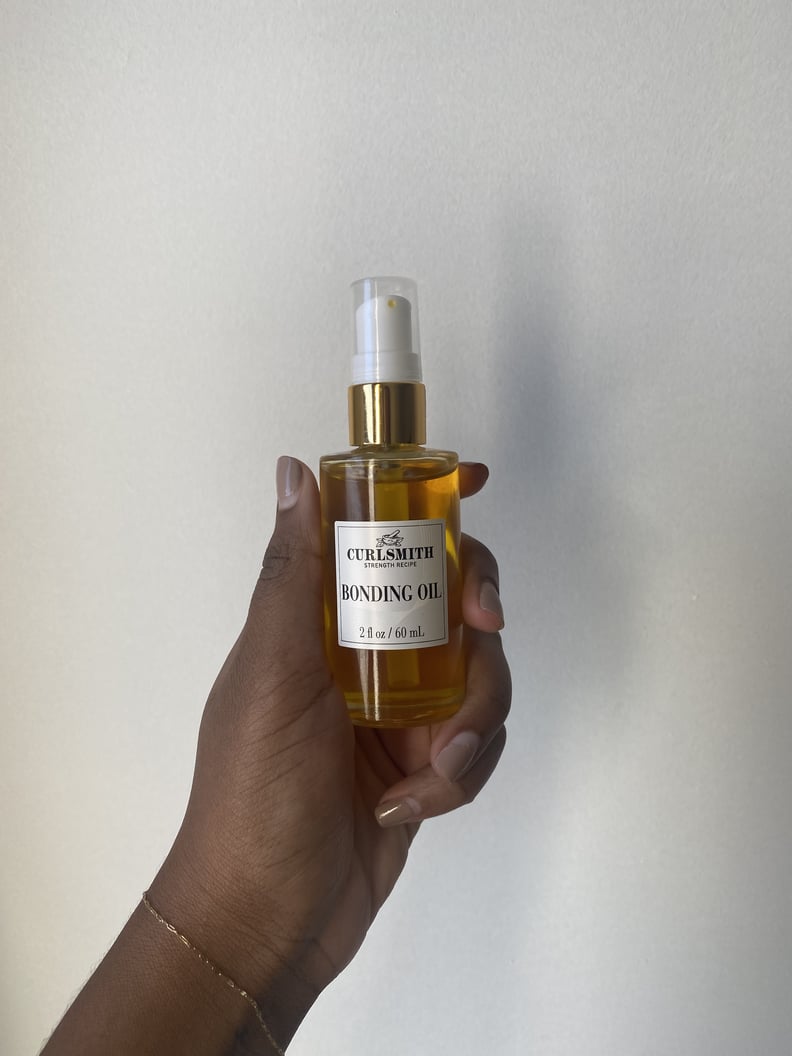 Curlsmith Hair Bonding Oil
I finished my blowout with a few pumps of the Curlsmith Hair Bonding Oil ($29). Aside from the subtle peach smell, it also features sea buckthorn oil and a special castor seed blend that gives my hair the kind of shine that rivals the one you have when you leave a professional salon. There is no greasy feeling either — just lightweight, bouncy hair that smells like the best summer day. What's not to love?
Rating: ★★★★★