Every editorial product is independently selected by our editors. If you buy something through our links, we may earn commission.
Having curly hair is a different experience from any other hair type. Beyond the styles you can create, each curl and coil seemingly has a personality of its own, and regardless of what's been said in the past, even how you color your curls requires special care. Still, as much fun as curly hair can be, it hasn't always been as celebrated as it is today, so it's not uncommon to hear someone say that they're not exactly sure how to care for their natural texture.
Like the rest of the hair-care space, there are curly hair rules that you should abide by for optimal results. The best shampoo to use based on your hair's porosity, how to properly detangle, and even what towels can disrupt your curl pattern are secrets that only a select few are privy to. Not to mention, the beauty commandments vary by curl type, too. Wavy hair is very different from coily textures.
Thankfully, the landscape has started to change with the rise of natural-hair influencers and more curly-haired representation in the beauty industry. It's time for the veil of mystery to be completely lifted. That's why we've called in hair expert Eladia Lebron to create a beginner's guide of the best curly hair tips out there.
Ahead, she shares how to take care of each curly hair type and explains everything from how to apply conditioner properly to how to plop your curls — no curling iron required. To learn how to style your hair once and for all, keep reading for all the best curly hair tips and tricks.
— Additional reporting by Jessica Harrington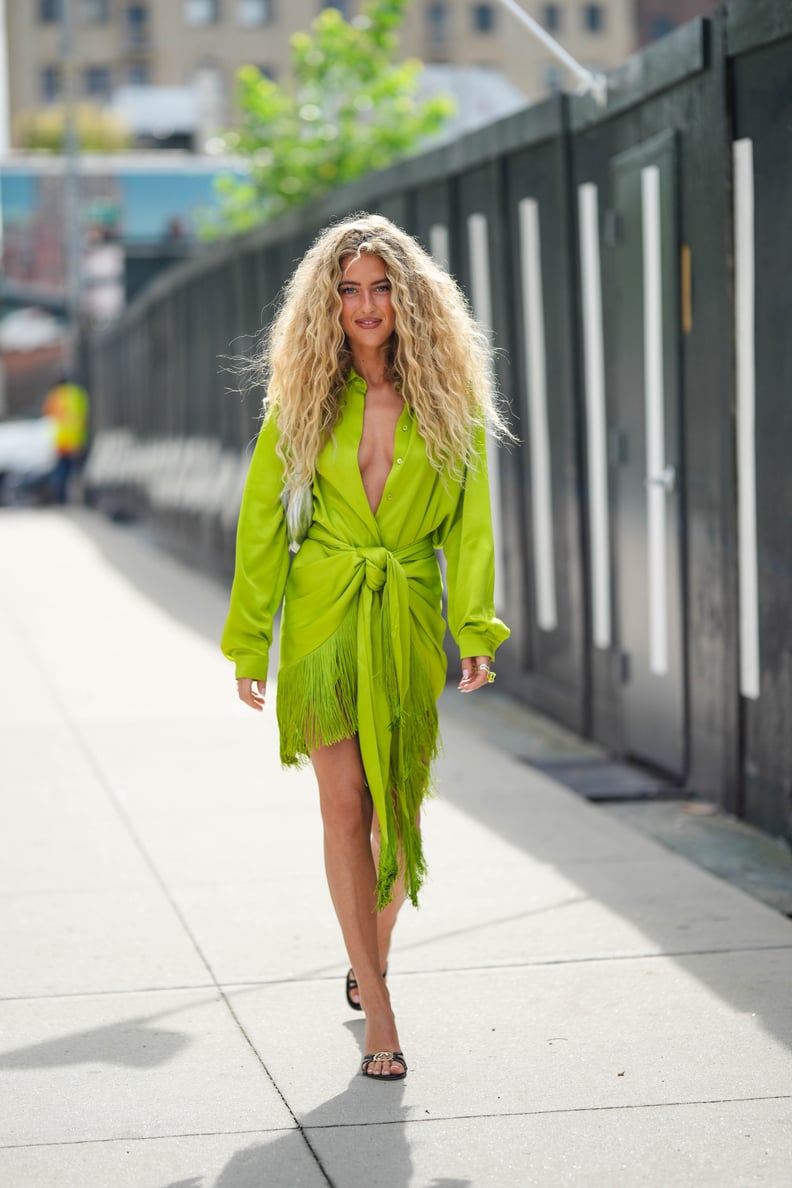 Wavy Hair Tips
Waves are categorized by their loose S-shape and include those with 2A, 2B, and 2C hair. Some people may mistake wavy hair for straight without the proper hair-care routine. Here's everything you need to know.
How to Wash Wavy Hair
When shampooing this hair type, it's tempting to rake conditioner from root to tip, but the right way to do so is with the press-and-smooth strategy. Squeeze the conditioner from mid-shaft to ends, then run your fingers through to detangle. "The cuticle for curly hair isn't a smooth cuticle, so you have to smooth it in yourself," says Lebron. Once the product is distributed, rinse with cool water to close the hair cuticle completely and lock in the moisture.
How to Define Waves
It can be hard for waves to take shape, but it's all in the twirl. When they are dripping wet (before you blot dry), coax hair into waves by twisting sections away from the face or giving them a gentle shake. Add a product like the Ouidad Advanced Climate Control Stronger Hold Heat & Humidity Gel ($26) to cut down on frizz and help with definition.
You've likely also heard of the scrunching technique for curl definition, but you've probably been doing it all wrong. Here's the right way: cup the ends of your hair and push the curls upward. Squeeze just around the ears, release, then slowly move your hands away. Go section by section so that every area gets equal attention. This technique helps each curl separate.
How to Dry Wavy Hair
Rubbing your head with a terry towel is the quickest way to ruin any natural curl definition. The Aquis Wrap ($25) hair-drying towel is a better solution, but don't put it in the dryer. "The ridges open up more and create frizz when you put it in the dryer," Lebron says. Since the fibers are smooth, a T-shirt is also a great alternative to blotting your hair dry.
That bowl-like contraption that comes with your blow dryer is a diffuser, and it's one way to dry your curly hair fast. First, spritz wet hair with a hair spray like the Amika Fluxus Touchable Hairspray ($26) to keep frizz at bay. When you use a diffuser, such as the Drybar The Bouncer Diffuser ($34), cup your curls between the attachment and your hand so you can feel when your hair gets too hot. Once your hair is completely dry, hit it with a cool blast to add even more shine.
How to Style Wavy hair
While those with coily hair have the Afro pick, wavy and curly textures can use a chopstick to tease hair. Just push the hair from mid-shaft to roots to get more volume (never tease the ends, where you want to preserve the curl pattern). You can also use this unusual tool to separate ringlets without frizzing the hair up.
Waves tend to get crushed after eight hours of rolling around in the sheets. You can save your waves by wearing a ballerina bun to bed. Don't run your fingers through the hair; just gather it into one hand, twist, and pin up with bobby pins or a satin hairband. In the morning, you can refresh the ends with water and a shine serum.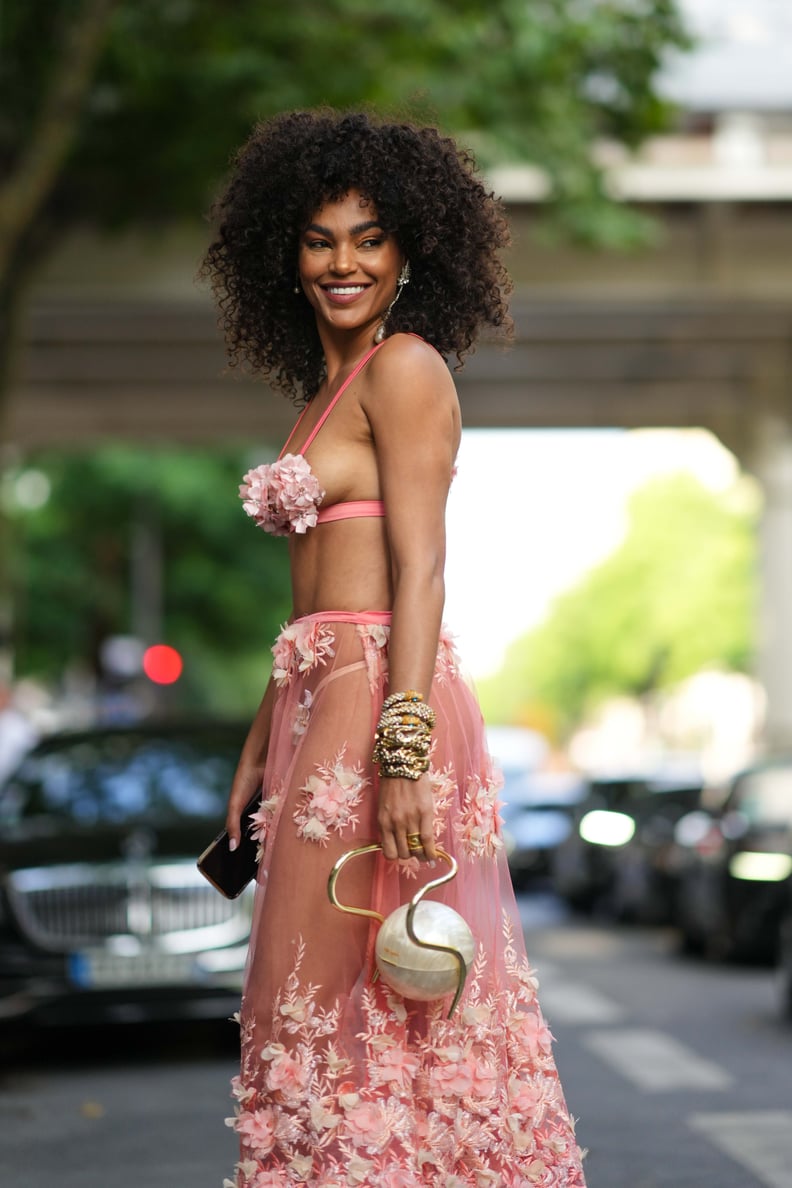 Curly Hair Tips
Curly hair includes those with 3A, 3B, and 3C curls, and there are a few things to note when working with this texture.
How to Add Volume to Curly Hair
Getting amazing volume for curly hair starts when it is dripping wet. Apply Curly Girl Root Lifting Curl Clips ($13) at the roots before drying to add some oomph to the roots. "The clip needs to be on [the] scalp to not make an indentation on the curl," Lebron says. "When clipping, lift the hair up, slide the scalp in, and release." When the hair is 75 percent dry, take out the clips in the same direction you applied them in — very slowly.
How to Preserve Curly Hair
Lebron believes that everyone with curls should own a satin pillowcase, like the Slip Pure Silk Pillowcase ($89), because cotton absorbs all the natural oils and moisture from your hair as you sleep. In addition to the case, to avoid this, you'll want to pineapple your ends every night. To do so, use a loose hair tie to pull hair up to the top of the head. Try to get the hair as close to the hairline as possible. In the morning, just take it down and shake.
How to Keep Curly Hair Moisturized
The number one rule of thumb with curls: hydration, hydration, hydration. Curly hair has a tendency to get super dry at the ends. That's because it's nearly impossible for the natural oils at the scalp to make it all the way down the shaft, especially when you're not combing and brushing this hair type. First, spritz the ends with warm water to open up the cuticle. Then, massage in some Oribe Gold Lust Nourishing Hair Oil ($57).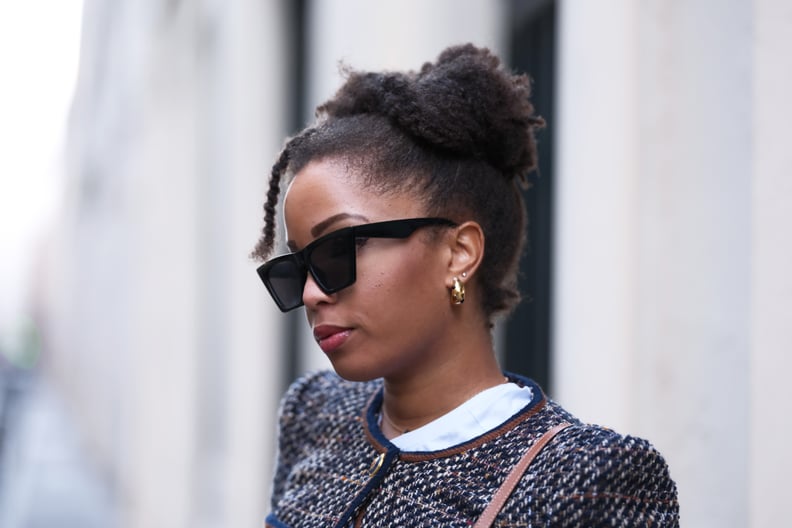 Coily Hair Tips
Coily hair differs from curly with its tighter curl pattern. 4A, 4B, and 4C are all considered coily hair textures.
How to Wash Coily Hair
Like the other curl patterns, you want to check your hair's porosity level prior to choosing a wash routine. When doing the float test, which is where you take a few strands of clean hair and place them in a cup of water, the results can lead you in the right direction. If your hair sinks to the bottom of the dish quickly, your porosity is high; if it sinks rather slowly, then it has a normal/medium porosity. If after a few minutes, the strand appears to just float on the surface, then your porosity is low.
Low-porosity hair thrives when you use lightweight, water-based products like the Curls Blueberry & Coconut Hair Milk ($10, originally $15) or the Bumble and Bumble Sunday Shampoo ($32).
For medium-porosity hair, focus on infusing moisture and protein to maintain the hair's health. Products like the Tresemmé Botanique Nourish & Replenish Conditioner ($17) and Redken's All Soft Heavy Cream Hair Mask ($7) work extremely well.
High-porosity hair is generally weak and prone to breakage. Those who have it should focus on hydrating, protein-rich products to help mend damaged cuticles. Mielle Organics's Babassu & Mint Deep Conditioner ($13) and SheaMoisture's High Porosity Moisture Replenish Masque ($9, originally $15) are products you'll want to look into adding to your routine.
How to Moisturize Coily Hair
Your moisture routine will also depend on your hair's porosity level. For example, if you have high-porosity hair, you should deep condition regularly before following up with a sealant and try to incorporate products with humectants into your routine. Regardless, you will want to have a product that has enough slip to make the detangling process easy and pain-free. One of our favorites is the Kinky-Curly Knot Today ($14) leave-in detangler.
How to Stretch Coily Hair
Got an old pair of ripped tights? Then you have everything you need to stretch your curls out overnight. Cut off the legs and use the control top as a DIY bonnet. Place the pantyhose over your neck, then pull it up over your ears and hair. This method will help you get more volume on day two.
If your short hair won't stretch into a pineapple, split the strands into four sections. Loosely layer two rubber elastics (yes, this is one time it's OK to use these particular hair ties) around the hair only once and place them closer to the ends. "If you put it too tight, you'll have an indent of the rubber band on the hair," Lebron says. "Leave it sort of loose so there is less damage."