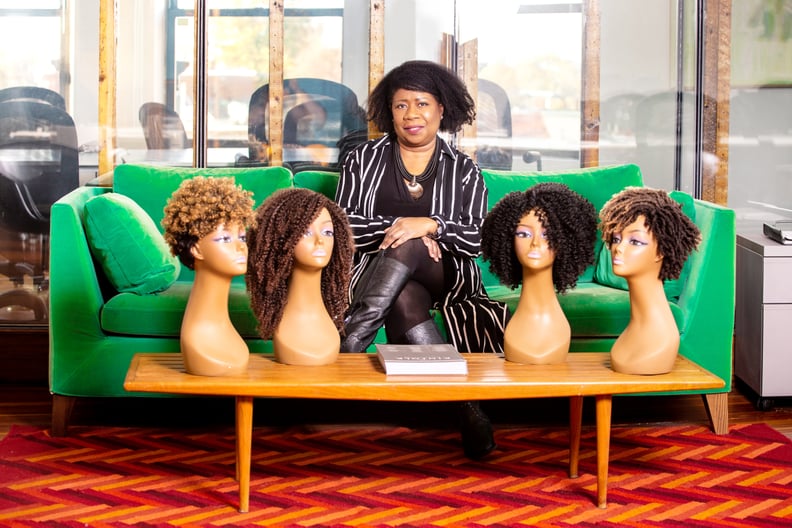 Alex Joachim
Alex Joachim
Too often, the best beauty stories go Untold, solely based on a person's skin color, religion, gender expression, disability, or socioeconomic status. Here, we're passing the mic to some of the most ambitious and talented voices in the industry so they can share, in their own words, the remarkable story of how they came to be — and how they're using beauty to change the world for the better. Up next: Dianne Austin, a breast cancer survivor who, along with her sister Pamela, founded a company called Coils to Locs, which offers high-quality wigs in a variety of coily, kinky, and curly styles to medical hair-loss patients.
Growing up, the trend was to straighten your hair. I would sit between my mother's legs while she took a hot comb and straightened my hair, and I hated that experience because I hated getting burned. I liked the end result, but it was always a love-hate process. As I moved into young adulthood, I started perming and relaxing my hair. I struggled with that too because I hated going to the hair salon, I hated the smell of chemicals: I hated sitting there, and having them put this stuff in my hair, and experiencing scalp burns in the process. I got to a point where I was just like, "Why am I doing this?" It was such an emotionally draining process. I got frustrated and decided to stop straightening my hair at that point, and it was so freeing for me.
I was diagnosed with breast cancer in 2015 and I was told by my oncologist that I would lose all of my hair from the chemo that they were giving me. I got a wig prescription that I could take to the retail store inside the cancer treatment center, but I learned that they only sold straight wigs. I started exploring other hospitals in the Boston area for any coily and curly types of wigs that resembled my hair. I was branching out and calling across the country to determine if this was just an issue where I lived or if this was happening in other places. I learned through those phone calls that this is definitely an issue across the country where cancer centers would have these products, but the products in particular are not serving chemotherapy or other medical hair loss patients who want an alternative to a straight-haired wig.
"After doing a lot of complaining about it, I really just wanted to make a difference and make a change."
People would tell me that I could go to a beauty supply store to get a wig, but one problem that feeds into the disparity there is that at a beauty supply store, you don't get to try on wigs in a private room or area. I was in the middle of losing my hair — I wanted privacy. Most beauty supply stores also don't understand the process of medical reimbursement, so if I were to find a wig there, I needed to have a formal invoice instead of a regular receipt in order to be reimbursed. The quality of the wigs was an issue as well. So I recognized that there was this whole population of people that weren't being served, and after doing a lot of complaining about it, I really just wanted to make a difference and make a change. That's how Coils to Locs was born.
It seemed like we were the only company that was about to launch on this scale, but before that we were thinking, "Maybe there's a company that we haven't uncovered in our research that's doing this and we just don't know. This idea may not be as novel as we think it is." But when we spoke to retail store buyers and managers, all we'd hear is "We've been looking for these types of wigs for years and we haven't been able to get them for patients."
We're providing a service that people want. We get so many emails from women around the county, and even a few from women outside of the country saying that they're glad we're doing this. We've had people say that we're doing the lord's work. Not all of our customers have experienced chemotherapy hair loss; others are experiencing hair loss as a result of medication, others are losing their hair because of traction alopecia, and some people just want to buy a wig. It's so gratifying for us to get this kind of reinforcement.