I Re-Created These 6 Summer Nail Art Trends Using Things Around My House
As POPSUGAR editors, we independently select and write about stuff we love and think you'll like too. If you buy a product we have recommended, we may receive affiliate commission, which in turn supports our work.
Let me preface this by saying: I am not an artist. Nor am I even remotely good at anything artistic. Like, I'm truly terrible at even drawing a stick figure. So, seriously, when I say these nail art trends are easy, I mean it.
That being said, I love simple, minimal nail art and am constantly saving posts on IG from manicurists like Betina Goldstein and Holly Falcone. I'm also all about the bright color combinations and mod designs that are popping up as the summer nail art trends. After watching a few DIY manicure tutorials from various nail artists, I decided to take the plunge and try out a few of the less-complicated designs myself, most of which could be done either just with the polish brush itself or with common household items. Think: paper clips and toothpicks.
Keep reading to see how each attempt turned out and what I used to create the designs, and then try out these summer nail art trends for yourself.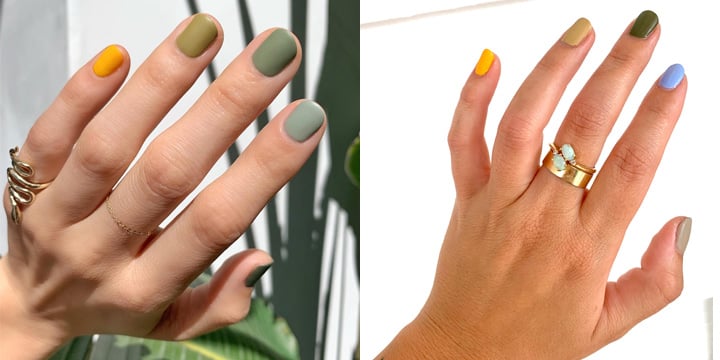 Mismatched Matte
Baby Flowers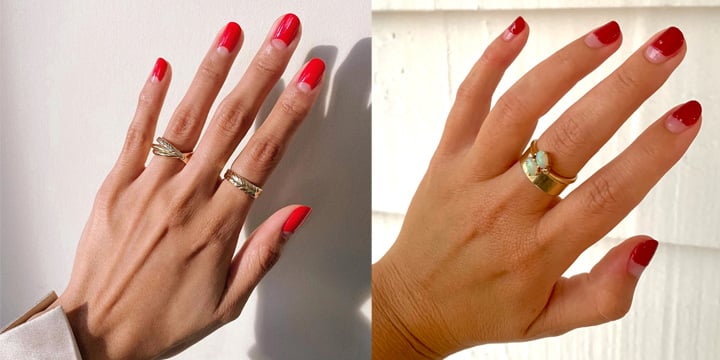 Negative Space French
Different variations on the classic french manicure are all the rage right now, and I love this one that uses just a touch of negative space by Melanie of @theoverglowedit. Instead of doing a curved edge (Sorry, too hard!), I opted for a straight edge. I dipped the side of a paper clip in the Chanel Longwear Nail Color in Pirate ($28) to make the initial straight line, then filled in the top part of my nails. For this one, the shinier the finish the better!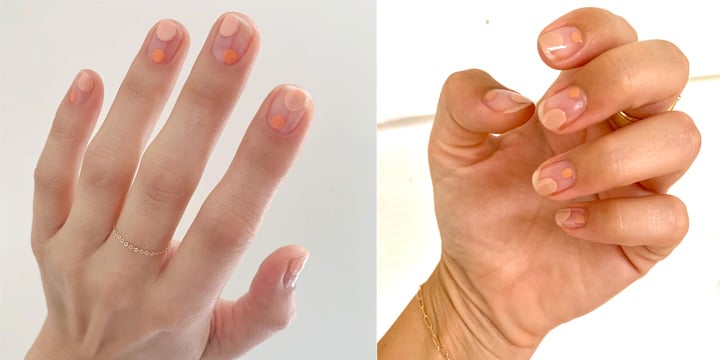 Shades of Peach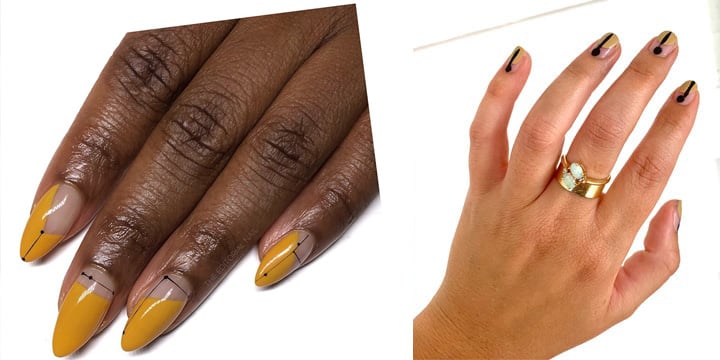 Neon Mid-Century
This one from @theeditorialnail was definitely the most difficult to pull off — everything was fine until I got to the black lines! I opted for a more muted shade for the yellow-green, specifically J.Hannah's Nailpolish in Miso ($19). To make the large circle, I used the flat head of an extra-large nail. For the smaller bottom dot, I used Orosa's Pure Cover Nail Paint in Onyx ($12) and a bobby pin. Before you make the line, make sure the polish you've already put on is close to or almost completely dry or else it's likely to smudge. Once you're ready, dip the edge of a paperclip (or toothpick or bobby pin or safety pin) into the black polish and carefully make the line.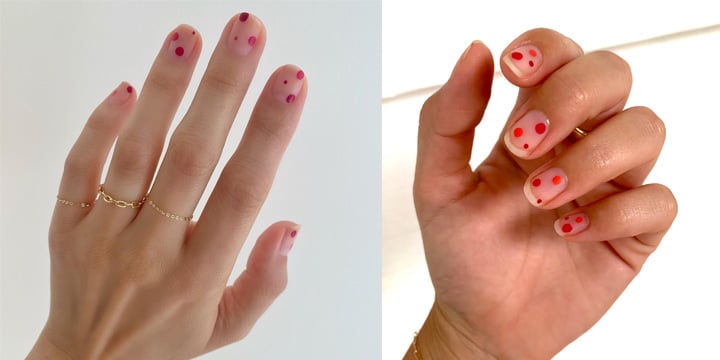 Monochrome Dots