As POPSUGAR editors, we independently select and write about stuff we love and think you'll like too. If you buy a product we have recommended, we may receive affiliate commission, which in turn supports our work.
"Don't Worry Darling" has been one of the most buzzed-about movies of the year — and for more than one reason. Directed by and starring Olivia Wilde, the psychological thriller features a star-studded cast (led by Florence Pugh and Harry Styles), a gripping plot, and no shortage of artful cinematography. Set in a 1950s utopian community called Victory, the film's aesthetic embraces all things midcentury modern, particularly when it comes to hair and makeup. The more sinister elements of the story come through in the bouncy curls, cat eyes, and crisp red lipstick, too.
Pugh's character, Alice, and Wilde's Bunny, for example, are in Victory for very different reasons, which is reflected through their fashion and beauty choices. "Her clothing was very vibrant," the film's makeup department lead, Heba Thorisdottir, says of Bunny. "She's there by choice; she wants to be there. Hers and all of the other wives' [clothes] — they're in cooler, bluer tones than Alice, [which was] was on purpose just to keep that stark, cold [feeling]."
By contrast, Alice's makeup is "more warm and tanned and natural," she says. "She's independent and modern and successful". Alice's hair also stands out from the rest, mainly because Pugh is one of few cast members who's not wearing a wig. Her perfectly undone, Brigitte Bardot-inspired looks are visibly different from the more severe styles of other women in the community such as Bunny, whose fiery-red hair aligns with her personality. In an Instagram post, Wilde opened up about her "fear of wigs" before hair department head Jaime Leigh McIntosh came along and "created miracles" on set (but more on all this later).
Ahead, Thorisdottir and McIntosh are sharing more behind-the-scenes details about the hair and makeup in "Don't Worry Darling" — from Pugh's Bardot influence to Styles's "nasty" hairpiece.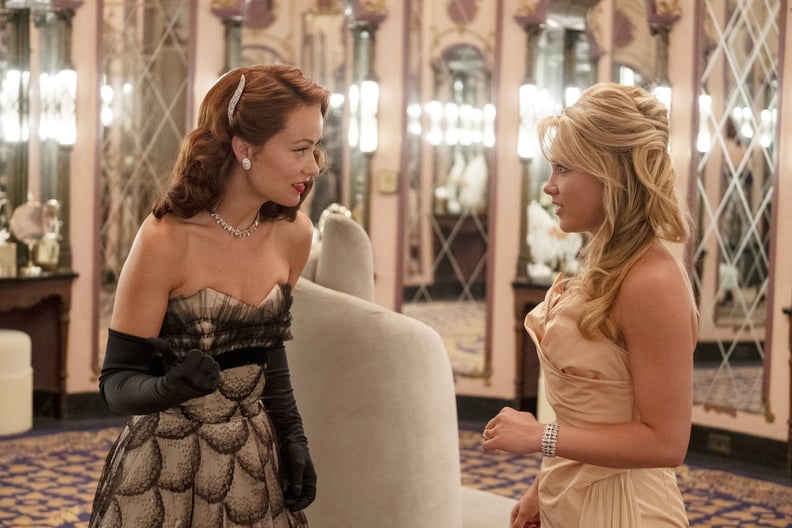 How the Film's Hairstylists Changed Olivia Wilde's Mind About Wigs
Wilde admitted her longtime fear of wigs. "Maybe it's because most of the time they're bad bad bad and also painful," she wrote in the Instagram caption. "Maybe that's just my whack wig experience. When we were making DWD, I knew the hair was going to be a crucial, transformative element of our story-telling."
Enter: McIntosh, who quickly quelled any such doubts with her careful and masterful work. In addition to previous bad experiences with wigs, McIntosh tells POPSUGAR that Wilde was also concerned about the logistics of having to go back and forth between directing and getting into hair and makeup as an actor.
"Luckily, putting a wig on is probably faster than styling Olivia's own hair into that style, so that was a positive," McIntosh says. "Once we worked on creating a wig that was as real as we could, mimicking nature and having bounce, she absolutely adored it."
To create the wig's rich and dynamic red color, the production's wig maker, Robert Pickens, used "quite a few shades of red for us" to find one that worked perfectly for Wilde's skin tone, which included a deeper shade underneath and lighter red toward the front.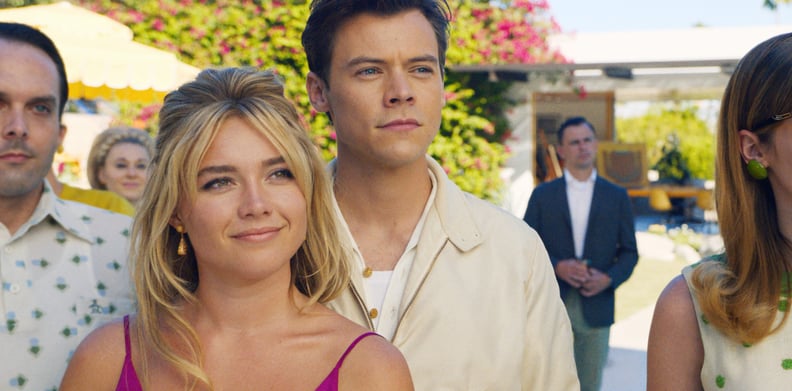 Why Florence Pugh Didn't Wear a Wig in "Don't Worry Darling"
Seeing as most of the "Don't Worry Darling" cast are wearing wigs in the movie, you might be wondering why Pugh, the lead character, isn't. Well, the answer is simple: Pugh's natural hair is straight-up perfect the way it is.
"We knew that we wanted to use Florence's hair because she has a gorgeous head of hair," McIntosh says. "She was already light, so we just adjusted her hair color a little. [Her hair] holds the curls so well and bounces beautifully."
The main inspiration for Alice's hair was 1950s French actress Bardot, whose voluminous blond hairstyles became her trademark. In the film, Pugh wears a variety of period-appropriate styles, most notably a half-up pouf with face-framing bangs. She's also seen in glamorous updos and, for a scene in ballet class, a decidedly Bardot-inspired black headband and ponytail. McIntosh says she used the Oribe Dry Texturizing Spray ($49) to achieve Alice's coiffed volume.
"Every time I strayed from Bardot or tried to find some other type of reference, we always just ended up going back to Bardot," McIntosh says. "And then we found all the gorgeous little accessories that would kind of pop against her blond hair. We just had so much fun with it."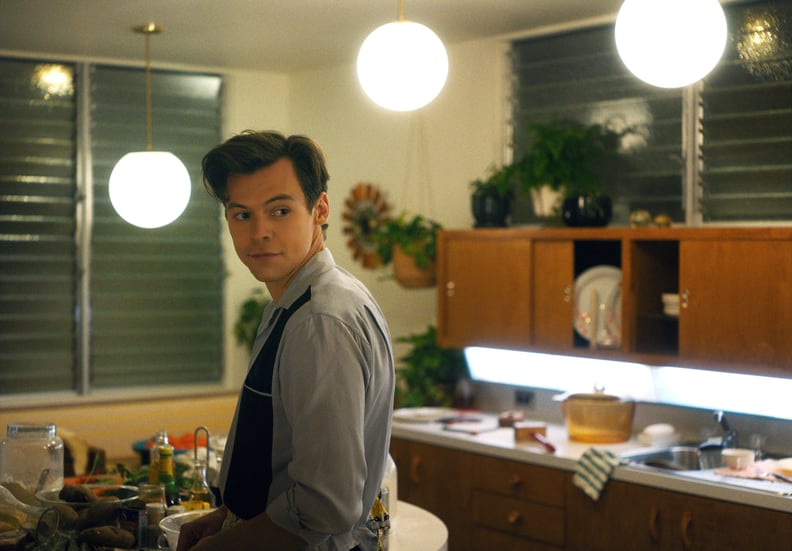 Behind Harry Styles's Dramatic Hair Transformation
For the majority of the movie, Styles's character, Jack, appears polished and put-together with a classic '50s quiff. Viewers get quite the surprise at the end when the truth about Victory is essentially a simulation that Jack has trapped Alice in — and that in real life, he's a disheveled, unemployed husband who resents his doctor wife for her success.
"We were just thinking kind of Rat Pack, like cool guy," McIntosh says of Jack's 1950s look. "Harry's hair is so naturally full of volume, so it just loves going into that shape."
Still, McIntosh didn't want the style to be too confined. "I didn't want to use any products that would hold it too much or make it too rigid, so when we want to see movement, that easily happens and easily falls down," she says. "Whether he's partying or arguing with Alice, that movement is there."
"I tried to create a lank head of hair on Harry Styles, and I couldn't. . . . It's just so naturally voluminous."
As you might imagine, McIntosh had a difficult time creating a "dirtbag"-boy look on Styles. "I tried to create a lank head of hair on Harry Styles, and I couldn't," McIntosh says. "No matter how much I tried to flatten it down, it just wouldn't do it. It's just so naturally voluminous."
Her solution was to create a partial hairpiece that was intentionally thinned on the top, while Thorisdottir's team added a separate scalp piece "just in case we were to see through the hair."
"And then later on when he doesn't look like he's cut his hair for two or three years — the long, stringy, nasty head of hair," McIntosh adds with a laugh. "Harry really leaned into it, too. It was a lot of fun for him. I think he hadn't done any kind of character work with hair makeup and stuff before, so that was cool."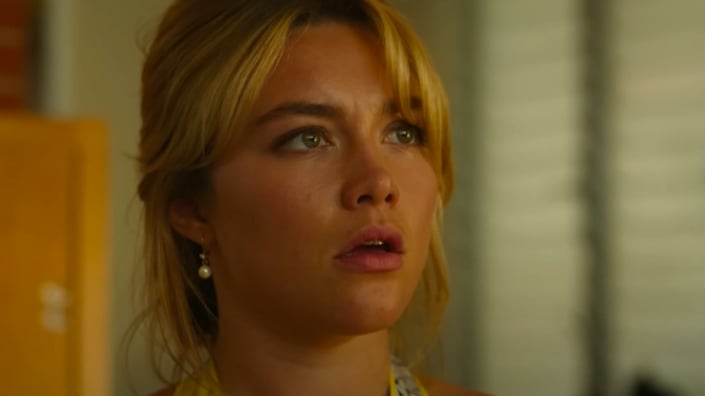 Alice's Makeup Holds a Much Deeper Meaning
As with her hair, Bardot was also the central inspiration for Alice's makeup looks. However, Thorisdottir and her team weren't only focused on re-creating 1950s and '60s glamour; they were also intent on telling a story through her makeup — or lack thereof.
"I wanted her warm and glowing," Thorisdottir says. "We started off with foundation, and then I started mixing a serum into the foundation to have her slowly less made up so that the eye is not totally detecting it, until she completely unraveled in the desert. [For the desert scene], we just used a little tinted moisturizer on her and tons and tons of sunscreen."
For foundation, Thorisdottir reached for makeup-artist-favorite Giorgio Armani Luminous Silk ($69), which she mixed with the Saint Jane Luxury Beauty Serum ($125) for lighter, more glowy coverage. The Hourglass Immaculate Liquid Powder Foundation ($60) and Kosas Tinted Face Oil ($42) were also used to create a more natural, lived-in look.
Thorisdottir notes that for Pugh, appearing on camera with little to no makeup was never an issue. "She's confident enough that she doesn't need anything," Thorisdottir says. "She was like, 'If there's any discoloration or anything in my face, just use it, exaggerate it, make it look bad.' She was so fun to work with that way; she's game for anything."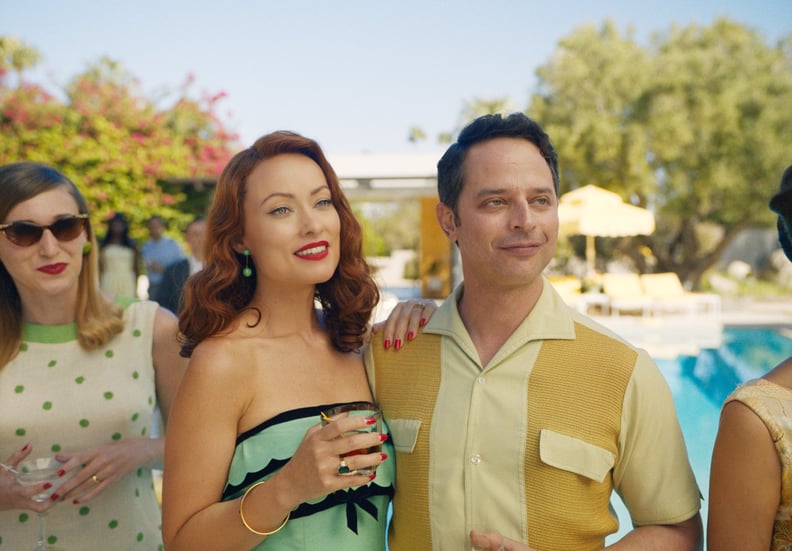 Why Bunny Wears Winged Liner and Red Lipstick
Bunny's makeup in "Don't Worry Darling" not only provides context for her character but also reinforces the notion that winged liner and red lipstick will never go out of style. While there were certain products that were key in creating her look (such as MAC Brushstroke 24-Hour Liner ($19, originally $23) for her sharp cat eye and MAC Retro Matte Liquid Lipcolor in Feels So Grand ($24) for her cherry-red lips), Thorisdottir says the makeup team relied on Wilde's natural features to do the heavy lifting.
"I mean, Olivia, she's so gorgeous," she says. "She already had those eyebrows. She had the perfect eyebrows for it, and we exaggerated that a little bit, and then we gave her that eyeliner."
Considering the fact that the makeup looks had to be re-created day in and day out and look the same for continuity, the precision of Bunny's eyeliner throughout the film is impressive. For this, Thorisdottir credits her co-department head, Seana Gorlick, who mastered the art of quick and flawless winged liner for every single take. "She's like the eyeliner queen," she says.