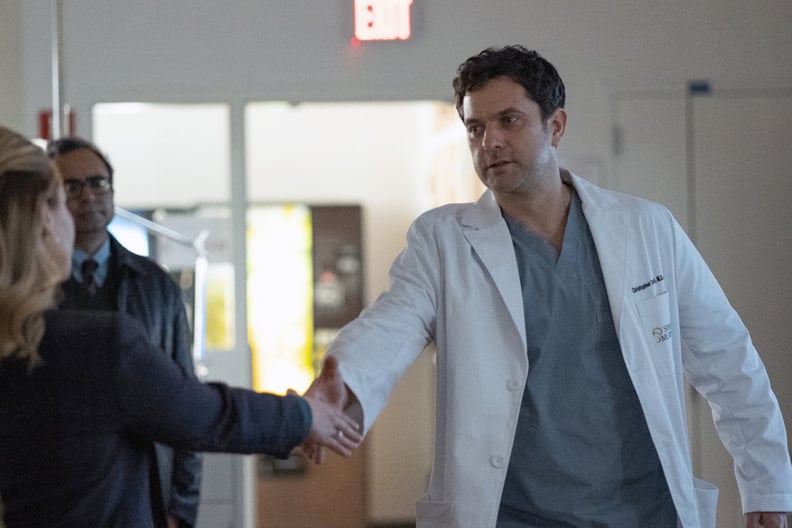 Peacock | Scott McDermott
Peacock | Scott McDermott
In Peacock's new limited series, Dr. Death, Joshua Jackson stars as former neurosurgeon Christopher Duntsch, who permanently injured and killed people during multiple surgeries at hospitals across Texas. It's a very creepy departure from his role as Pacey Witter, the romantic teenager whom most millennials grew to love watching Dawson's Creek in the late '90s, but the show's hair department head still managed to take few cues from the '90s teen classic while styling Jackson for the current show.
"For [Jackson]'s character, we wanted to play into the late '80s, early '90s hockey mullet," hair department head Cynthia Vanis told POPSUGAR. "I asked wig maker Jennifer Renée Mullins to build a hairpiece for him that I then cut and colored. We brought his hair forward, taking his hairline back to [his] Dawson's Creek days."
While on set, Vanis was tasked with making Jackson and other characters appear younger on screen by way of hair design. She delivered by employing a few tricks to make his hair look fuller.
"I played into his natural wavy texture, diffusing it with my Dyson Dryer and going in with a tiny flat iron to make some waves in the hairpiece, which always helps make hair feel fuller and more youthful," Vanis said. "Since we also had to age him, the big span of time made it more of a hair evolution, which helped having a place to go to."
As for aging him throughout the series, Vanis relied on temporary silver hair color. "I used the Reuzel Hard Hold Gel and painted his temples with a silver permanent marker," she said.
To take a look at Jackson's subtle transformation, you can catch all eight episodes of Dr. Death on Peacock now.