Drunk Elephant T.L.C. Glycolic Body Lotion Review
I Tried Drunk Elephant's New T.L.C. Glycolic Body Lotion, and It Melted Away My Dead Skin
As POPSUGAR editors, we independently select and write about stuff we love and think you'll like too. If you buy a product we have recommended, we may receive affiliate commission, which in turn supports our work.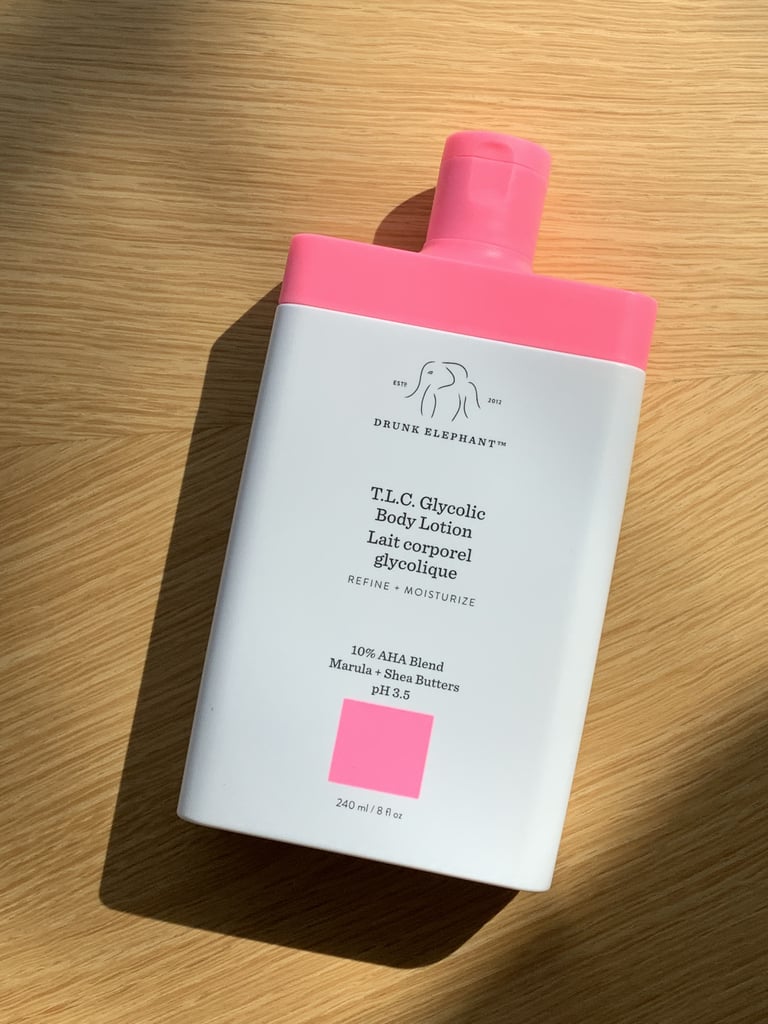 If there is one thing I won't skip out on when it comes to body care, it's definitely body lotion. I'm a daily body lotion user (twice a day, every day), and I can't imagine reaching for anything else immediately after a shower. Something I do skip, though, is exfoliating. While I make it a priority before self-tanning, exfoliating my body on a regular basis just isn't something I have time to do habitually. So when I heard about Drunk Elephant's newest product, T.L.C. Glycolic Body Lotion ($25), which promises to moisturize and exfoliate — I knew I had to try it.
Any person who loves skin care probably has at least one Drunk Elephant product they're obsessed with. (For me, it's their B-Hydra Intensive Hydration Gel.) The brand is known for being free of essential oils, silicones, and fragrances, all while making effective products in easily recognizable, cute-as-hell packaging. When it comes to this product specifically, Drunk Elephant has managed to pack a long list of good-for-you ingredients into one simple bottle of lotion. Formulated with an AHA blend of glycolic, lactic, tartaric, and citrus acids, T.L.C. Glycolic Body Lotion lightly exfoliates the skin while combining plant oils and butters, such as marula and shea, to hydrate and soothe the skin simultaneously.
Simple ingredients that work hard are important to me because I've learned that's what works best when it comes to my skin, whether it's my body or my face. Additionally, I'm constantly on the hunt for products that will keep my skin feeling moisturized and hydrated because dryness is my number one skin-care concern. All of my friends and family know that I don't leave the house without a travel-size bottle of hand lotion and that I never skip any areas when moisturizing — not even my feet. Knowing how much I've loved Drunk Elephant products in the past, I was excited to put this lotion to the test.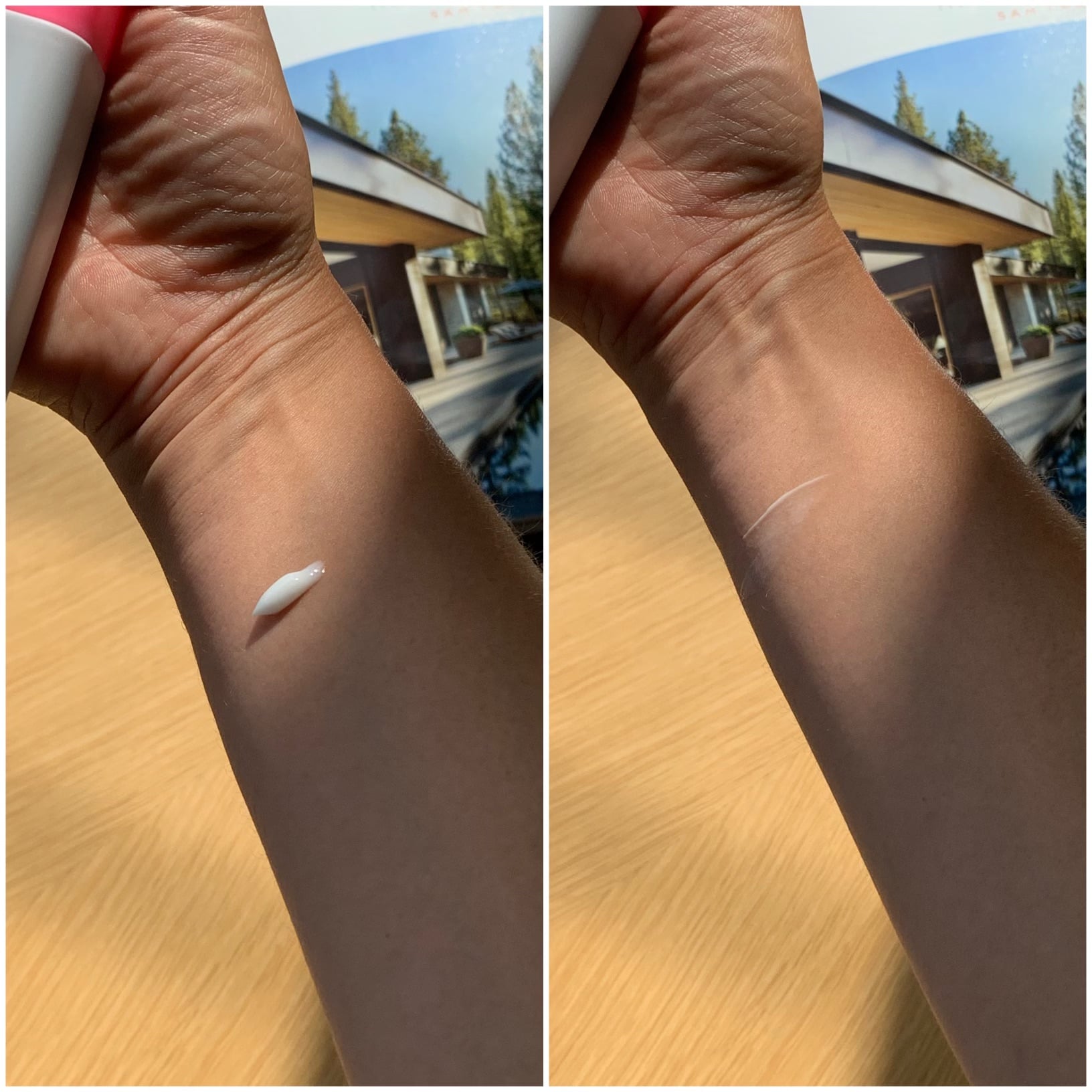 The first time I tried the lotion, I was immediately a fan of the texture. I like the consistency of my body lotion to be somewhere between thick and thin, while still managing to moisturize fully. The lotion is lightweight yet creamy, nearly scent-free, and goes on without any stickiness or slimy residue. It absorbed into my skin quickly and left my body feeling soft and hydrated immediately after.
The directions said to apply once a day onto clean, dry skin, so I opted to use this product at night before heading to bed. After showering, I toweled off and applied it evenly over my entire body. Within a few days, I started to notice a softness in my skin, specifically in my chest area. In the summer months, I spend a lot of time layering sunscreen onto my chest, and I've found that the buildup of products can leave me with breakouts and bumps that are often hard to get rid of. This lotion melted away product buildup and dead skin cells and left my skin feeling hydrated and baby-soft after just a few nights of use.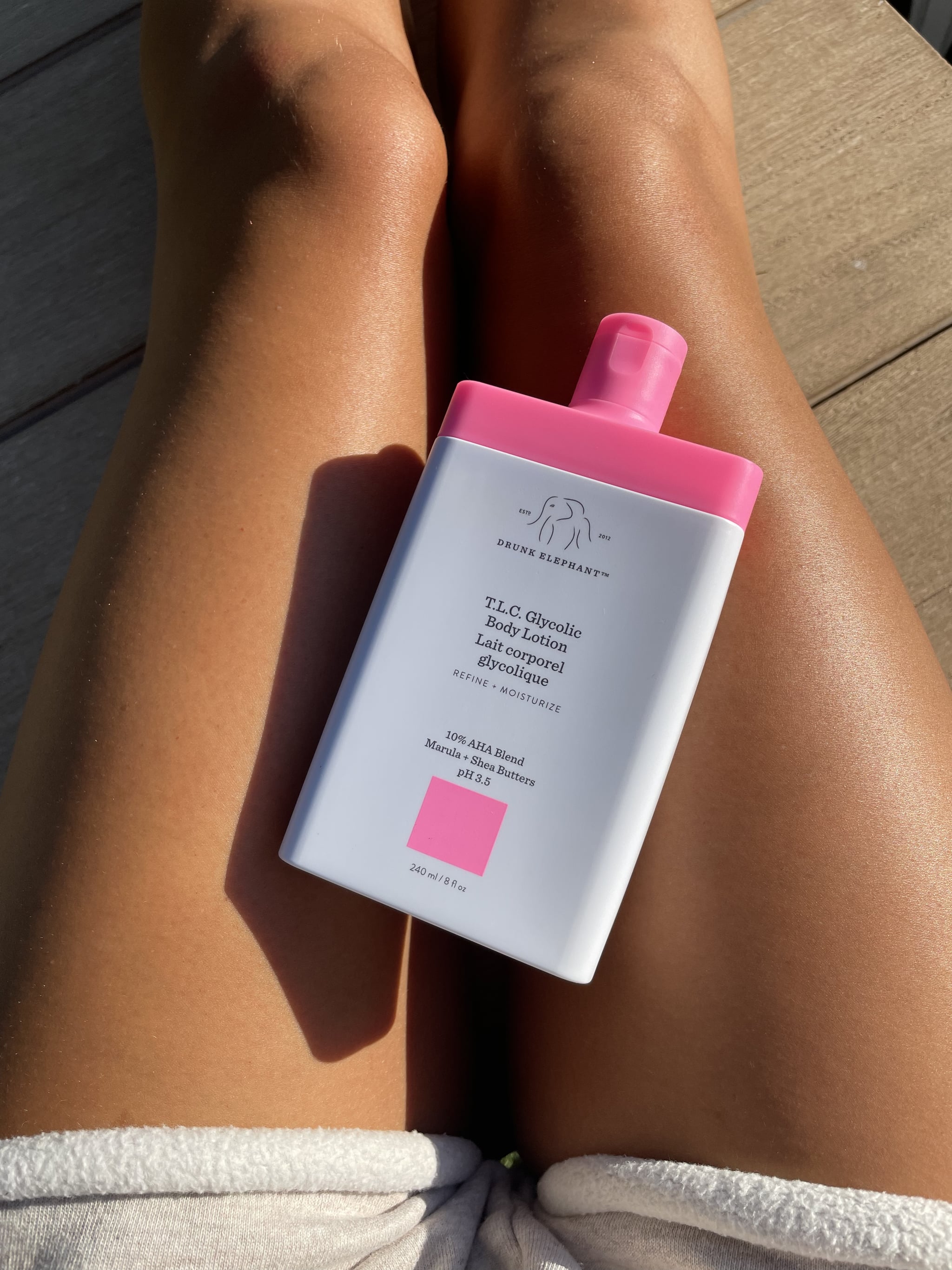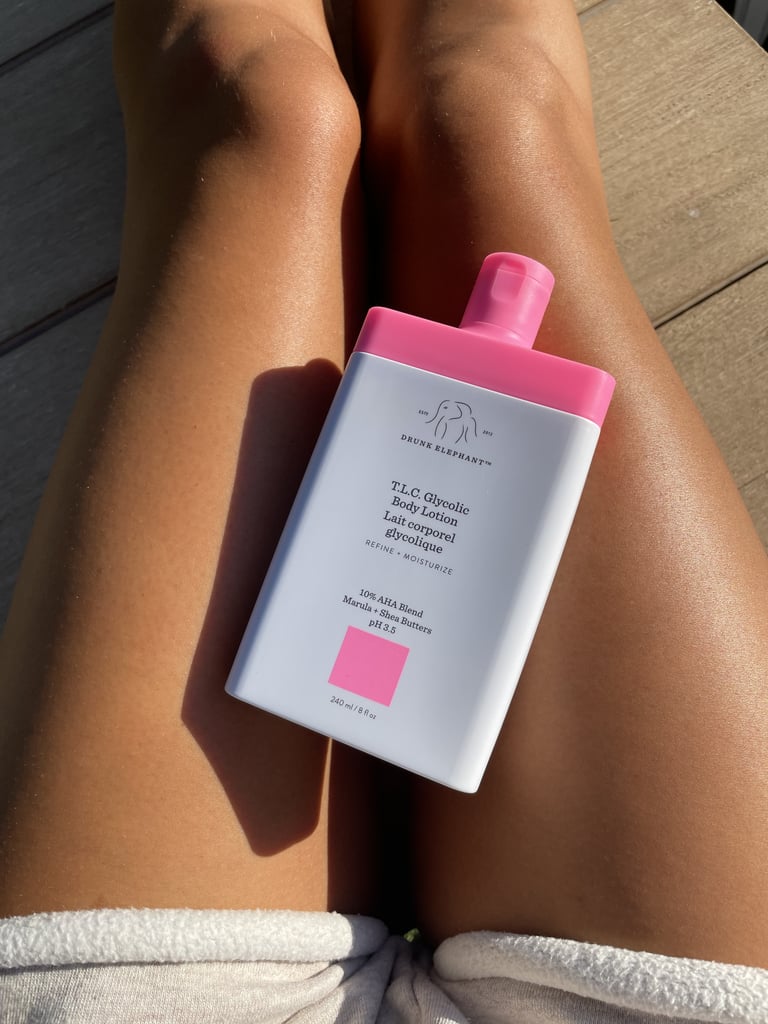 While the $25 price tag would be on the steep side for a normal body lotion, this product covers both your moisturizing and exfoliating bases, which makes it 100 percent worth it, in my opinion. I've still got work to do, but my skin feels soft and smoother than it has in years thanks to this product. Drunk Elephant's T.L.C. Glycolic Body Lotion is a must try for anyone looking to elevate their body-lotion game.
Rating:
Image Source: POPSUGAR Photography / Renee Rodriguez