As POPSUGAR editors, we independently select and write about stuff we love and think you'll like too. If you buy a product we have recommended, we may receive affiliate commission, which in turn supports our work.
Baz Luhrmann's newest highly anticipated movie, "Elvis," hit theaters on June 24, starring Austin Butler as the man himself, Elvis Presley; Tom Hanks as his agent, Tom Parker; and Olivia DeJonge as the one and only Priscilla Presley.
You don't even have to make it through the three-minute and 16-second trailer to know that Luhrmann — and his entire team of creatives — did it right with this film. Butler disappears into his character, nailing every last detail from the singer's voice to his iconic hairstyle and prosthetic chiseled jawline.
The hair and makeup team had the particularly important job of transforming the main characters into incredibly well-known, well-documented people, and not a single hair could be out of place. "Baz is incredibly visual and very specific in what he wanted, so our conversations were a lot about not replicating or impersonating anything, but rather to represent and respect," Shane Thomas, the hair and makeup designer for the film, tells POPSUGAR.
Thomas wanted the movie's beauty looks to honor Elvis and Priscilla as the "fashion-forward characters" that they are and take you through three decades of their lives together. He had full support from his director. "Baz is very hair-obsessed," Thomas says. "It has to be perfect, so he gives you the time to make it perfect. One of his famous quotes while we were filming was, 'The hair has spoken, so we can roll the cameras.'"
Ahead, he shares more behind-the-scenes details about the hair and makeup in "Elvis," like how long it took to get Butler into character and how they used makeup and prosthetics to "travel through the decades."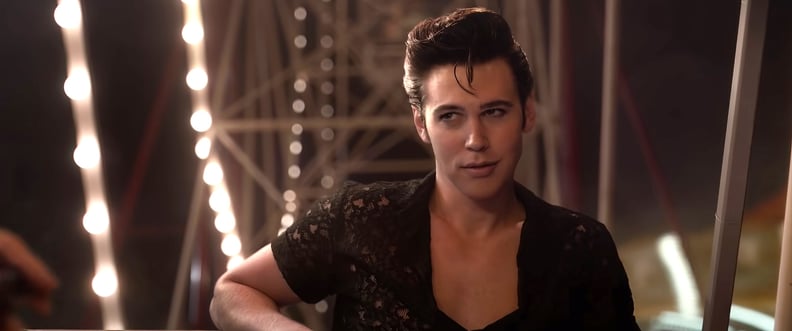 Re-Creating Elvis's Iconic Hairstyle on Austin Butler
"As soon as you see even a silhouette of Elvis, it's his hair that stands out the most."
Out of all the characters, Butler's transformation into the King of Rock 'N Roll himself was the most demanding and took approximately four and a half hours to complete. Though every detail was taken into consideration, right down to the nails and the eyelashes, it was Elvis's iconic hairstyle that carried the most pressure.
"As soon as you see even a silhouette of Elvis, it's his hair that stands out the most," Thomas says. "The man lived with a comb in his pocket in the '50s — he was always combining his hair and getting at as high as he could."
Though Butler has had dark hair in real life since filming for "Elvis" began, it's not his real hair throughout. "We used his real hair for the early '50s and just colored it," Thomas says. For the late '50s through the '70s, wigs were used to re-create Elvis's hairstyle. Luhrmann's one request: "Higher, get it higher, higher, higher."
Butler used six wigs in total for the various stages of the singer's life. They all had to be the perfect shade of black, too. "He dyed his own hair — he also dyed Priscilla's hair," Thomas says. "So you can imagine them dyeing each other's hair at Graceland, both black."
Still, even that wasn't enough. Another crucial piece to the puzzle was Elvis's sideburns. "[They] were a huge deal as well, because he's known for his sideburns, especially in the '70s when he was doing Vegas."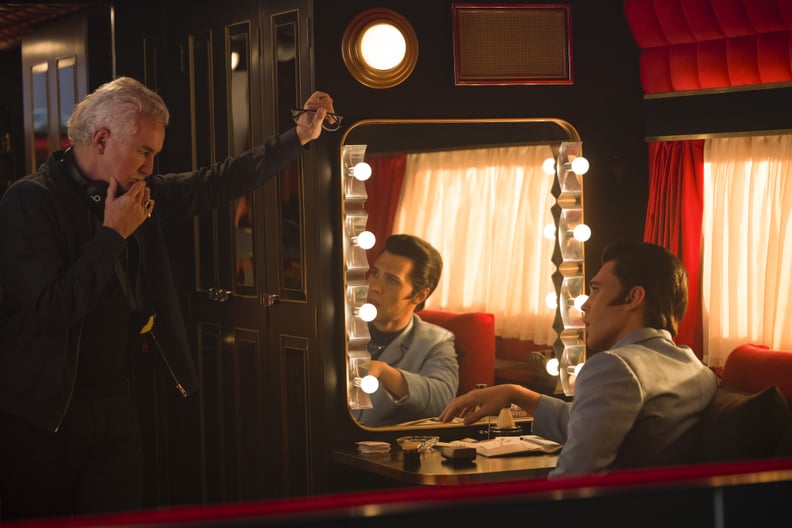 The Prosthetics Used on Austin Butler For Elvis
Butler's day would start in the hair and makeup chair with Thomas and three other members of the hair and makeup team. First, they'd apply facial prosthetics. "We did fewer prosthetics on his face for when he was younger to just keep him fresher and a bit more round-faced," he says. "As he got older, he sort of was a little more chiseled."
To fake this progression of time, Butler started out with a prosthetic chin and cheekbones to play Elvis in the '50s. Then, for the '60s, Butler wore chin and jaw prosthetics. "We added jaw prosthetics when he got older to harden his jawline a little bit and make it more pronounced," Thomas says.
The most drastic change comes when they jump to 1977. "The 'Unchained Melody' scene, just prior to him passing, he had fat prosthetics on," he says. This included face, neck, and chest prosthetics with the latter requiring each chest hair to be placed one by one.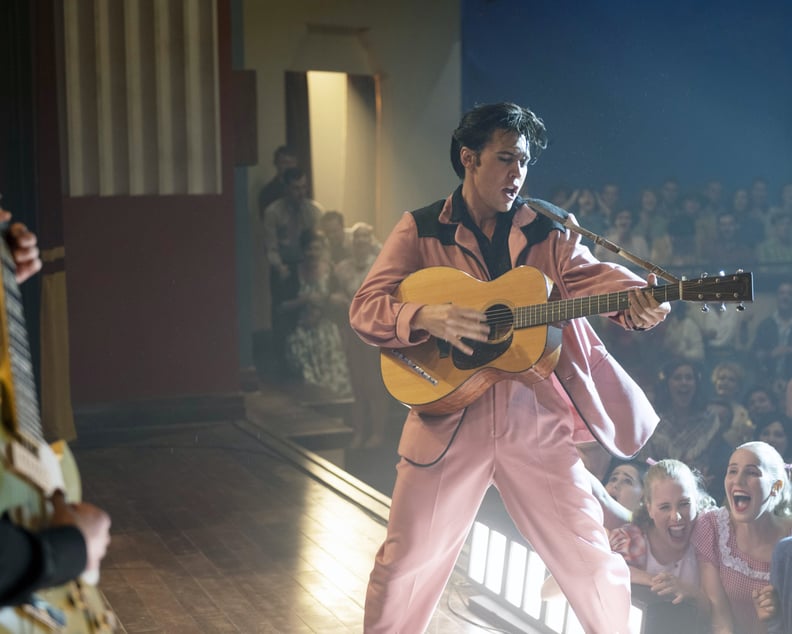 Eyeliner and Lashes Were Key For the Elvis Makeup Look
Elvis was ahead of his time in more ways than one and often wore makeup, especially for his performances. "Elvis had these really dreamy lashes and bedroom eyes, so we wanted to re-create that look," Thomas says. To get the look, Butler wore two sets of Lash Republic Lashes ($15), as well as heavy bottom eyeliner using the Chanel Stylo Yeux Waterproof Long-Lasting Eyeliner ($34).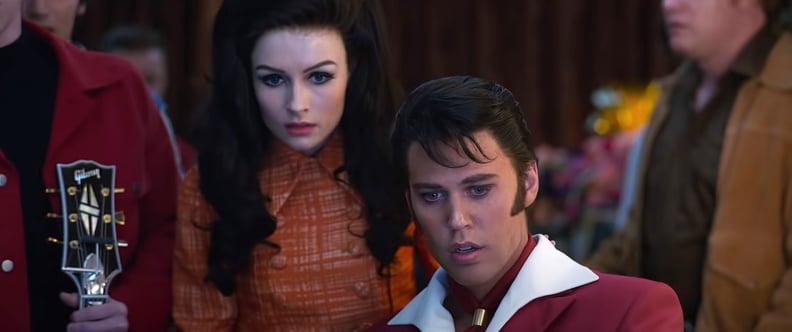 Priscilla's Makeup and Nails Take Us Through Time
In the movie, DeJonge starts out fresh-faced as a young woman living in Germany. At this point in Priscilla's life, she was into fashion and beauty but still followed the trends instead of creating them. However, she quickly came into her own. By the time she married Elvis in 1967, she's solidified her status as a fashionista. "She wore a lot of makeup — three sets of lashes on the top, lashes on the bottom, really bold eyeliner," Thomas says.
DeJonge spent around one and a half to two hours in makeup every day, and the hardest part was always nailing the eyebrows. "They did change a lot through the period," Thomas says.
In the '70s, Priscilla changed up her look even more. "They were spending a lot of time in Hawaii, so they were a little more suntanned," Thomas says. He used the Dior Backstage Face & Body Powder-No-Powder ($40) to give DeJonge's skin this tan.
DeJonge's manicure also evolved with the times, as it would have in real life. In the '50s, the nails were short, round, and natural; in the '60s, they were longer and pointed and featured more subtle color; in the '70s, they were short again with rounded edges and often painted in pastel hues.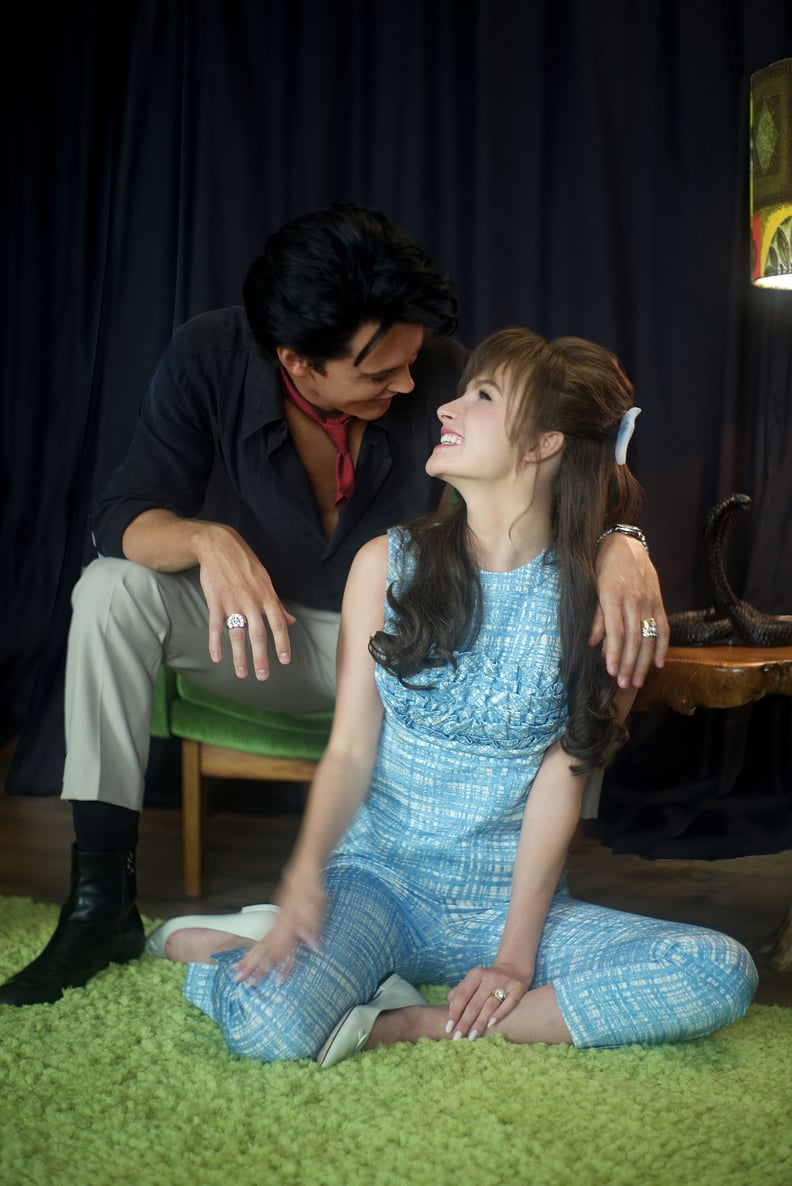 The Secret to Priscilla's Beehive Hairstyle
Elvis isn't the only Presley known for their exceptional hair. Priscilla had quite a few iconic moments herself — most notably her larger-than-life beehive hairstyle from her wedding to Elvis in 1967. "Sometimes I would look at the photos and I'm like, This is not even real," Thomas says. "It's so beautiful but so kind of crazy."
For that beehive style, DeJonge had to wear two wigs at once to get the needed height. But that wasn't the only major hair change she had. By the time the two divorced in 1973, Priscilla was blond, and her hairstyle featured a soft flick at the ends. For these additional looks, DeJonge had four other wigs.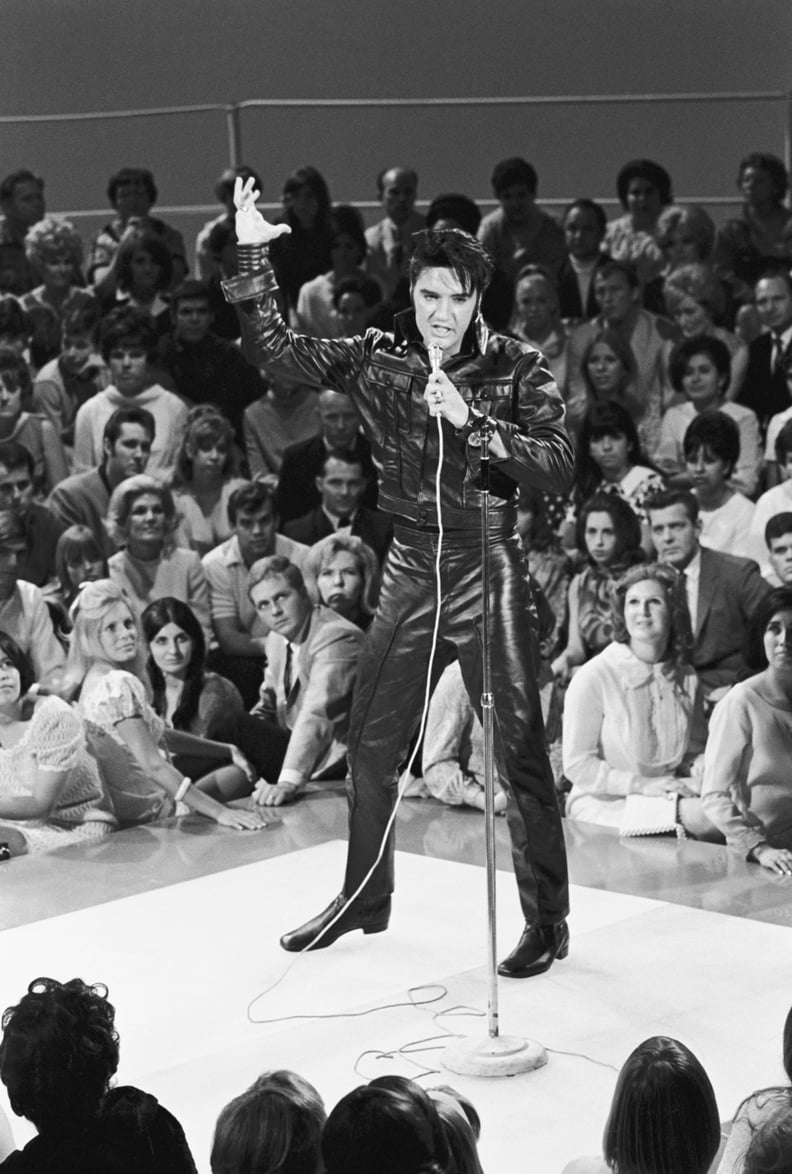 The "'68 Comeback Special" Matches the Real Event
As if creating Elvis and Priscilla's many looks weren't enough, Thomas and his team also had the task of creating different hair and makeup looks for all of the background characters. According to Thomas, approximately 450 wigs were used throughout the movie on the extras.
Further proof that Luhrmann's level of attention to detail is unmatched: he went as far as "trainspotting" the "'68 Comeback Special," where Elvis famously performed in a black leather suit. "Every single extra sitting around the stage had to have the same costume, the same hairdo, the same makeup as the people in the real ''68 Comeback Special' that NBC did," Thomas says. "[With] the real images and our images next to each other — it's quite mind-blowing how well we did with replicating it."