Even though we're still enjoying the sunny weather that summer brings, we can't help but think ahead to fall. Fuzzy socks, pumpkin-spice candles, spooky home decor, and fall nails are calling our names. We love sporting bright lipsticks and nail-polish shades in the summer, but after a while, it's hard to stop dreaming of all of the amazing manicures we can create with our fall nail colors.
Chrome french manicures, abstract designs in neutral tones, and "naked" nails are just a few of the fall nail trends that you can expect to see on fingertips and Instagram feeds everywhere come September. All of the trendiest designs will range from neutral, barely there colors, like beiges, to more autumnal hues, like reds, browns, and green, and even out-of-the-box shades like powdered blues. You can't go wrong with a plain and simple manicure if the quiet luxury aesthetic is your vibe, but there are also plenty of fun, statement-making nail-art designs to play with if that's more fitting for you.
Ahead, we asked a handful of nail artists to share their trend predictions for fall 2023, and they didn't disappoint. Keep scrolling to see the best fall nails ideas to add to your mood board for the new season.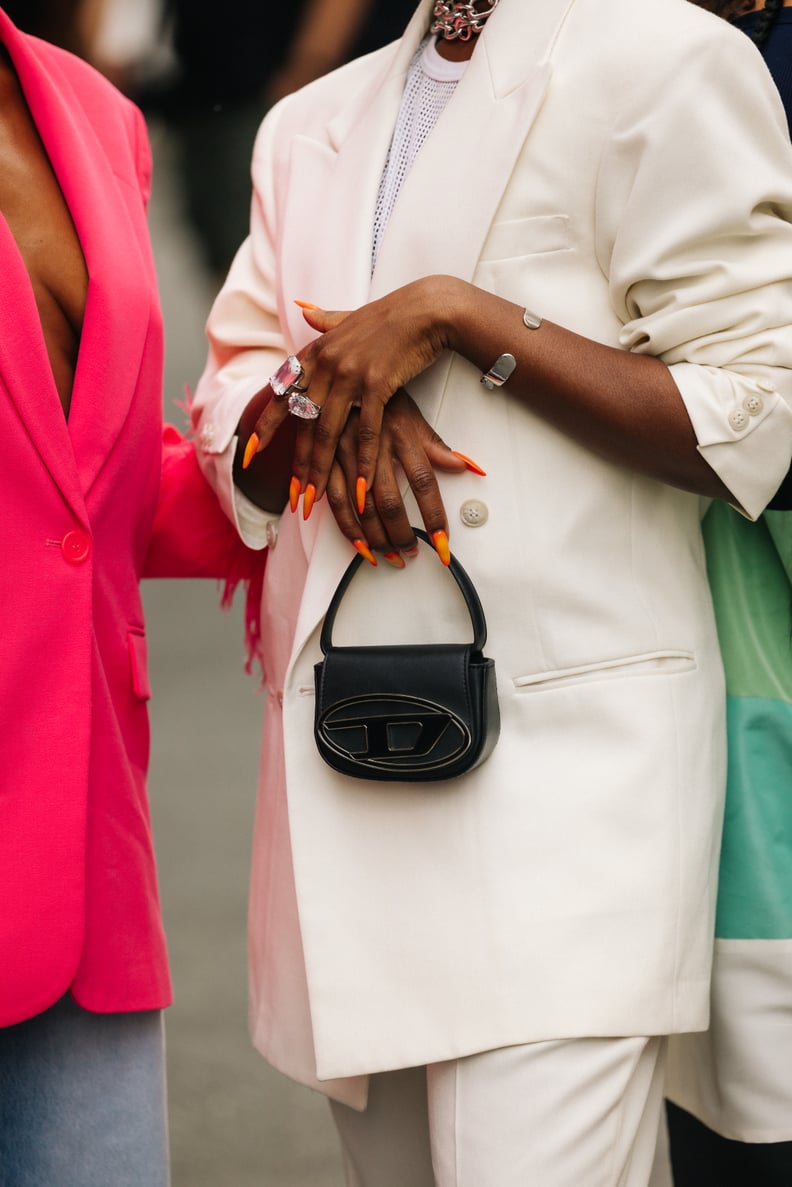 Fall Nails Ideas: Aura Nails
Like Megan Fox perfectly demonstrated, the coolest new trend is called aura nails, which "mimic the colors of the body's chakras and energy color fields," Rita Pinto, founder of Vanity Projects nail salon, previously told POPSUGAR. "It's very New Age meets Gen Z because the colors of the manicures are way more interpretive and expansive than the usual aura-chart colors. I've also heard them be referred to as 'color trips' in the salon by clients."
Fall Nails Ideas: Swirl Nails
When you can't make up your mind on what to get at the nail salon, go with something abstract. "Think thin lines [and] swirls," Rojas says. Swirl nail art specifically has been rising in popularity in recent months. This fall update replaces the flowers, smiley faces, fruit, and rainbow designs that we typically gravitate toward in the summer.
Fall Nails Ideas: Blueberry-Milk Nails
Blueberry-milk nails are the newest iteration of the milk-bath design to sweep salons everywhere. The cloudy, subtle blue hue is perfect for anyone who's looking for a fall manicure that's not in the quintessential autumn shades of brown, orange, and red. "Blueberry-milk nails have a creamy base with a soft blue hue to the finish," celebrity nail artist Queen Nguyen previously told POPSUGAR. "This particular shade of blue is not a harsh pastel blue, but rather a creamier hue with a cool-tone shift."
Fall Nails Ideas: Naked Nails
In keeping with the quiet-luxury aesthetic that we're seeing everywhere, naked nails are a classic choice for fall. "We saw the early phases of this trend take root with the rise of the 'invisible' manicure," Nadine Abramcyk, founder of Tenoverten previously told POPSUGAR. "People have grown an appreciation for natural nails, the equivalent to the no-makeup look."
Fall Nails Ideas: Chrome French Manicure
Chrome french manicures have been trending all summer, and they won't be going away for fall. Instead of bright, neon chrome hues, expect to see this trend take on a moodier look with silver, gold, and even dark-blue tips.
"Chrome is having a moment in fashion right now, with glam goth and futuristic, sci-fi-influenced fashion all featuring a ton of reflective silver," Brittney Boyce, celebrity nail artist and founder of Nails of LA, previously told POPSUGAR. "That, of course, translates to nails. Chrome french tips, in particular, add this edginess to a very feminine, soft, and classic nail look."
Fall Nails Ideas: Half-Moon Nails
If you're not big on over-the-top nail art, half-moon manicures are for you. "It's a simplistic, modern design that looks clean and chic," Lilly Rojas, cofounder of Lili and Cata Nail Salon in Brooklyn, tells POPSUGAR. "It's also a go-to design for people who are traveling for two-plus weeks, as the bottom half of the nail, known as the fingernail moon, is left bare, and can grow out a bit without it being too noticeable to the naked eye."
To give the manicure a fall spin, opt for autumnal shades.
Fall Nails Ideas: Dark French Manicures
If history has proven anything, it's that french manicures will never go out of style. To give this summer staple a fall makeover, just switch up the colors you use. "We can expect to see french manicures with black, deep red, and neutral-colored tips," Rojas says. "French manicures also work on a variety of nail shapes and lengths, so it's a trend that's here to stay."
Fall Nails Ideas: Cow-Print Nails
Cow-print nails may seem random, but this Y2K-inspired pattern is actually perfect for fall. "Animal patterns have always been a popular nail-art trend," nail and tattoo artist Asami says. "Cow print is less loud than leopard and a new approach." The black-and-white print already uses muted colors but mixes in areas of negative space to make it even more unique.