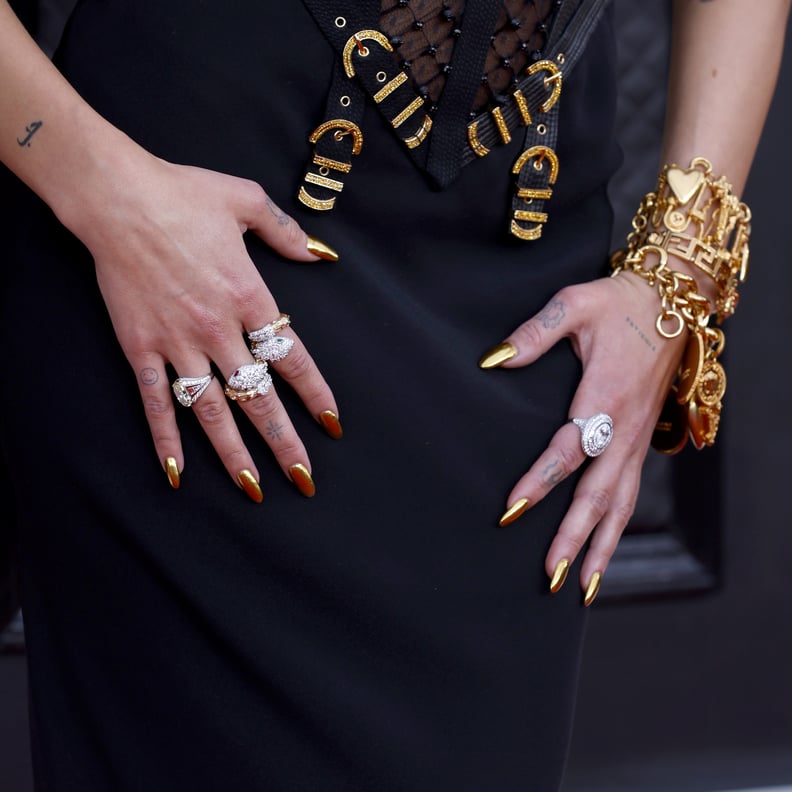 Chrome french manicures combine two popular nail trends: chrome nail polish and traditional french manicures.
Chrome french manicures have been seen on celebrities like Megan Fox, Beyoncé, and Kylie Jenner.
Get inspiration for the chrome french-manicure trend here.
If you look back in time, every decade has been dominated by one core manicure. In the early 2000s, the classic white-tipped french manicure reigned supreme; in the 2010s, it was everything holographic and mirrored. Now, in the 2020s, we're seeing a fusion of those two trends with the chrome french manicure.
In general, chrome nails have been trending for 2022. The reflective nail-polish color has graced the fingertips of stars like Zendaya, Dua Lipa, Halle Bailey, and Joe Jonas. The chrome french manicure simply combines two viral nail looks into one manicure for a super-on-trend, Instagram-worthy look.
"Chrome is having a moment in fashion right now, with glam goth and futuristic, sci-fi-influenced fashion all featuring a ton of reflective silver," Brittney Boyce, celebrity nail artist and founder of Nails of LA, tells POPSUGAR. "That, of course, translates to nails. Chrome french tips, in particular, add this edginess to a very feminine, soft, and classic nail look."
In case you needed further proof of chrome french manicures' prominence, allow us to point your attention to the day Megan Fox said "yes" to fiancé Machine Gun Kelly. For the occasion, she had on a silver chrome french engagement manicure, courtesy of her go-to nail artist, Boyce. In addition to Fox, celebrities such as Lizzo, Dove Cameron, Anya Taylor-Joy, Kylie Jenner, and Beyoncé have given the nail-art trend their stamp of approval.
This nail look can be done with a variety of colors — you're not just limited to the standard silver and gold — and combined with other nail-art trends, too. This summer, get ready to see chrome french manicures everywhere as more people hop on board the trend. For inspiration to take with you to the nail salon, keep scrolling.
Lavender Chrome French Manicure
Hot-Pink Chrome French Manicure
Gold Chrome French Manicure
Pink Chrome French Accent Manicure
Holographic Chrome French Manicure
Green Chrome Baby French Manicure
Stiletto Chrome French Manicure
Dua Lipa's Green Chrome French Manicure
Beyoncé's Silver Chrome French Manicure With Nail Art
Silver Chrome French Manicure
Megan Fox's Silver Chrome French Manicure
Chrome French Manicure With Nail Art