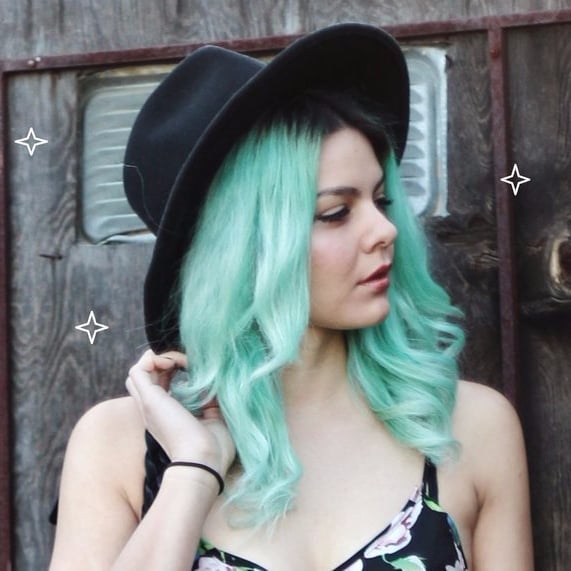 Contrary to popular belief, grunge hairstyles don't require unwashed or greasy hair. But we certainly won't judge you if you decide to skip a shampoo session and call it '90s-inspired.
While the term "grunge" was originally used in reference to a subgenre of alternative rock developed by bands like Nirvana, Stone Temple Pilots, and Pearl Jam, it's also used to describe the signature hair, makeup, and clothing that accompanied this musical boom. At the time, style icons like Liv Tyler, Drew Barrymore, and Johnny Depp helped solidify the parameters for this "disheveled-chic" vibe. Though grunge looks can take time and beauty skills to complete, the finished product should feel purposefully messy and carefree.
Today, the '90s renaissance (hello again, brown lipstick and barrettes) has brought grunge style back into the spotlight — and back into the heart of beauty girls, whether they actually lived through the time period or not.
While we love the makeup and manicures that epitomize the decade, we're perhaps most excited about the effortlessly cool hair. So we rounded up some of the best grunge hair tutorials from YouTube. Keep reading to find your next side ponytails, tousled curls, or pigtail buns to win Instagram with a dope #TBT hair post.
Learn how to create five looks in three minutes thanks to Mickylene Delgado. It doesn't get much quicker or easier than that!
This is the first hairstyle video from music and fashion vlogger Rock n Roller, and judging by how great these four styles look on her bubblegum-pink hair, we definitely hope to see more. She includes the classic low buns but also gets creative with loose braids and wrapped pigtails.
If there's one YouTuber made for this style, it's Jade the Libra. Her signature colorful hair lends perfectly to these two styles: loose curls and pigtail buns.
As soon as Zoe London opened her video explaining that the three tutorials work best on two- or three-day-old hair, we were hooked. She draws inspiration from icons like Courtney Love and Gwen Stefani.
This faux hawk is pretty rad! YouTuber albinwonderland shows us how to get this fantastical, curled style — which reminds us of a magical unicorn.
The sheer number of hairstyles (five!) that Urszula demonstrates in this under-three-minute video attests to how accessible these looks can be. This is a must watch for anyone with short strands — while '90s styles sometimes seem geared toward longer manes, this tutorial is aimed at locks that hit above the shoulders.
Christine Di'Amore takes a cue from some of the best throwback TV shows and movies like Clueless, She's All That, and Friends. She carefully chooses classic looks like the half-up-half-down bun, pinned-back side part, and hair flip that can be seamlessly transitioned from 1995 to 2015.
Lee Kiamo's unique curling technique features a flat iron to produce perfectly slept-in waves. She twirls sections of hair and then clamps the straightener over them. After, she tousles it all out.
Vlogger ELLWIS focuses on styles that work for a range of hair lengths and even includes some time-appropriate accessories like a velvet scrunchie and bandana.
This tutorial from kianahearts goes hardcore '90s with three styles: half-up-half-down mini buns, a high side pony, and pigtail braids.
For girls with longer hair, Nicole Jackson covers all your hairstyle bases. This video shows seven different 'dos, which range from the iconic pigtail buns to the more wearable and classic half-up-half-down high ponytail.