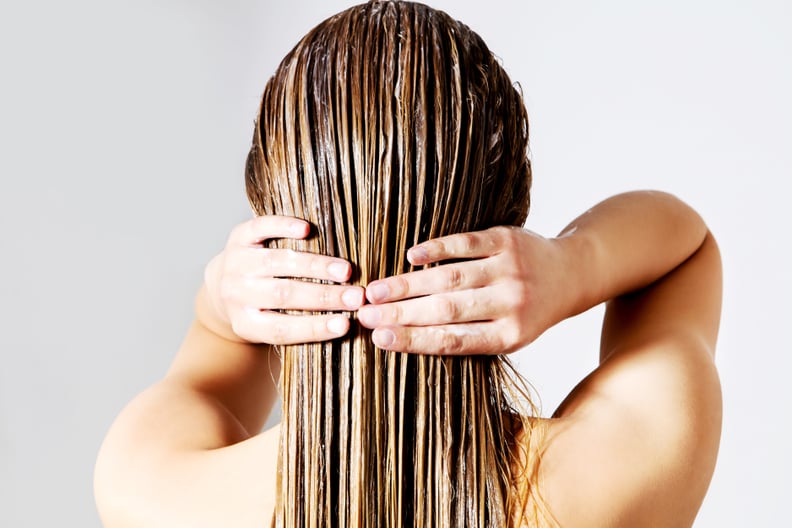 Getty/Piotr Marcinski | EyeEm
Getty/Piotr Marcinski | EyeEm
As POPSUGAR editors, we independently select and write about stuff we love and think you'll like too. If you buy a product we have recommended, we may receive affiliate commission, which in turn supports our work.
As I've gotten older, I've started putting a lot of focus on the health of my hair. Whether it's trying out essential oils for hair growth, taking supplements, or testing out products that promise to cure all my hair woes, I'm always looking for new ways to improve the look and feel of my hair.
I recently stumbled across a video created by a beauty influencer I follow, Kelsey Griffin, where she talks about "hair cycling," and my interest was immediately piqued. In the video, Griffin talks about how she recently began skin cycling, which led her to the realization that she had been hair cycling for quite some time.
"Every time I wash my hair, I do a different type of shampoo and conditioner routine," Griffin says. She then goes on to comment that she typically starts with a reset routine that includes a detox shampoo, and that her next wash will use a reparative shampoo or a product that focuses on bond building.
I have multiple hair concerns, so I'm also someone who alternates between different products each time I wash my hair because I've found that no one product can do it all. Curious to learn whether or not hair cycling was actually beneficial for hair and scalp health, I tapped Rita Hazan, celebrity colorist and founder of Rita Hazan, and Helen Reavey, founder of Act+Acre, board-certified trichologist, and celebrity hairstylist, to answer all of my burning questions.
Keep reading to find out what hair cycling is, whether or not it actually works, and what a typical hair-cycling routine might look like.
What Is Hair Cycling?
"Hair cycling is essentially alternating products in your hair-care routine in order to achieve the healthiest, most optimal results for your hair," Hazan tells POPSUGAR. Reavey agrees, saying, "Similar to skin cycling, hair cycling is a hair-care routine that incorporates 'rest days' during the week, so that your hair can repair itself after using specific products."
The idea is that instead of using a potentially harsh product like a clarifying shampoo every time you wash your hair, you space out your uses and give your hair time to rest. The same idea goes for heavy hair products like ultrahydrating hair masks. Rather than using them every time you wash your hair and potentially dealing with product build-up, you alternate. This allows you to address multiple hair concerns like dryness, dandruff, or even an overproduction of oil without weighing your hair down or stripping its natural oils.
The Benefits of Hair Cycling
Hair cycling is a great option for anyone who wants to improve the health of their hair or their scalp. When it comes to the scalp specifically, Reavey says that in addition to simplifying your hair-care routine, hair cycling reduces the potential risk of inflammation. "The skin on your scalp ages six times faster than anywhere else, so it's important to treat it with the same amount of care (if not more) as the skin on your face," Reavey says. "Overexfoliating or adding too much product to your scalp can ultimately harm the hair follicles and imbalance the scalp biome, leading to an increased risk of scalp irritation and inflammation."
As for your hair, Hazan says that hair cycling is perfect for anyone who has multiple hair concerns. For example, if you have issues with both frizz and dehydration, you can dedicate one day during your hair-cycling routine to focus on using hydrating products, and one day can center around using products that address frizz.
Sample Hair-Cycling Routine
Your specific hair-cycling routine will depend on your hair type, your lifestyle, and how often you wash your hair, among other things. The beauty of hair cycling is that it can be completely tailored to suit your hair-care needs, and no two routines need to be completely alike. "Having a healthy washing routine within your cycling is all about finding that sweet spot, the one where your hair's oils can work their natural magic without being stripped from overcleansing," Reavey says.
While each routine will look different depending on the person, a sample of a typical hair-cycling routine could look like the below:
First Wash of the Cycle:
Both Reavey and Hazan recommend starting out with a gentle clarifying or detoxifying product like the Act + Acre Scalp Detox ($48) or The Inkey List Salicylic Acid Exfoliating Scalp Treatment ($15) during the first wash of your hair cycling routine. "I recommend steering clear of scalp scrubs as the beads can create tears in the scalp, leading to an increased risk of inflammation or infection," Reavey adds.
Next, try double cleansing with a sulfate-free shampoo, like the Redken Frizz Dismiss Sulfate-Free Shampoo ($46). "I always recommend double cleansing, since the first cleanse removes product buildup, while the second wash actually cleanses the scalp," Reavey adds.
Then, complete your wash routine by using a moisture-rich conditioner like the Pureology Hydrate Conditioner ($35).
The final step in your hair-cycling routine can focus on restoring scalp and hair health by using a product like the Act+Acre Stem Cell Serum ($86) which promotes hair growth, and a moisturizing hair oil like the Verb Ghost Weightless Hair Oil ($20) which frights frizz and adds shine.
Second Wash of the Cycle:
Since the first wash of the cycle focused on detoxifying and clarifying the hair, the second wash of the cycle should skip that step entirely and go straight into double cleansing the hair. Overuse of a clarifying or detoxifying product can be harsh on both your scalp and your ends. Instead, Hazan recommends using a hydrating shampoo to restore moisture and shine. We love the Pureology Hydrate Shampoo ($35) or the Pattern Hydration Shampoo ($20).
Next, condition your hair with a hydrating hair mask like the Briogeo Don't Despair, Repair! Deep Conditioning Hair Mask ($39). "You want to look for products that are packed with proteins, vitamins, fatty acids, and antioxidants to deliver long-lasting hydration back to damaged ends," Reavey says.
For the last step, Reavey recommends using a leave-in conditioner to eliminate frizz, prevent breakage, and strengthen the hair. This would also be a great time to add in a treatment product or a bond-building product like the Olaplex No.6 Bond Smoother ($30) or the Living Proof Triple Bond Leave-In Hair Treatment ($45).
Again, your hair cycling routine will depend on how often you wash your hair, your hair type, and what your hair goals are, but if you've been looking for a way to address multiple hair concerns without overdoing it, hair cycling might just be your answer.