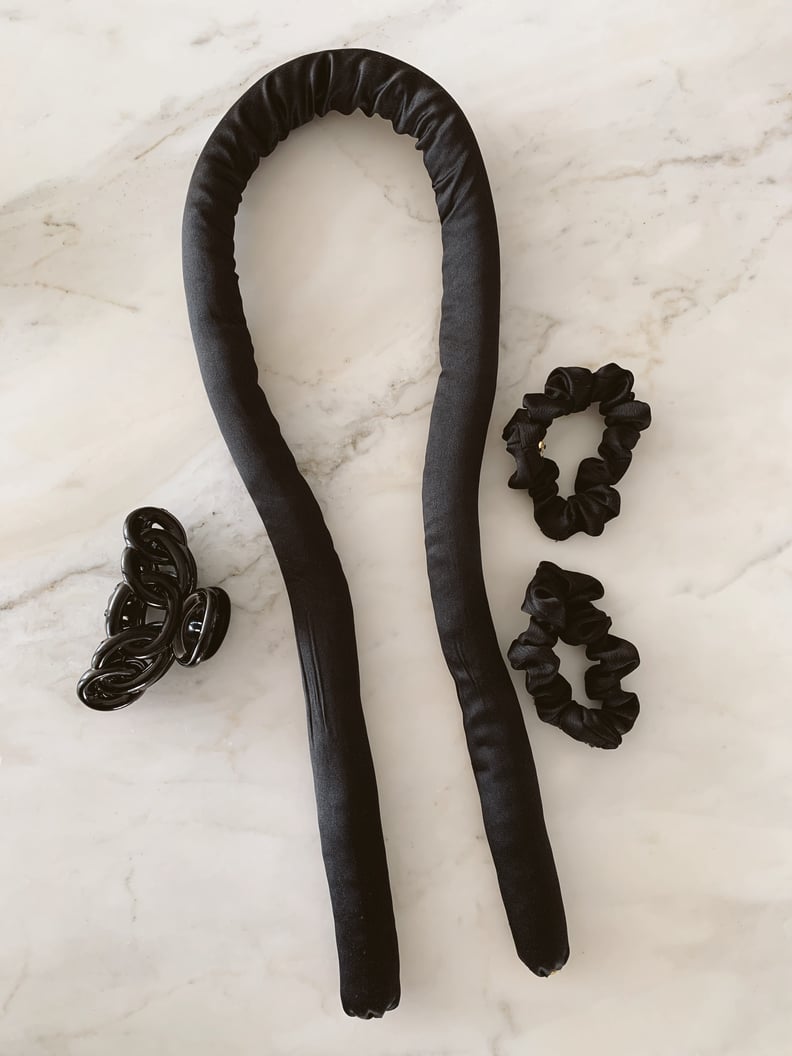 POPSUGAR Photography | Renee Rodriguez
As POPSUGAR editors, we independently select and write about stuff we love and think you'll like too. If you buy a product we have recommended, we may receive affiliate commission, which in turn supports our work.
Since spending more time at home, I've committed some serious time to self-care, and that includes better hair care. I've switched out my shampoo, conditioner, and a lot of the products I use daily in an attempt to get the luscious hair of my dreams. I've also opted for less heat, which means staying away from my blow dryer and curling iron as much as possible. I've been seeing heatless hair hacks all over TikTok, and I'll be the first to admit I've tried every single one.
The most recent I've tried has to be my absolute favorite, the Curling Ribbon Kit ($42) from hair-care brand Heatless Hair. It's most similar to the bathrobe heatless hair hack, but I love this one so much more. The Curling Ribbon is made of 100 percent silk (which works much better on my frizzy hair), and the kit includes a claw clip and two satin scrunchies.
There are two different ways I use the Curling Ribbon Kit. The first method begins with freshly washed, damp hair.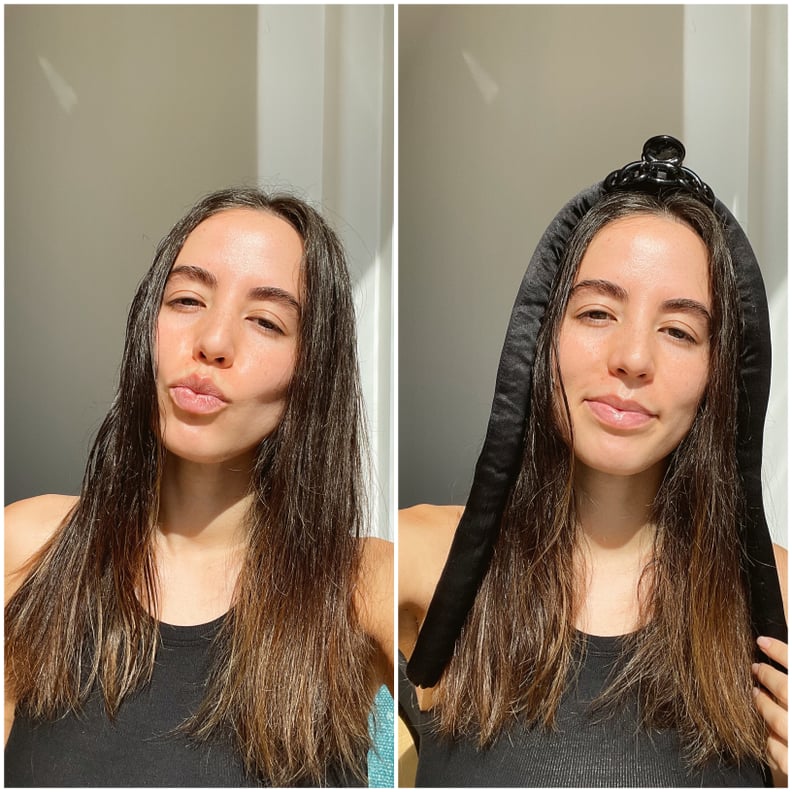 Start With Damp Hair, and Secure the Curling Ribbon to Your Head
After showering and letting my hair air dry roughly 60 to 80 percent, I part my hair down the middle into two sections. I place the silk curling ribbon on top of my head and secure it with the included claw clip.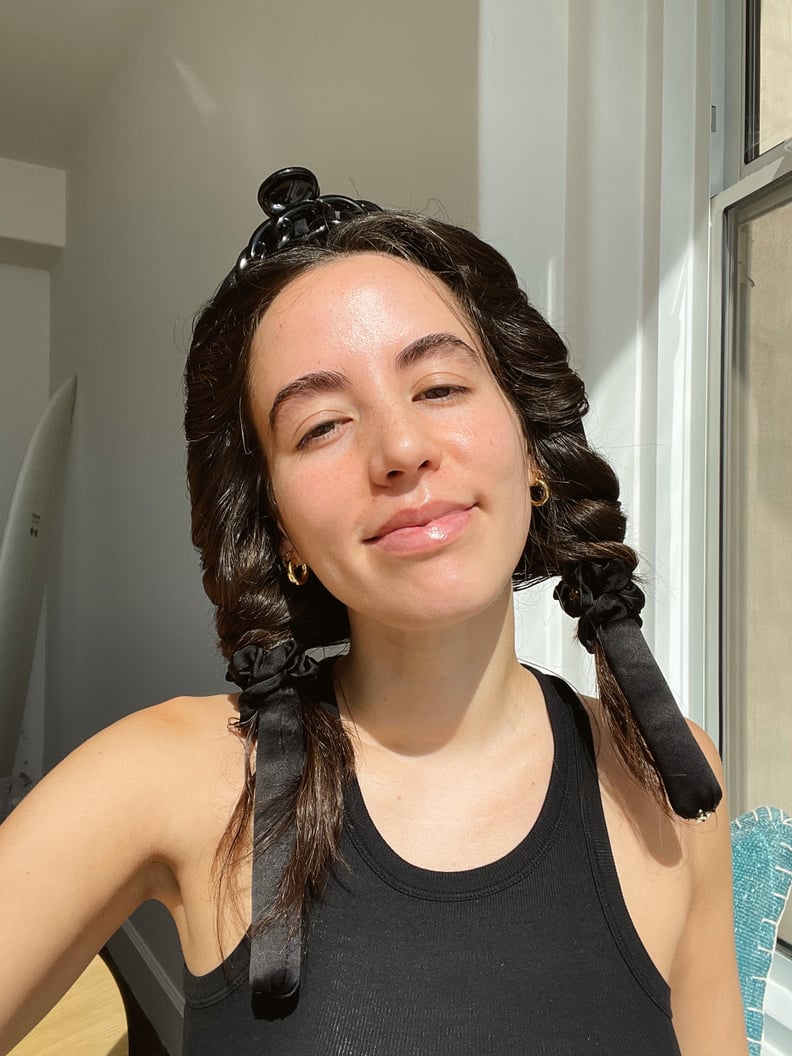 Wrap Small Sections Around the Curling Ribbon, Grabbing Hair as You Go
I then begin wrapping one section of hair away from my face around the curling ribbon. I continue the wrapping motion, grabbing more hair with each wrap. I secure it at the bottom with one of the included satin scrunchies. I then repeat the same steps on the other section. Then, I let my hair sit for 6 to 8 hours. I either sleep in the curling ribbon overnight, or I keep it in my hair during the day (and cross my fingers that I don't have any video calls).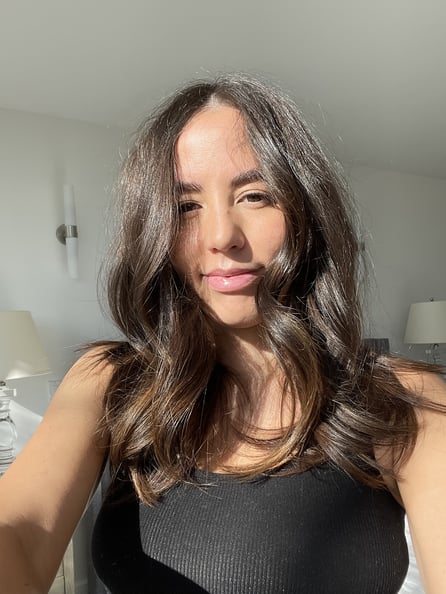 The End Result Is Bouncy Curls That Are Soft to the Touch
The end result is bouncy, healthy looking waves that feel soft to the touch. Since the Curling Ribbon Kit ($42) is 100 percent silk, it also helps cut down on frizziness, which was a huge problem for me when using the sock method and the bathrobe tie method.
The second way I like to use the curling ribbon is on dry hair. I spray a little texturizing spray or beach wave spray on my hair and then complete the same method that I do with damp hair. I'm able to leave my hair wrapped for less time (usually two hours), and the result is typically a looser wave. Pro tip: I've found the tighter I wrap my hair around the ribbon the tighter curls I come out with. If I'm looking for a looser, beachy wave, I usually opt for the dry hair method and wrap my hair loosely around the curling ribbon.
Both methods have left me seriously impressed with my hair, and I haven't used heat on my hair in the last three weeks since first getting my curling ribbon in the mail. The Curling Ribbon Kit is so popular that it sells out quickly, but it's restocked often — so if you're looking to achieve the heatless curls of your dreams, what are you waiting for?
Rating: ★★★★☆