I Tried the Hot Rollers Taking Over TikTok For '90s Hair
I Tried TikTok's Latest Hair Trend: Hot Rollers
As POPSUGAR editors, we independently select and write about stuff we love and think you'll like too. If you buy a product we have recommended, we may receive affiliate commission, which in turn supports our work.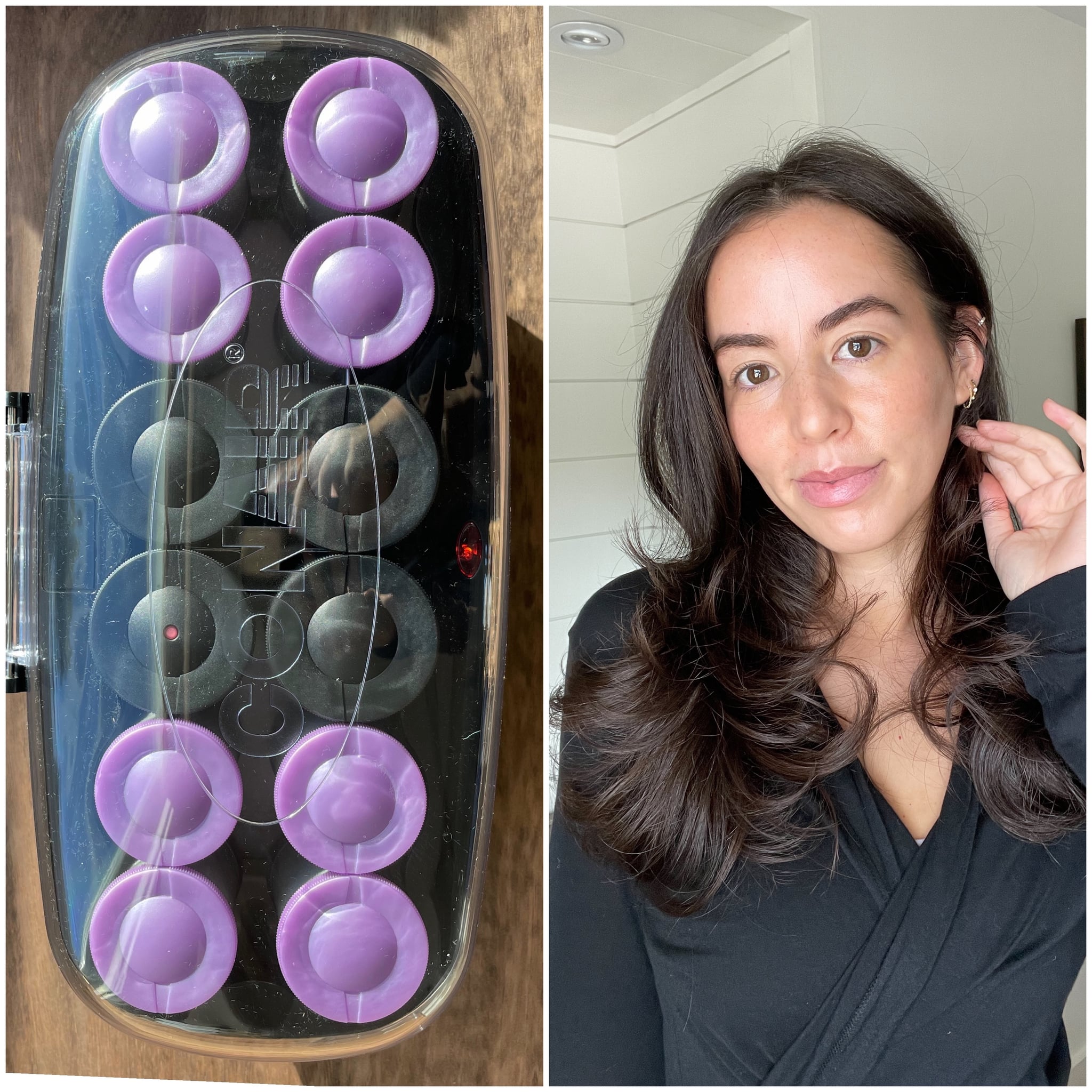 Hot rollers are making a comeback on TikTok to achieve bouncy '90s hair.
The tool allows you to be hands free while your hair curls.
One editor tried hot rollers and was impressed with the results.
If you're still finding your footing with TikTok, you might not have seen the latest trend taking over HairTok: hot rollers. Everyone on the app has been bringing back the old-school method of styling your hair, and the results are dreamy, '90s bouncy waves that I thought only existed in photos I would occasionally see on Pinterest. Unlike traditional velcro rollers that require a blow dryer and both hands, hot rollers can be placed in dry or damp hair to essentially style it while hands are free. If the idea of '90s hair hadn't sold me, being hands free definitely did, so I knew I had to give the trend a try.
Although I've seen tons of different hot rollers on the market, I opted to go with the TikTok favorite, Conair's Xtreme Instant Heat Hot Rollers ($30). The kit comes with 12 rollers total, as well as 12 clips to help secure the rollers in place on your head.
To start, I placed my container of hot rollers on a flat, even surface. I kept the lid closed and then plugged the cord into an outlet. After plugging them in, a red light went on to indicate that the rollers were beginning to heat up. According to the directions, when the "ready" dot on the roller turns transparent white, the rollers are ready to use. I could not for the life of me find the "ready" dot, so I let my rollers sit for about ten minutes before attempting to use them. (I later found the dot, which is located in the center of the middle black roller.)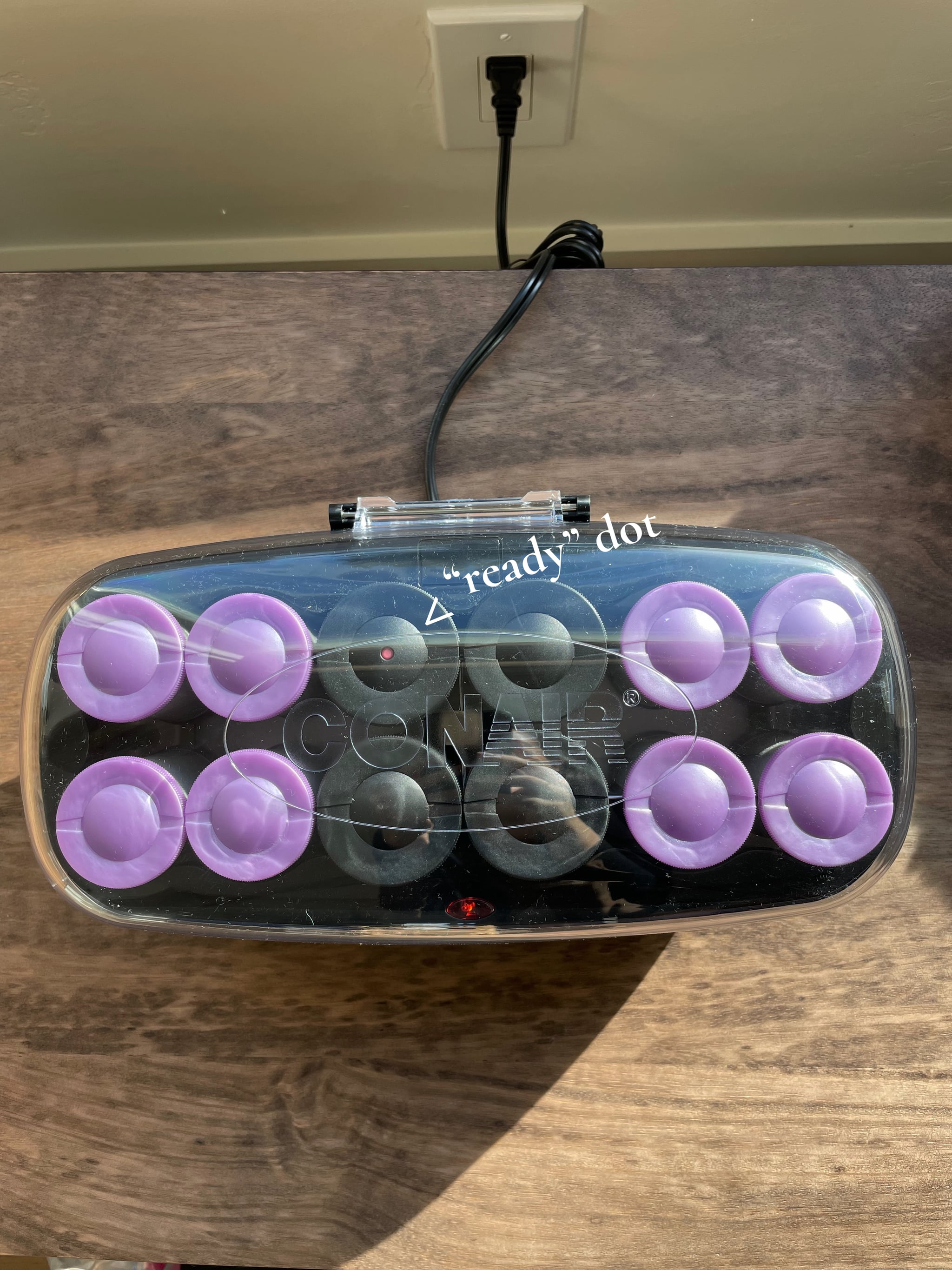 The directions also say to start with clean and dry or damp hair, but I tested these out for the first time on day-two hair when my previous style from the day before had fallen flat.
I have to admit, the first time I used these, I was a little nervous. I had never tried hot rollers before, so I wasn't sure if I could just pick them up with my hands or if they'd be hot enough that I should grab an oven mitt. After gingerly attempting to pick one up and finding it hot — but not too hot — I set to work on actually curling my hair.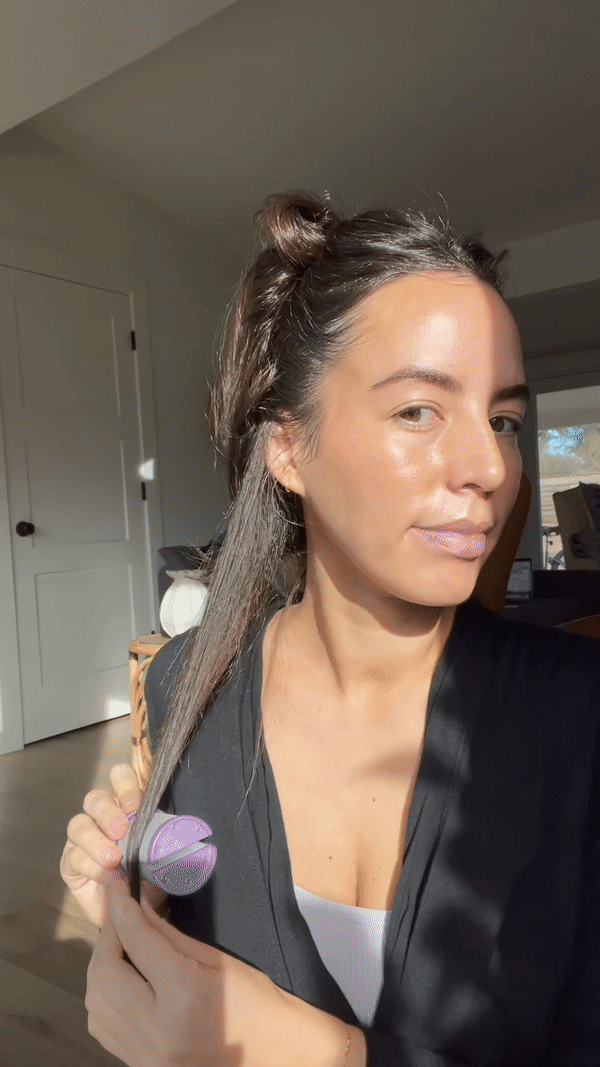 I placed the ends of my hair over the roller and began to curl upward. I found these hot rollers a bit more difficult to use than velcro rollers because my hair had nothing to stick to. I had to make sure to wrap my hair tightly around the barrel of the roller, and it took me a few tries before I finally nailed it.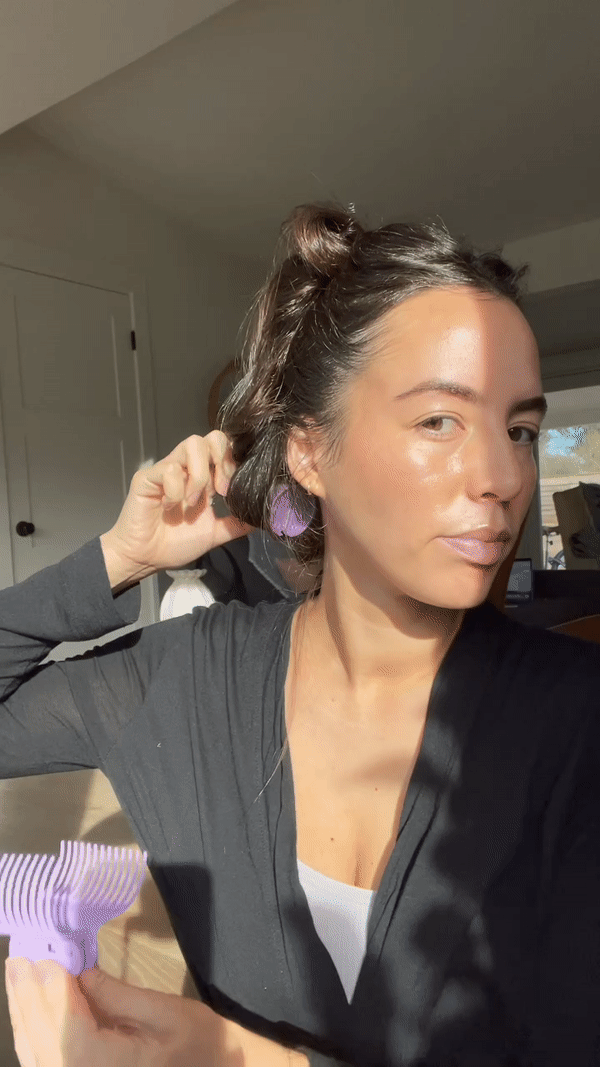 After my hair was completely rolled up, I then took one of the included clips and placed it around the hot roller. Then, to make sure the style set, I left the rollers in my hair for 15 minutes before taking them out. The tighter you want your curl, the longer you should leave the rollers in. If you're looking for loose waves, plan to remove the hot rollers after five minutes or so.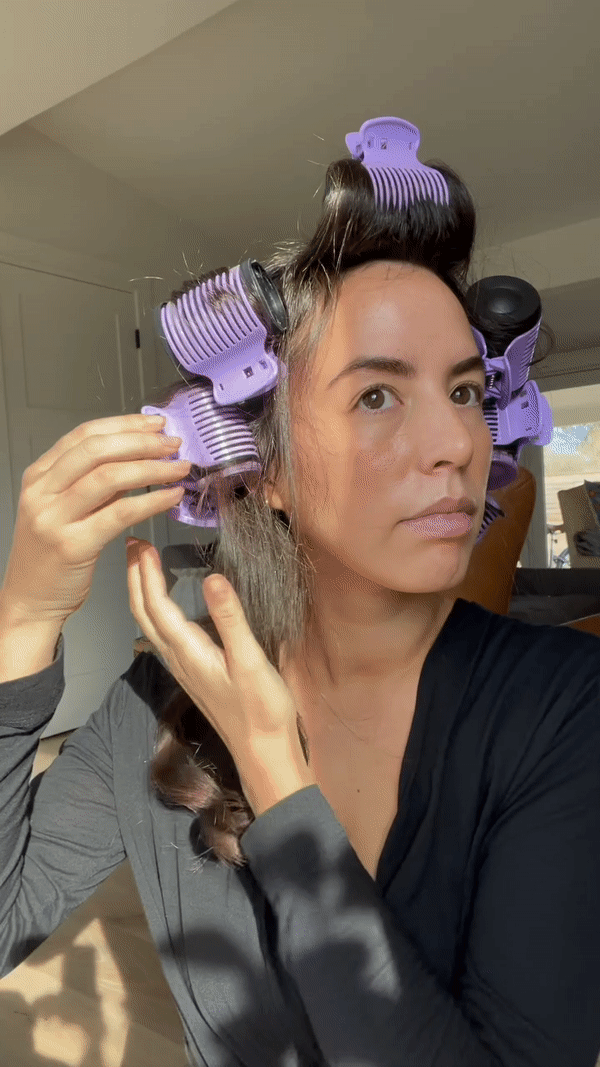 When it was time to take the rollers out, I held the first roller with one hand and then removed the clip with the other. I gently released the roller (without pulling) and let the curl unravel. When I took the first roller out and realized that I was left with a beautiful, bouncy curl, my jaw visibly dropped. The hot rollers left my curls voluminous and shiny, and I was beyond impressed with the results. Hours later, when the curls hadn't fallen — even though I had purposely skipped hairspray and texture spray — my obsession was cemented.
Since my first time trying these hot rollers, I've played around with them a few more times, and the results have only gotten better. I'm much more confident with them now, and I've been able to nail down exact times when it comes to what works best for styling my hair.
Although I'm smitten with these hot rollers, they don't come without a few cons. The clips that secure the rollers in place aren't very, well, secure — and they can feel a bit heavy on the head. The rollers can also feel a little hot if you leave them for too long, so if you have a sensitive scalp, I would definitely proceed with caution.
Ultimately, despite the minuscule cons, using hot rollers has been a huge game changer for me. First of all, they make second- and third-day hair gorgeous again. I only wash my hair twice a week, and by day three, whatever hairstyle I had on day one has pretty much faded. With these hot rollers, I'm able to bring life back into my day-three hair without much effort.
Second, these hot rollers do all the heavy lifting for me. All I have to do is wake up, put them in my hair, and then I'm free to get started on a completely different task. I don't have to blow-dry my hair first or use a slew of tools to get my hair looking good. My hands are free, so I can do my makeup, brush my teeth, and pretty much completely get ready for the day while my hair essentially curls itself.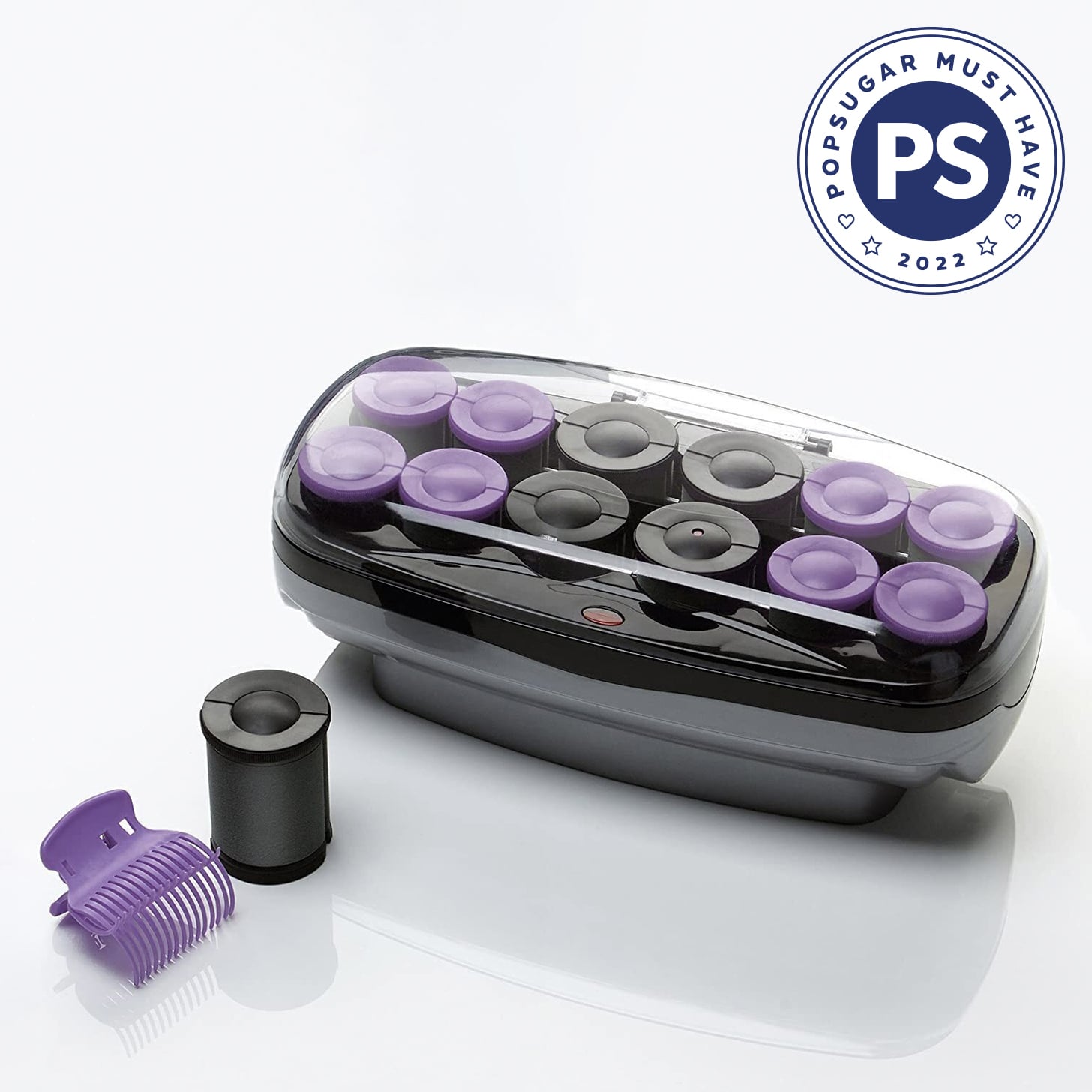 At just $30, these hot rollers are definitely one of the most affordable hair tools I've tried in years. They're easy to use, and I'm infinitely impressed with what a big difference they make when it comes to volume. The style also lasts me all day, which is a must. I already know I'll be using these at least once a week until the end of time. If you've been thinking about testing out hot rollers, definitely give these ones a try – you won't be disappointed.
Rating:

Image Source: POPSUGAR Photography / Renee Rodriguez