Every editorial product is independently selected by our editors. If you buy something through our links, we may earn commission.
From Rapunzel-length locks with razored ends worn by Kim Kardashian to a modern-day rockstar pixie à la Janelle Monáe, the name of the game for Fall 2017 haircuts is spontaneity and playfulness. To help you get started on your Fall lewk, we interviewed some of the industry's top celebrity hairstylists to get the scoop on the season's hottest haircut trends. They also shared styling tips for each and gave expert advice on which looks suit you best. Book that salon appointment — it's time for a good old-fashioned makeover story.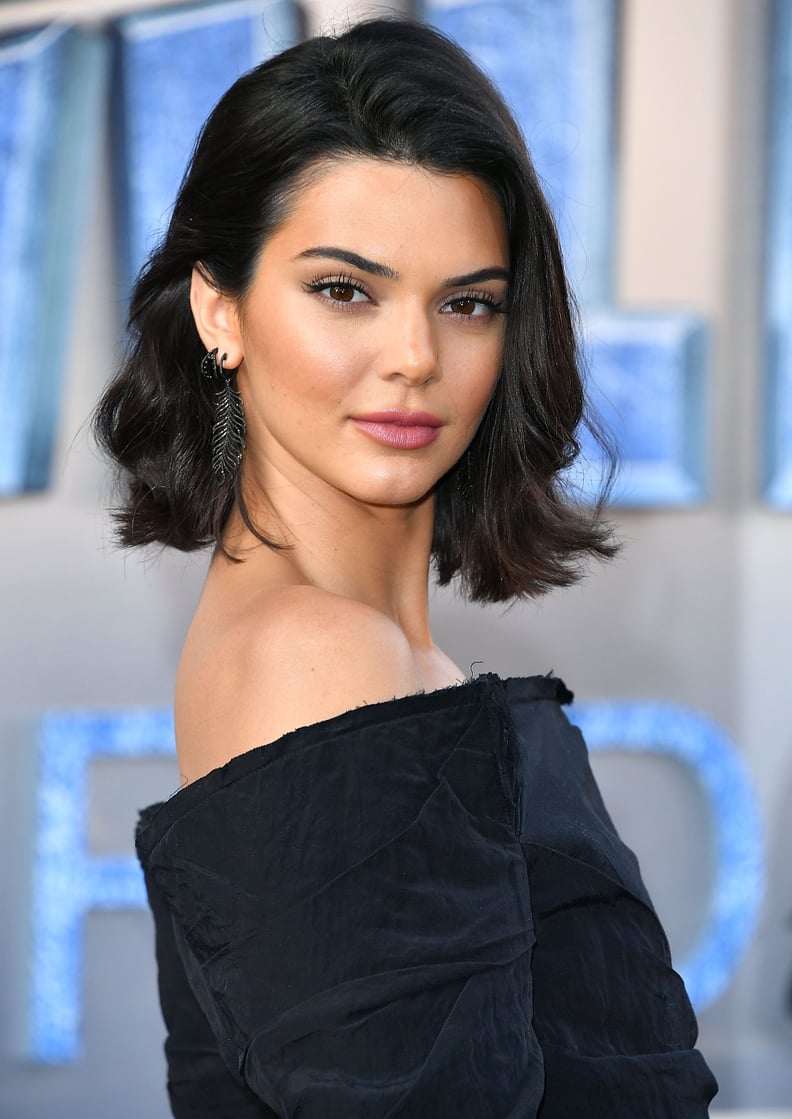 Textured Midi Bob
The Cut: Shoulder-Grazing Bob
Celebrity Inspiration: Kendall Jenner
Description: "This is a midlength, or midi bob, that is slightly texturized at the ends and cut so the hair falls at just about the top of the shoulders," said celebrity stylist Laurie Heaps, who regularly works on Rowan Blanchard, Sabrina Carpenter, and Danielle Fishel. "You can see this texture stand out a bit more when looking at recent paparazzi photos of her hair straightened and flipped out at the ends."
Style It: "The large, loose waves give this cut body and soft movement," said Heaps. To re-create Kendall's romantic-meets-modern curls, reach for a jumbo curling iron, such as the Biosilk Titanium 1 1/4" Spring Iron ($80), to create that larger wave pattern. "Make sure to curl the hair away from the face, focusing on the ends for maximum volume in all the right places." Finish with a shine spray, such as Chi Rose Hip Oil Color Nurture Dry UV Protecting Oil ($17).
Who It Works For: The textured midi bob gives you the freedom to go short while still allowing you to easily grow your hair out again should you desire. "Shoulder-length hair is actually one of the few universal hairstyles that looks great on any face shape — it's truly flattering," said Heaps. One bit of advice, though: make sure your stylist considers the length of your neck when choosing the perfect length. The shorter your neck, the shorter your cut should be, Heaps noted.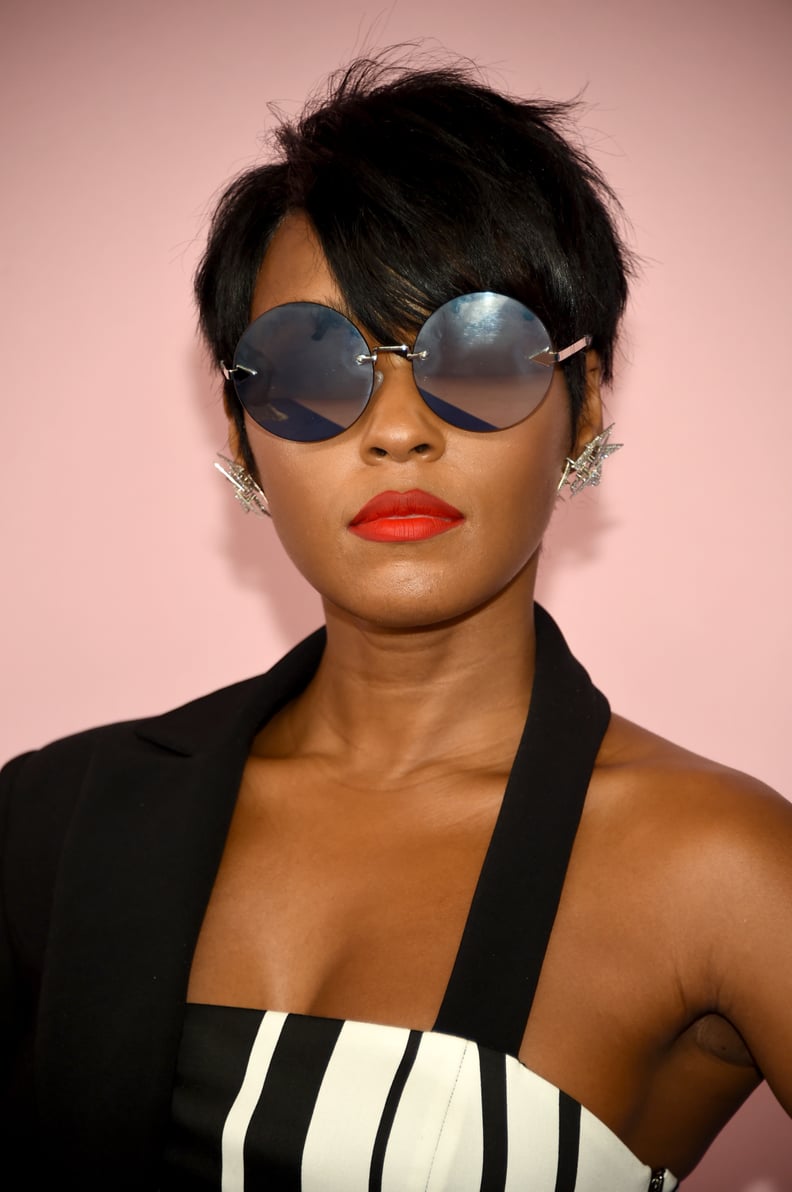 Rock Star Pixie
The Cut: Rock Star Pixie
Celebrity Inspiration: Janelle Monáe
Description: This is a modern-day version of Mia Farrow's classic pixie, only this updated version feels ultra fresh and carefree. "It's kept soft by not blunting the perimeter of the hairline around the head, and the layers are slightly longer on top," noted celebrity stylist Juan Carlos Maciques, whose clientele include Jennifer Lopez, Chrissy Teigen, and Emmy Rossum.
Style It: "This haircut should always be kept smooth, whether straight or with slight body and movement," said Maciques. For styling, you'll want to keep a straightener and smoothing cream in your arsenal. Try Amika Polished Perfection Straightening Brush ($120) and Redken No Blow Dry Just Right Cream For Medium Hair ($24).
Who It Works For: Maciques said this cut is best for straight or slightly wavy hair textures. It also works with curly textures, but to achieve the same sort of style as Janelle, you'll need to do a lot of upkeep and styling. "This cut also exposes you completely, so it's best suited for oval and symmetrically shaped faces with proportionate features, as well as the confidence of a rock star."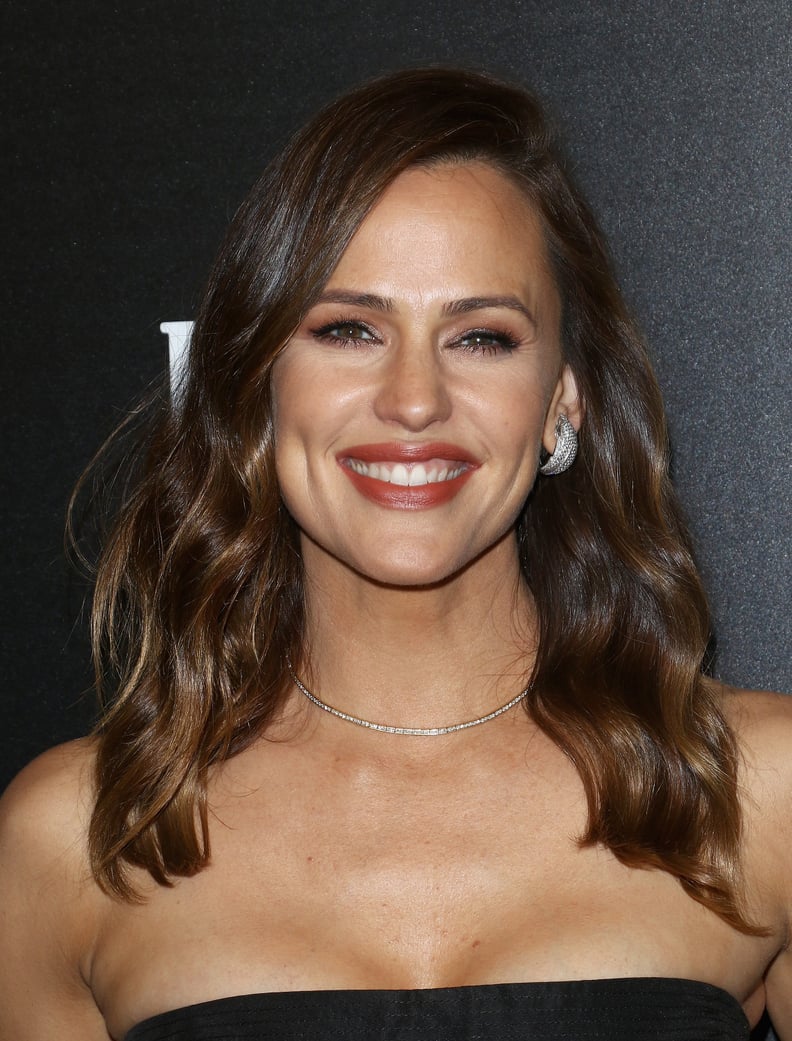 Soft and Uniform Layers
The Cut: Soft and Uniform Layers
Celebrity Inspiration: Jennifer Garner
Description: Though this cut takes on a bob shape, it hits below the shoulders for an unexpected romantic look. "Tell your stylist to create soft, long layering in the back of the head and to keep the hair around the face relatively one length," said Justin Gesler, the lead hairstylist at NYC's Blackstones.
Style It: "This shape looks great with soft waves or straight with a little texture at the ends," said Gesler. Try dry styling it with a product like Living Proof Perfect Hair Day In-Shower Styler ($24), which you apply after conditioning, slightly rinse, and then let air-dry for frizz-free, slightly textured hair.
Who It Works For: "This cut is good for all face shapes and hair types," said Gesler.
Blended Lob With a Bang
The Cut: Blended Lob With a Bang
Celebrity Inspiration: Alexa Chung
Description: Alexa is sporting a slightly layered, blended lob with bangs. "It's cut at shoulder-length with long layers and with bangs falling just below the brow from outer corner to outer corner of the eyes," said Maciques.
Style It: "In order to give texture, apply a salt spray and blow-dry smooth. The spray also automatically gives the hair separation," advised Maciques. Try Captain Blankenship Mermaid Sea Salt Hair Spray ($24). "Apply a large barrel iron and literally bump the hair around the midshaft area to create bends throughout. It's about effortless, not overworked, hair."
Who It Works For: "This look is ideal for long face shapes and for prominent facial features since it camouflages and shortens," said Maciques.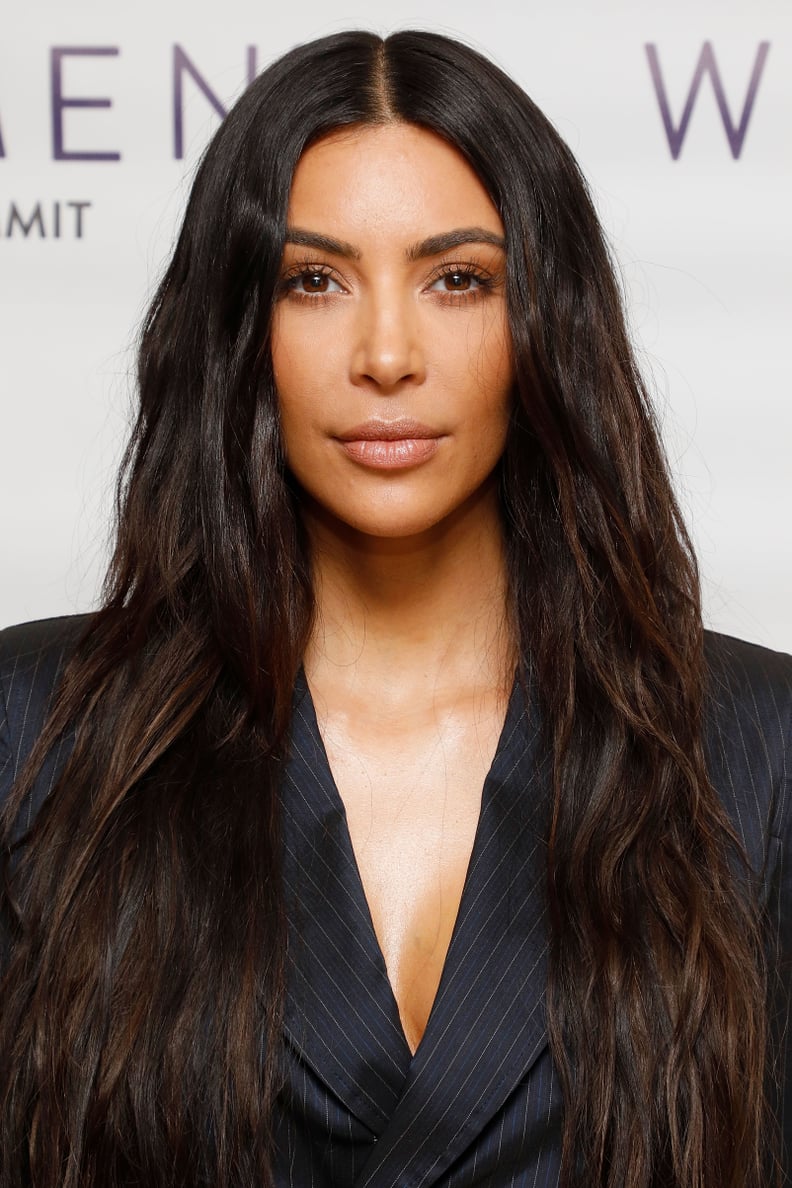 Razored Rapunzel
The Cut: Razored Rapunzel
Celebrity Inspiration: Kim Kardashian
Description: This is sort of like a "modern-day Cher," noted Maciques. "It's long, below the waist, with razored, thinned ends, but it's not blunt. With a cut this long, it requires some softness on the bottom so it has movement and balances the heaviness of the length."
Style It: "Add some mousse for hold and texture, and loosely braid your hair into four sections," said Maciques. Try Bumble & Bumble Thickening Full Form Mousse ($31). "Divide from ear to ear, across the crown of your hair and from center front to back. Braid two sections from the front of the ear down and the next two from behind the ear down. Let dry and release." Note that for many of us, this sort of length requires extensions.
Who It Works For: Maciques said this cut is great for round or heart-shaped faces and for square jaw lines since it elongates and disguises hard lines.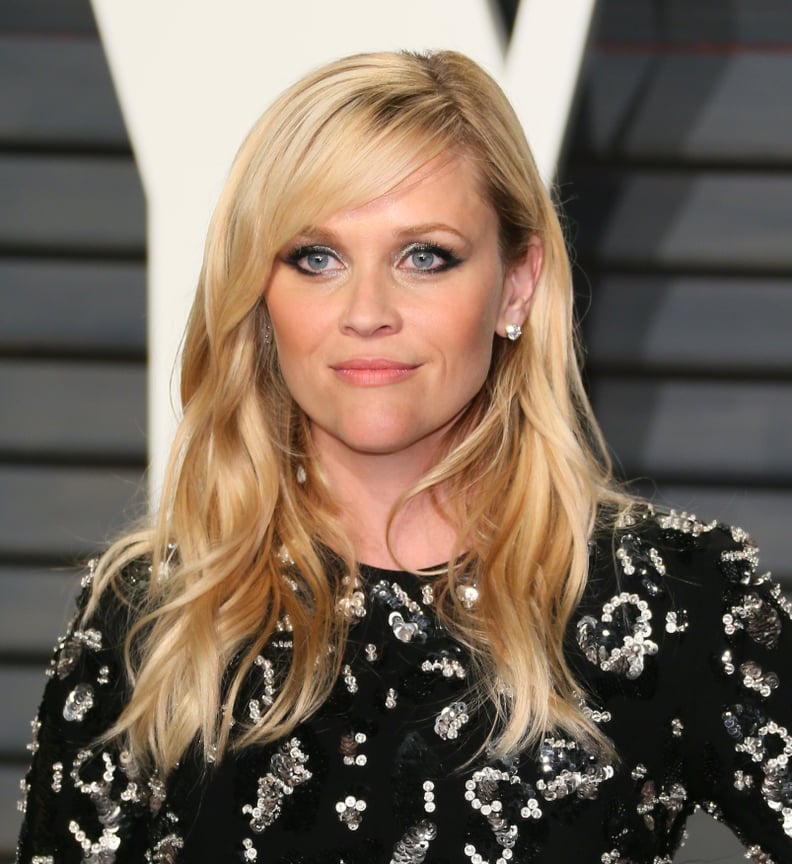 Long With Angled Bangs
The Cut: Long With Angled Bangs
Celebrity Inspiration: Reese Witherspoon
Description: This long haircut puts an emphasis on side-swept bangs. "It's minimally layered chest-length hair with focus on a disconnected but angled bangs so that it seamlessly blends into the rest of the hair," said Maciques.
Style It: "Blow-dry smooth with a large, natural boar-bristled brush having sprayed a volumizer throughout," said Maciques. Try Alterna Haircare Bamboo Volume 2-in-1 Volumizer ($25). "Quickly wrap a large barrel curling iron from below the ear down, but not through to the ends, to create a minimal bend in the hair. Take sections of hair, without perfect thought as to size, and alternate directions as you work your way around the head. You want it looking loose and relatively carefree."
Who It Works For: "This cut is perfect for heart-shaped faces to narrow the width at top and for camouflaging any facial asymmetry depending which side you part the hair toward," said Maciques. "It's also great for wavy hair."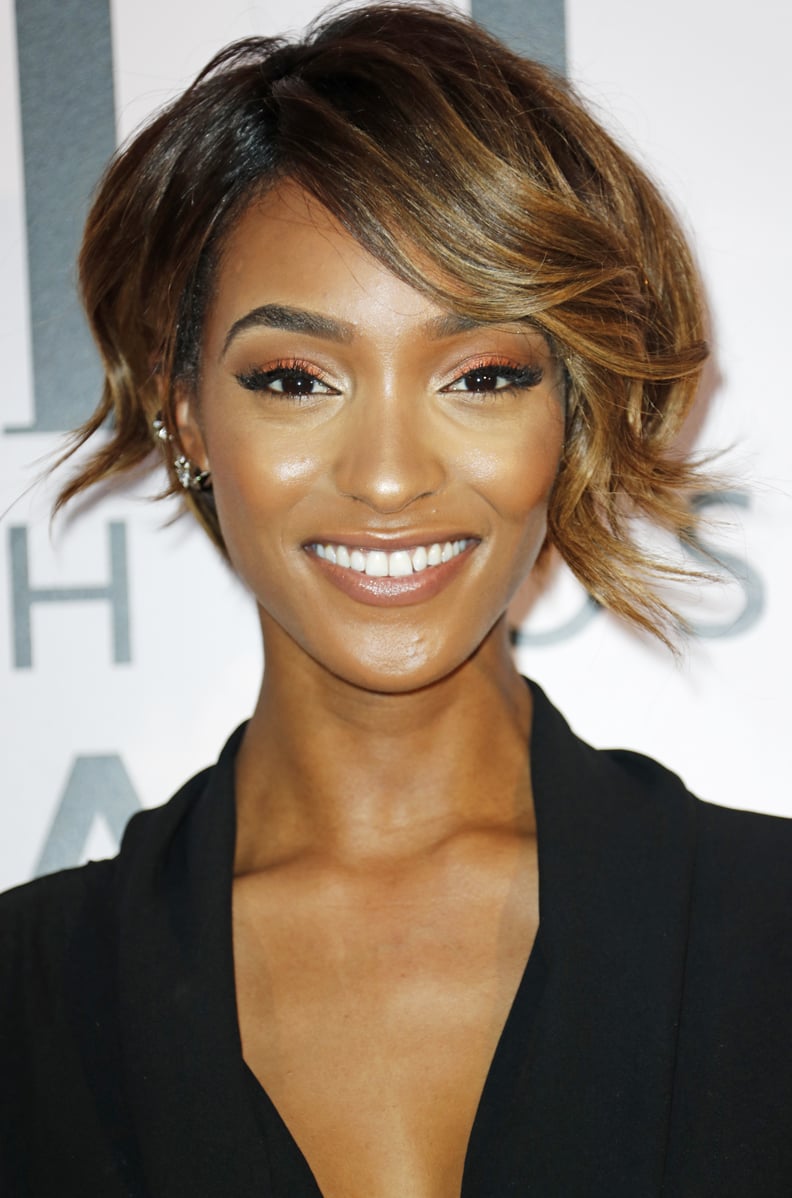 Beveled Bob
The Cut: Beveled Bob
Celebrity Inspiration: Jourdan Dunn
Description: Jourdan is sporting a gorgeous, chin-length bob with tons of texture. "The cut is slightly angled forward from the nape down with razored ends, which creates beveled, varying lengths," explained Maciques.
Style It: To style your hair similarly to Jourdan, apply a blow-dry cream to your hair if you want it smooth or let it air-dry if you want your to play into your natural texture. We recommend IGK Call Time Styling Primer ($27), which you can apply to damp hair and heat style or let air-dry. "Once dry, follow up by catching the ends with a small flat iron and bend in different directions to add texture. Use the iron more mid-shaft down to the ends at front to achieve the side swoop," said Maciques. Try the Sephora Collection Tame: Mini Flat Iron ($27).
Who It Works For: "Great chins and jaw lines benefit well from this cut, as it draws attention to that feature," noted Maciques. "It's also a good option if your face is long and narrow, as it tends to shorten."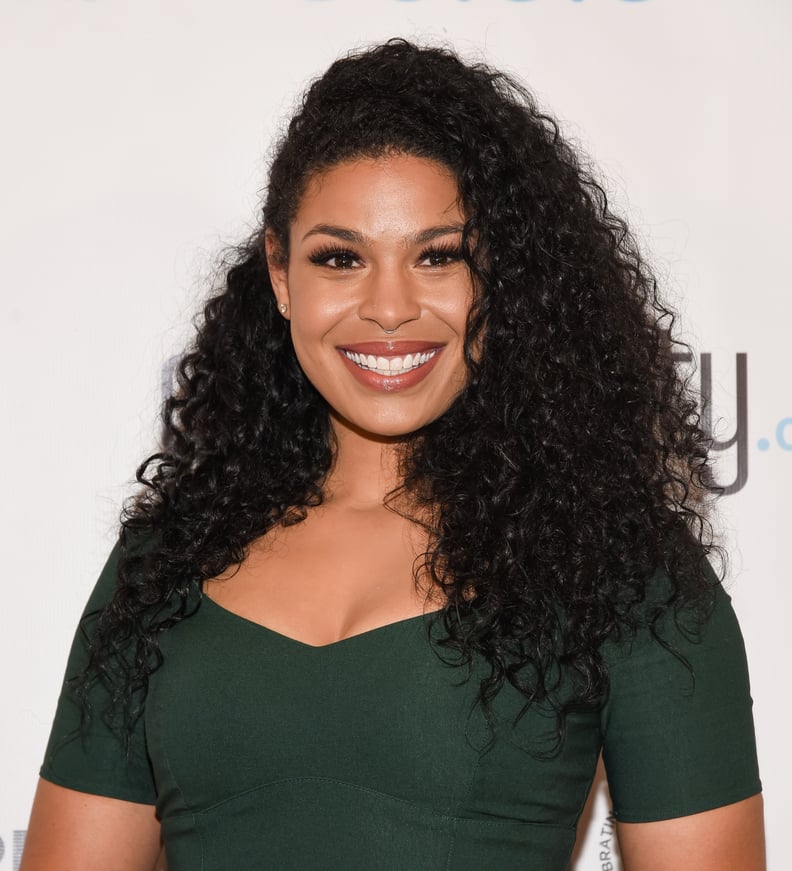 Peek-a-Boo Layers
The Cut: Peek-a-Boo Layers
Celebrity Inspiration: Jordin Sparks
Description: "She has gorgeous curls paired with longer, hidden layers," said Heaps. "For curly styles with more volume, this is a great technique to ensure hair has more bounce. It almost looks one length, but when Jordin straightens it, you can see the pop. Here she created the illusion of even more layer volume by pulling her hair up and over to one side. This is the beauty of playing with your part and how your hair falls. You can make your style look so different by changing this one simple feature."
Style It: "When you have such beautiful, natural curls, a cocktail of a few key products is all you truly need," said Heaps. "On damp hair, pair a leave-in conditioner and oil with a weightless gel like White Sands Haircare's Gel-Us ($15). This particular formula closes the cuticle layer to eliminate frizz, improve texture, and provide volume. To finish, air-dry or diffuse curls with a dryer to keep their shape." For a leave-in, try Living Proof No Frizz Leave-In Conditioner ($25).
Who It Works For: This style is great for narrow faces and naturally curly hair. "Thinner faces benefit from more volume on the sides. This cut lets Jordin's natural curls shine through since hidden layers create volume and the curls are not weighed down," said Heaps.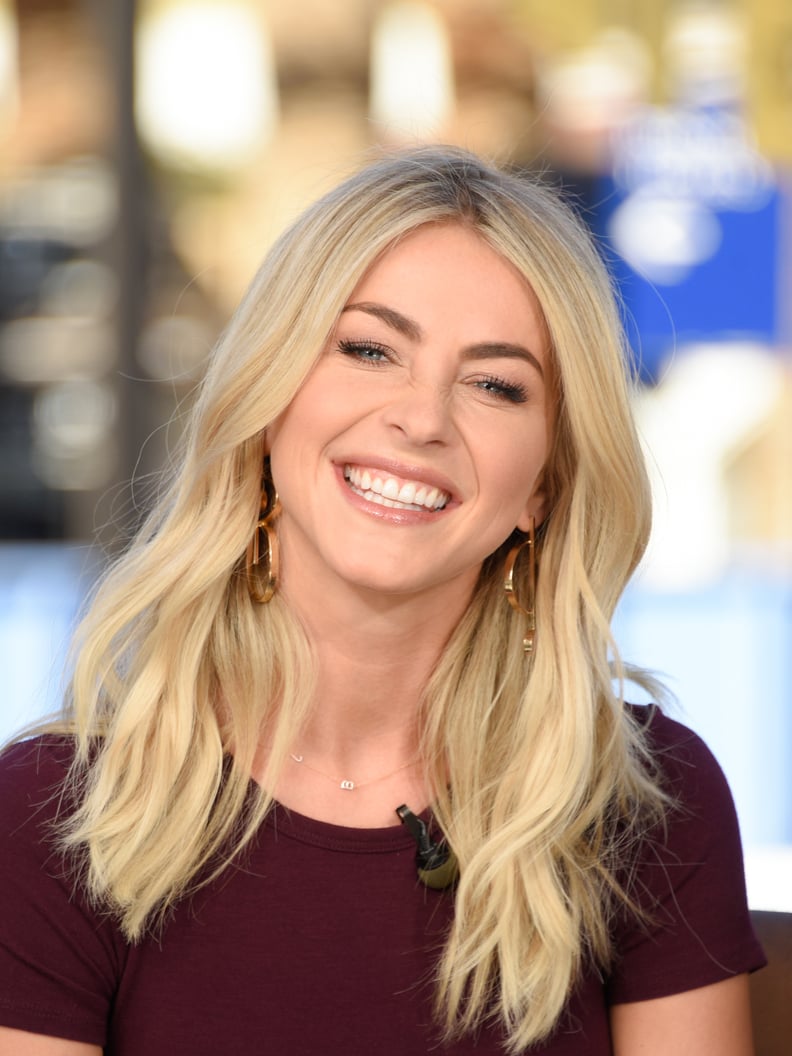 Blunt, Elongated Layers
The Cut: Blunt, Elongated Layers
Celebrity Inspiration: Julianne Hough
Description: "Julianne's midchest cut features elongated layers. The ends are blunt, but the slightly shorter sections blend in beautifully and there is a soft flow to the cut," said Heaps.
Style It: Apply a heat protectant, blowout-assistant cream to damp hair, such as Oribe Straight Away Smoothing Blowout Cream ($46), then blow-dry your hair. Afterward, use a one-inch curling iron and texture styling spray to create textured waves. Try R+Co Trophy Shine + Texture Spray ($29) and the Beachwaver Pro Rotating One-Inch Curling Iron ($199). "After sectioning the hair, create the waves by starting at brow level and then work your way down the hair. The key to this technique is moving your wrist in opposite directions. Leave the ends straight for an effortless look and finish with something like Ouai Finishing Crème ($24)."
Who It Works For: This is the perfect cut and style for fine-hair beauties, said Heap. "Just a little bit of bend and curl to the hair will make your locks appear fuller," she noted.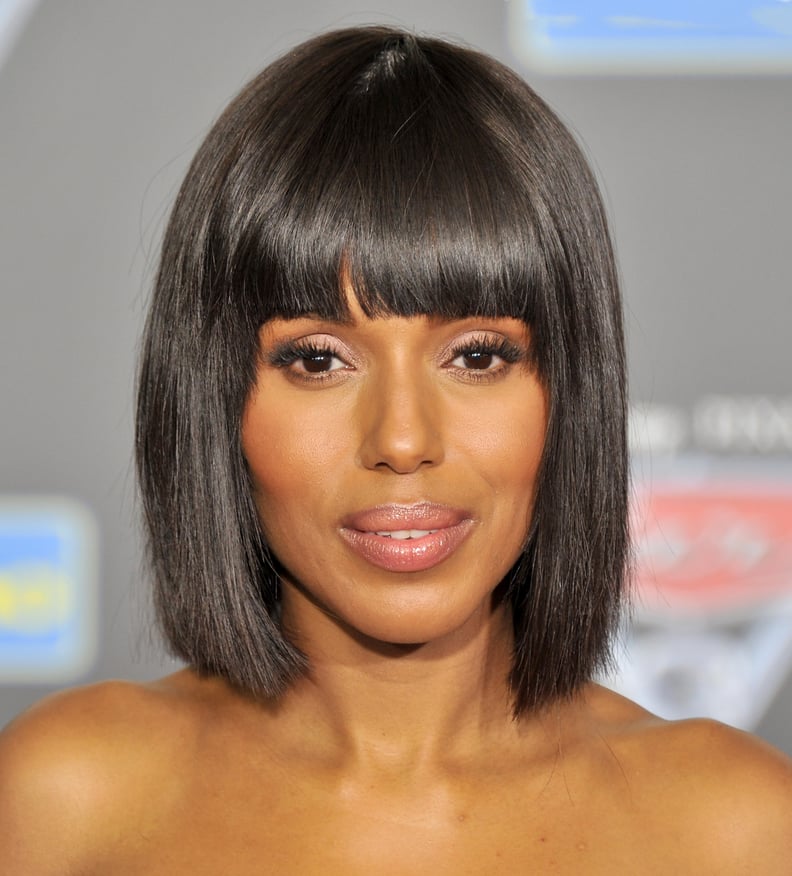 Boxed Bob
The Cut: Boxed Bob
Celebrity Inspiration: Kerry Washington
Description: "This is a one-length bob that sits above the shoulders and features a square bang," said Gesler. It's blunt, boxy, and full of charisma.
Style It: "This look should ideally be styled straight," noted Gesler. "It can also be styled with a soft wave that sits close to the head." You'll definitely want a smoothing cream and a sturdy flat iron. We recommend Amika the Antidote Silk Wrap Styler ($150) and Tigi Catwalk Haute Iron Spray ($22).
Who It Works For: "This cut works well for oval and heart-shaped faces," said Gesler. "It's also good for those with all hair types that are comfortable with styling to keep it sleek."