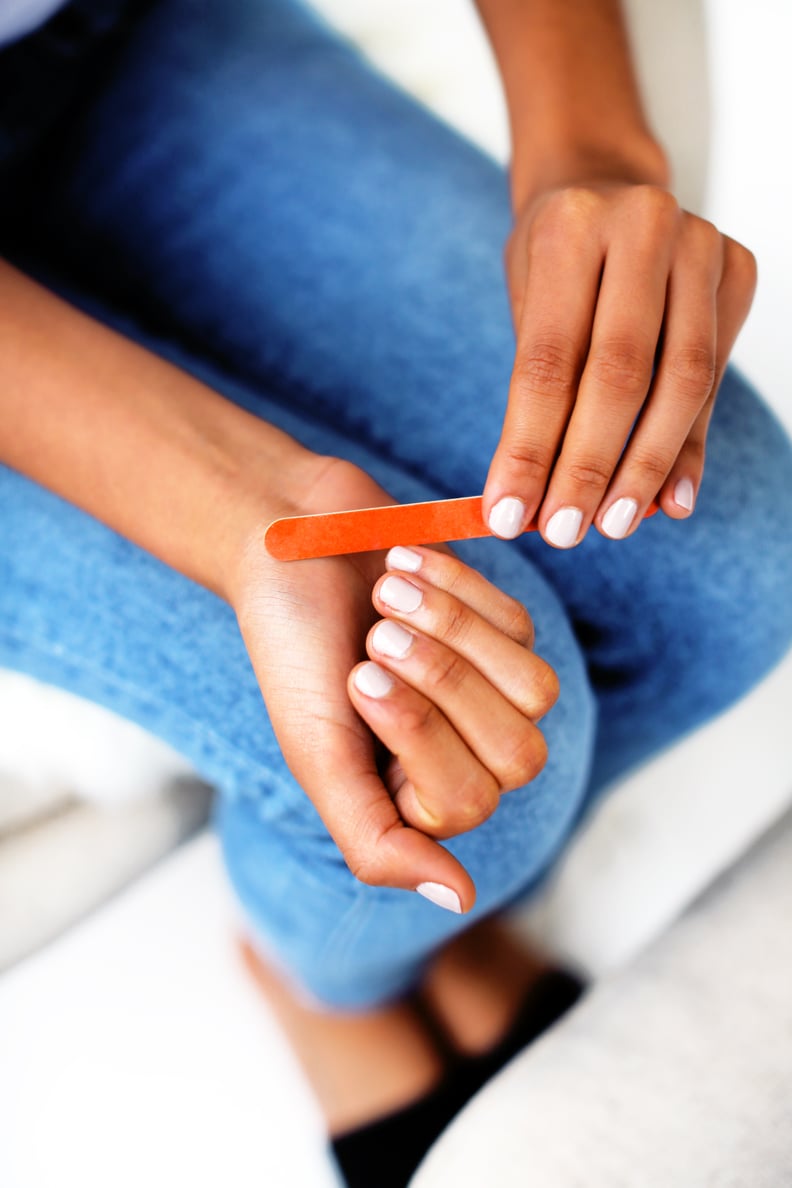 POPSUGAR Photography | Emily Faulstitch
POPSUGAR Photography | Emily Faulstitch
As POPSUGAR editors, we independently select and write about stuff we love and think you'll like too. If you buy a product we have recommended, we may receive affiliate commission, which in turn supports our work.
Here at POPSUGAR, we're fans of nail art, whether it's pretty, super creative, or even downright creepy. We're also all for DIY nail art; who doesn't want to try all these cool trends at home? But if you're struggling to get a professional finish, there are a few reasons it might not look as good as you want it to.
Messy cuticles
Forgetting to clean up the cuticles after painting your nails can make an otherwise immaculate manicure look messy. Take a cheap angled eyebrow brush, dip it into nail polish remover, and carefully remove any excess nail polish around the edges.
Not using a good topcoat
Using a glossy topcoat can not only make your manicure look salon quality, but can also make it last much longer. Chipped polish is rarely the desired look! My favorite topcoat is Seche Vite Fast Dry Top Coat ($10).
Less is more
When it comes to nail art, less is normally more when you're a beginner. Try adding a few dots using the end of a bobby pin or adding a gem to your favorite color.
Not using colors that suit your skin tone
If you are new to nail art and aren't a regular polish wearer, try going for a toned-down color to start. Neutrals and pale pink colors are staples, and mistakes are less obvious.
Nail art that doesn't match the nail shape
Try choosing your nail art by looking for others with the same nail shape as you. Stiletto nails have a much bigger surface to work on than square nails, so you'll likely end up with a very different result.
You're doing very difficult techniques
Even the most experienced nail artists struggle with some techniques such as water marbling. Try techniques that are more suited to your experience level for the prettiest outcome like this french manicure tutorial for short nails.
Old nail polish
Like every other beauty product, nail polish has a use-by date. Old, gloopy nail polish can affect both how easy it is to apply and the outcome of the manicure. If you're unsure if the polish has gone off, try putting it in the fridge before using it, which should help thin it out. If it's still a gloopy mess, it's time to part ways.
Dry cuticles
If you're trying to get that Instagram nail shot and they just don't look as good as they could, it may be due to dry cuticles. Use a hand cream and a cuticle oil every night before bed and also apply some right before taking your nail shots.
Not using a base coat
If you think base coats are pointless, think again. It ensures your nails won't stain and makes your manicure chip-free.