Maybe giving yourself bangs for the first time since childhood felt like an overdue change, or maybe, you decided your split ends needed a trim, or your roots covering. No matter what led you to commit one of these common at-home hair mistakes, there is a way to fix it. We get it: salons are closed, you're spending more time inside, and taking matters into your own hands might seem like a good idea at the time. We're all for experimentation with beauty, especially in the name of self-care, but if your DIY cut or hair dye job has left you feeling less than satisfied with the results, we have your back.
From a haircut-gone-wrong and uneven bangs to picking the wrong hair color and more, find out how to fix all of your at-home DIY hair mistakes with these tips from top hairstylists, ahead.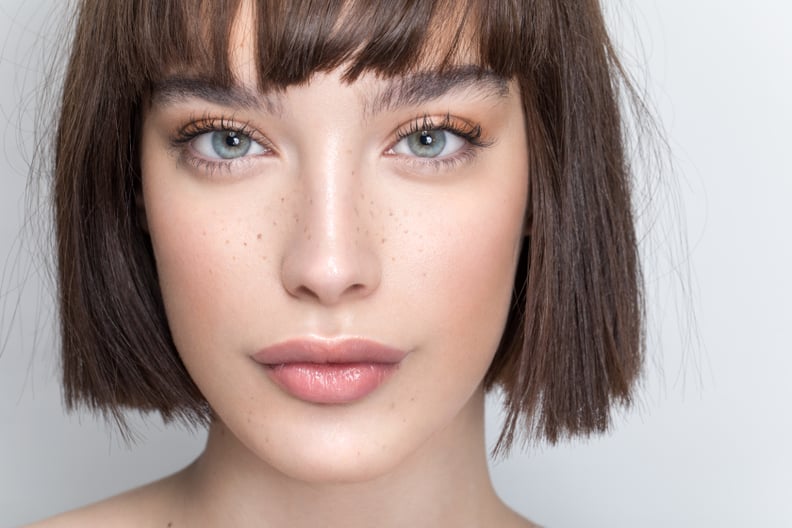 At-Home Hair Mistake: You Cut Your Bangs Unevenly
Cutting your own bangs can be tricky — you don't want them too long or too shoot. If you attempt to trim your own fringe at home but it comes out uneven, Frédéric Fekkai, veteran hairstylist and executive chairman and founder of Fekkai Brands, recommends putting the scissors down and using a razor to save some of the length.
"Use a razor to soften the edge by twisting a few pieces and gently cutting the ends," said Fekkai. "If it's too short, the best thing to do is push the bangs to the side using a gel or glossing cream." When you can get back into the salon, your stylist will be able to take it from there.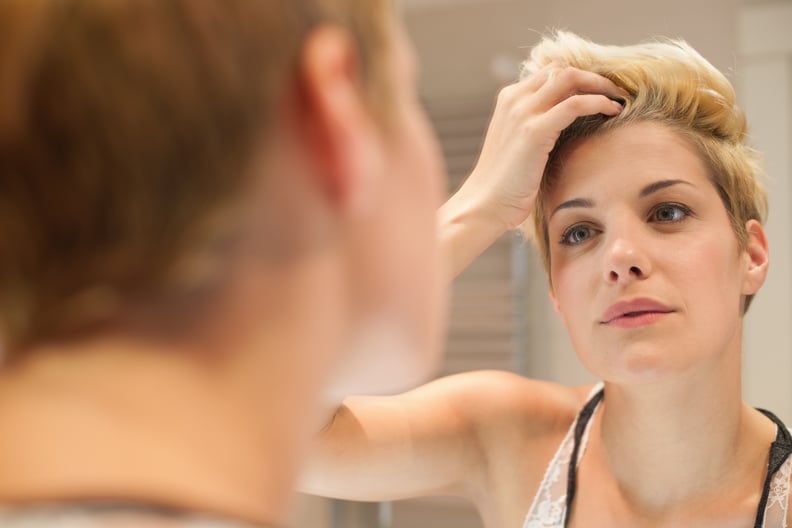 At-Home Hair Mistake: You Dyed (or Bleached) Your Hair Too Light
Boxed hair color can be a gamble — especially if you're using a color or product you don't have experience with. "If your color comes out too light, you can apply a darker shade to your hair, but be careful not to end up with the opposite problem of going too dark," said Jim Markham, CEO and founder of ColorProof Color Care Authority.
You can also try to fix it with a second application. "Let the color set for just half the suggested time on the box," he said. "As a rule of thumb, try to stay within a half shade to a shade of your natural color for a flattering look." If you're too nervous to apply another round of hair dye, try a color depositing shampoo to boost the existing shade.
If bleach was involved the first round and its left your hair feeling dry and brittle, he recommended reversing the damage with patience and the right products. "Begin immediately by washing the bleach out using a gentle, sulfate- and salt-free, professional shampoo," said Markham. Follow with a nourishing hair mask treatment.
"To fix the color, the best thing you can do is find a colorist who specializes in corrective color," said Markham. "Even in quarantine, they may be willing to give you a consultation via FaceTime."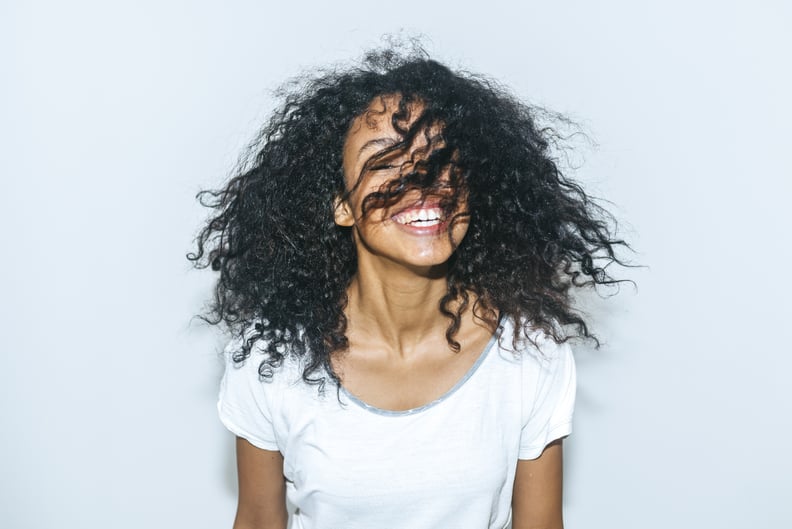 At-Home Hair Mistake: You Gave Yourself a Bad Haircut
First, put the scissors down and assess your initial chop. To fix a bad haircut, you'll only want to touch the area that needs some help — not your whole head of hair. "You might be able to point cut into the uneven line and soften it," said Sunnie Brook, Biolage brand ambassador. "Your hair grows about a half an inch a month so in a week or two, you might be able to adjust the cut."
But if your DIY haircut is more than just an uneven trim, she recommends a different approach to hold you over until you can get back in the salon. "Have a glass of wine, a good laugh, and watch some styling videos on YouTube," said Brook. "Try a few new looks like waves or curls. These are more forgiving and can hide mistakes in haircuts more easily than straight hair. Remember your haircut is not a tattoo; it will grow out."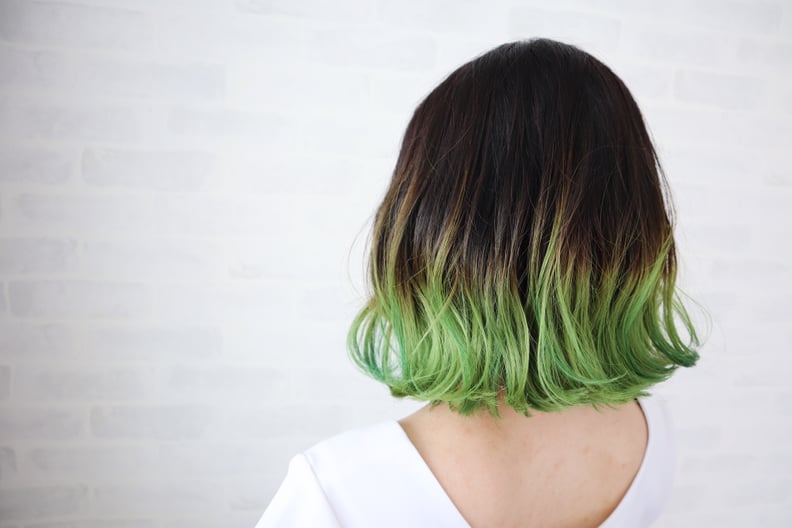 At-Home Hair Mistake: You Dyed Your Hair Too Dark
Hair color can come out darker than you intended, turning your plans for a subtle change on its head. When that happens, celebrity hairstylist and founder of Ricardo Rojas Hair Care Ricardo Rojas recommends reaching for a clarifying shampoo to help soften the color. "A clarifying shampoo will help lift the darker color and fade and lighten it quickly," said Rojas. "I recommend always purchasing this with your box color if you are trying an at-home color for the first time, just in case you need it."
If you're not too nervous to give another DIY color process a go, Rojas explained that you can also utilize a bleach kit on the ends of your hair to achieve a trendy new look. "When you color your hair, it is always concentrated more at the ends of your hair, and lighter towards the scalp," said Rojas. "So, a secret to change the style, is to lighten the ends of your hair, which will give a lighter, more dimensional look to your hair overall."
He cited the rule of thumb that you should only apply it to the bottom few inches of your hair — about two to two-and-a-half. "This is a general rule of thumb, but alter this number according to the length of your hair," said Rojas. "The longer the hair, the more inches you should paint. It's very important to follow the directions of the box to not over process."
You can also try something called "bleeding the color" if you're still unsatisfied. "You can do this by mixing a glass of warm water with a tablespoon of salt and some inexpensive, drug-store variety shampoo that contains sodium laurel sulfate in the ingredient listing," said Markham. "Salt and sodium laurel sulfate are known exfoliators and will strip the color from the hair. Apply to the hair and work into a lather. Cover with a shower cap or plastic wrap and let the mixture sit for 10 minutes, then rinse." If it's still too dark, he recommends repeating the process once more.
Most importantly, Rojas recommends keeping up a good hair care routine during at-home coloring. Both dyeing and stripping color can take a toll on your hair. "Nourishing hair masks have never been more vital part of your hair care regime."