As POPSUGAR editors, we independently select and write about stuff we love and think you'll like too. If you buy a product we have recommended, we may receive affiliate commission, which in turn supports our work.
Before taking matters into your own hands, you should know how to pluck your eyebrows at home.
Supplies you'll need include tweezers, cosmetics scissors, and a clean makeup spoolie.
Joey Healy, a celebrity brow expert and brand founder, shared his tips for tweezing and shaping your brows the right way.
Eyebrows are important: they frame your face, give it dimension, and are a key part of your signature look. But maintaining them can be a little tricky, not to mention tedious. You can shell out money every month to get them professionally tweezed, waxed, or threaded, or you can learn how to tweeze your eyebrows at home. Grooming your own brows is easier than it might seem — you just need the right tools and the proper instructions.
Before taking matters into your own hands, keep this in mind: your eyebrows are not as forgiving when it comes to experimentation as other aspects of your appearance. For example, you can try a new eyeliner trend without any worries, but altering the shape of your eyebrows to fit in with the latest trends can cause them to grow back differently — or not at all (children of the '90s know).
"Approach trends with caution, because if you overshape your eyebrows, it can be difficult to regrow them," celebrity eyebrow expert and brand founder Joey Healy told POPSUGAR. That said, cleaning up stray hairs around the shape of your brows or in between them is easy and low risk.
To learn how to pluck your eyebrows at home, keep reading.
Step 1: Gather Your Tweezers, Scissors, and Brush
Before you begin, you'll want to make sure you have the right tools on hand for the job. You need a good pair of tweezers, like the Tweezerman Slant Tweezer ($20). You're also going to need a pair of cosmetics scissors to trim hairs, like Healy's Precision Brow Scissor ($28). Lastly, you'll want a clean makeup spoolie or brow brush to brush up the hair.

Step 2: Assess and Map Out Your Brow Shape
Once you have the right supplies, you want to assess your natural brows and map out the shape. You can do this by brushing up the hairs with the spoolie. "When your brows are thinner, it's really important that they are symmetrical," Healy said. "If your brows are thick, full, fluffy 'boy brows,' it doesn't matter as much to have them a little more wild." Thinner eyebrows are more of a "geometric shape" and therefore likely to show asymmetry. "Use your bone structure to guide the way," he said. His biggest tip for ensuring you don't go overboard and overtweeze: "Take pictures of your brows as you're shaping them."
Step 3: Pluck Stray Hairs
Now, you're ready to start tweezing your eyebrows — but be careful what type of mirror you use. "I would advise against using a magnified mirror because you lose perspective," Healy said. "You want to make sure you zoom in the mirror when doing hair shaping, then zooming out at least an arm's length away to objectively look at yourself."
Start plucking hairs that fall out of the desired shape of your brows, like at the top and underneath your arch, at the tail, and in the middle. "I suggest leaving them a little fluffier in the front because I just love those little 'sprouts' (the short stacks of hair in the front)," Healy said. If you want a more structured look, "give yourself a nice clean arch, a crisp tapered tail, but leaving the front a little fluffier." To reduce pain from plucking, hold the skin taut and pull hairs out in the direction they grow.
Go slowly: you can always go back and tweeze more later, but you can't replace hairs if you accidentally pluck too many. "Once you're pulling hair from the follicle, you may be creating semipermanent or permanent damage," Healy said. To make sure you're on track, keep stepping back and checking your progress thus far.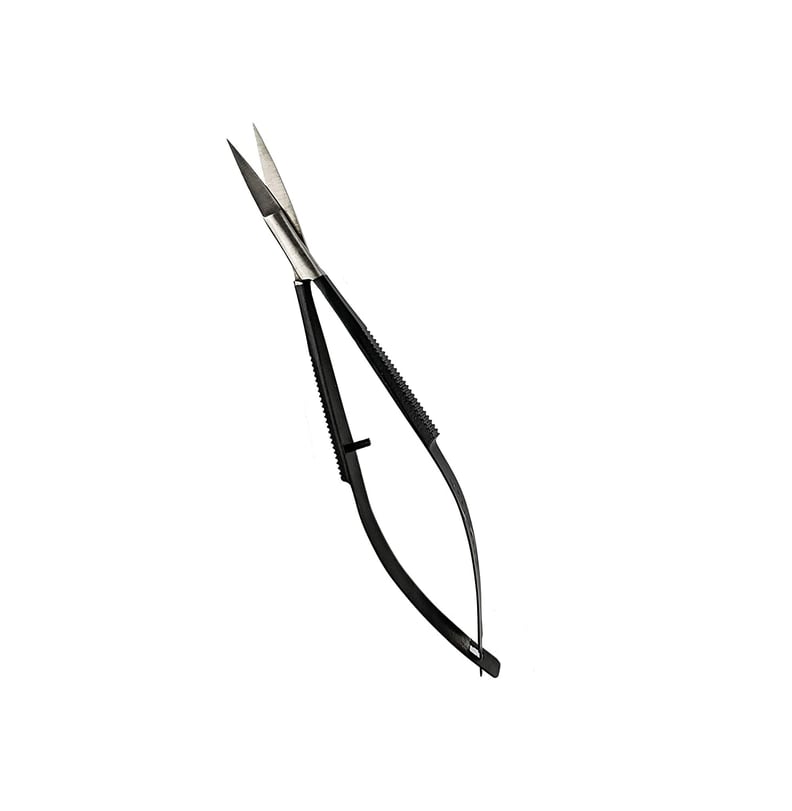 Step 4: Trim as Needed
Once you've tweezed your brows to your satisfaction and the shape is clean, you can trim any extra-long hairs as needed. With the cosmetics scissors and spoolie in hand, brush up your eyebrows once more, and one by one, trim any long or scraggly hairs that stand out above the rest of your eyebrow. A little trimming goes a long way — you don't want to trim multiple hairs at once, because that can result in some being too short. When you're finished, brush your eyebrows once more and check to see if you've missed anything.