I Tried TikTok's Eyebrow Eyeshadow Hack: See the Photos
I Mastered TikTok's Latest Eyebrow Hack in Less Than 5 Minutes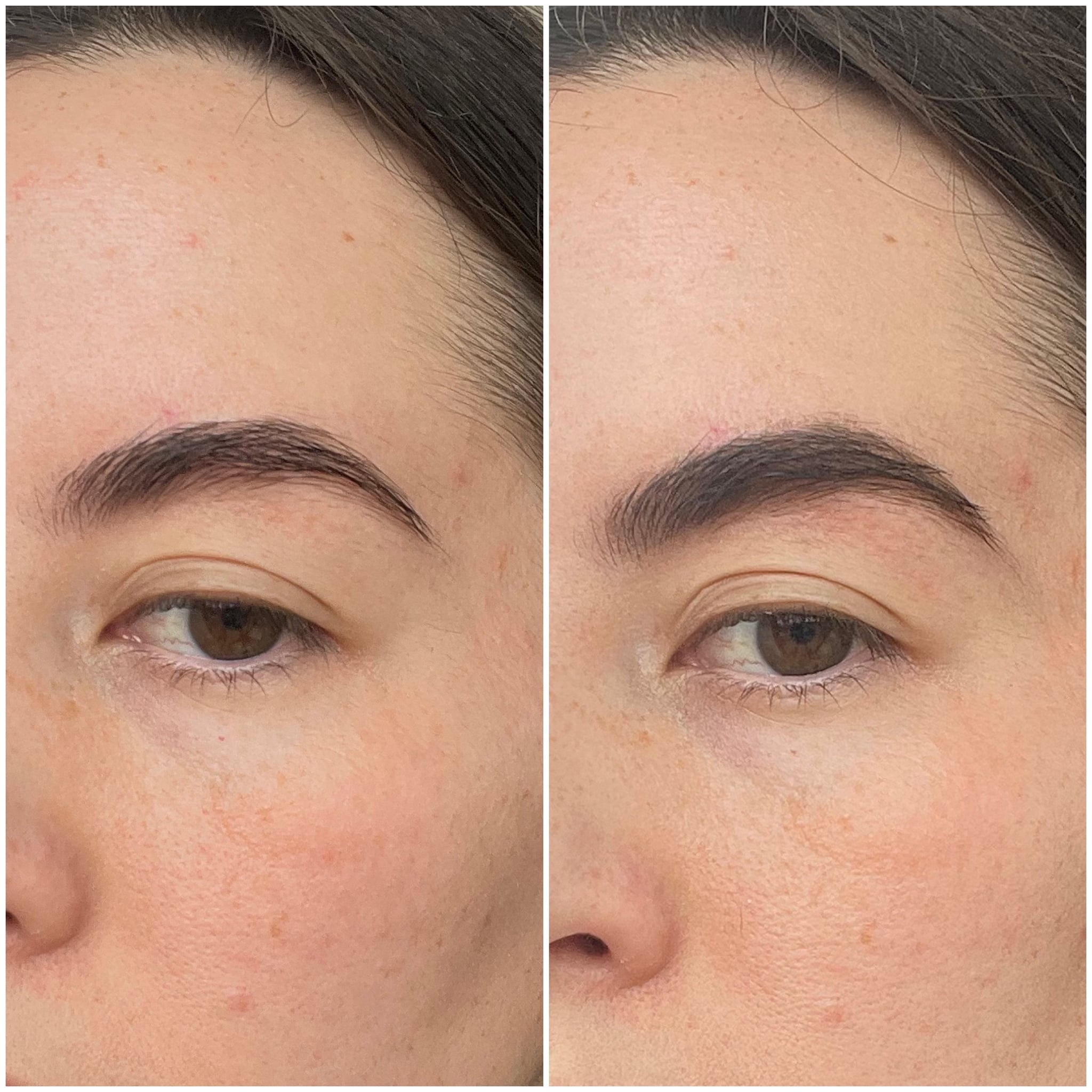 A new eyebrow makeup hack is gaining popularity on TikTok.
The technique utilizes three tools and takes less than five minutes.
One editor tested out the makeup hack and was impressed with the results.
I'll be the first to admit: I spend a lot of time on TikTok. I honestly love that every single "swipe" has the potential to lead me to learning something entirely new. Thanks to the app, I've tried everything from a seven-day hair detox to contouring my nose with an eyeliner pencil. TikTok even introduced me to applying my foundation with a jade roller, which, IMO, works better than a beauty sponge. Because I've found some of the greatest tips while doing some late-night scrolling, I didn't even hesitate to test out TikTok's latest brow hack.
Mastering the trick was fairly easy. The only items I needed were an eyeshadow color similar to the color of my eyebrow hairs, an eyeshadow brush, a makeup remover (or micellar water), and a Q-tip. Luckily, I had everything I needed at home already, so after sifting through my eyeshadow palettes and finding a shade similar to my eyebrow hairs, I got to work.
The entire process only required two steps total. For the first step, I picked up a small amount of eyeshadow on my makeup brush. I then tapped eyeshadow over my entire brow area and made sure my brows were fully darkened in all the areas I was trying to tint.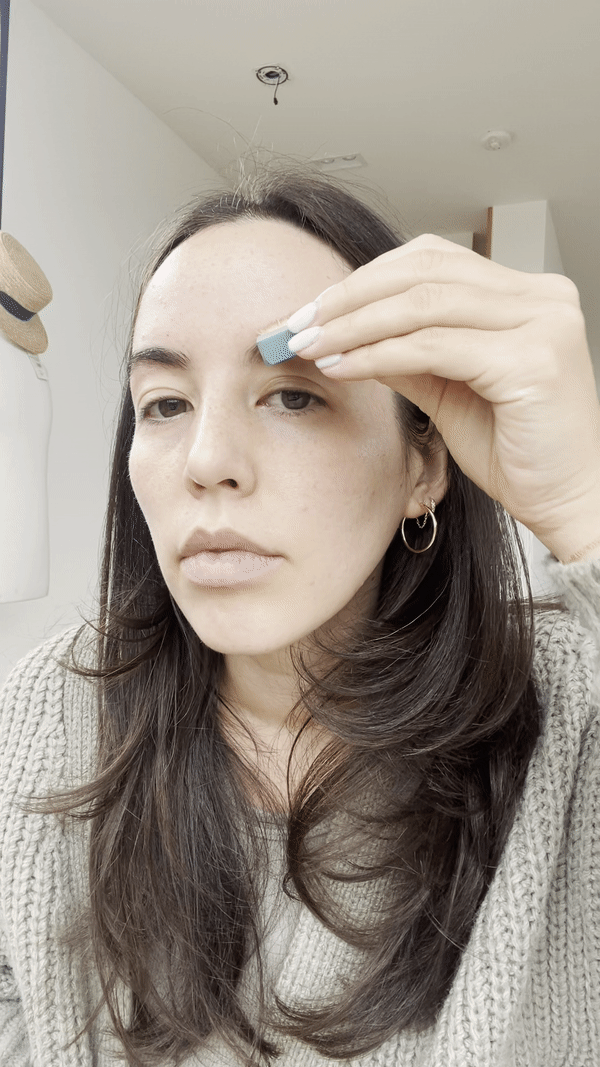 For the second step, I cleaned up the area around my brow using a Q-tip dipped in makeup remover. Most TikTok users have been utilizing micellar water, but the process worked fine with what I had on hand. (You might want to stay away from oil-based makeup remover if you're wearing foundation.) In an effort to achieve the best brow shape, I followed the natural curve of my brow while cleaning the area. Pro tip: since I did my eyebrows before putting on any other makeup, I made sure to wipe off any leftover makeup remover from around my brows, because I wanted to make sure my base makeup would set.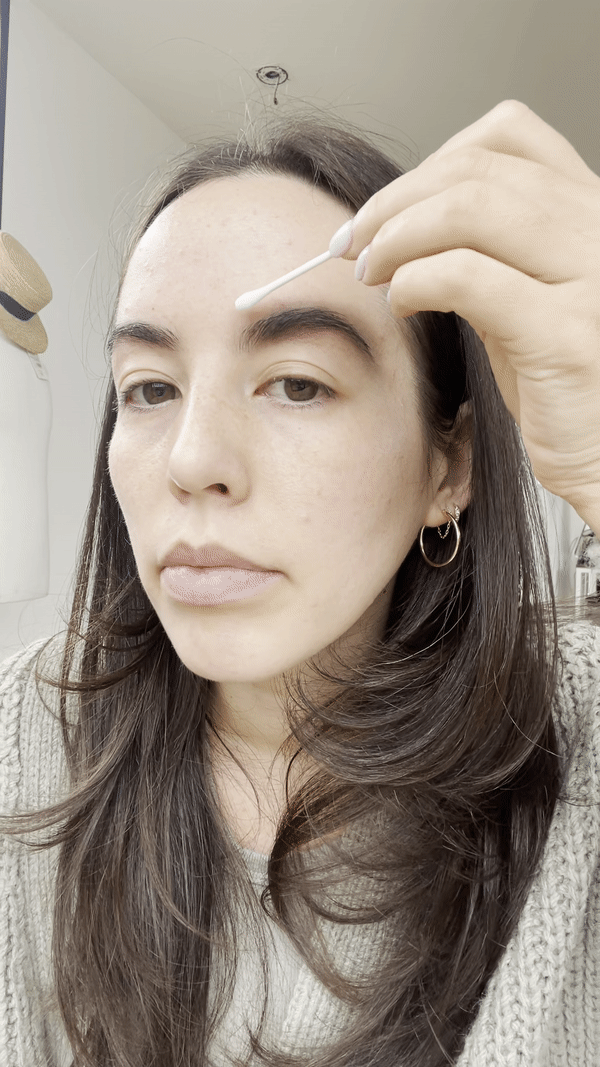 After application, I inspected both eyebrows and was impressed. I was honestly shocked that I was able to get such a good fill on my brows using eyeshadow and a Q-tip. It gave them a subtle tint without being too overpowering or looking too filled-in — that perfect "no makeup-makeup" look. Again, this hack really only works if you do your eyebrows before foundation or any other base makeup. Since I typically do my eyebrows first, I'm excited to continue to use this hack in the future, especially if I don't want to pack tons of products when I'm traveling.
Out of all of the things TikTok has made me try, this eyebrow technique is one of the simplest and easiest to recreate. I love that the hack utilized items that I already had at home — no purchase necessary. If you're looking for a quick and easy way to fill in your brows with items you probably already own, definitely give this latest technique a try.
Image Source: POPSUGAR Photography / Renee Rodriguez