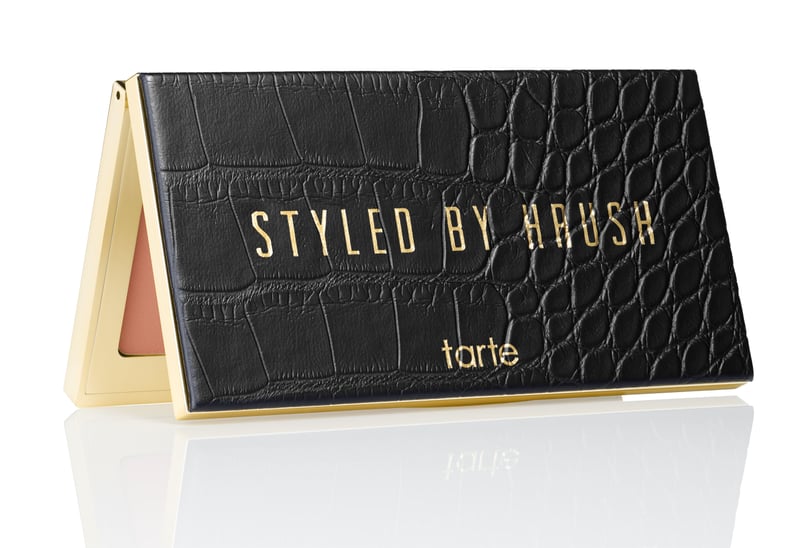 There may only be one person with a better "beat face" than Kylie Jenner, and that's her makeup artist Hrush Achemyan.
Hrush is a beauty influencer in her own right with 1.5 million followers on Instagram. She designed the smoldering smoky eye, strong-contoured cheek, and neutral-hued, overlined lip look that Khloé, Kourtney, and Kim Kardashian and their youngest sister are known for. With a clientele that viral, it's no wonder being "styled by Hrush" feels like a prestigious perk, only allotted for Hollywood beauty royalty. It's this credit that helped to score Hrush a collaboration with megabrand Tarte.
The beloved brand (Tarte has 4.4 million Instagram followers in its own right) just made its limited-edition Styled by Hrush Palette ($30) available today. Hrush picked the six shades featured in the luxe faux-leather packaged eye and cheek set. It includes three pearly shades and three matte ones as well as a step-by-step guide featuring four looks created by Hrush.
What makes Hrush such a standout artist — in addition to her gorgeous work — is how down-to-earth she is. What started as a hobby in her bedroom (painting faces) got her noticed by the Kardashian-Jenner crew on Instagram and eventually exploded into the successful career she has today. Still, she made time to answer all of our questions via email about the inspiration behind this palette, the quick trick to making your lips look lusher, and why you can't believe everything you see on Instagram.
POPSUGAR: What inspired the shade choices?
Hrush Achemyan: As a makeup artist, I'm inevitably asked about how I accomplish certain looks and what products I use. The problem is that what most people see on red carpet looks and on me is the result of 15 different shades from various brands, and 30 minutes or more of work. My job is to spend time on makeup looks, but the everyday woman may not have the luxury of having that much time and financial resources to invest in so many brands. So these six shades are what I believe are the colors that would be the epitome of foundational tones for everyday and glam looks. Also, my clients know that I layer blush in order to create the exact peach undertone that I love on so many skin tones. The color "Pinch" is buildable and neutral enough to meet this goal.
PS: What is your favorite color and how would you apply it?
HA: Ah! That's like asking me to pick a favorite child! But if I have to choose, I'm absolutely obsessed with "Pinch" and "Vamp," because they are key in achieving transitional colors. I'm a sucker for a flawless blend, and these two colors will get you there.
PS: What is an unexpected way to use the shades in the palette?
HA: The two gold-toned shadows can actually be used as a highlighter, as well! I would suggest using them on your nose — from the bridge to tip — and on your Cupid's bow. Also "Vamp" is amazing to lightly dust around the outer lining of your lips to create the illusion of larger lips.
PS: What inspired the chic packaging?
HA: I have a love affair with the color black, so I undoubtedly and effortlessly chose to have black play a key role in this palette. Honestly though, the end result of the packaging was inspired by my dining room chairs that also have gold metal components. I guess inspiration truly is everywhere if you look for it.
PS: Which color would look best for an Instagram selfie and why?
HA: I anticipate that "Royal" will be a hit on Instagram, because it's such a unique shade of plum and a common timeless Fall color. The best way to get "Royal" to pop is by spritzing MAC Cosmetics Studio Moisture Fix onto your brush and packing [the pigment] on, or by use a blending blush. I'm excited to see the looks created with the lush shade of "Royal."
PS: How did you become connected with the Kardashians?
HA: Social media. It has linked so many people together. I feel blessed.
PS: Do you have future plans to launch your own line?
HA: Ah, yes, a beauty line is definitely on my vision board for my future, but I don't anticipate it happening anytime soon. I am very cognizant of the type of products my followers and makeup lovers, in general, want. So I would be very meticulous in creating a line. It would take me a while to put something that intricate together, so I'm holding off on that for now.
PS: You have posted on Instagram that social media is an illusion. Do you have any advice for young girls about not taking social media too seriously?
HA: In no way do I depreciate social media, as it is a major component in my personal success as a makeup artist. However, I've learned that the power of social media can be misleading, especially for younger, more impressionable individuals, regardless of gender. What is not visible on social media is the sweat, tears, sleepless nights, and sacrifices that it has taken to attain certain goals and accomplishments.
In general, no one, even myself, purposely puts a bad photo of themselves up on their page. In order to even get the desired look I want to post, I of course use makeup. But I also utilize apps to accentuate and highlight features better. I don't go walking around glammed all day everyday, it's just not a realistic way to live.
My advice to younger people, especially girls, is to strive to be the best version of yourself and to appreciate and recognize the beauty of unique facial features, body silhouettes, and personality characteristics. I've never been the type to follow the crowd or try to fit in with what is supposedly cool or common to do, at any age. If only everyone knew how awkward and goofy I really am, they would understand how much of an illusion social media can be.
Pardon my French, but on social media I basically have a black belt in "resting b*tch face," but really in my personal daily life, there's usually always a smile on my face. And I'm also surrounded by my childhood friends and family, not just celebrities. I think social media will continue to be a powerful and useful tool for all types of industries, and I hope that followers recognize the thin line between reality and image.