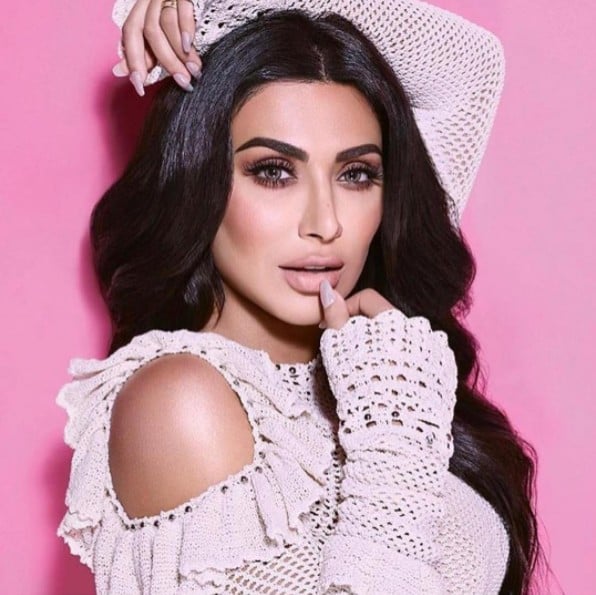 With women coming to her blog daily for the latest coverage, nearly 2 million subscribers on YouTube, about 21 million on Instagram, and a growing beauty empire, Huda Kattan is a force to be reckoned with. (Did we mention she was recently named the channel's wealthiest influencer?)
As if we weren't obsessed enough, the beloved Muslim entrepreneur recently revealed that she is expanding her collection of liquid lipsticks and highlighters to include a new #FauxFilter Foundation. It includes 30 dessert-inspired shades ($40 each), as well as a primer inspired by none other than Vagisil ($35). It all launches this October.
While we all impatiently wait for the foundations to be available, we got the scoop on the buzzy new products straight from Huda herself.
On How She Got Started
POPSUGAR: We've been following your every move, at least beauty-wise, for a while now. Can you take us back to the beginning?
Huda Kattan: A lot of people think that I just popped up out of nowhere, but I've been working in the beauty industry for eight years. I started out as a makeup artist and, about a year in, started blogging and doing a little behind-the-scenes kind of thing, offering insight into photo shoots. Then, about four years ago, we launched our beauty brand. We started out with lashes, and I think we were kind of scared to do other products.
On Gaining a Fanbase
PS: Why scared?
HK: It was scary and expensive. You know, we didn't have the money. I was doing a lot of makeup in order to fund the making of the products and my sister actually gave me a $6,500 loan to start the business. She has equity in the company so it paid back. We used to package all the lashes ourselves, and the packaging itself was super simple.
It started out small and then grew into — I don't want to say cult products, because I think it sounds funny from a founder saying you have cult products — but there's definitely been a following, and it's been great. We just launched our lip gloss and it became the No. 1 gloss at Sephora.com.
It's just so nice to launch products and see people be so receptive. Of course, you can't always sit on that either, because so many great brands are always coming out with products, and you never what's going to come out from a new brand.
Staying No. 1 in a Competitive Market
PS: How do you stay relevant?
HK: You have to consistently push, so we're always looking for ways to innovate and introduce things in a different way. I feel like I drive my team crazy. That I know I do for sure, and we do really weird things. For instance, and I hope I'm allowed to say this, but we're releasing a primer at the same time as our foundation and, you know, I get inspired in weird ways.
I featured Vagisil on my vlog last year as one of the weird primers you could use and loved the Vagisil so much that I ended up creating a primer based on the dimethicone that is in Vagisil. And it's amazing. We have a strange approach to beauty in that we view it as limitless. We do weird, somewhat traditional products with an outside-of-the-box-approach. It's fun. It's a little hack-oriented.
How Huda Beauty Products Get Made
PS: How do you decide what products to create?
HK: People have asked us to do liner or contour, and it's not that I wouldn't consider it, but I have to feel a real connection to the product. And sometimes I really like what's already out in the market, you know? Like, I really do like the Anastasia Beverly Hills and Kat Von D contour kits. I really love the Too Faced bronzer.
If it already exists, and I love it so much, we might not do it. I ask myself, "What do I need? What do I want? What can't I find?" And then we go there. For example, I was using a primer that I really loved, but found the dimethicone to be so much better for my skin, so I was like, "OK, maybe we should do this." I get nervous before a product launches because I don't know what people are going to think when I say, "This product was inspired by Vagisil."
As a small brand, we also can't really have products go on sale or products that don't do well, so that's scary. We have no other choice than to put everything into one product at a time.
What Makes Her Foundation Different
PS: What inspired your new foundation?
HK: I didn't originally want to launch a foundation, but another brand had launched a foundation and a cream, and we mixed the two together to get this really thick, creamy foundation. I came in to work the next day and said to my coworker [who we tested it on], "I cannot stop thinking about your face, like, I dreamed about your face and how it looked so airbrushed and how the creamy texture filled in all the indents."
I personally have a lot of little acne scars and indents so I really wanted full coverage but something that would also really smooth out the skin, so we worked really hard on the texture. It took us about a year to do the formula.
Shade matching alone took another full year. I remember walking through a hotel, seeing a stranger and being like, "Oh my gosh — I need your skin tone! Can you come into my office tomorrow? I'll give you so many free products!" We grabbed waitresses. We grabbed everyone. And some of the girls ended up being in our campaign.
It was a long process, but I think foundation is so important for me, because I always want people to look really good in pictures and in person, and I feel like this product does that. I feel like a lot of people are going to find this foundation answers their problems, so I'm very excited about it.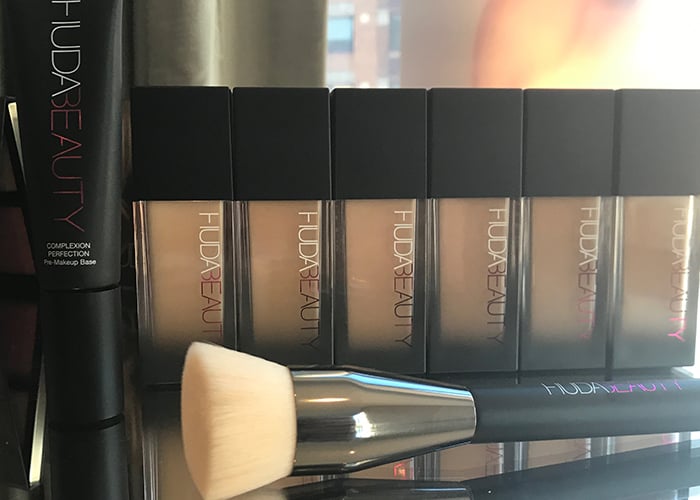 Why Her Foundations Are Inclusive
PS: You have a very diverse following. What does that mean to you when creating products?
HK: A lot of brands have done a good job with shade matching. Still, if you're either very fair or very rich in tone, you really don't have many choices. It was actually super emotional for me and my team because we thought, "It's not fair that if you're at extreme ends of the spectrum, you can't be part of the beauty process to some extent."
It was very frustrating for me, so we really worked hard to appeal to all skin tones. I know our darkest shade is darker than anything I've seen. Our fair is definitely very, very fair. It's scary in that we don't know how many people will come to us for foundation being that we're a small brand, but the belief is that, once they try it, they'll be obsessed with it.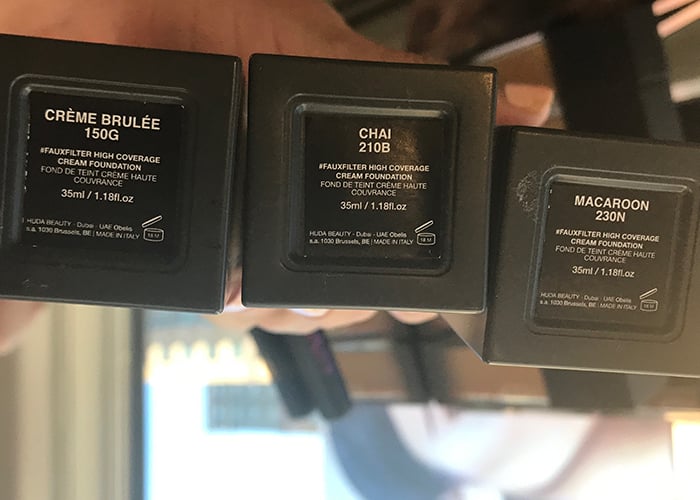 About Those Dessert Names
PS: There are 30 shades in your foundation line. What went into naming all of them?
HK: We named them all after desserts. We thought, "You know, everyone's skin kind of looks like dessert. We should name them all after dessert." I love it. I think it's so cute, and it's a great way to think of skin — as being yummy. They're all named after really yummy flavors.
Her Must-Do Makeup Step
PS: What don't you leave home without?
HK: "I never leave the house without a quick cheek contour. It makes such a big difference. It really just shapes the face and lifts the cheeks. And it becomes just like brows. Once you start, you're never, ever gonna stop.
The Biggest Faux Pas According to Huda
PS: Do you have a personal makeup peeve?
HK: I think people just put too much on sometimes. Like, I put on a lot, but I spend a lot of time doing my makeup so I know what I'm doing. Not that there's anything wrong with trying, but it's shocking to me how many people don't realize just how attractive they are.
I remember when we did a contest and asked people why they wanted to get a free makeover and everyone said they needed a change. I looked at their photos and, oh my gosh, I thought they were models. When I found out they were people who'd entered the contest, it was shocking to me.
What the Future Holds For Huda Beauty
PS: What's next for Huda Beauty?
HK: I guess you never really know where you're going to go as a brand. I mean, I originally said we'd never do makeup. My sister is always coming up with things and I may say no, but it may not be a no forever. It just needs to be when it really feels right and makes sense. Then we'll do it.