Huda Kattan Faux Filter Foundation Launch
Huda Kattan's New Foundation Will Have 30 Shades
Update 9/27: While we're still patiently waiting for Huda Kattan's highly anticipated Faux Filter foundation to launch, some more info on the collection just dropped. Huda's sister Alya apparently posted an image of 28 of the foundations, which will cost $40 and has 30 shades total.
Back in July, Huda wrote on her website that she has "always been fascinated with skin tones, and as a makeup artist, constantly working with new people really gives you a deep understanding of the vast array of shades." She said her team tried shade matching everyone they knew, and ended up with 30 hues that "embrace and celebrate all skin tones — from the very fair to rich and deep skin tones, beiges, olives, and golden shades." This photo seems to skew heavy on the medium-tan part of the spectrum, but they could just be multiples of the same shades — no official photos have come out yet.
The foundation has been two years in the making. Here's to hoping it's well worth the wait.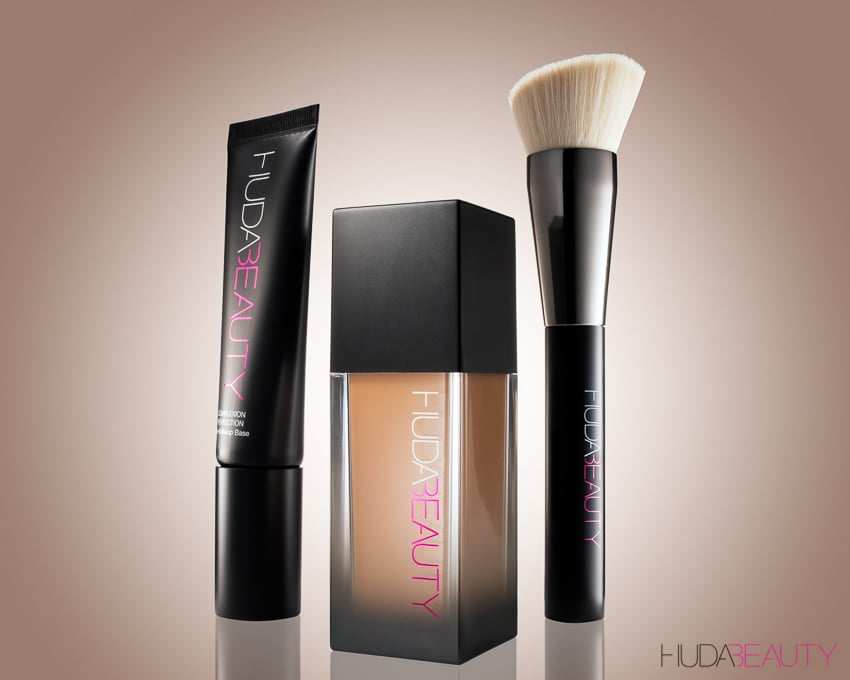 Original Post:
Everything Huda Kattan touches turns to gold. Lipstick. Highlighter. Heck, even tweezers. Now, she's tackling foundation, and it may just be her most highly anticipated launch yet.
Word about Huda Beauty foundations first came out in December 2016 when the vlogger gave a sneak peek on Snapchat. Then, she teased it again on Instagram Stories back in February and confirmed that the foundation collection would include more than 20 shades. Now, we have the official name — Huda Beauty #FauxFilter Foundation — and a preview of its packaging. She didn't give an update on a launch date, but she previously said the range would drop around October 2017.
On Snapchat, Huda described the product as "super full coverage (but looks like skin!)" and swatched a couple of shades. Judging by her incredible before and after photo above, this foundation is going to fly off shelves. Get your wallets ready.