Jennifer Coolidge, the Burgeoning Beauty Influencer, Is Back
Every editorial product is independently selected by our editors. If you buy something through our links, we may earn commission.
When Jennifer Coolidge first partnered with E.L.F. Cosmetics for an epic collaboration back in September — bringing to life "Dirty Pillows," a limited-edition lip collection accompanied by another one of her hilarious video campaigns — it was an instant hit. In fact, the products sold out in less than two hours.
If you weren't able to get in on the action the first time around, now might be your chance. Starting Nov. 21, the line — which includes four items including the O Face Satin Lipstick in Dirty Pillows, a mauve-pink shade; a Lip Plumping Gloss in Swollen, a milky pink; a Cream Glide Lip Liner in Fill Frontal, which is a pinky brown, and finally the "Lips Are the Mirror to Your Soul" Mirror — is getting a restock. Like before, the entire collection will retail for $25.
The project is close to Coolidge's heart. "When I get up in the morning my favorite thing to do is put on my makeup because I love the creative process of becoming somebody a little different each day just to keep life interesting," she says in a press release. "A key part of my favorite look is exaggerating my lips by combining lipstick with liner and gloss in just the right colors to make them look bigger."
This time, the accompanying campaign features three videos, in which Coolidge can focus only on her lip kit despite a handful of important situations (think: weddings, funerals, and more). You can watch each one in the slides ahead, and get a peek at the full Dirty Pillows collection available on the brand's website — while supplies last.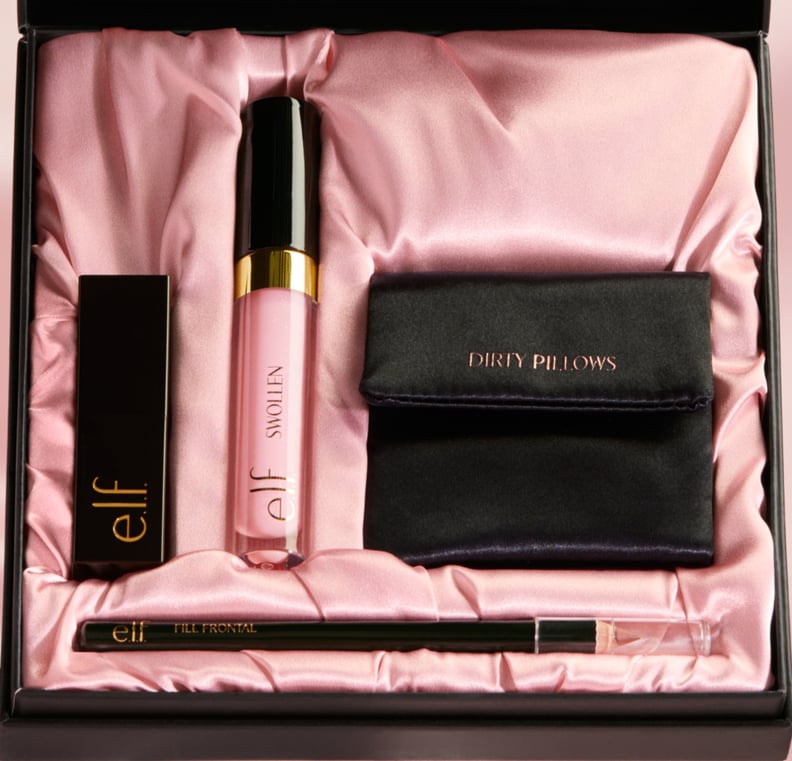 E.l.f. Cosmetics x Jennifer Coolidge Dirty Pillows Collection
E.L.F. Cosmetics x Jennifer Coolidge Dirty Pillows Collection ($25)
The E.L.F. Cosmetics x Jennifer Coolidge Dirty Pillows collection includes a keepsake mirror, as well as a lipstick, gloss, and liner in the actor's favorite shade: pink.
Jennifer Coolidge's Dirty Pillows Campaign at a Wedding
Jennifer Coolidge's Dirty Pillows Campaign at Date Night
Jennifer Coolidge's Dirty Pillows Campaign at a Wake