Jennifer Lopez's "Initial" Nails Are a Display of Self-Love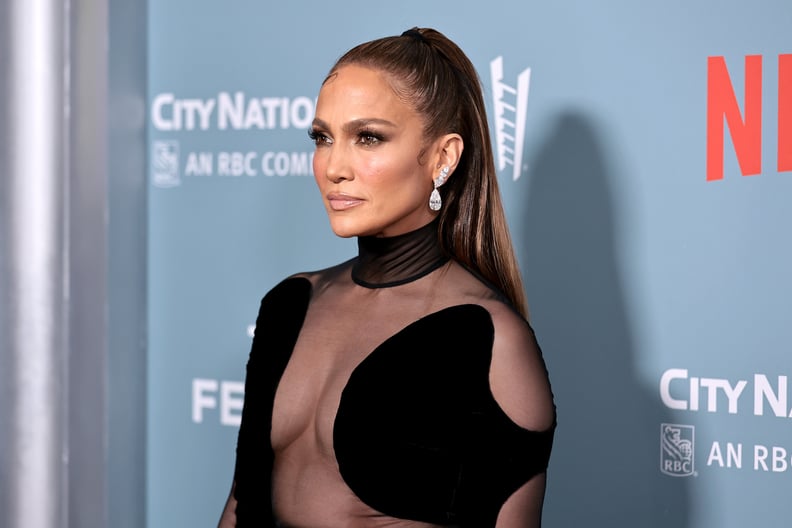 Image Source: Getty / Jamie McCarthy
Jennifer Lopez's latest manicure displays her love for herself — as she should. On Oct. 23, her longtime manicurist Tom Bachik offered a close look at the superstar's fresh set, which combined gold hardware and the TikTok-favorite initial-nail trend. Lopez's stiletto-shaped nails were painted a simple pearly white color and accented with silver and gold chains, rings, hearts, and her name. Her middle finger featured a "J Lo" decal in a gold cursive font.
Though the trend, which is also referred to as "boyfriend initial" nails, typically uses different nail-art styles to show a partner's name on an accent nail, who's to say you can't display your own name? J Lo previously paid tribute to Ben Affleck with the style, wearing gold gothic-font "J" and "B" letters on her ring finger to jazz up her supermodel manicure. Kourtney Kardashian has also worn "T" initial nail art for Travis Barker, while Kim Kardashian sported a rhinestone "P" on her nails while dating Pete Davidson.
J Lo's studded manicure is a fun change from her recent string of neutral, minimalistic looks, including her classic vampy fall nails for the Ralph Lauren runway show on Oct. 13. At the event, her Bordeaux-red nails were filed into a short square shape.
Ahead, get a zoomed-in view of Lopez's latest manicure.