How Tom Bachik Went From Graphic Designer to Go-To Manicurist For Countless A-Listers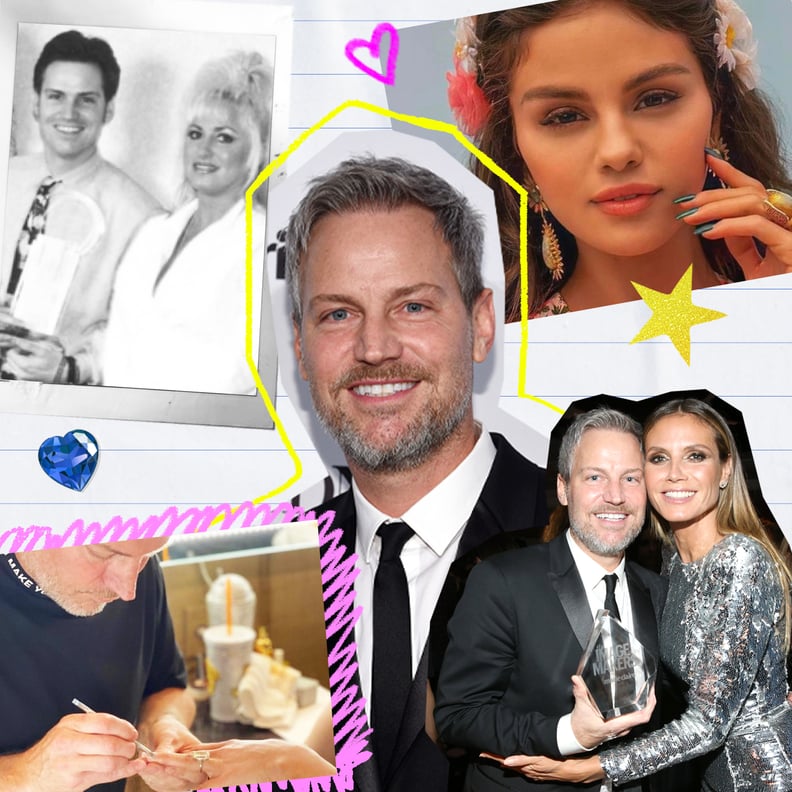 Courtesy of Tom Bachik | Getty / Illustrations by Keila Gonzalez
As POPSUGAR editors, we independently select and write about stuff we love and think you'll like too. If you buy a product we have recommended, we may receive affiliate commission, which in turn supports our work.
Welcome to Big Break, where some of the most influential figures in the beauty industry reflect on the moments that made them — from the good to the bad and everything in between. Here, celebrity manicurist Tom Bachik shares how he stumbled into a career in nails and earned his A-list clientele, including Selena Gomez, Jennifer Lopez, and Lana Candor.
Tom Bachik always thought he would be a graphic designer. He had a plan to work as a custom airbrush artist with his brother — jet skis, toys, hockey masks, and race cars were meant to be his canvas.
That was in the early '90s, right before he and his wife found out they were expecting their first child and there were talks of a recession on the horizon. "The whole starving artist, living out of the back of a pickup truck riding a skateboard thing was not so conducive for raising a family," Bachik told POPSUGAR.
Doing manicures for a living wasn't exactly the job Bachik envisioned for himself, even if he did show his mother how to use an at-home airbrush nail kit once. Then, his cousin, who was going to cosmetology school for hair at the time, suggested he switch career paths. Coincidentally, nail art and airbrushed manicures were just beginning to gain popularity, too.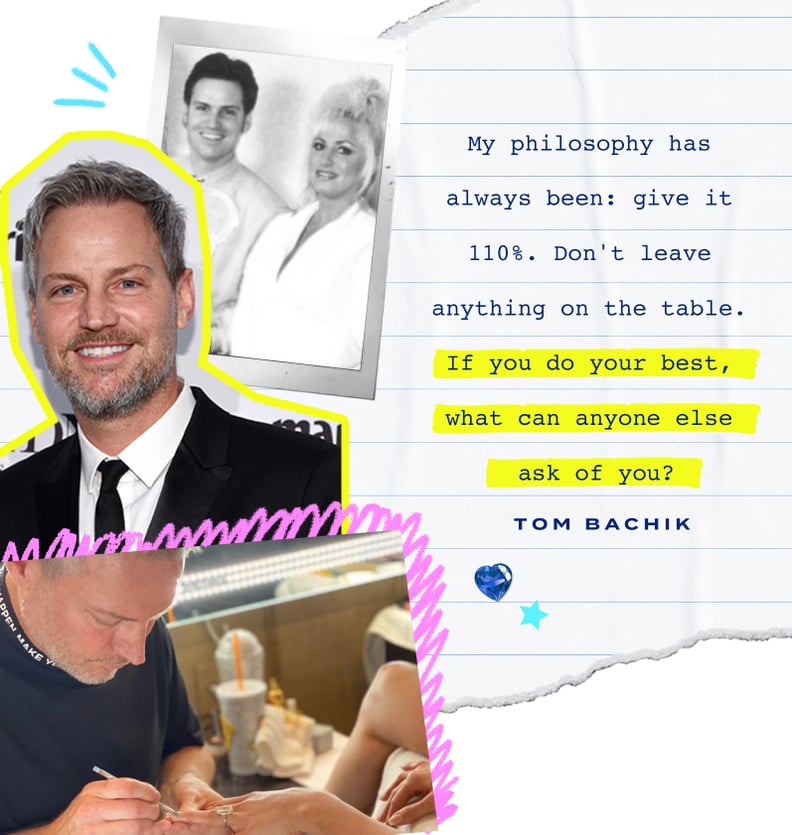 "A light bulb went off in my head," said Bachik. "My cousin was like, 'Just change your canvas — instead of doing art on jet skis and motorcycles, shrink it down and do it on nails.'" Four days later, he enrolled in beauty school to become a manicurist.
Bachik planned on opening his own salon — that was what his cousins did after graduating cosmetology school and they were doing incredibly well for themselves — but that changed after he discovered there were trade shows happening all over the world with nail competitions. "I was like, 'Wait, I could compete doing nails?'" he said. "I figured, if I'm going to be a straight guy doing nails, I better go all in."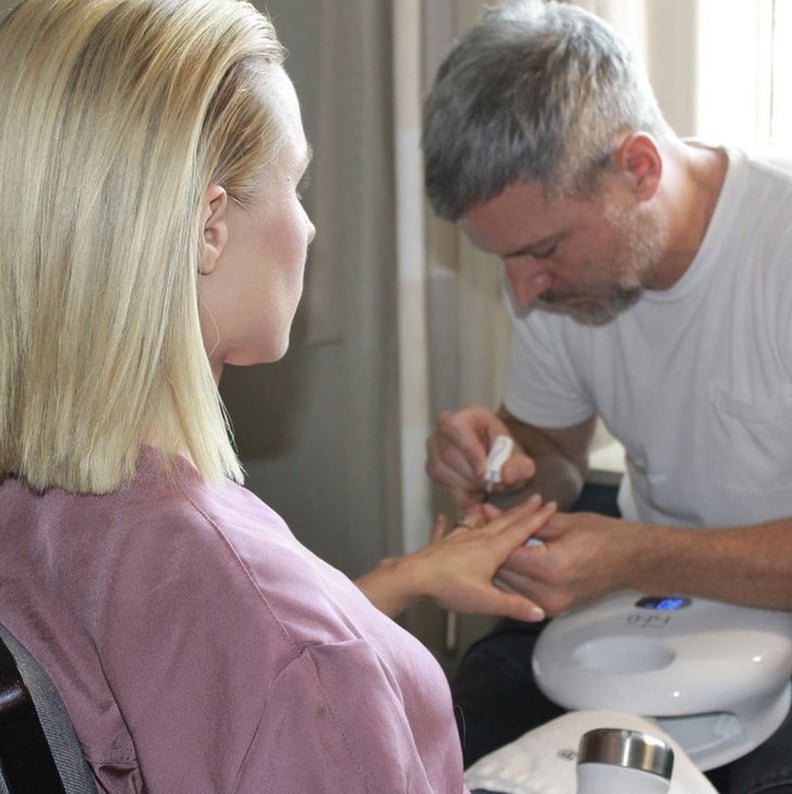 His first competition didn't go as planned. "I broke a nail in the last three seconds," said Bachik. "It went flying off in the air, and everything went into slow motion." Still, he submitted his work to the judges — and took home second place. From there, "I was hooked."
One year later, after obtaining his license, he was able to compete at the pro level and won the world competition in nails. "That's when I knew I was in the right place," said Bachik. Immediately after being awarded the winning title, he was approached by the owner and founder of CND and offered a job on the spot. He took it and became a global educator for the brand.
This officially set his professional career as a "'MAN'icurist," as he likes to call himself, in motion. On the job he was introduced to various famous beauty professionals, including Francesca Tolot, who opened his eyes to the idea of getting an agent — something he didn't even realize was possible. "I said to her, 'Agent? What? You can get an agent to do nails?' You're way too LA for me,'" said Bachik. But he took her up on the idea and started working with her agent and "it kind of all took off from there."
His introduction to the celebrity world came fast and furious. First, he was hired to do the nails for Jenny McCarthy's cover of Maxim Magazine, followed shortly by the cover of Rolling Stones with Britney Spears. Then, came the opportunity to work with Beyoncé for a series of music videos, including "Upgrade U." "I did all of these Queen B videos in literally a two-day period," said Bachik. "It was incredible."
"I'd hear, 'Oh, you're a straight guy? Yea, she's really not comfortable working with a guy for her nails.'"
Despite the ongoing success, he was met with some pushback from potential clients at the start of his celebrity career. "I'd hear, 'Oh, you're a straight guy? Yea, she's really not comfortable working with a guy for her nails,'" said Bachik. "And I get that. But on the flip side, a lot of people were like, 'Oh, a guy doing nails? Cool, let's book him.'"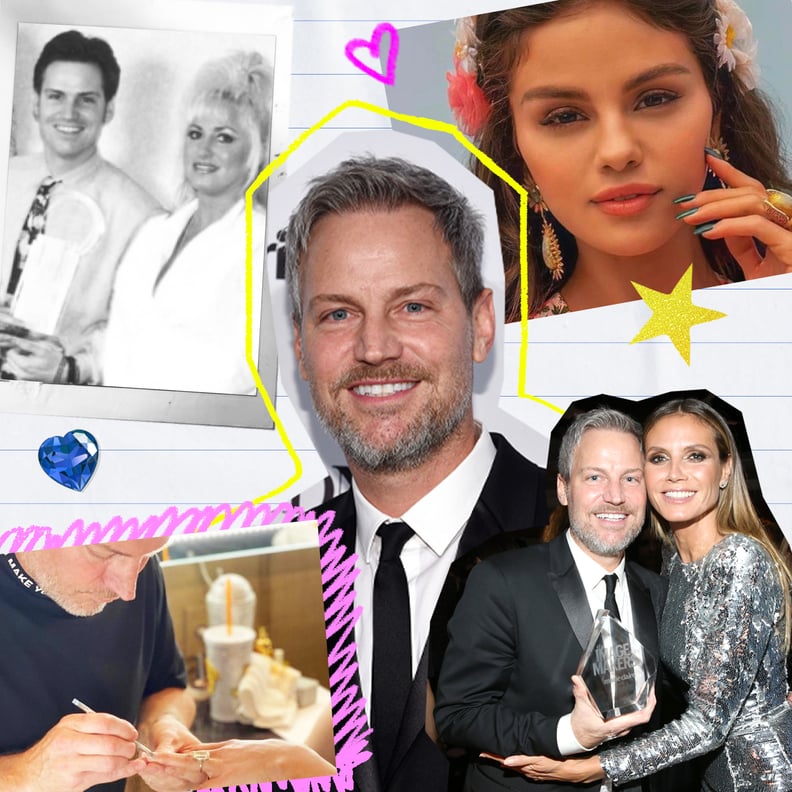 He left his full-time job at CND after four years to start his own product line. "We'll just say it went south," said Bachik. "I made someone else a lot of money — we'll put it that way — and I walked away broke."
This marked the beginning of what he calls "the most difficult year of his life." He started accepting every job he possibly could to make ends meet. "I was just trying to keep the lights on and put food on the table, but because of that, I was in every magazine with the work I was doing," said Bachik. After four months of hustling, he was offered a job to work the Oscars with Chanel.
This was all happening at the start of Instagram — back when no one really knew what to do with it just yet — but Bachik began utilizing the app to showcase his editorial work and tag brands. He continued to use Chanel products for every editorial shoot he did and ended up flooded the brand's tags and mentions with so many pictures of his work that they offered him the first manicurist contract in the brand's history.
The highs didn't stop there. Elle Gerstein, Bachik's longtime industry friend and Jennifer Lopez's then-manicurist based in New York City, alerted him of the singer's upcoming move to Los Angeles. She insisted he be her new nail artist "because Jen was definitely going to need one."
The first time Bachik went over to do Lopez's nails, she only just had the twins who were in the corner of the room in their cradles. That was 13 years ago. By the time Lopez's daughter Emme was 2, he was doing her nails as well.
"She used to crawl over, dig through all my colors, and hold her hands out," he said. "Jen always said, 'I think she thinks you're here to do her nails.'"
By word of mouth, Bachik landed a spot on Selena Gomez's glam team. He also became Victoria Beckham's manicurist the moment she stepped off the plane from the United Kingdom and recalls the moment her husband David walked into the room the first time doing her nails: "All of a sudden my voice got all deep, my chest sticks out. I was like 'How's it going, man?'"
Between the history-making Chanel contract, Beyoncé music videos, countless Gomez projects, and the epic Super Bowl LIV halftime show in 2020 with Lopez, it's hard to pinpoint one moment as the biggest in Bachik's career — and he's nowhere near finished. "I keep reaching new pinnacles and new key moments," he said. "My philosophy has always been: give it 110 percent. Don't leave anything on the table. If you do your best, what can anyone else ask of you?"