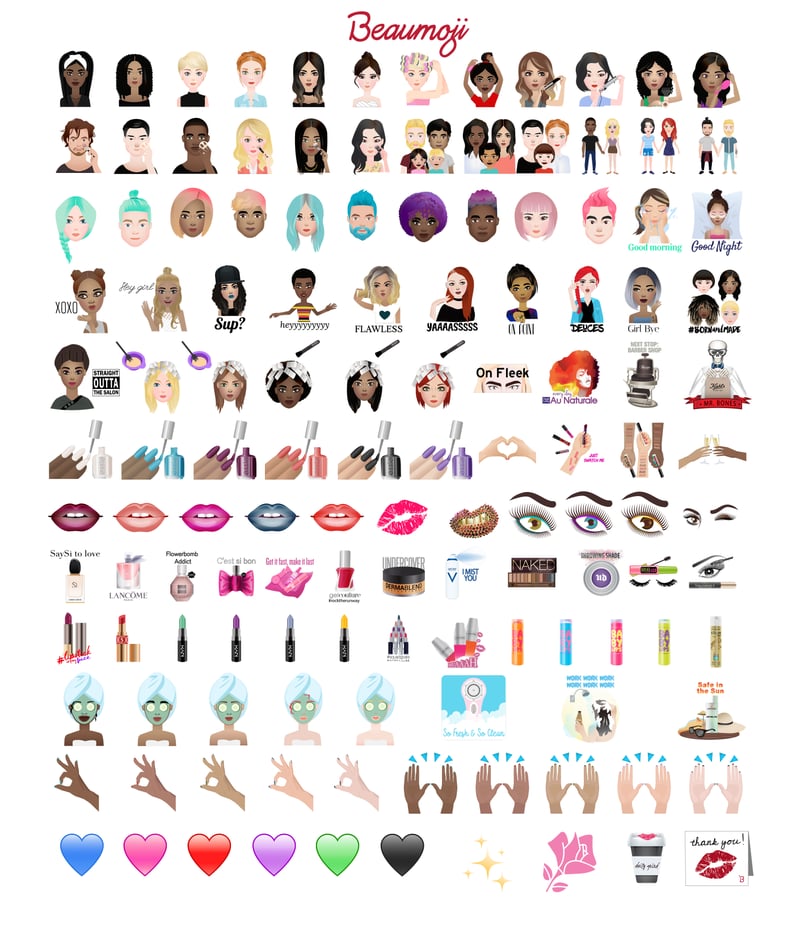 Your smartphone keyboard just got a heck of a lot prettier. Thanks to L'Oréal's adorable newly launched "Beaumoji," there are now beauty-themed emoji for every junkie's desires.
"We know the online conversation around beauty is huge and continuing to spike along with the shorthand language of emojis. We saw an opportunity to provide expressions and tools for our beauty community that reflect the daily conversations we see happening," said Rachel Weiss, vice president of innovation and entrepreneurship at L'Oréal USA. "With Beaumoji, our goal is to provide emojis that beauty enthusiasts crave and speak to their unique passions, lifestyles and personalities."
The tiny motifs are broken up into categories: It Girl, Iconic, Pampered Life, beYOUtiful, and Love. Let's break them down. It Girl features illustrations of current beauty trends, such as smoky lilac rainbow hair, men wearing makeup, blue lipstick, and half-up hair buns. Iconic is our favorite of the group as it showcases adorably small images of cult products, including an Urban Decay Naked Palette, Maybelline Baby Lips, L'Oréal Paris Elnett Hairspray, and a Clarisonic. And the Pampered Life grouping caters to DIY- and spa-lovers — with images of a woman washing her hair and wearing a face mask with cucumbers over her eyes. The beYOUtiful offering is all about embracing your personal style and expressing yourself (for example, the fierce redhead with the caption "Yaaaassss"), and Love is all about gestures and enthusiasm (there are nail-polished hands in multiple skin tones making the "OK" sign).
Download the Beaumoji here, and then keep reading to see some of our favorites!