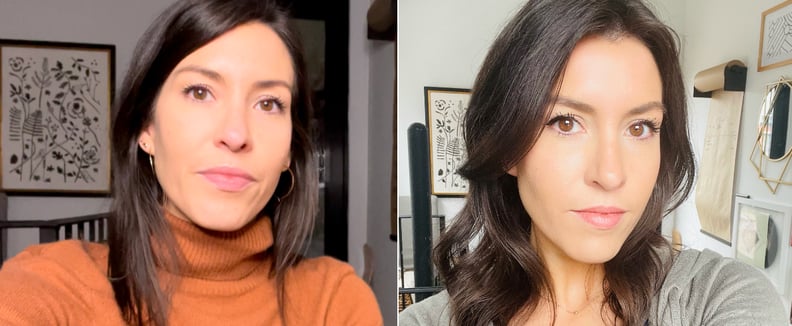 POPSUGAR Photography | Kelsey Castañon
Up until last week, parting my hair to the right just felt like the natural order of things, like throwing an empty tin can into the recycling bin or washing everything but your bra on laundry day. Then I learned about the debate dividing TikTok and Instagram, in which gen Zers claim that if you do it any other way but right down the middle, you are, in fact, old as Moses parting the Red Sea. When we polled POPSUGAR editors on their stances, it was confirmed: the side part is indeed a Very Millennial Thing to Do. Even James Corden entered the chat.
Anyway, flash forward to today and my current hair regimen feels more like the meme of a little girl crying into the mirror with the words, "Putting my hair in a middle part after a shower so gen Z doesn't call me ugly" at the top. Despite my proud accomplishment of not having caved to any TikTok trend yet, I weirdly wanted to try this elusive style I thought only looked good on people like Kim Kardashian and Dua Lipa but somehow captured the hearts of youths everywhere. It would become my mission to at least attempt.
Although, let me be clear: this was no easy feat, at least not for someone with a widow's peak that by nature splices my hair slightly to one side, let alone 16+ years of blow-drying my roots into submission in one direction. When I first uploaded a video of my efforts to try the middle part to my Instagram Story, you could tell something looked . . . off. "But look at that volume," my sister responded. "On one side and one side only."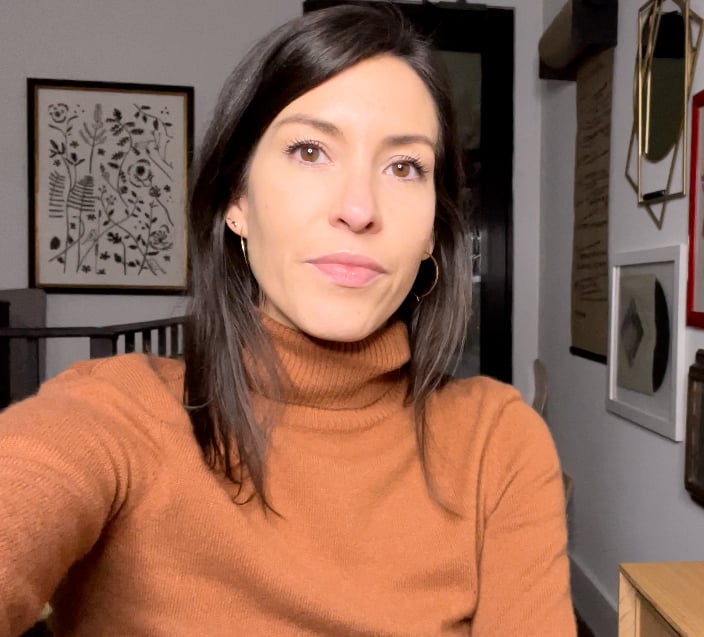 Before: the Side Part
As you can see by this blurry outtake of a recent work video, my hair part dries this close to my scalp naturally. Still, I also got some words of encouragement. "Retrain your hair," my friend Nick DMed me via voice note on Instagram. He's 24, so obviously I decided to listen to him. "How?" I asked, to which he responded simply: "When it's damp, after you shower, part it down the middle and press it down in both directions. Let it dry. Then keep doing that."
I'm pretty sure I responded in my own muffled voice note: "OK, I'll try," and that I did.
During: the Middle Part
Folks, I didn't say this transformation was cute. Up until this point, I had been wearing my hair in a middle part for two days and so the natural oils from my scalp weighed down each side swimmingly, but I knew I needed to "retrain" my part with proper damp hair. I took this photo immediately after a shower and blow-dry, and as you can see, the hair at my roots on the left side of my head looked like it was harboring a groundhog or something just below the surface, waiting to pop up from its burrow.
I hit both the left and right side with an equal amount of heat from my hair dryer, smoothed it down with a bristle brush, and decided to sleep on it to help press the style.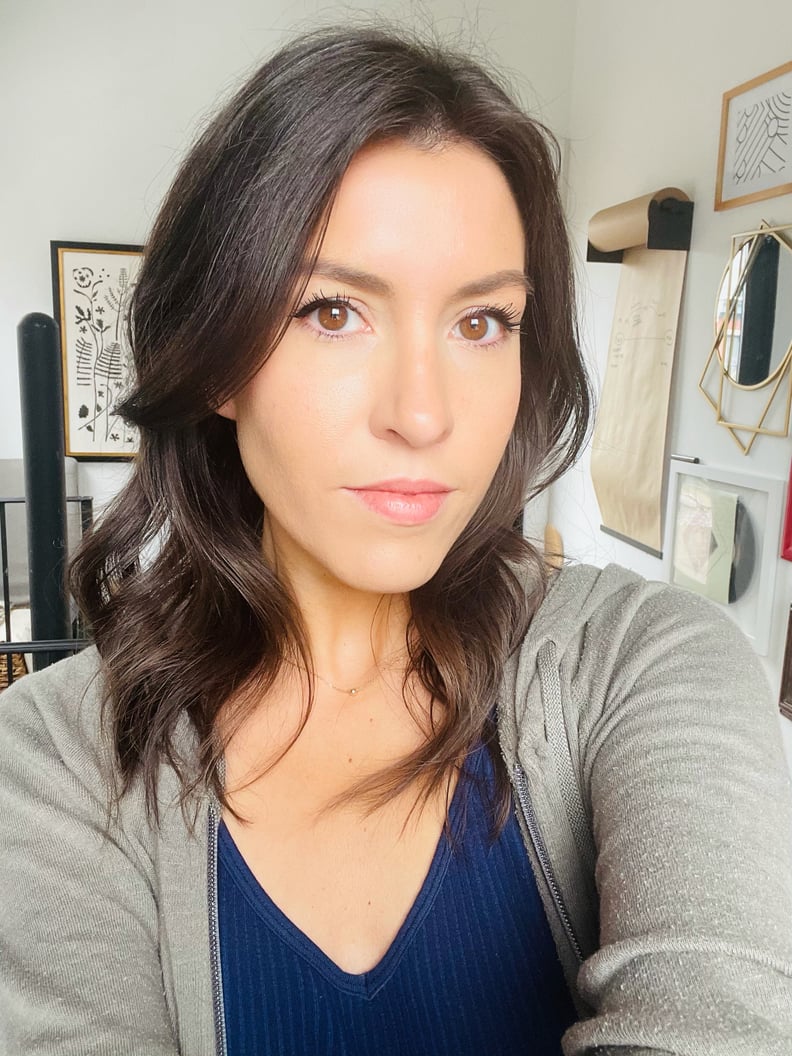 After: the Middle Part
When I woke up, my hair looked smoother, but my roots were still a smidge uneven in volume. I figured the best way to level out the playing field was to add a few waves with my favorite T3 Curl ID Smart Curling Iron ($235).
Strangely I still felt that, despite the majority of my hair no longer living on the right side of my face, I couldn't help but slant my head for a selfie toward the right. I guess relearning my angles for middle part-dom is something TikTok will have to teach me, too.