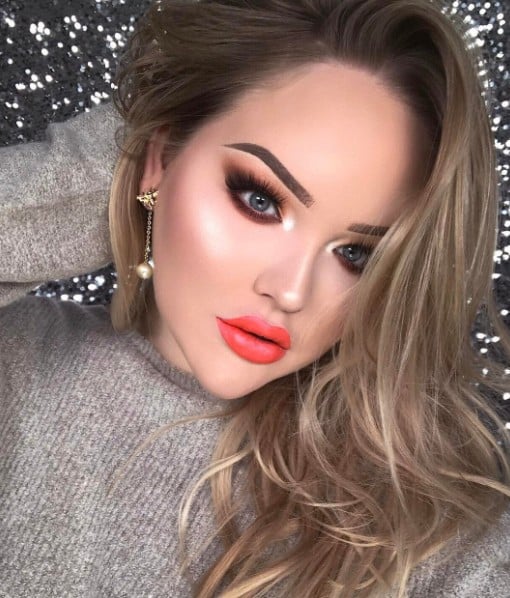 Instagram | nikkietutorials
Orange you glad you now know about this eye makeup trend? (Sorry, had to!) On a more serious note: we're seeing orange as the fiery new shade everyone will be wearing for Summer 2017. Warm eye colors started gaining traction last year with pink and red taking the lead, and peach following suit. Orange is the next color craze, and it's already a favorite look for YouTubers and beauty bloggers.
"Bright saturated colors were seen on the runway (pops of color at Marc Jacobs, Sportmax, Anna Sui), so it's no surprise that orange is hot right now!" GlamSquad Director of Makeup Artistry Kelli J. Bartlett told us via email. "The look is a unique blend of elegant and edgy. It's a perfect way to add an extra festive or flirty flair to an otherwise chic and sophisticated barely-there beauty look."
But don't overdo it, she warns. "It's important to let other features find balance by sticking to neutrals on the lips (nudes look great!) and adding a touch of the orange you used on your eyes to your cheeks to coordinate the look without appearing too dramatic," Bartlett added.
You may still be feeling intimidated, especially if you don't think orange works with your complexion. Well, we have good news . . .
"Orange looks amazing on all skin tones and eye colors," Bartlett confirmed. "For deep skin and brown eyes, go for a rich tangerine that will pop. For fairer tones, choose a soft peach. Orange is especially complimentary on blue eyes."
OK, so now you're convinced and ready to DIY it. Try these tips from Bartlett: "For a fully saturated orange stare, the key is to be sure to blend it well. Apply the shadow on the lid and close to the lash line on the top only, using a small fluffy blending brush to bring a soft diffusion of color. The result is a subtle yet statement eye. Avoid rimming the entire eye in orange — it looks much better to splash it on the brow bone or lid for a flash of color!"
To execute this look, try Barlett's favorite pick — Makeup For Ever Artist Shadow in Tangerine.
Keep reading to see how mesmerizing orange eyes look on Instagram users!