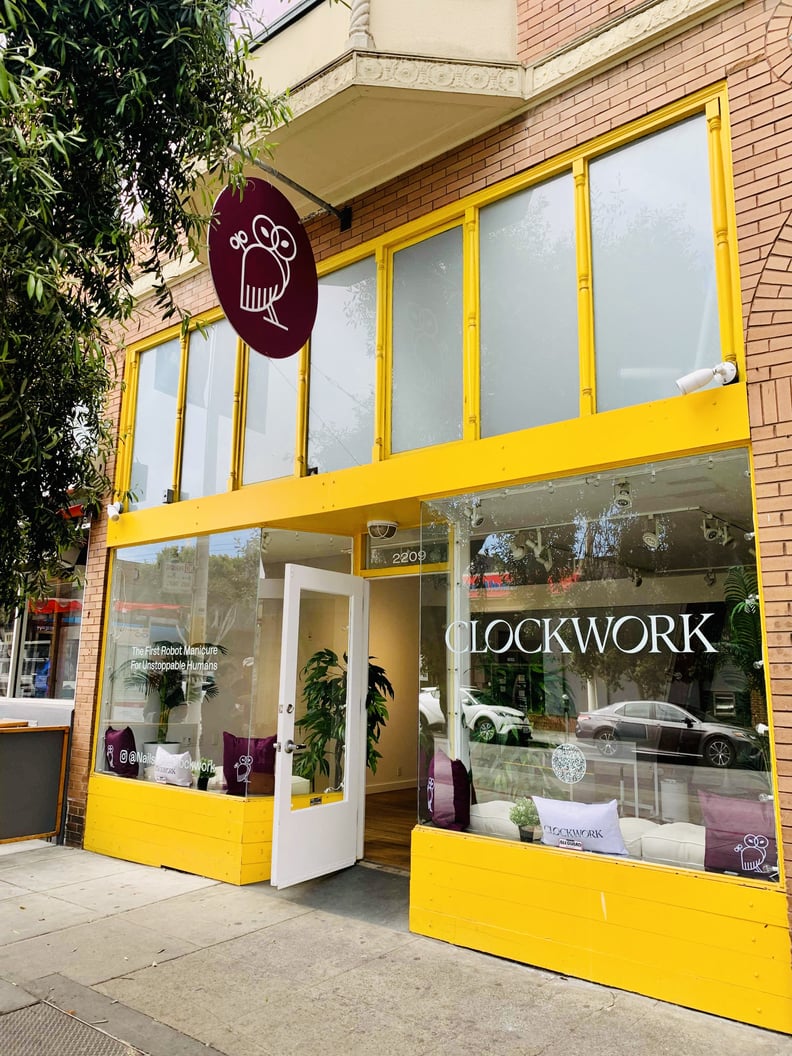 Courtesy of Clockwork
Courtesy of Clockwork
There are self-driving cars, computer cashiers, and robot delivery vehicles, so it was only a matter of time before technology started to infiltrate the beauty industry. In a way, it already has. Thanks to AI software, you no longer have to go to a store to try on makeup or test-run a new hair color, and there are at-home machines available to the average consumer that lets you do everything from make your very own lipstick shade to give yourself a facial with NASA-backed research.
Technology, specifically robots, is even starting to change the service side of the beauty industry. In California, you can get robotic eyelash extensions with Luum and in London, Amazon opened a hair salon that brings the ease of its digital storefront to a brick-and-mortar location. But the nail industry may be the next area of beauty to see some big changes with robot manicurists, like Clockwork.
The Rise of Robot Manicures
Clockwork launched in 2021 in San Francisco, providing the first robot manicure. "Clockwork's fully autonomous robot uses proprietary AI, 3D cameras, and sophisticated algorithms to paint nails in under 10 minutes, and is the first of its kind to be deployed in public," Renuka Apte, the company's CEO, tells POPSUGAR.
The cost right now for a single-color polish manicure is just $8, and the service is available at select locations, including a handful of Targets nationwide, allowing customers to get a quick manicure while shopping. "We hope to continue expanding our retail footprint so that more people can get their nails painted while on the go, and to eventually create robots for additional beauty services beyond nails," Apte says. Clockwork is meant to be incredibly fast and easy, requiring no human interaction.
This new technology is no surprise to many nail technicians and salon owners. "Technology is taking over almost every industry," says Julie Kandalec, celebrity manicurist and founder of JK Nail Artelier in NYC. Michelle Saunders, a celebrity manicurist and owner of Saunders & James in Oakland, CA, actually went to receive a manicure from Clockwork when it first launched. "I hadn't heard about the possibility of a robot manicure until the COVID pandemic began," Saunders says. "I understand the grand idea of a 'touchless' manicure because hands were a conduit of transferring the virus at the time."
Will Robot Manicures Replace Nail Salons?
Many experts we spoke with can see the value of a machine like Clockwork, but they don't see it as a substitution for traditional nail salons. During the pandemic, we experienced almost a void of human touch altogether, which negatively impacted many people's mental health. The person-to-person interaction you get during a beauty treatment can be therapeutic. Beauty professionals are often in a unique role where they double as confidants, which is one of the reasons why Tennessee is requiring hairstylists to undergo anti-domestic violence training to be a resource to clients.
"Technology is an incredible thing — but it never replaces human interaction and connection."
"Technology is an incredible thing — but it never replaces human interaction and connection — which are both so valuable to our day-to-day lives," says Kandalec. "People go to the salon for many reasons beyond a polish change and are genuinely looking to indulge in the ultimate self-care. Small, but indulging touches, like the hand massage, lavender-scented hot towels, and, of course, the sense of community, are just a few of the many services a robot could never replace."
Still, according to Clockwork, that is and never was their goal — instead of replacing, they want to work in tandem with beauty professionals. "We don't think of ourselves as competitive to traditional salons," says Apte. "Think of Clockwork as 'quick-serve' beauty." Kind of like carry-out or fast food establishments are to restaurants.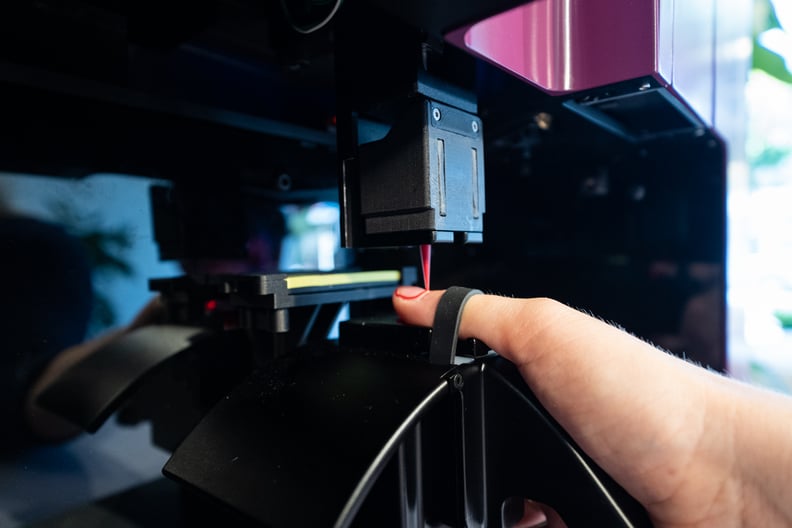 When to Get a Robot Manicure vs. When to Go to the Salon
Saunders sees the perks of having a quick and easy machine like this for those peak hours when every manicurist is spoken for. "Offering the polish change machine could bring in more clients and income if it was placed near the front desk," she says. However, since robot manicurists can't do the maintenance that usually comes with the service (at least, not as of right now), like filing, shaping, and cuticle cutting, "their hands would have to be pre-manicured by a professional manicurist for an ideal finish."
Kandalec agrees there's a time and a place for robot manicures. "I went home for Easter and arrived at the airport almost two hours early," she says. "The nail salon at the terminal didn't have enough staff and the wait time was too long. But in this instance, a robot manicure would have been perfect for a quick 10-minute polish change."
In a way, this partnership is already happening. Clockwork isn't capable of doing fancy designs and nail art, which is very popular right now, so there's still a strong need for highly skilled nail artists. "When people want an elaborate, pampering service they will go to salons," says Apte. "Our automation gives users a new option for when they want the speed and quality guarantee, or when they aren't in the mood for the luxuries and expense of a salon experience. There's a need for both kinds of services, and we work harmoniously together to serve different occasions."