Will Amazon's New Hair Salon Impact the Hair-Care Industry?
How Will the New Amazon Hair Salon Affect the Hair Industry?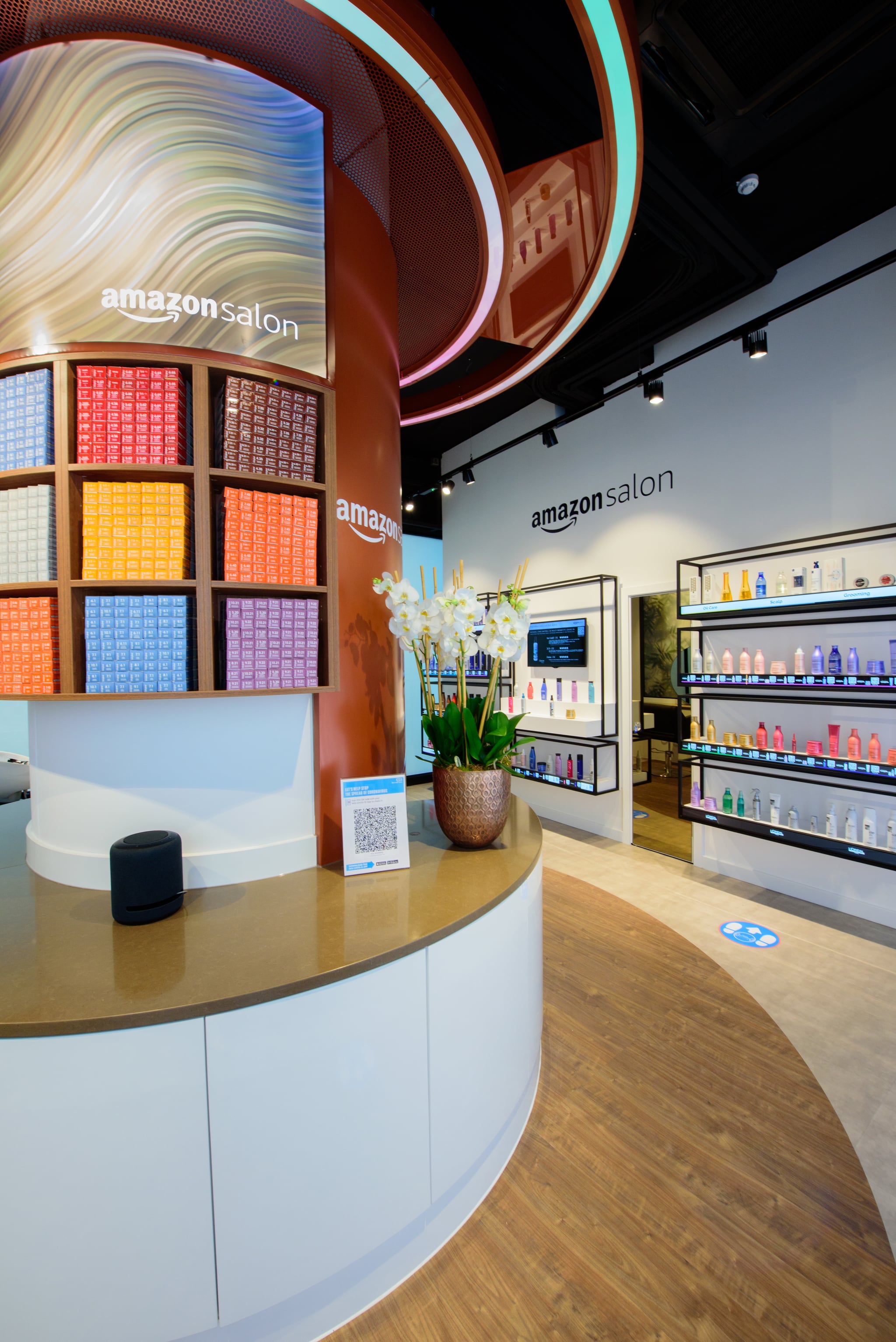 Amazon is everywhere. It's hard to shop for a book, furniture, clothing items, or hair-care products without seeing Amazon results pop up on Google shopping pages. And in case you haven't heard, the online giant wants a stake in the in-person hair-salon industry now, as well.
Amazon opened up its first hair salon in London a few months ago. The two-story facility covers more than 1,500 square feet in the Spitalfields neighborhood of London. The salon was created to increase visibility of hair products sold on its platform and test new technologies, like hair colors and styles via augmented reality. "We want this unique venue to bring us one step closer to customers, and it will be a place where we can collaborate with the industry and test new technologies," John Boumphrey, UK country manager at Amazon, stated in a recent press release.
Hair care and styling — cut and blow dry, full head headlights, balayage, texturizes, treatments and braids — is being provided by Elena Lavagni, owner of Neville Hair and Beauty Salon. With its point-and-learn technology, consumers (both adults and kids) can browse the shelves of products and scan a QR code to be taken to that product's Amazon page to learn more and make a purchase if desired.
Although the retailer has stated they do not plan on opening multiple locations just yet, being that it's Amazon, the hair salon could have the opportunity to turn the industry upside down. Which got us thinking: how would that impact small independent salons? Will it affect ethnic-specific salons? And will people flock for appointments? To gather insight and predictions on how the new salon will affect the hair industry, we reached out to Joseph Maine, celebrity hairstylist and co-founder of Trademark Beauty; Tina! The TINA Turner Musical's hair and makeup supervisor, Geo Brian Hennings; and Daryce Tolliver, hair stylist and owner of A Curl Can Dream Salon.
Will Amazon Impact the Salon Service Industry?
With the global spas and beauty salons market set to reach $217.25 billion by 2026, all our experts agree that the introduction of an Amazon hair salon is of no surprise. But are they worried? The short answer: not really. "Amazon is not in the service industry, and I don't think they are aiming to take on personal services," Maine said. "I believe they are interested in becoming a bigger part of the beauty retail industry and similar to Ulta, I think they will lead with retail and the salon will be secondary."
Lavagni, who's heading up the Amazon Salon, agrees that stylists are the beating heart of the initiative. "When we use digital technology, we want it to be complementary to our stylists' expertise and for it to sit naturally within the customer experience," she told POPSUGAR. "As an example, if a client wants to undergo a big transformation, the augmented reality color bar provides clients with a chance to experiment and explore different looks. The technology helps build confidence, but ultimately each client will still need to seek the advice and expertise of the stylist."
What about a loss of customers? Even with a top English hairstylist and team, Hennings doesn't foresee clients leaving their long-time stylists for Amazon. "Sure, it's Amazon, but they don't have the exclusivity," Hennings said. "Popularity has always been a thing in the salon world. It's about who is in the magazines, who is doing music videos, whose celebrity clientele is banging — people want that."
Will Amazon Impact on the Salon Retail Space?
In terms of taking a piece of the retail pie, Lavagni says stylists will be available to help customers find the right products, but "we're finding the technology helps engage clients with the retail experience at the salon."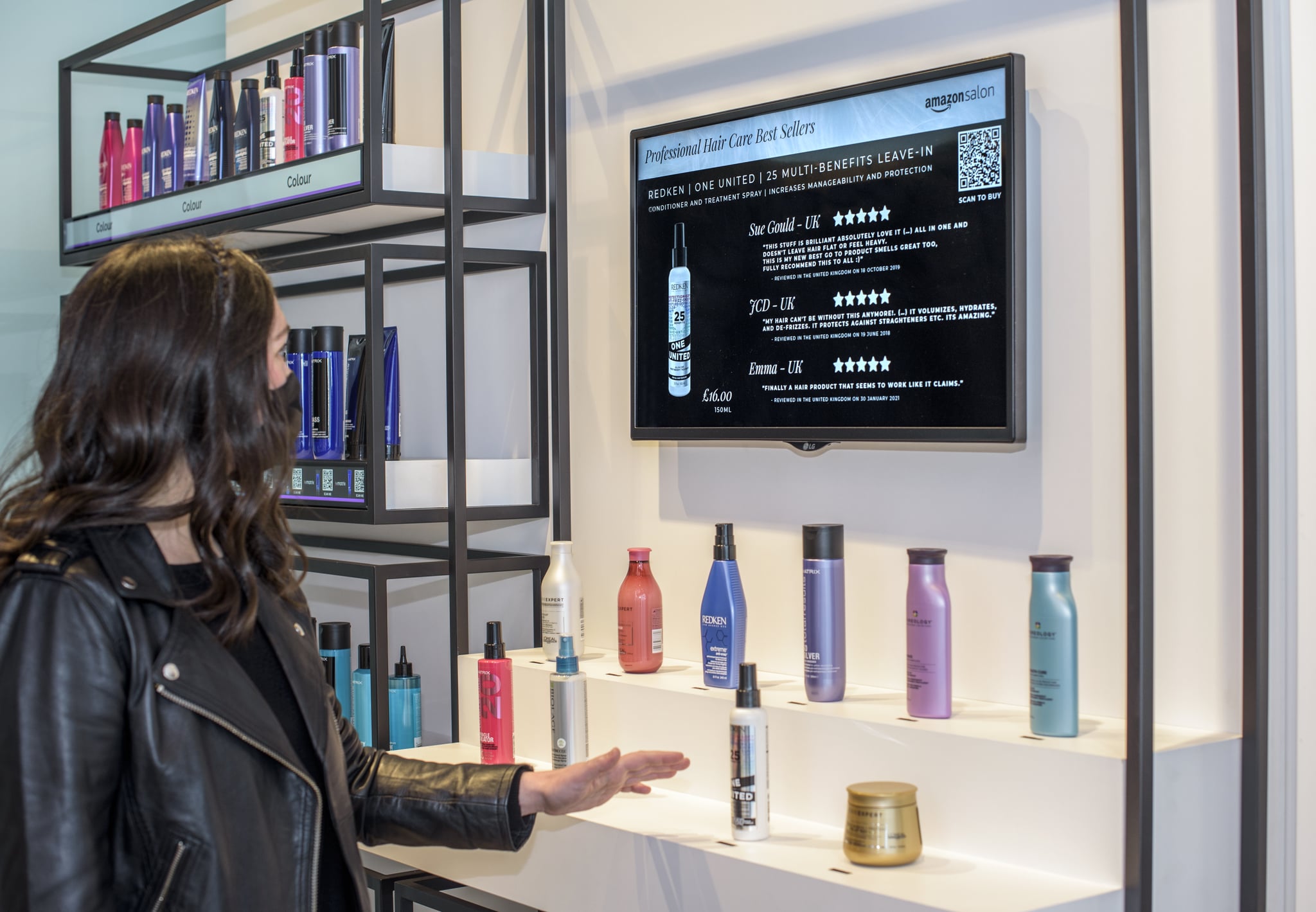 Still, Maine believes that people are hesitant about purchasing luxury hair and beauty items from Amazon with the fear that it may be a knockoff or old product. Although Amazon continuously works to crack down on fake unregulated products with Project Zero, Hennings has had many clients bring him Amazon products that are a completely different color and texture than the real thing. "Big corporations have been trying to get into the salon industry for years now, but the quality control is not there when it comes to Amazon and hair products," he said.
For Tolliver, Amazon salon services may not be a threat, but the retail aspect has potential to be one. "Amazon allows companies to sell directly to consumers, which makes it a lot harder for me, as a stylist, to receive products," she said. "With them selling product in the salon, I do believe myself and my team will have to rev up on how we retail to our clients."
Even so, there is one benefit that independent salons have: education. Tolliver says the ability to inform the client about a product and how it works for specific hair types gives them reassurance and a more personal experience than one they would receive buying at Amazon.
Hairstylists often set a lot of the hair trends because they have the insight, education, and roster to do so. Our hair experts are confident that the new Amazon hair salon will have minimal affects on the industry. But like many things in the early stages, only time will tell.
Image Source: Courtesy of Amazon