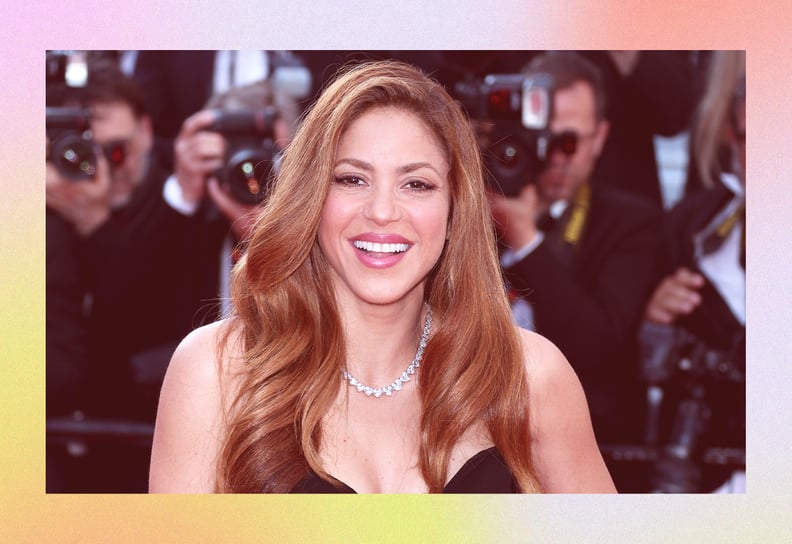 Photo Illustration: Aly Lim
Photo Illustration: Aly Lim
Colombian singer Shakira is often referred to as the "Queen of Latin Music." She's credited as the pioneer who extended the global reach of Latin music singers. Since her breakup with ex Gerald Piqué in June 2022, Shakira has become an even stronger artist, releasing back-to-back hits including "Monotonía" and her history-making diss track "BZRP Music Sessions, Vol.53." Shakira has also received a number of accolades this year and is nominated for several Latin Grammy Awards this year.
There's no denying that 2023 became the year of Shakira. Through this collection of stories, we are honoring Shakira's current success, where she started, and the impact she continues to have on the Latine community.
Through the years, we've watched global superstar Shakira rock a series of noteworthy beauty looks. For someone with millions of eyes on her, the Colombian singer-songwriter has given the public everything from shiny, long, dark strands (hello, "Pies Descalzos" era!), to bold graphic eyeliner, to more natural-looking, barely-there makeup that flaunts her beautiful skin.
At 46, the mom of two is an inspiration for aging beautifully, and there's no doubt that her down-to-earth charm, no-te-dejes-caer personality, and overall charisma all play a part in her gorgeous exterior.
Because there's nothing like living in the present, 2023 has proven to be one of the singer's best years — but not only professionally. Look at her — she's been glowing! Despite having recently experienced heartbreak in June 2022 following her separation from her longtime partner, soccer star Gerard Piqué, the "El Jefe" singer appears to be living one of her most fierce beauty moments, and we love it.
The 2023 MTV Video Music Awards Video Vanguard winner has brought her A-game across all spectrums, allowing herself to be unapologetically Shakira, and she's even shown a speck of vulnerability through her music. She's permitted herself to grieve publicly through her artistry as a form of self-healing, which ultimately allows her to be one with herself again.
In addition to her recent awards and music hits, Spotify named her the most-streamed Latina woman artist, declaring Sept. 29 as Shakira Day or Día de Shakira. And who wouldn't want to celebrate that?
In honor of all her recent success, we're taking a stroll down memory lane to relive some of her best beauty looks and her evolution over the years. There's no question she continues to be a major inspiration for Latinas on multiple levels, and beauty is just one of them.
Watch as the mega pop star's beauty looks evolve from her early career days to now.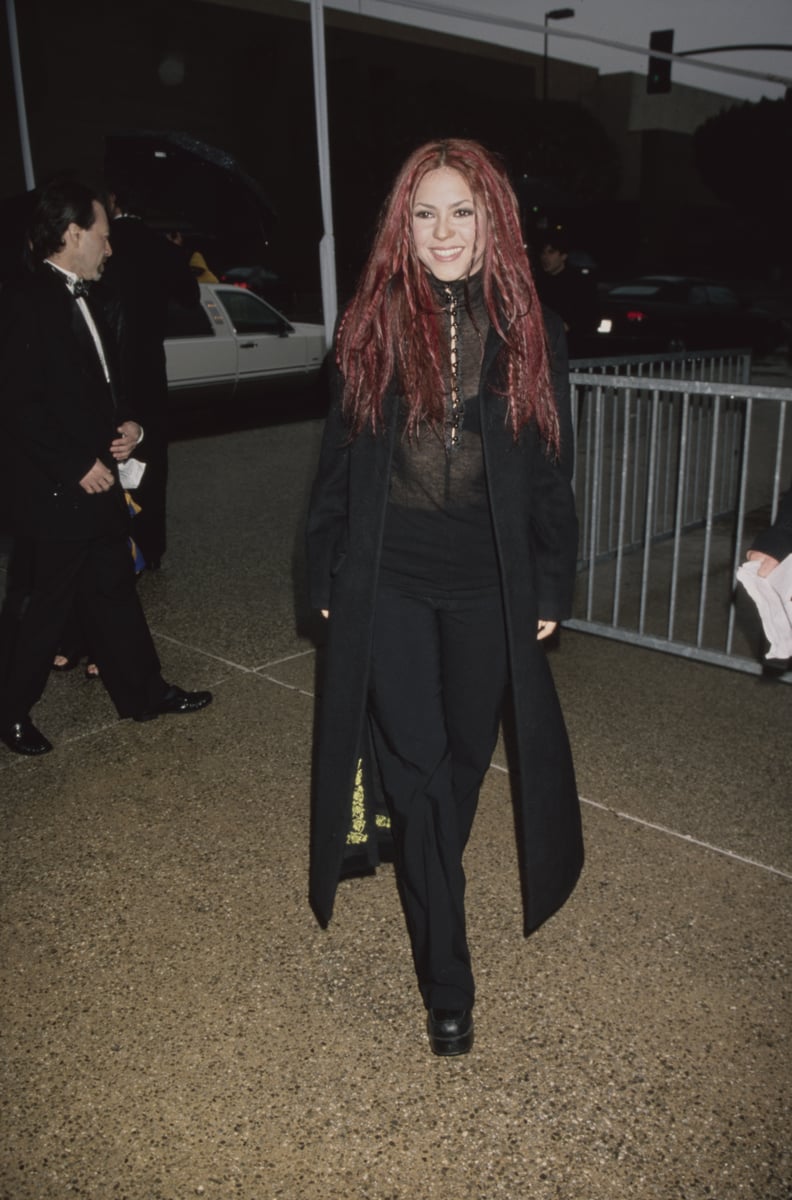 Rockera Era
Who can forget Shakira's iconic rockera days? It's when it all started. Her OG fan base of mostly Latinas often remember and can relate to the songs about love and heartbreak in her first two albums. Her first album, "Pies Descalzos," was released in 1995, and in 1998 she dropped "Dónde Están los Ladrones?," which further solidified her as a rock en Español artist. Here she is at the 1999 American Latino Media Arts Awards. She teamed her all-black ensemble with long red locks that featured a fun mix of braids and twists, giving a semi-messy, undone look similar to the one she wears on the cover of her second album. For makeup, she rocked a slightly smoky eyeshadow look paired with bold mascara and a pinky nude lip. The performer has always gone for minimal on the skin but heavy on the eyeliner.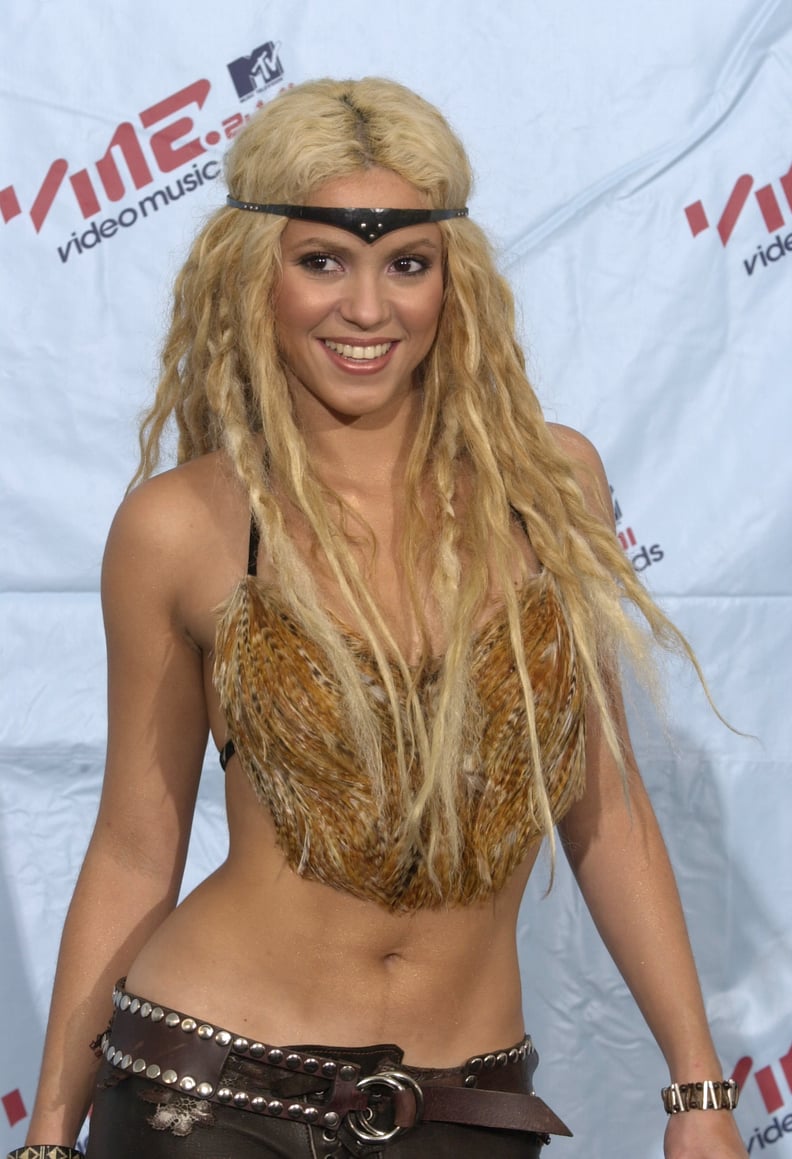 Shakira: Blond Bombshell
The year was 2000, and for the Latin Grammys, Shakira chose to go platinum blond — a drastic change from her dark roots and twisty red strands. Though her hairstyle remained heavily textured, her makeup was akin to that of a bronzed goddess. She relied on her go-to eyeliner and smoky eye makeup while leveling up with bronzed cheeks and coppery rose lip color. The newly debuted blonde embodied a piece that spoke to her rock soul by wearing a studded leather headpiece and a matching belt.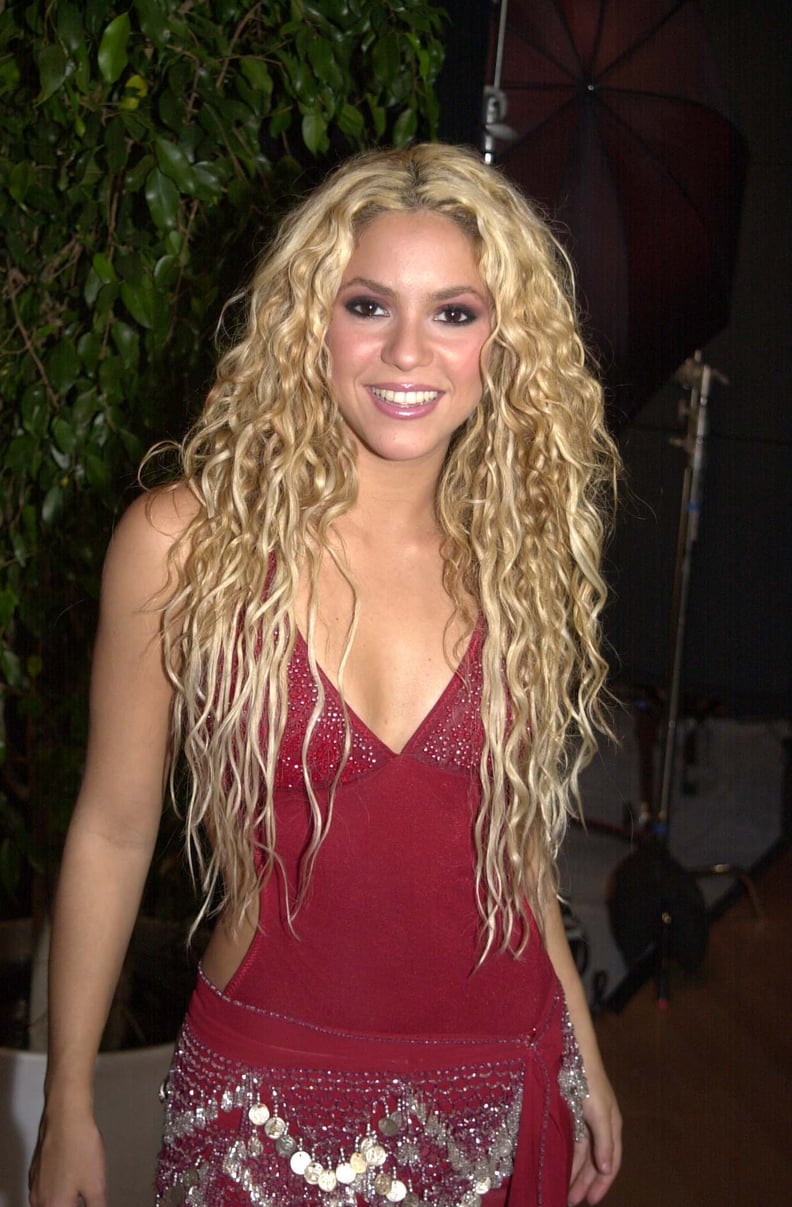 Hey, Güera
In 2001, Shakira attended the MTV Video Music Awards fully embodying sexy blond curls. This year was life-changing, as she debuted her English-language album "Laundry Service," featuring her first pop hit, "Whenever, Wherever." It instantly became a worldwide success and inspired a whole new look that gave way more boho style. Her curls appeared more defined but loosened up toward the ends. She wore rosy makeup, including blush, eyeshadow, and lipstick topped with a high-shine gloss. Her signature smoky eye was still very present with her eyeshadow, signaling a nod to her burnt-red top.
Natural Beauty and Soft Caramels
The Colombiana opted for a slightly darker approach while at the 2006 Echo Awards, appearing with light brunette strands and golden highlights. Her overall beauty look spoke more naturally with shorter hair styled in soft, loose curls and her makeup striking as clean and radiant. She made up her face with warm, peachy hues on the cheeks and lips and a soft nude eyeshadow that solidified Shakira as a natural beauty.
Shakira Does Retro Glam
The "Hips Don't Lie" singer attended the 2012 FIFA Ballon d'Or Gala, accompanying her then-beau, Piqué. Her look screamed Old Hollywood glam in a sequin- and rhinestone-embellished red dress paired with a short blond bob and soft makeup. During this time, Shakira often parted her hair to the side and rocked a much looser curl, which is often achieved with hot rollers or a large curling iron.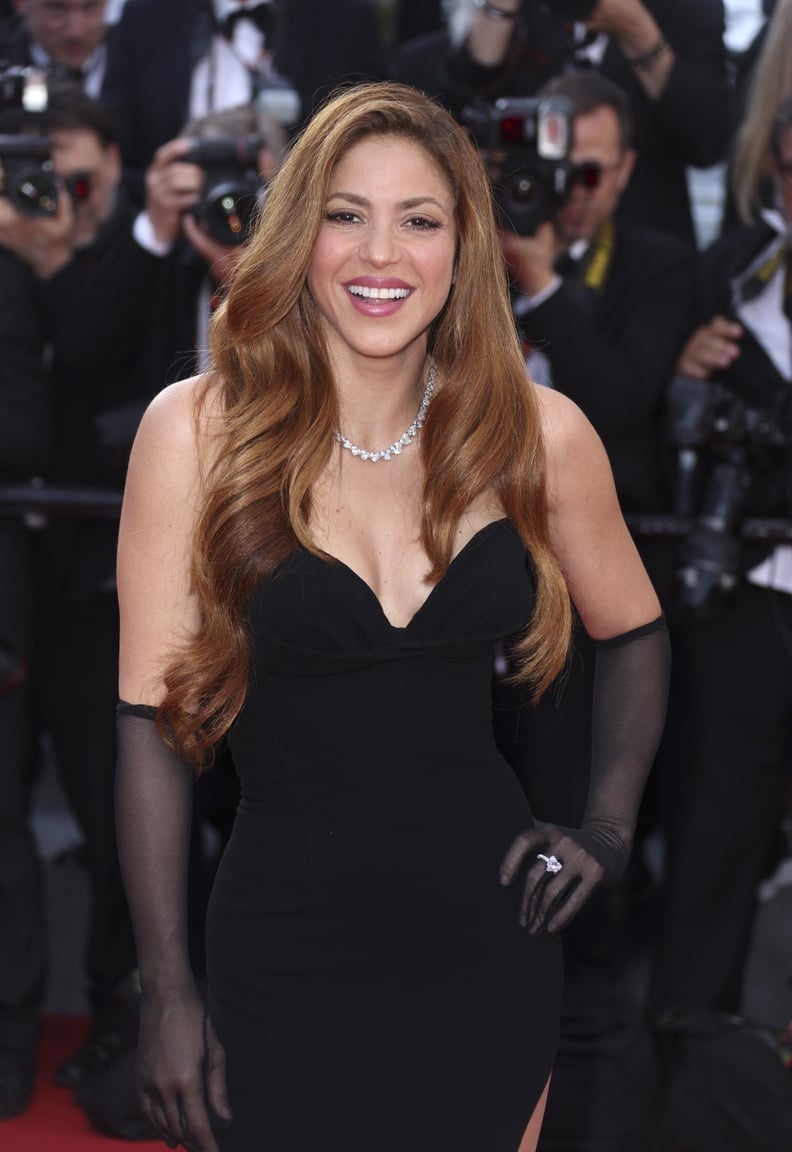 Copper and Glam
At 45, Shakira was the true definition of aging beautifully. She appeared at the 2022 Cannes Film Festival looking striking just a month before announcing her separation from Piqué. At the event, she was captured in a glam red carpet moment with gorgeous waist-length strands in a reddish-copper tone. Her hair was done in a textured blowout, softly curled at the ends and parted to the side, giving a modern approach to Hollywood glam. There's no question Shakira always looks stunning when donning soft makeup, and this look is no exception.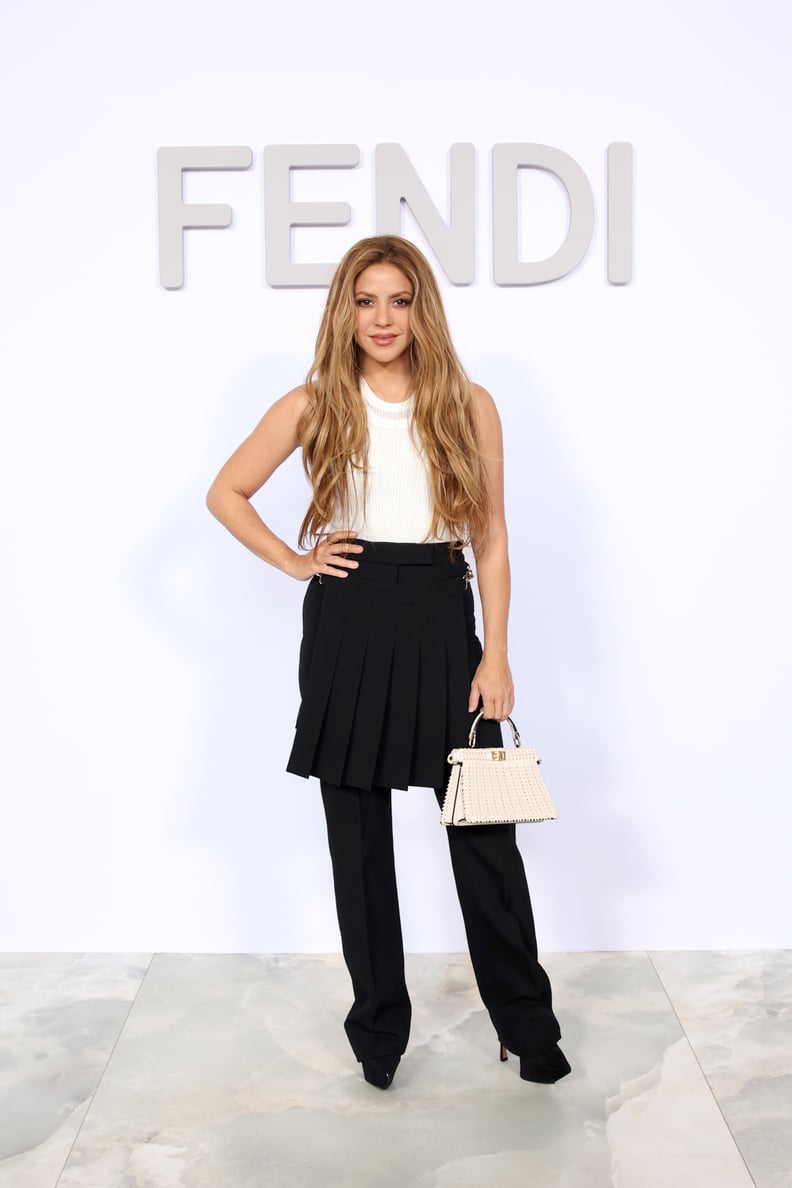 The Shakira Glow
More than a year post-breakup, the mom of two showed up at the 2023 Fendi couture show, exemplifying a lesson in sophisticated minimalism. Everything from her sleek long strawberry-blond hair and glowy makeup to her outfit says she's better and hotter than ever.
Even her pose and the look on her face ensured she's been feeling herself and embodying confidence.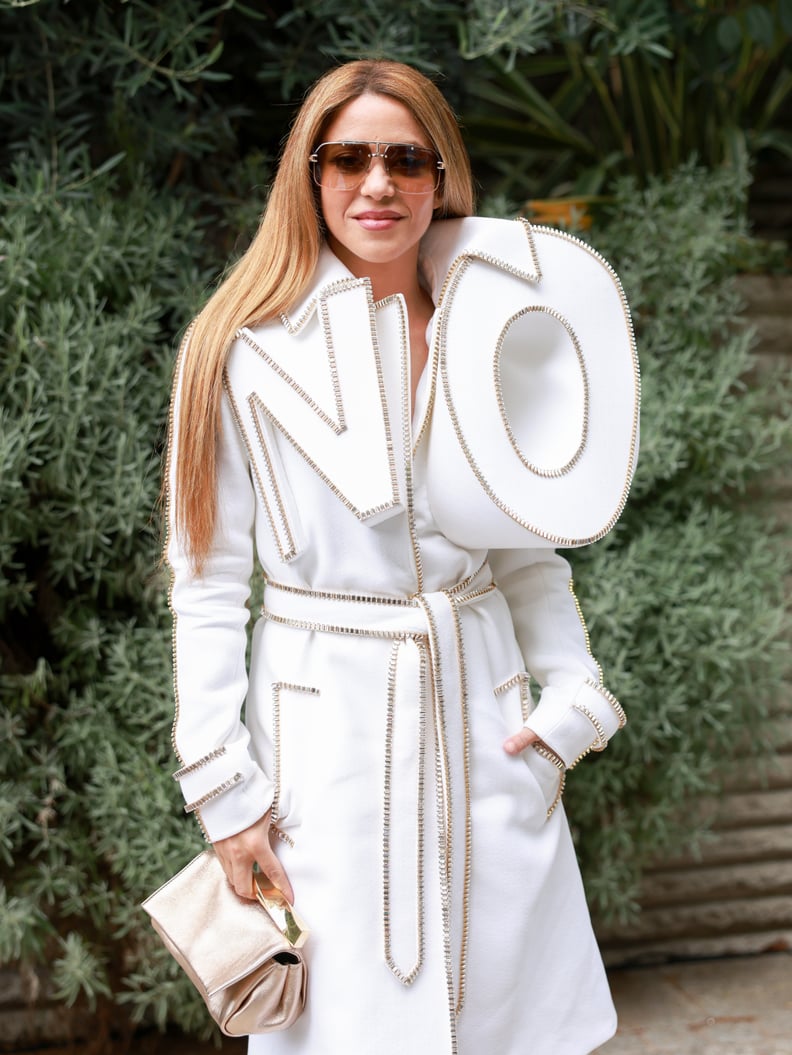 Just "No"
You may remember this infamous trench Shakira wore to the 2023 Viktor & Rolf couture show. This year, the 46-year-old star has made a presence at several fashion events (more so than usual), showing off her stylish side. It's unclear why she opted for this particular Viktor & Rolf piece. She was clearly making a statement, and we love how she styled it with straight, sleek strands and oversize sunglasses. We can't wait to see more of Shakira on all scopes, especially music!