They're Here! We Swatched All 30 of Tarte's New Shape Tape Foundations
Shape Tape Nation, brace yourself! Tarte is officially launching the highly anticipated Shape Tape Foundation, and the POPSUGAR Beauty team got our hands on the new formulas first.
The launch is coming at you hot in two different finishes: Hydrating and Matte. Each finish features 15 shades, which we swatched so you don't have to. After testing the new foundation, we're confident Shape Tape fanatics will love it for a few reasons. The Matte shades has the same full-coverage, Instagram-finish as the concealer. It's also super easy to blend and feels like expensive silk on skin.
Tarte recommends using its new Double Duty Beauty Paddle Brush ($28) in unison with the Matte formula, and we suggest you try it, too. We used the brush to buff in the matte liquid and were super impressed with the results. The Matte foundation covers just about every blemish (including acne scars and redness) with just light buffing and a little product.
The Hydrating formula, on the other hand, provides medium-to-full coverage that'll work great on dry skin. Upon first application, this formula has a gel-like consistency that feels like butter when blended into your face. The finish is dewy but won't feel or look greasy when it's on. We suggest using this with Tarte's new Shape Taper Contouring Sponge ($18) for a flawless, luminous complexion.
You can get your hands on the new Shape Tape sister shades when they launch at tarte.com on Jan. 15, at ulta.com on Jan. 21, and on Feb. 4 at Ulta stores. While you wait, we've swatched the shades ahead so you can get up close and personal before you buy. Happy Shape Taping!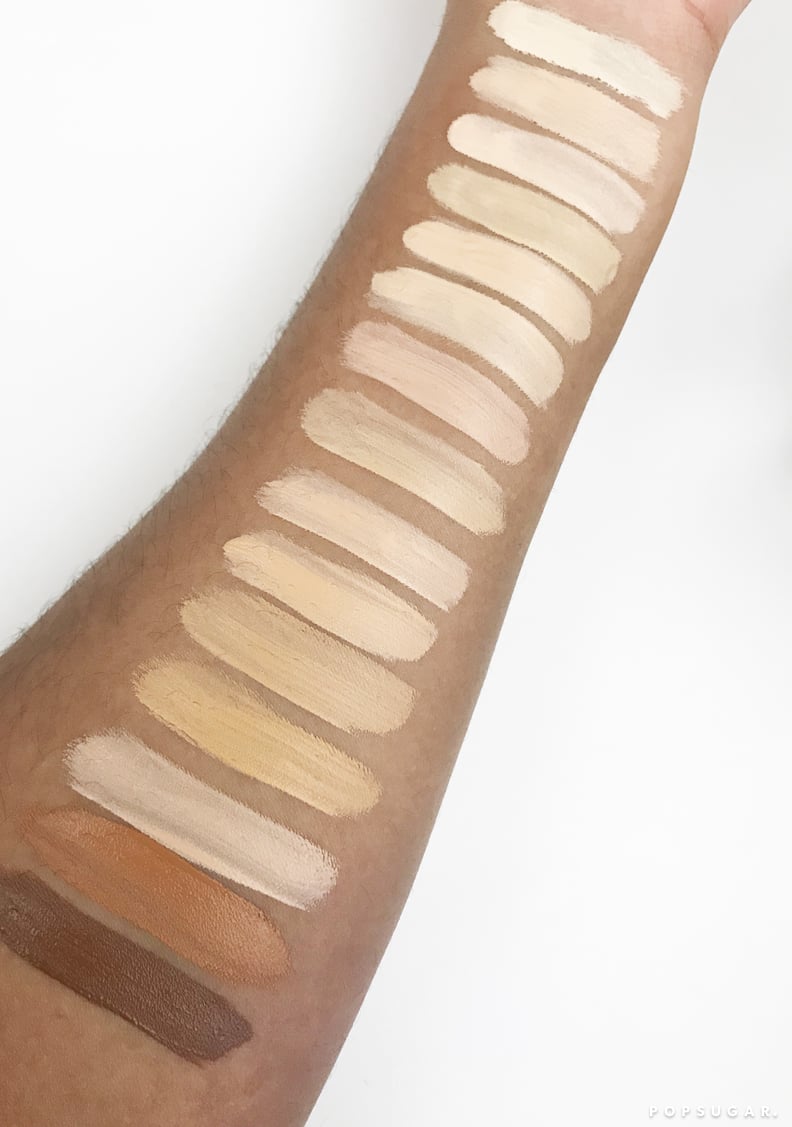 Tarte Cosmetics Shape Tape Hydrating Foundation Swatches
Shades from top to bottom: porcelain, fair-light neutral, fair beige, light-medium sand, light-neutral, light sand, light-medium beige, medium sand, light-medium honey, medium honey, medium-tan honey, tan sand, medium neutral, deep honey, and mahogany
Tarte Cosmetics Shape Tape Matte Foundation Swatches
Shades from top to bottom: fair neutral, light sand, light neutral, fair sand, fair-light neutral, medium neutral, light-medium neutral, medium sand, light-medium honey, medium-honey, medium-tan honey, tan honey, deep honey, rich honey, and mahogany