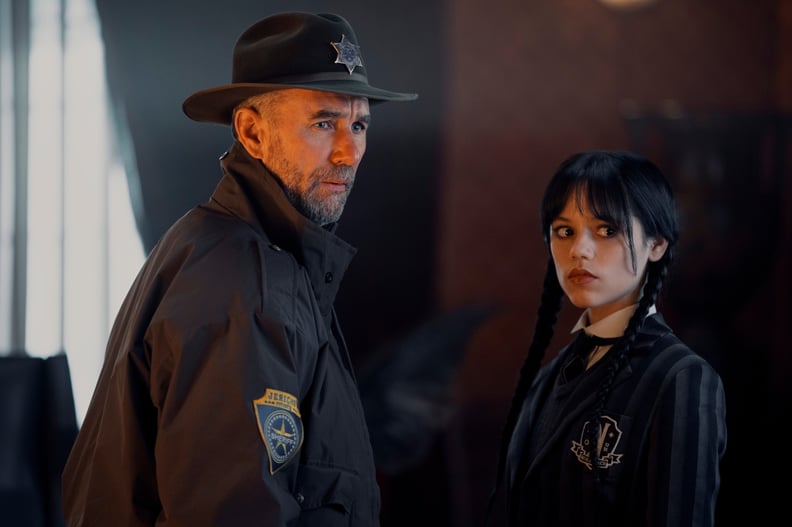 Vlad Cioplea | Netflix / Courtesy Everett Collection
Vlad Cioplea | Netflix / Courtesy Everett Collection
Every editorial product is independently selected by our editors. If you buy something through our links, we may earn commission.
The era of the TV reboot is in full swing, and while the phenomenon certainly has a way of stirring up emotions, there's no denying that some characters are so iconic that they simply demand revival. Wednesday Addams is one such character and, though she's been portrayed numerous times over the years, audiences never seem to tire of her. Her dry, sarcastic sense of humor and penchant for black clothing makes her not only memorable but widely relatable (and not to mention, excellent fodder for memes). Jenna Ortega's turn as the death-obsessed teen in Netflix's new series "Wednesday" has viewers buzzing over her performance as well as her beauty look, which perfectly nailed the dark, slightly gothic makeup trend that's oh-so-popular these days.
Inquiring minds are specifically interested in what Wednesday Addams's lipstick shade is and thankfully, the show's makeup artist Tara McDonald was quick to spill her secrets behind the subtly berry, just-bitten look. In a series of Instagram reels, the executive director of trends at MAC Cat Quinn shared the exact products used on the set of "Wednesday," as told to her by McDonald. In one clip, Quinn says that Ortega is wearing MAC Lip Pencil in Nightmoth ($21) mixed with clear balm. "Mix them together in a pot, you could also use your hand like me, and then they would dab it on her lips to get that perfect soft goth lip," she adds.
McDonald confirmed this product lineup to POPSUGAR and shared more about her technique. "The idea was for her to look like she had naturally dark lips," she says. "I didn't want it to look like she was wearing lipstick." To achieve an effortless look, McDonald first lined Ortega's lips and blended the product inward before adding the lip balm, which she reveals was Lucas Papaw Ointment ($9).
If you're looking to recreate Ortega's full soft goth glam moment, Quinn also got the scoop on the exact eyeshadows McDonald used to bring Wednesday to life. The makeup artist first blended MAC Eyeshadow in Brown Script, a rosy brown, onto her eyelids and along the lower lash line. This shadow is discontinued, but MAC Eyeshadow in Soft Brown ($18, originally $21) is essentially the same shade. McDonald then applied the same MAC Eyeshadow formula in Carbon, a pure black, on Ortega's lower lash line and finished things off by blending the Carbon shade and a metallic gray on the top lash line.