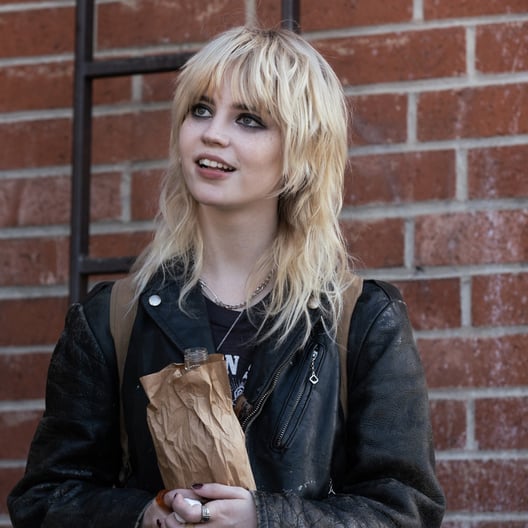 An interest in goth makeup has spiked since Kourtney Kardashian and Travis Barker's wedding.
While there's no one look that defines goth makeup, it often features dark lipstick, black eyeliner, or smoky eyeshadow.
Here, we're sharing the pro-approved products and techniques to getting a goth look at home.
Despite what Janis Ian taught you about the high-school cafeteria in "Mean Girls," goths are no longer relegated to the back corner of the lunchroom near the sexually active band geeks. Goth culture, particularly goth makeup, has found its way to the plastics table — or at least the cultural mainstream. Searches for "black glam nails" are up more than 50 percent on Pinterest, Netflix is ready to take us all back to '80s goth makeup with the upcoming series "The Sandman," and how could we forget that we're all living in the Kourtney Kardashian and Travis Barker era? Basically, what we're saying is that goth makeup has made a much-awaited comeback. Here's what you need to know about the trend so that you can sit with it.
First, What Exactly Is Goth Makeup?
"Traditionally, we know goth makeup to be mostly pale skin, dark smoky eyes, and black or deep red lips," makeup artist Ashley Rebecca says. "People also add signs and symbols to their eye makeup, such as upside-down crosses or drops that resemble blood, to really drive the goth theme home." But like other makeup trends (we're looking at you, '90s makeup!), today's goth makeup is inspired by its classic predecessor with some modern twists.
"Despite popular belief, it's pretty easy to take goth makeup and make it a tad more mainstream," Rebecca says. "Traditional goth makeup touts a paler complexion, but that doesn't always need to be the case now if you play up your eyes and lips." Contrast is key when creating this look, so as long as you keep that in mind, you can take tons of creative liberties.
What You'll Need
Black kohl eyeliner: The softer and more blendable the formula, the better for smoking out.
Black eyeshadow: You'll need a black shadow, preferably matte, to set your liner and help diffuse any unwanted harsh edges.
Bold lipstick: Think black, deep red, or purple tones.
Here's How to Create a Goth Makeup Look
Step 1: Create your base. Forget the thick white foundation creams you can find at Party City. Today's goth makeup is more customizable than a stark white face. "You don't need to have a super-pale complexion to pull off the goth trend," Rebecca says. "It's OK to wear a foundation that matches your skin tone. You can choose to play up your eyes and lips in a way that still pays tribute to goth looks without it being as obvious."
Step 2: Add some depth to your complexion. Rebecca notes that contour, blush, and highlighter haven't been utilized in traditional goth makeup looks in the same way that they've become a mainstay in our everyday makeup. But in goth makeup 2.0, we're seeing them make an appearance. Frosty white highlighter is commonplace, as is the trending pop of blush under the eyes.
Step 3: Play up your eyes. "The simplest way to create gothic-inspired makeup is the darker, the better," says Rebecca, who recommends using deep black eyeliner and shadow to create a smoky eye. To start, line your entire lash line (top and bottom) with your liner. Don't forget your waterlines. Then, using a small smudge brush or even your fingers, buff the liner up and out to cover more of your lid space. Once you have the general shape you want — this is totally up to you — take your black shadow on a flat shader brush and pack it on directly over your liner. This will lock in all your hard work and create an even deeper shade of black. Black shadow tends to have a lot of fallout, so using a clean, small fluffy brush without any product, gently blend out the edges until it creates a soft gradient effect on your lids.
Step 4: Paint on your lip. There's no right or wrong way to wear gothic-inspired lipstick. Rebecca recommends experimenting with deep lipstick tones, from black to blood red and even purple. If you really want your eyes to be the star of the show, rather than picking a traditional pink- or brown-based nude, try a more gray- or purple-based nude, like a mauve or stone. And stick with matte finishes if you want to stay true to the trend.
Our Favorite Goth-Makeup Inspiration Photos