Winnie Harlow on Cay Skin and Growing Into Your Confidence
Winnie Harlow Strikes a Pose — and Drops a Few Products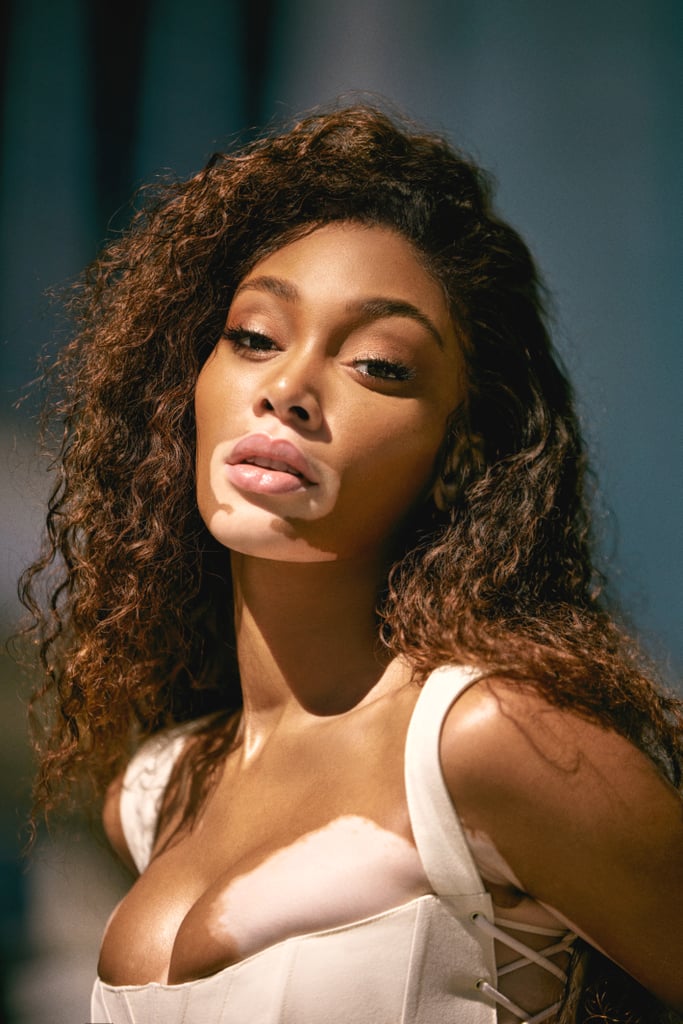 Despite the 9.4 million Instagram followers, the high-fashion photo shoots, and the stint on "America's Next Top Model" (not to mention the eight-plus years of modeling experience since), Winnie Harlow assures me she's just like everyone else in front of a camera. The secret to taking the perfect photo, she says, is simple: "Follow the light — that's the trick."
Logistically speaking, of course, there's also where you are physically (Harlow recommends outside, always, since "the sun is the best filter"), what time it is ("golden hour is the best time of day to take pictures"), and who you're with (your angle might change depending on if you're alone or with a group, for example).
Practicing those tools of the trade is how she catapulted into fashion-industry fame nearly a decade ago. It's also how Harlow and I ended up shoulder-to-shoulder on a plush wicker sofa, our arms outstretched with respective front-facing cameras in hand: I've asked her to teach me how to pose, as one does when in close proximity to one of the world's biggest supermodels. Why she is here has more to do with all that time spent in the sun: the model-turned-entrepreneur is launching a beauty brand called Cay Skin, of which sunscreen is the star ingredient.
The inspiration behind the line stemmed from a lifetime affliction with SPF, further punctuated by a skin condition, vitiligo, which often sees lighter patches burn more easily than the rest of the skin. "Suncare has always been important to me, but I always had bad experiences with sunscreen," Harlow says. "I am Caribbean, so I would go back to Jamaica to see my dad during Christmas holidays and summer holidays and would be in the sun a lot. I remember his rough hands from being a mechanic rubbing sunscreen into my skin, and it was always a blue tint or a purple tint. I hated that as a kid."
Harlow also experienced what she describes as a "traumatic experience" during a job she booked in the Bahamas years ago. She was shooting from sunup to sundown for two days, and no one wanted her to reapply sunscreen. "I ended up getting really burnt. It was really damaging to my skin and to my vitiligo, and I had to have doctors come in and give me injections for inflammation and for pain."
From that day forward, she vowed to protect her skin at all costs. The only problem was she hadn't found any sunscreen formulas that felt luxurious and hydrating while also offering effective protection against UV rays. "We've come so far in the beauty industry, like with makeup you're getting more shades that match everyone," she says. "With suncare, what's on the market is not like that. I wanted to create something that ticked all my boxes."
That's where Cay Skin comes in.
Two years ago, at the start of the pandemic, Harlow decided to build something other than bread from scratch. Fast-forward to today, and her inaugural collection is here, which includes four skin and suncare products in total: Isle Glow Face Lotion SPF 45 ($32), Universal Mineral Face Lotion SPF 55 ($34), Isle Lip Balm SPF 30 ($14), and Isle Body Oil SPF 30 ($32). The products are available now on the brand's website, but you can also scoop them up at your nearest Sephora on March 22.
While the pandemic, combined with the ongoing supply-chain crisis and shipping delays, certainly led to hiccups throughout the formulation process, there were also a lot of positives. For one, it allowed more time to test rigorously on multiple people. "That was very important to me, to make sure it blends seamlessly into all skin tones," she says.
Just in case you noticed the people around her glowing more than usual lately, Harlow also outsourced opinions from friends and family, including her boyfriend, Washington Wizards player Kyle Kuzma. Although she's introduced him to skin care in general, he did have a few good notes she took into account when creating her own line.
"I remember specifically Kyle smelling [a product] one time and telling me what fragrance note he didn't like in it," she says. "He was like, 'There's something that's too lemony,' and I was like, 'OK, I smell that, yeah.' He has a very good palate."
Thanks to her help, Kuzma now has his own skin-care collection all laid out each night and even a skin-care kit for days he's traveling (full of SPF essentials, we're sure). "I'm like, 'OK, stepping up the skin care. When did this happen?' And he's like, 'Well, I learn from the best, so . . .'"
"People think confidence is something you just get one day. We're all human. No one is confident all the time. It's something that you are progressively working on every single day." — Winnie Harlow
Harlow's official foray into the beauty (and, specifically, suncare) industry may be the byproduct of countless lessons she's learned throughout the course of her career, but to be clear: she's always had an interest in this space and knows it well.
"I have been intrigued by products my entire life," she says. "My mom used to work for Mary Kay and Avon selling products, so I was around that growing up. As a kid, I remember my mom used to draw whiskers on my face with red lipstick — she knew I wanted to play with makeup but didn't want me to be too grown too quick — and that stuck with me. Then growing up and having vitiligo, I just always had to take care of my skin."
"Care" is a good way to describe Harlow's approach to every answer, every Cay Skin product, every request for help with my selfies. There's a quiet confidence about her — the kind that comes with knowing yourself while accepting that you'll never know it all. "People think confidence is something you just get one day," she says. "We're all human. No one is confident all the time. It's something that you are progressively working on every single day."
Sometimes, that's the only reminder you really need. That, and to slather on your sunscreen, bask in the light, and don't forget to say "cheese."