Beyonce and Colin Kaepernick 2017 Sports Illustrated Awards
Beyoncé Makes Surprise Award Show Appearance to Thank Colin Kaepernick For His "Selfless Heart"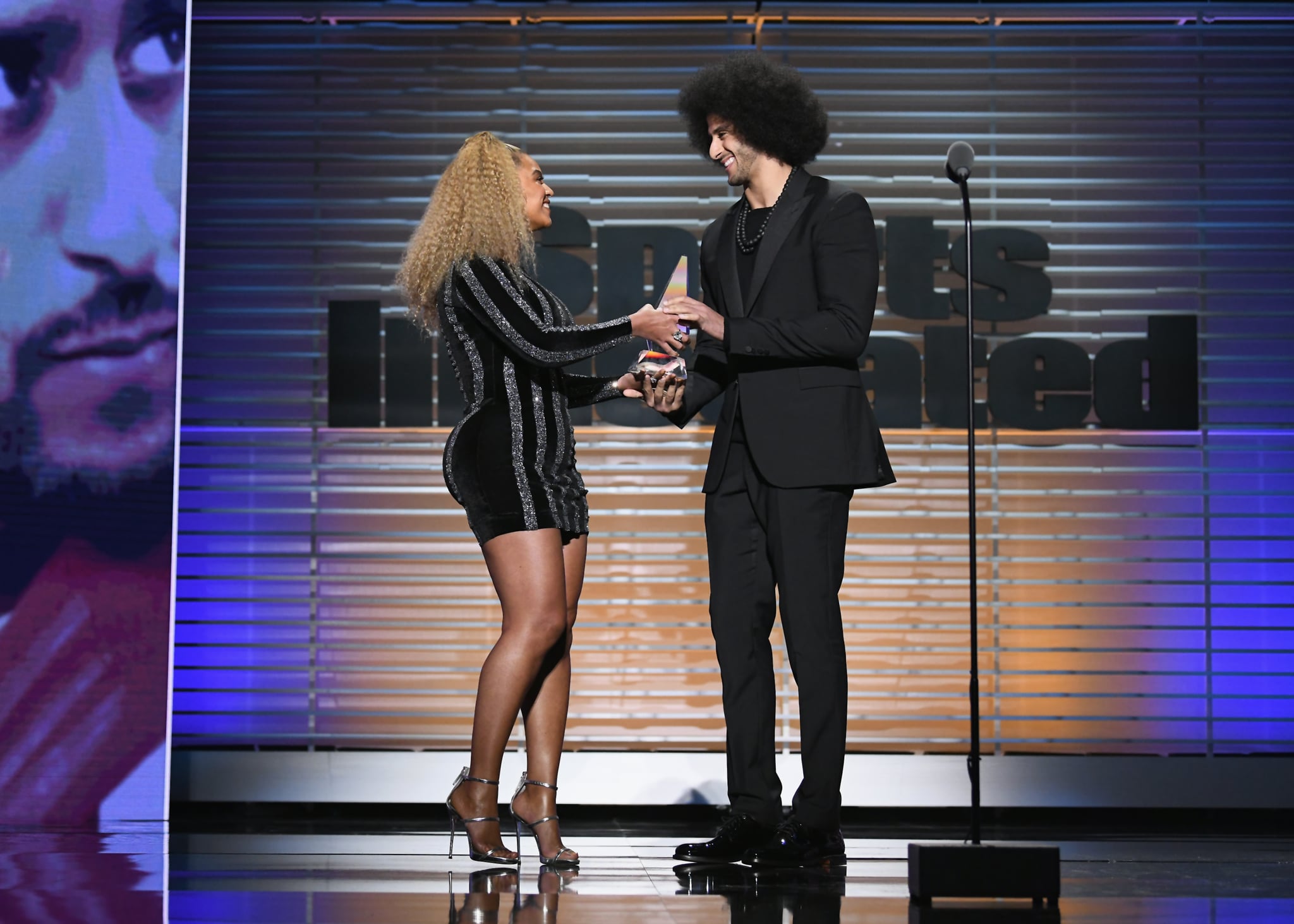 The Sports Illustrated 2017 Sportsperson of the Year Show got an extra dose of excitement on Tuesday night when Beyoncé stopped by. The "Perfect" singer, who recently stepped out for husband JAY-Z's 48th birthday, took the stage to present Colin Kaepernick with the Muhammad Ali Legacy Award. Following an introduction from The Daily Show's Trevor Noah, Beyoncé prefaced the award with a moving speech about the important work the former 49ers quarterback has been doing to combat racial injustices since being forced out of the NFL.
"Thank you, Colin Kaepernick. Thank you for your selfless heart, and your conviction," she said. "Thank you for your personal sacrifice. Colin took action with no fear of consequence or repercussion only hope to change the world for the better. To change perception, to change the way we treat each other, especially people of color . . . It's been said that racism is so American, that when we protest racism, some assume we are protesting America. So, let's be very clear: Colin has always been very respectful of the individuals who selflessly serve and protect our country and our communities and our families. His message is solely focused on social injustice for historically disenfranchised people. Let's not get that mistaken."
Beyoncé makes a surprise appearance at the Sports Illustrated Person of the Year event to present @Kaepernick7 with the Muhammad Ali Legacy Award. pic.twitter.com/87y4exrtes

— BEYONCÉ LEGION (@BeyLegion) December 6, 2017
During his acceptance speech, Colin vowed to "continue to work for the people," with or without the NFL's support. He also touched on the legacy of Muhammad Ali, who he said "mentored me without ever meeting me."
Colin kicked off the NFL's #TakeaKnee movement during the 2016 season when he began kneeling during the national anthem. Although the reasoning behind his protest has been twisted by repeated attacks from Donald Trump, his decision to kneel had nothing to do with the president or any desire to disrespect men and women in uniform. Instead, his actions meant to bring attention to the systemic oppression of people of color, police brutality, and violence within the criminal justice system.
"I am not going to stand up to show pride in a flag for a country that oppresses black people and people of color," Colin explained during an interview with NFL.com in August 2016. "To me, this is bigger than football and it would be selfish on my part to look the other way. There are bodies in the street and people getting paid leave and getting away with murder."
Clearly the Muhammad Ali Legacy Award could not have gone to a more deserving athlete, and Twitter users could not contain their excitement about the moment between Colin and Bey.
Beyonce presented Kaep with a Muhammad Ali award...y'all this runs deep for me

— Lord Whistlezown, M.B.A (@Twiitter_Name) December 6, 2017
Tomi Lahren when she sees Beyoncé presents Colin Kaepernick with the Muhammad Ali Legacy Award. pic.twitter.com/iRegHkpoNK

— Ri Fingal (@RiFingal) December 6, 2017
The picture of Beyoncé & Colin Kaepernick together just saved 2017 pic.twitter.com/GrclvXPfNn

— m 🍓 (@fairytale_bliss) December 6, 2017
Conservatives are so outraged that Beyoncé presented that award to Colin Kaepernick but are hush hush about the fact that Donald trump just endorsed an pedophile and sexual abuser for office pic.twitter.com/IMGU4v6G4w

— Catherine Jones (@ghostandhaunted) December 6, 2017
Beyonce should leave Jay for Kaep. Imma make a petition rq.

— Knuckles 👻 (@DreamofCeline) December 6, 2017
Beyoncé presented @Kaepernick7 with the Muhammad Ali award...life is good right now🎗

— ♈ (@TheDarkAries) December 6, 2017
Beyoncé presenting Colin Kaepernick the Muhammad Ali Legacy Award to piss racist people off once again pic.twitter.com/jU9ZAuv18K

— beylamént thomas (@Official_Lament) December 6, 2017
Image Source: Getty / Slaven Vlasic