Brad Pitt and Angelina Jolie Divorce Details
Everything That Has Happened Since Angelina Jolie Filed For Divorce From Brad Pitt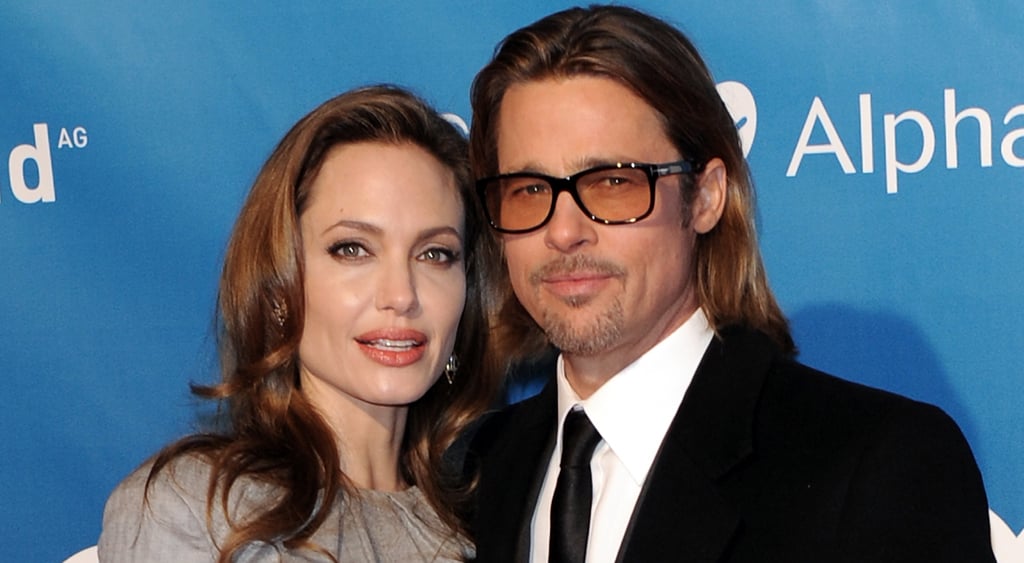 Image Source: Getty / Target Presse Agentur Gmbh
This post has been updated with new information.
Fans were thrown for a loop when news broke in September 2016 that Angelina Jolie filed for divorce from Brad Pitt after 11 years of being together. Following their breakup, the By the Sea actress's attorney, Robert Offer, said her decision to split was "for the health of the family." Brad released a statement of his own not long after, telling People, "I am very saddened by this, but what matters most now is the well-being of our kids." While it's still unclear what led to their shocking breakup, keep reading to get all caught up on everything that has unfolded since then.
Angelina files for divorce from Brad. The actress filed papers to end their marriage on Sept. 19, 2016, citing irreconcilable differences and requesting sole physical custody of their six children, Maddox, Pax, Shiloh, Zahara, and twins Vivienne and Knox. She also asked the judge to grant Brad visitation rights.
Angelina's attorney, Robert Offer, releases a statement on her behalf. After their divorce news grabbed headlines on Sept. 20, 2016, Angelina's attorney said her decision to divorce was made "for the health of the family" but did not answer any further questions.
Brad releases a statement. The actor spoke out about the split in a statement to People that same day, making it clear that he's putting their kids first. "I am very saddened by this, but what matters most now is the well-being of our kids. I kindly ask the press to give them the space they deserve during this challenging time," he said.
More details about their divorce surface. In an exclusive report from Us Weekly, a source close to the pair revealed that "they fought a lot over the years and disagreed about many things. . . . The fighting got worse and they disagreed a lot about parenting." The insider also noted that they would also "fight over their schedules and politics."
Angelina's manager, Geyer Kosinski, releases another statement on her behalf. Later that week, Angelina's manager told E! News, "Angelina will always do what's in the best interest of taking care of her family. She appreciates everyone's understanding of their need for privacy at this time."
Celebrities react to Brad and Angelina's shocking split. Once the news broke on Sept. 20, 2016, it didn't take very long for GIFs and memes to flood the internet. Stars also quickly chimed in, and Chrissy Teigen tweeted, "Brad and Angelina. How am I supposed to go to work today?" Meanwhile, their friend George Clooney found out about the breakup while attending the Leaders' Summit on Refugees at the United Nations. During an interview with CNN, a reporter asked him to comment on their split, to which he shockingly responded, "What happened? . . . I didn't know that. I feel very sorry then. That's a sad story and unfortunate for a family. It's an unfortunate story about a family. I feel very sorry to hear that." Adele also dedicated her NYC concert to the couple, telling the audience, "I need to address to elephant in the room . . . But it's the end of an era." Courteney Cox said the divorce is "not about" Jennifer Aniston, and Jen's husband at the time, Justin Theroux, made a similar comment about her inclusion being "nonsense." Melissa Etheridge also chimed in, calling Angelina "nasty" and saying that the allegations of child abuse against Brad were "completely unfounded."
The New York Post releases a cover featuring a laughing Jennifer Aniston. On Sept. 21, people were furious when The New York Post released its Brad and Angelina split cover, showing a massive photo of Jennifer laughing hysterically. Not long after, Jennifer's pal, Chelsea Handler, spoke out about the breakup, saying, "Brad and Angelina always said they wouldn't get married until everyone could get married and I always said I wouldn't get married until they got divorced, so I'm officially accepting proposals. I'm ready." She then continued, "There are rumors that part of the problem was that Brad was allegedly drinking and smoking too much weed. I wonder why he would need to self-medicate? Maybe because he could have been spending the last 12 years at Lake Como hanging out with George Clooney and Matt Damon instead of being stuck in a house with 85 kids, speaking 15 different languages. Oh yeah, and because he married a f*cking lunatic, that's why."
Marion Cotillard breaks her silence on Brad and Angelina's split. On Sept. 21, 2016, Marion took to Instagram to announce her pregnancy with longtime partner Guillaume Canet and shut down rumors that she had an affair with Brad in a lengthy post. "This is going to be my first and only reaction to the whirlwind news that broke 24 hours ago and that I was swept up into," she wrote, adding, "Firstly, many years ago, I met the man of my life, father of our son and of the baby we are expecting. He is my love, my best friend, the only one that I need . . . And to all the media and the haters who are quick to pass judgment, I sincerely wish you a swift recovery. Finally, I do very much wish that Angelina and Brad, both of whom I deeply respect, will find peace in this very tumultuous moment."
Brad is investigated for child abuse. On Sept. 22, 2016, People magazine reported that the actor was under investigation for child abuse by the Los Angeles Police Department and LA County Department of Children and Family Services after someone anonymously reported that he got "verbally abusive" and "physical" with one of his six children. The incident allegedly occurred on Sept. 14, 2016 on his and Angelina's private plane, where the rest of the kids, as well as Angelina, were also present. The report also suggests that he had been drinking at the time of the incident. Not long after the news broke, the LAPD denied the report with the statement: "We have no criminal investigation that we are actively pursuing. To my knowledge, [Pitt talking to police] never happened. And right now, that is where our office is. We are not investigating any case, nor do we have any allegations against Mr. Pitt. We understand how rumors get spun up and hopefully we can put a few of them to rest. We have no investigation involving Mr. Pitt." People later clarified that the DCFS is still investigating Brad for child abuse, but the LAPD has not been involved. TMZ has also further reported that the child abuse allegations have been transferred to the FBI.
Brad gets a lawyer. On Sept. 22, 2016, The Hollywood Reporter reported that the actor enlisted help from Lance Spiegel, a family law attorney from Beverly Hills, for his upcoming divorce.
The FBI releases an official statement. The FBI responded to Brad's child abuse investigation in a statement to Us Weekly saying, "In response to your inquiry regarding allegations within the special aircraft jurisdiction of the United States; specifically, an aircraft carrying Mr. Brad Pitt and his children, the FBI is continuing to gather facts and will evaluate whether an investigation at the federal level will be pursued."
Brad backs out of an event and releases another statement. On Sept. 27, 2016, Brad revealed he wouldn't be attending a previously planned screening of Terrence Malick's Voyage of Time. "I'm currently focused on my family situation and don't want to distract attention away from this extraordinary film," he said.
Brad offers to take a drug test. In an effort to prove he has nothing to hide, Brad agreed to a drug test, according to a report from Us Weekly on Sept. 28, 2016. A legal source confirmed that the test would not not be conducted against Brad's will, stating, "The DCFS [Department of Community & Family Services] wouldn't compel someone to provide the urine sample for the drug test; it would be voluntary."
Angelina hires the real-life Olivia Pope for her divorce. On Sept. 29, 2016, People confirmed that the actress hired famous crisis manager Judy Smith, who inspired Kerry Washington's character in Scandal, to help with her divorce. "Judy has been asked to consult with those working with Angelina on divorce negotiations," a source told the magazine. "Judy and her firm have a long history of handling issues that have unfortunately garnered too much attention in the public eye, and she knows how to push towards resolutions that are swift and discreet."
Brad and Angelina reach a temporary custody agreement. On Sept. 30, 2016, it was revealed that the former couple reached a temporary custody agreement, which will be in effect for three weeks before the LA County Department of Children and Family Services will draw up another arrangement or turn the jurisdiction over to the court. The agreement states that Angelina will get full physical custody of their children, and Brad will have visitation rights, although hist first visit will be monitored by a therapist, who will determine if he is allowed to then have unsupervised time with the kids. Angelina and Brad also have to attend individual counseling as well as family counseling with the kids, and Brad has to take random drug and alcohol tests.
Brad won't be prosecuted for alleged plane incident with Angelina and Maddox. On Oct. 8, 2016, it was reported that the FBI never opened an investigation against Brad because there was "no case," though TMZ says the FBI is still working on gathering all the facts from the incident.
Brad sees his kids for the first time since announcing the split. E! News confirmed that Brad was able to visit some of his children on Oct. 8, 2016, with a therapist present to monitor his behavior. It's not clear which of the kids were present and which weren't, but a second source also told E! that the therapist would be present for all of Brad's visits through Oct. 20, 2016 and that the actor happily volunteered to complete drug and alcohol testing (even though it was not required).
Maddox Jolie-Pitt refuses to attend the reunion with his dad. While Brad reportedly "wanted to make sure the meeting would be the most productive for the kids," Maddox refused to attend the family reunion and stay with Angelina. According to a source close to Angelina, "He chose not to go and stayed with Angie," adding, "It wasn't full of joy and happiness."
Angelina and the children are reportedly interviewed by the FBI. In an attempt to get to the bottom of the alleged physical altercation that happened between Brad and Maddox on the plane, the FBI reportedly visited Angelina and the kids at their Malibu, CA, home on Oct. 19, 2016, according to TMZ. Law enforcement, who is taking the allegations of child abuse seriously, spent three hours interviewing everyone about the incident. Brad was not present for the interview.
Brad and Maddox reunite. After a month-long standoff, E! News reports that the two met on Oct. 20, 2016 with a therapist present.
Brad and Angelina are selling Chateau Miraval. According to Us Weekly, Brad and Angelina put their estate and vineyard in the village of Correns, France, up for sale. "The home has been valued and is going on the market any day now," an insider revealed, adding, "It currently says Jolie-Pitt on the Chateau Miraval bottles, and the next season's batch will have a new reprinted label with no names written on it."
Angelina meets with the FBI. Angelina reportedly met with two FBI agents in her rented home for four hours on Oct. 18, 2016, answering questions about the claims made against Brad.
The investigation into Brad is extended. On Oct. 25, 2016, Us Weekly reported that the Los Angeles County Department of Children and Family Services has extended their investigation into Brad Pitt. The investigators are looking into "whether there are additional incidents or a pattern that may suggest a history of abuse that involves more than one of Pitt and Angelina Jolie's six children." The investigation was initially scheduled to conclude on Oct. 20, 2016.
Brad seeks joint custody. NBC News confirmed on Nov. 4, 2016 that the actor filed for joint physical custody of the children. Angelina initially asked for sole custody when they first split, just allowing Brad visitation rights. Although that might have only been a part of the temporary custody agreement that was originally agreed to by a judge, the allegations made against Brad regarding child abuse certainly complicate things.
Brad and Angelina reach another temporary custody agreement. On Nov. 7, 2016, Angelina's rep told ET in a statement that "childcare professionals have encouraged a legal agreement accepted and signed by both sides over a week ago." The agreement states that "the six children will stay in their mother's custody, and the children will continue therapeutic visits with their father . . . This has been determined by childcare professionals to be in the children's best interest." Her rep continued, "We are not in a position to discuss the details. We hope, now that it is clear that the events which led to the dissolution filing involved minor children and their wellbeing, there will be understanding of the sensitivity of the family situation. We believe that all sides are committed to healing the family and ask for your consideration during this difficult time."
Brad has been cleared in child abuse investigation. On Nov. 9, 2016, law enforcement sources confirmed to Us Weekly that Brad did not abuse his son Maddox during a plane incident back in September. TMZ also reported that the Department of Children and Family Services ruled out any reports of any patterns of misconduct on the actor's part. Later that day, Angelina's rep released a statement to TMZ, saying, "Angelina said from the beginning that she felt she had to take action for the health of the family and is relieved that after their eight-week involvement, the DCFS is now satisfied the safeguards are put in place that will allow the children to heal."
The FBI closes Brad's child abuse investigation. On Nov. 22, 2016, the actor was officially cleared by the FBI of any wrongdoing involving his kids, NBC News reported. FBI spokeswoman Laura Eimiller released a statement, saying, "The FBI has conducted a review of the circumstances and will not pursue further investigation. No charges have been filed in this matter."
Brad's lawyers file a motion asking a judge to seal the childrens' records as it relates to the divorce. On Dec. 22, 2016, news of the files were released, alleging that Angelina's attorneys compromised their privacy in a bid to "undercut" Brad during the custody battle. They added that Angelina releasing "the names of [the children's] therapists and other mental health professionals" violated their initial agreement to protect the children's privacy. "[She] appears to be determined to ignore even agreed upon standards relating to the children's best interest," the filing reads.
Brad spends Christmas with his kids. According to Us Weekly, Brad saw his children over the holiday weekend for a gift exchange that Angelina organized. An insider told the publication that "[Brad] gave them presents and it was cordial."
Angelina's lawyer slams Brad. According to TMZ, Angelina agreed to seal court documents related to their six children. The site also reports that the actress's lawyer filed legal documents that claim Brad only wants to keep the details private because he's "terrified that the public will learn the truth." "[Brad is trying to] deflect from [his] own role in the media storm which has engulfed the parties' children," the document reads. "There is little doubt that [Brad] would prefer to keep the entire case private, particularly given the detailed investigations by the Federal Bureau of Investigation and the Dept. of Children and Family Services into allegation of abuse."
Brad and Angelina release a joint statement. After agreeing to seal their divorce and custody documents, the actors' reps told Us Weekly, "The parties and their counsel have signed agreements to preserve the privacy rights of their children and family by keeping all court documents confidential and engaging a private judge to make any necessary legal decisions and to facilitate the expeditious resolution of any remaining issues. The parents are committed to act as a united front to effectuate recovery and reunification."
Angelina opens up about her new family dynamic. During an interview with BBC World News in February 2017, the actress was asked about the split by reporter Yalda Hakim. "I don't want to say very much about that, except to say it was a very difficult time," Angelina said. "We are a family and we will always be a family, and we will get through this time and hopefully be a stronger family for it. Many, many people find themselves in this situation. My whole, my family . . . we've all being through a difficult time. My focus is my children, our children . . . and my focus is finding this way through . . . I am coping with finding a way through to make sure that this somehow makes us stronger and closer. It's been a difficult few months. Right now, I'm going through a moment when just everybody's in my room. Two dogs, two hamsters and two children at the moment. It's wonderful. But, usually, I just wake up trying to figure out who's going to get [the] dog out, who's going to start the pancakes and did anybody brush their teeth."
Brad reportedly reaches out to ex Jennifer Aniston. Brad allegedly tracked down Jen's phone number through "a tangled web" of contacts in order to reach out to her on her 48th birthday in February 2017. "They started talking once he wished her a happy birthday," a source told Us Weekly, further explaining that Brad has "confided in Jen" and "told her he's having a hard time with his split." His olive branch has supposedly led to them "exchanging a few texts reminiscing about the past."
Brad and Angelina are talking again. According to Us Weekly, the former couple is back on speaking terms. "They are in a place where they can put anger or hurt aside to focus on their children and how they plan to coparent." Brad also "lost a ton of weight" in the wake of their divorce, but it likely isn't all due to stress. "He's focusing on himself again, watching what he eats and has a chef making him healthy meals. He's exercising. He's been outdoors a lot, hiking and walking. He's had a lot of time to focus on himself," an insider revealed.
Brad opens up to GQ in a big way. In his first interview since the split announcement, Brad talked about his divorce in GQ, admitting he's going to therapy, and speaking about his drinking. He also got incredibly honest about his family being "ripped apart" but only had good things to say about Angelina.
Angelina gets candid about her "difficult" split from Brad. In Vanity Fair's September 2017 issue, the actress opened up about her divorce from Brad, saying, "Things got bad. I didn't want to use that word . . . Things became 'difficult.' . . . [Our lifestyle] was not in any way a negative. That was not the problem. That is and will remain one of the wonderful opportunities we are able to give our children . . . They're six very strong-minded, thoughtful, worldly individuals. I'm very proud of them." She also revealed that in addition to hypertension, she developed Bell's palsy (a condition resulting from damage to facial nerves), which caused one side of her face to droop. "Sometimes women in families put themselves last until it manifests itself in their own health," she explained. Angelina credited acupuncture for her full recovery.
Angelina and Brad reportedly put their divorce on hold. According to Us Weekly, the estranged couple may be having second thoughts. "They haven't done anything to move it forward in several months and no one thinks they are ever going to," a source told the publication. Angelina has allegedly considered taking Brad back now that he's started going to therapy for drinking and smoking. "He knew he had a problem that he had to take care of and that's all she ever wanted," the source explained. "Everyone thinks they are going to get back together. It wouldn't be surprising if they announced that they're calling it off and trying to work things out."
Angelina and Brad reach a new temporary custody agreement. According to Us Weekly, the Superior Court of Los Angeles County determined that "not having a relationship with their father" would be "harmful" to their six children. The court said that the kids "are safe with their father" and that it is "critical that each of them have a healthy and strong relationship" with both of their parents. However, Maddox is essentially free to go with either parent because he's older. The former couple was asked to arrange a phone call between them, their children, and two psychologists "to explain the Summer schedule." Brad had physical custody of the minor children (except for Maddox) for four hours a day from June 8, 2018 to June 17, 2018 in London, where Angelina is currently living.
Angelina and Brad's custody battle takes a nasty turn: In new court documents obtained by ET in August 2018, Angelina accused Brad of not paying child support for a year and a half and stated that she's planning to get a court order to demand that he pay it. "The aim of Angelina's routine court filing is to provide closure to the marriage in a way that clears a path toward the next stage of their lives and allows her and Brad to recommit as devoted co-parents to their children," Angelina's spokesperson Mindy Nyby told the outlet. Brad fired back, claiming he paid Angelina over $9 million since their split, however, Angelina's lawyer said "a loan is not child support."
Angelina and Brad's custody battle heads to trial. According to documents obtained by E! News, the former couple's trial started on Dec. 4, 2018. Retired Judge John W. Odenkirk was appointed to the case, which is a continuous dispute over custody of their children. "They're still working together towards an out of court settlement," a source told the outlet. "Angelina is not seeking sole custody of the kids, she still supports the reconciliation of the children with their father."
Angelina and Brad meet up twice amid their contentious divorce. The former couple met up twice in January as part of their "ongoing process to work through things regarding the kids and the divorce." According to Us Weekly, "they have established a foundation that is enabling the process to move forward in a much more thoughtful and peaceful manner."
Angelina and Brad become legally single. In April 2019, a judge ruled that the two could be legally divorced before they finalize their settlement.