Everyone Zendaya Dated Before Finding Love With Tom Holland
You may be wondering to yourself, "How does Zendaya even have the time to date?" given how busy she is. Besides starring in hit television series like HBO's "Euphoria," major blockbuster films like the Spider-Man franchise, and the upcoming "Dune" sequel, she's also a powerful social influencer who serves as the face of massive brands like Lancôme, Bulgari, and Valentino. The former Disney Channel star does it all. And despite her busy schedule, she's managed to quietly date through the years. Though she's kept her personal life pretty private (actually going as far as to deny more relationships than she's ever confirmed), she has been linked to a few famous faces.
Zendaya's dating history and love life have fueled much gossip through the years, as she's rarely ever spoken about either candidly in interviews. However, in November 2021, she briefly opened up about how "strange and weird and confusing and invasive" it was for her relationship with current boyfriend Tom Holland to be ousted after paparazzi caught them kissing at a red light that summer.
"The equal sentiment [we both share] is just that when you really love and care about somebody, some moments or things, you wish were your own," she told the publication. "I think loving someone is a sacred thing and a special thing and something that you want to deal with and go through and experience and enjoy amongst the two people that love each other."
Considering her now-very public relationship with Holland, the question you may still have is, who else has Zendaya dated? From her first love to her latest with her Spider-Man costar, look to the gallery ahead to see all the men the talented actor has been associated with over the years.
— Additional reporting by Alexis Stackhouse
01
Zendaya and Tom Holland (2017-2019, 2021-Present)
Rumors that Zendaya was romantically involved with Holland began in the summer of 2017 after the pair got close while filming "Spider-Man: Homecoming." At the time, they denied anything romantic was going on between them, but Zendaya's close friend Skai Jackson's mother later added fuel to the rumor mill. Replying to another user's comment on a JustJared Instagram post that questioned the pair's relationship, Kiya Cole wrote, "Yes. It's true. They been on the low for a while."
Zendaya and Holland played coy, though, with the latter posting on Instagram to insist Zendaya was just his "mate." Zendaya also shut down the relationship rumors in an August 2017 interview with Variety after she was questioned about the possibility of romance with Holland, stating, "He's a great dude. He's literally one of my best friends."
Whether or not the pair ever dated around 2017 remains to be confirmed, but it stands to reason they definitely were not dating by the time Zendaya started seeing her "Euphoria" costar Jacob Elordi in 2019.
As fate would have it, Zendaya and Holland had two more Spider-Man movies to film, so they found themselves back in each other's webs. In July 2021, they were spotted locking lips in a car, finally confirming that their relationship had taken a romantic turn, despite the question marks of the past.
The happy couple have not looked back since. While they continue to be mostly private about their ongoing relationship, they're not shy about expressing how much they love each other, especially on their birthdays. One of the most memorable birthday posts came on Zendaya's 25th birthday in 2021, when Holland posted a photo of himself with Zendaya huddling close for a sweet picture together while on the set of Spider-Man. "My MJ, have the happiest of birthdays. Gimme a call when your up xxx," he captioned the post that very nearly broke the internet. The sweet birthday posts have continued to come year after year.
Zendaya and Holland's high-profile romance wouldn't be complete without some engagement rumors (which popped up in late November 2022), though the "Euphoria" star's mom, Claire Stoermer, seemingly suggested later on that speculation about wedding bells was nothing more than "clickbait." However, the couple still seem very committed to each other, at least through a symbol of jewelry. In March 2023, Zendaya was seen rocking a gold signet ring engraved with "T" and "H" in an Instagram video, posted by nail artist @marinadobyk.nails, undoubtedly as an ode to her beau.
While still a relatively private couple in the year 2023, Zendaya and Holland have started to appear out in public together on date nights more often — and they're not shy about packing on the PDA when they do. The pair attended Usher's "My Way" Las Vegas residency in March, a Lakers game in May, did community work together in August, and attended Beyoncé's "Renaissance" tour in September.
The couple is still going strong with no signs of slowing down.
02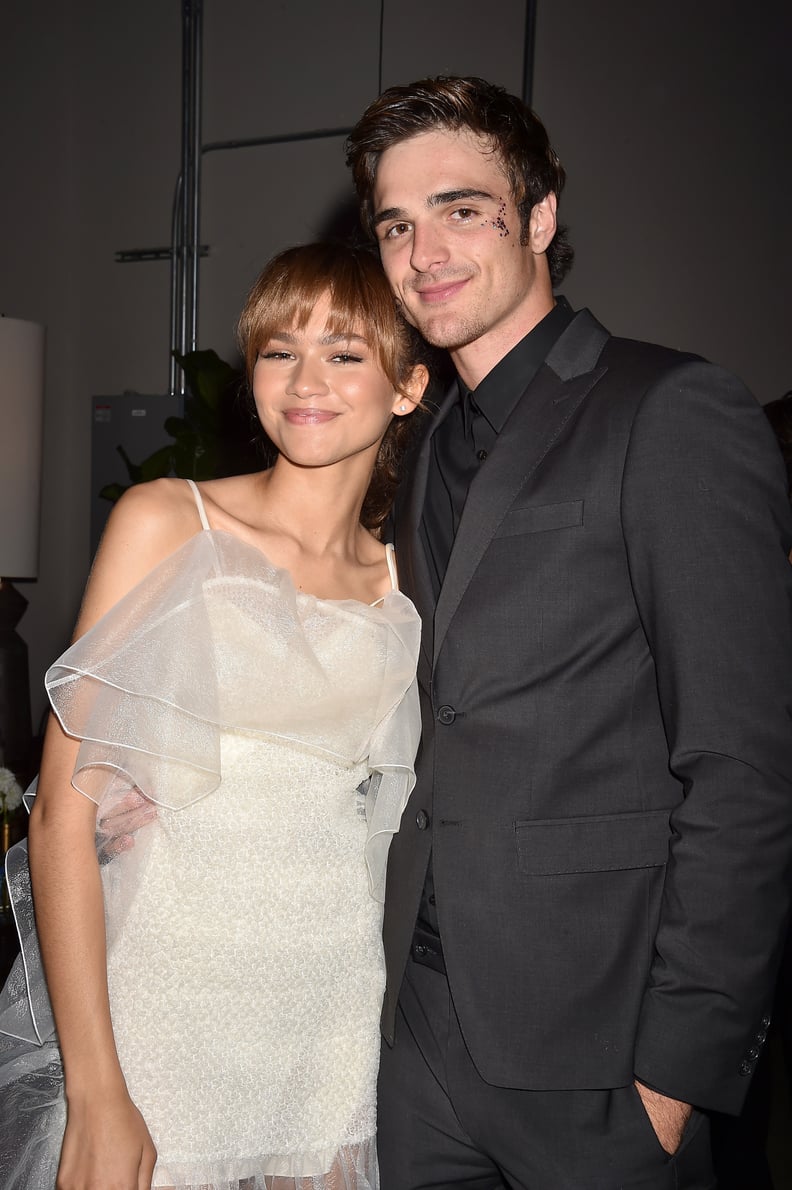 Zendaya and Jacob Elordi (2019-2020)
Zendaya was seen vacationing in Greece with her "Euphoria" costar in August 2019, and romance rumors began almost immediately. Both stars claimed they were just friends, but in February 2020, the two were spotted kissing in NYC. However, a few months later, Elordi was seen hanging out with his now-ex Kaia Gerber, prompting rumors that he and Zendaya had split.
03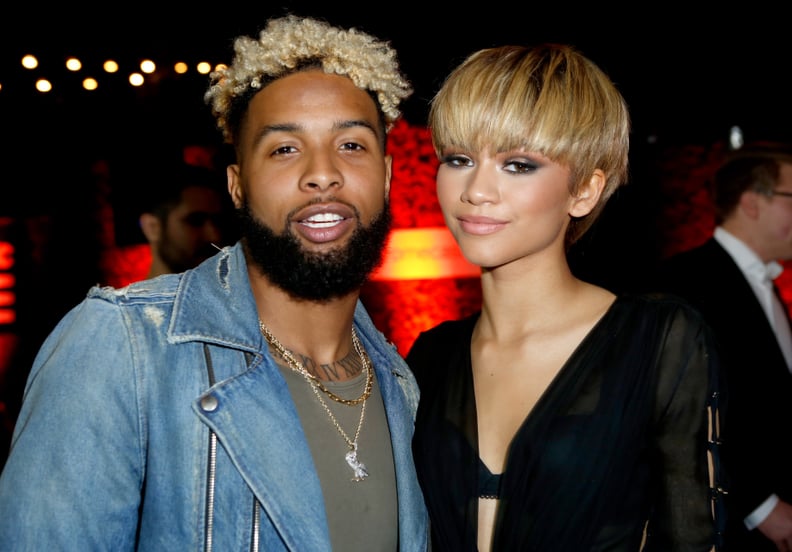 Zendaya and Odell Beckham Jr. (2016)
Back in 2016, Zendaya was rumored to be dating NFL player Odell Beckham Jr. after the two were spotted leaving a Grammys afterparty together. TMZ obtained footage of the two leaving and when reporters asked if they were dating, Zendaya's dad quickly jumped in and said, "It's an audition!" What that means exactly isn't clear, but he may have been implying that the blooming relationship still needed a bit of a trial run (or perhaps his stamp of approval) before a label could be slapped on it. Whether Zendaya and Beckham dated or not, the relationship doesn't appear to have lasted long.
04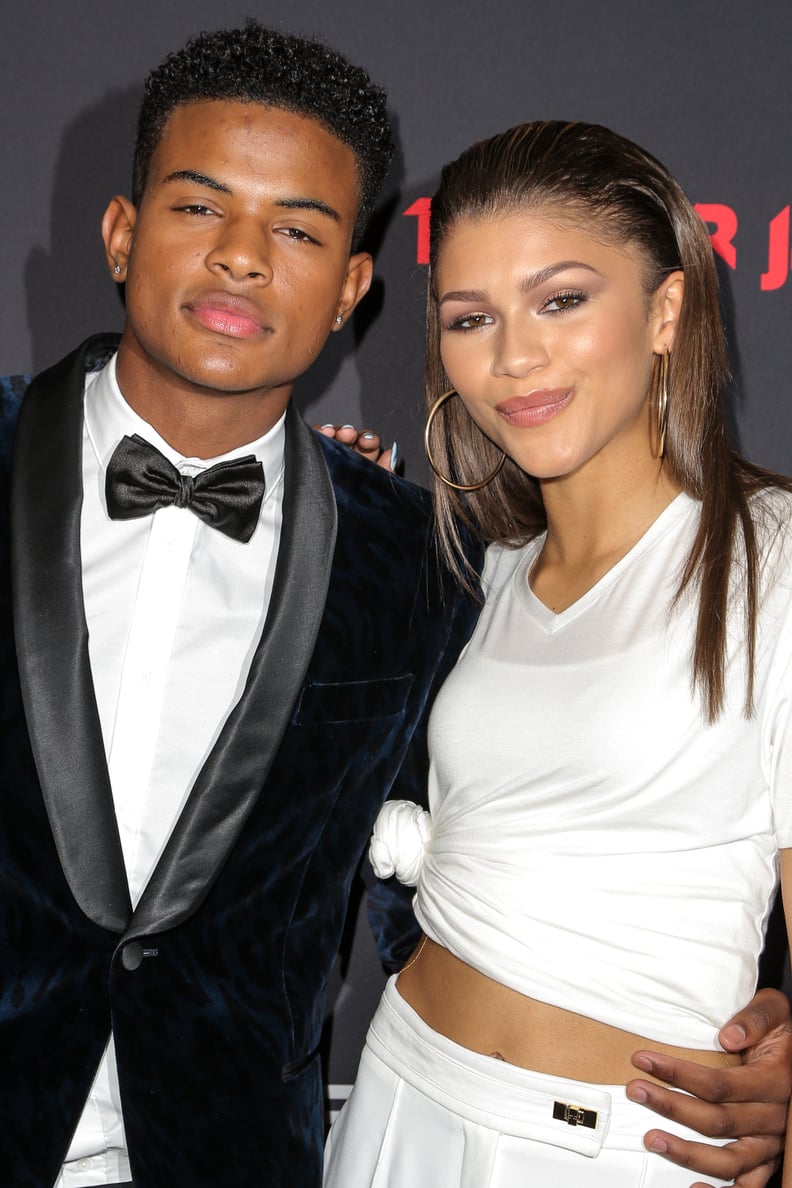 Zendaya and Trevor Jackson (2013-2017)
The Zendaya boyfriend rumor mill started up with Jackson after she appeared in the music video for his 2013 track "Like We Grown" and played his love interest. Later, Jackson appeared in the pilot episode of Zendaya's Disney Channel show "K.C. Undercover." The two insisted that their chemistry was merely platonic and at Jackson's 18th birthday celebration in 2014, Zendaya addressed the rumors head-on, denying anything more than a close friendship.
"There's going to be those [rumors]," she told HipHollywood at the event (via Us Weekly). "But he's my best friend in the whole world. I love him to death . . . That's all it is." Trevor also addressed the dating rumors and shared, "We be laughing every time we hear it. I can understand why people think that because we are really close. But, no, she's just my friend."
Zendaya later opened up about having a secret boyfriend for four years in an interview with Vogue back in 2017. She never named Jackson, but many speculated he was the mystery man she was referring to when she said, "It was my first love."