Dwayne Johnson and Tyrese Feud Details
A Comprehensive History of Dwayne Johnson and Tyrese's Fast and the Furious Feud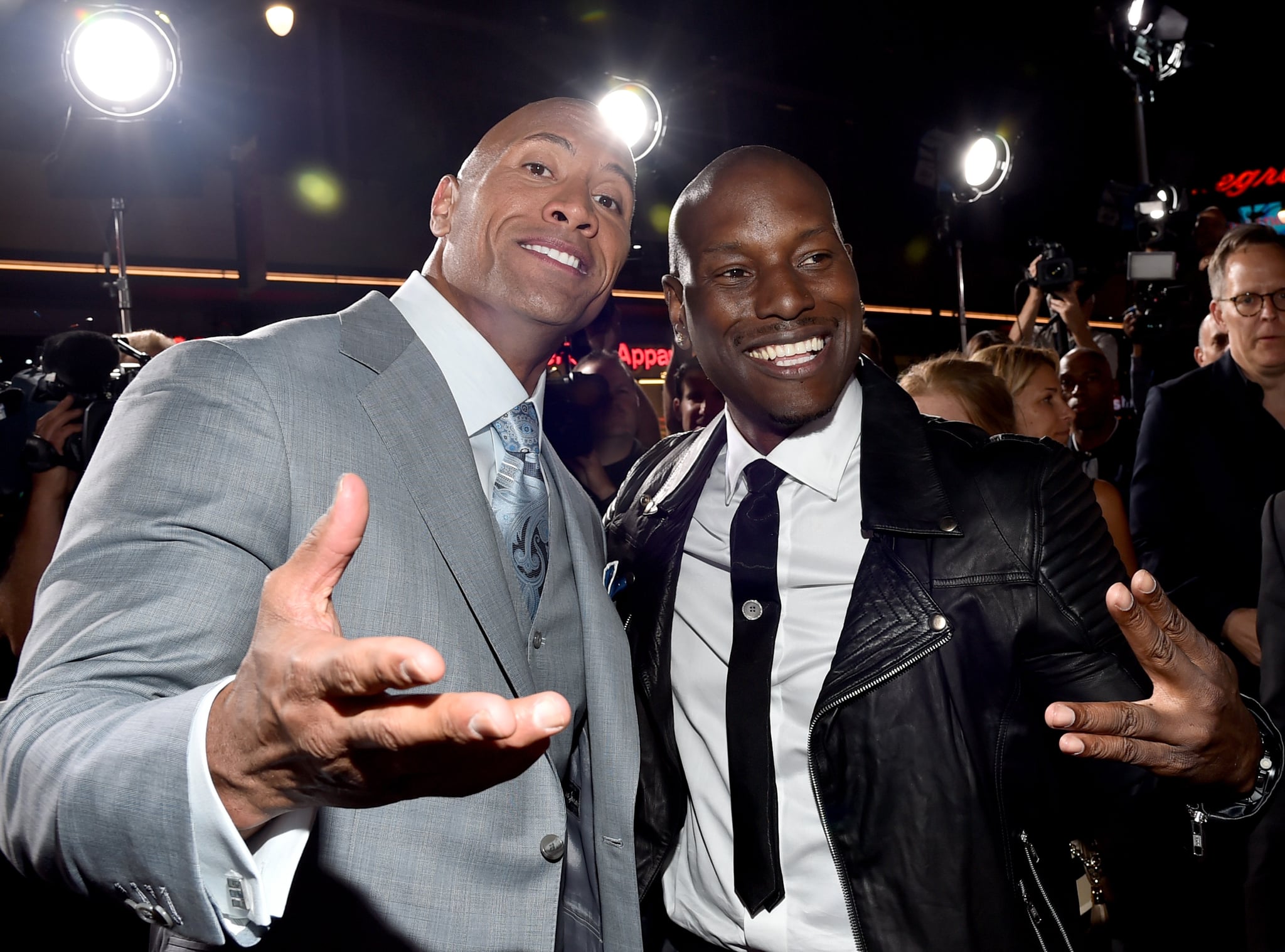 Image Source: Getty / Alberto E. Rodriguez
Just when we thought Dwayne Johnson and his Fast and Furious costars had settled their beef, the actor recently revealed that he hasn't spoken to Tyrese since their feud. Just in case you need a refresher, Dwayne shocked fans back in November 2016 when he called his male costars "candy asses" in a scathing post on social media. Even though we never found out who Dwayne was talking about or why the feud began, something tells us the upcoming Hobbs and Shaw spinoff movie may have had something to do with it. Here's everything we know about the situation.
Sept. 9, 2017: Dwayne Signs a Mysterious Business Deal
Following rumors that a Hobbs and Shaw spinoff was in the works, Dwayne shared an Instagram photo of himself signing a mysterious business deal on his "Get Sh*t Done" table.
Almost immediately after, Tyrese commented on Dwayne's photo, warning him not to move forward with the Hobbs spinoff project. Tyrese then explained that he only commented on Dwayne's "timeline" because Dwayne hadn't responded to any of his text messages.
Sept. 12, 2017: Tyrese Still Hasn't Gotten a Text Back
It seems Tyrese's efforts went unnoticed, because a few days later, he was back at it again. Tyrese even posted a photo of the two at a past Fast and Furious premiere on Instagram, writing, "I don't do email bruh. You got my cell same San Diego # hit me."
Oct. 4, 2017: Fast and Furious 9 Gets Pushed Back
After Universal Pictures announced that it is pushing the release date for Fast and Furious 9 to 2020 (it was originally scheduled for release in 2019), Tyrese put the blame on Dwayne, calling him out in yet another scathing Instagram post.
Oct. 5, 2017: Universal Announces Fast and Furious Spinoff
With Fast and Furious 9 moved back to 2020, Universal officially confirmed that a Fast and Furious spinoff is in the works. The film, which will star Dwayne and Jason, is set to hit theaters on July 26, 2019, and one person who probably won't be watching it is Tyrese.
Following Universal's announcement, Tyrese posted a photo of the "Fast Family" on Instagram, along with a message for Dwayne. "Diversity, love, multi ethnic worldwide multi generational, United Nations, One Race, Fast Family...... Until Dewayne showed up I guess this whole time he had a problem cause he wasn't the ONLY ONE on the movie poster...........," Tyrese wrote. "I guess dreams do come true congratulations to @hhgarcia41 and @therock you guys are just amazing you really broke up the #FastFamily I tried to warn you guys... You thought I was hating...... I was simply fighting to keep the family together what makes us great is when you see us all TOGETHER we don't fly solo..... #MyLastPost today..... I got 3 years of venting on this clown — They offered but YOU didn't have to agree with a solo #HobbsMovie #OriginalFastFamily we salute you and stand on your shoulders #VinDiesel #PaulWalker #RobCohen #RomanTej were offered a spin off we TURNED IT DOWN!!!"
Vin Diesel also shared a photo of his own on Instagram featuring Paul Walker and Tyrese and captioned it, "Brotherhood . . ."
Tyrese then reposted Vin's snap on his page and changed the caption to read: "Never confuse determination with desperation..... What's understood don't have to be explained...... 44 million just got the memo.... Although it appears to be.... I've never been in this alone........ #PerceptionVsReality #FastFamily like I said we don't fly solo. President Obama's integrity teachings is of a man who makes everyone feel like they MATTER....."
Oct. 6, 2017: Dwayne Breaks His Silence
After Tyrese took one last jab at Dwayne when he posted a photo of himself sleeping in bed, Dwayne finally broke his silence on Twitter.
My goal from day 1 was to come in and create an exciting/fun character for the fans, elevate the franchise and build it out. #HobbsShaw2019 https://t.co/IJcdQTHSi3

— Dwayne Johnson (@TheRock) October 6, 2017
Oct. 7, 2017: Vin Comes to Dwayne's Defense
Over the weekend, Vin weighed in on the Fast and Furious feud when he posted a photo of him and Dwayne together on Instagram and said it's "unfair" to blame anyone for the film's release date delay. "Brotherhood... and all it's complexities," Vin wrote. "I know there has been a lot of speculation as to why the Fast 9 release date was pushed... but it would be unfair to say it is anyone's fault. As we plot the course to expand the Fast & Furious universe, one must be mindful to take stock of the roads we took to get here. The pillars of authenticity, family and most importantly, our loyal fan's perspective has been instrumental in procuring success. However, like any vehicle that has run around the globe 8 times, the franchise is in need of maintenance. My good friend and the godfather of Universal, Ron Meyer has granted me the time to do just that. We have some very exciting news to share soon... stay tuned. Yours truly, Dom #FamilyAlways."
Oct. 9, 2017: Dwayne Claps Back at Tyrese
Dwayne later expressed his excitement over the Fast and Furious spinoff on Instagram, saying he's "pumped to expand and build out" the franchise in "a cool, exciting way." He also seemed to throw some shade at Tyrese at the end of his post when he quoted Hobbs, writing, "Let's have some FUN and to quote, Hobbs the boss, if you don't like it, we're happy to beat that ass like a Cherokee drum."
Oct. 11, 2017: Tyrese Isn't Done Yet
Still, Tyrese wasn't done bashing Dwayne. In October 2017, he resurfaced a now-deleted video from 2015, in which Dwayne playfully hates on his album while on set. "Haters come in many forms......" Tyrese captioned it. "In my Kanye voice #BlackRose is one of the greatest R&B Soul Albums of all time."
July 12, 2018: Dwayne Reveals the Status of His Relationship With Tyrese
Almost a year later, Dwayne appeared on Watch What Happens Live to promote Skyscraper and was asked if he's spoken to Tyrese since their feud. "That whole thing with Tyrese, it was pretty disappointing because I'd been friends with Tyrese for a very long time," the actor explained. "He voiced his opinion a lot on social media . . . we haven't talked and I don't see where we would."
July 17, 2018: Tyrese Admits He Was Wrong
Following Dwayne's comments, Tyrese appeared on the Red Pill podcast and admitted that his feud with Dwayne was unprofessional. "I found myself being the messenger on behalf of various people associated to the franchise," he explained. "But stupid me was the only one who went public about those feelings, which is my own fault. It's not professional, it's not cool." So does this mean there's still hope that these two will reconcile in the future? Guess we'll just have to wait and see.