How Did Grace Kelly Meet Prince Rainier?
How Prince Rainier Convinced Grace Kelly to Give Up Her Movie Career to Become a Princess
Image Source: Getty / Bettmann
Fairy tales might not be real, but Grace Kelly came as close as a person can to truly living one. The Rear Window actress, who grew up in an affluent Philadelphia family, ended up leaving behind her booming Hollywood film career to marry a real-life royal, Prince Rainier III of Monaco, after a whirlwind year of courtship. So, how did Grace meet Prince Rainier, exactly? Well, there likely never would have been a connection between the two without the Cannes Film Festival.
Ahead of the glamorous annual movie event in 1955, biographers have claimed that Prince Rainier was looking for an American wife specifically. Greek shipping magnate Aristotle Onassis allegedly suggested he marry Marilyn Monroe, who was apparently keen on the match herself, but the prince rejected the idea since he didn't find her public image dignified enough for his family (though it has never been confirmed). Grace happened to be attending Cannes that year to promote To Catch a Thief, and her refinement and poise clearly caught Prince Rainier's eye. Grace was persuaded by the director of Paris Match magazine, Pierre Galante, to participate in a staged photo op with the prince, since it would give both parties a great deal of press and provide the royal an opportunity to meet her in person.
Photographer Edward Quinn recounted the story of shooting the pair on the day they first met before his death in 1997. "When Prince Rainier arrived, Grace Kelly gave that kind of very discreet American bow, bending her knee, and they shook hands," he said. "When Grace left, [she] said to everybody, 'He is a very charming man,' and that was the end of it for the time being." Despite the semi-awkwardness of their first "date," the prince's priest, Father Tucker, took it upon himself to work as matchmaker. He sent Grace a letter thanking her "for showing the prince what an American Catholic girl can be and for the deep impression this has left on him." The ensuing courtship happened lightning fast.
On the morning of January 6, 1956, Monaco's Minister of State announced the couple's engagement from Grimaldi Palace. On the same day, Grace and her future husband participated in a press conference held in her family's Philadelphia home (pictured above), that was attended by over 50 eager journalists. The event was reportedly a madhouse, with some photographers standing on the Kelly family's piano to get a good angle of Grace and the Prince. The rabid media attention wasn't all positive, either. Some viewed Grace's choice to marry a European monarch rather than an American as a betrayal, of sorts. Daily News columnist Phil Santora complained that Grace had "been enshrined as a sort of all-American girl who would someday marry the all-American boy and raise a crop of quarterbacks for Yale or Notre Dame," and that the prince was "not good enough" for her. Their bond remained strong throughout it all, and the two tied the knot in a lavish ceremony that was dubbed by press at the time as "the Wedding of the Century."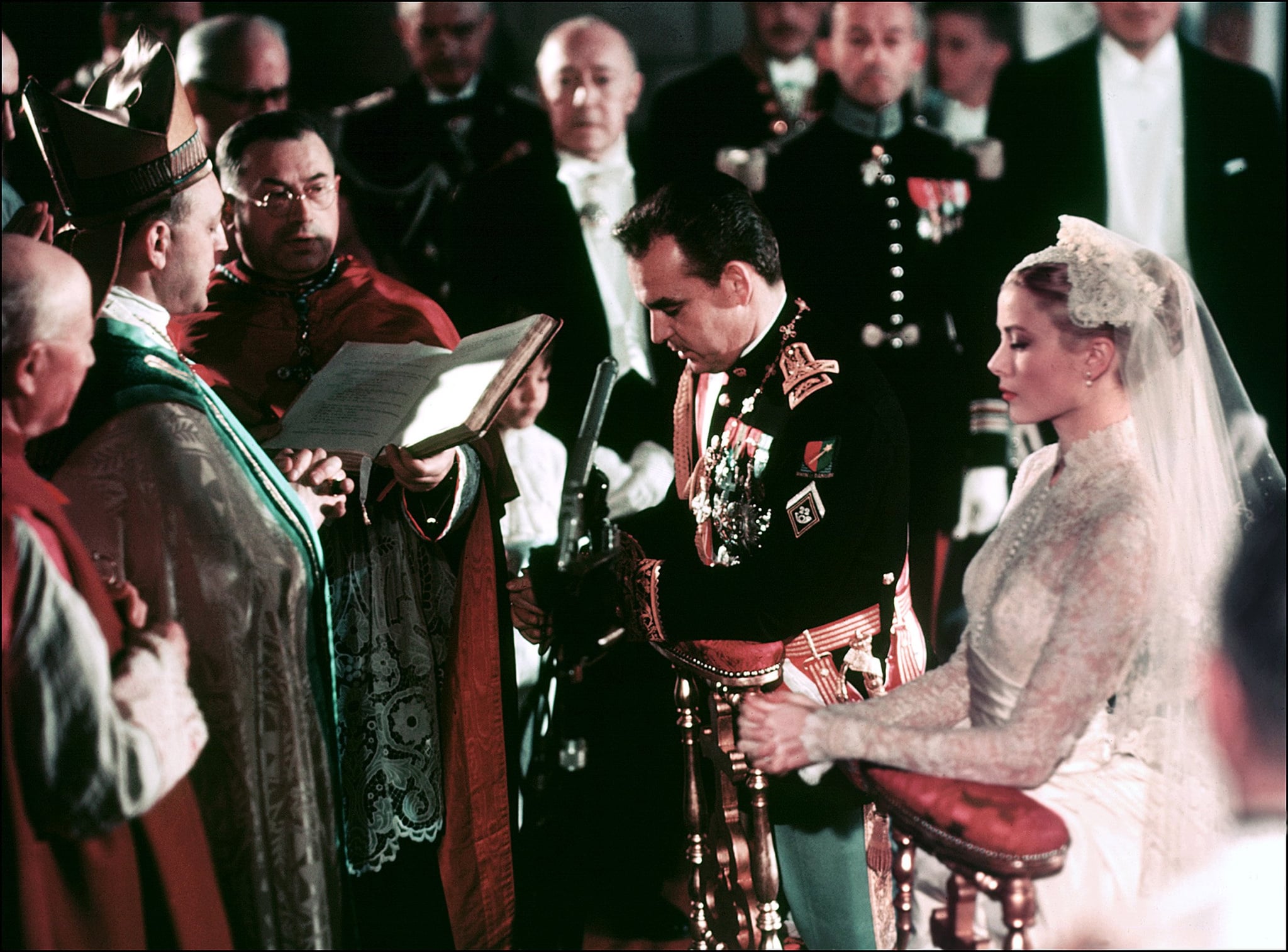 Image Source: Getty / AFP
Their marriage took place one week after she finished filming High Society in 1956, which would be her last movie role. Her studio, MGM, was loathe to let her go, but they made the most of it by turning the wedding into a full-fledged production. Every aspect of the day was filmed, and they even flew in their top costume designer, Helen Rose, to help create Grace's elaborate, iconic ivory dress. Grace read her vows in French as a nod to her new home, and the couple left the church in the back of a custom-made cream and black Rolls Royce before heading off on their honeymoon in the Mediterranean.
Since being an actress was considered unseemly for a member of the royal family, Grace retired and dove into her new role as Princess of Monaco. She and the prince welcomed three children, Caroline, Albert II, and Stéphanie, and shared plenty of sweet moments together over the course of their 26-year marriage before her tragic death in a car accident in 1982. Prince Albert II carries on his family's legacy as the current leader of Monaco, alongside wife Princess Charlene and their 2-year-old twins, Prince Jacques and Princess Gabriella.