Jennifer Lawrence and Cooke Maroney's Wedding Details
Ready to Say "I Do"! Get Every Detail on Jennifer Lawrence and Cooke Maroney's Wedding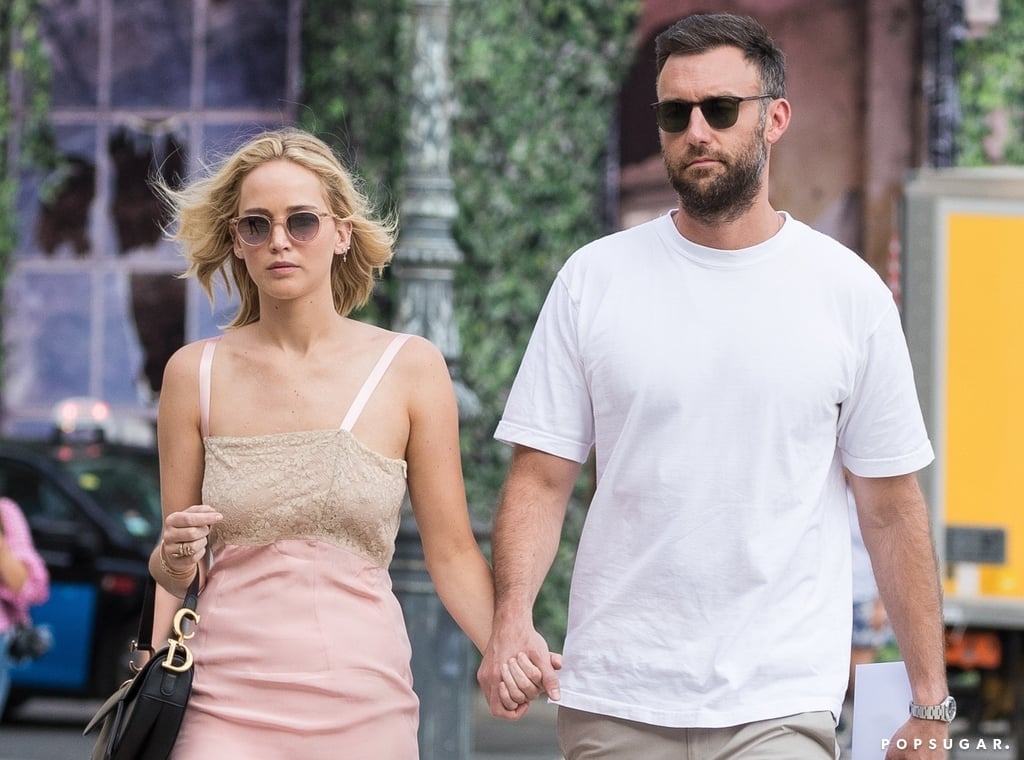 Jennifer Lawrence and Cooke Maroney are getting married! The 29-year-old actress got engaged to the 34-year-old art dealer in February 2019 after less than a year of dating. While the pair is generally pretty private with their romance, details about their big day have slowly been trickling in. From the dress to the wedding venue, here's everything you need to know about Jennifer and Cooke's upcoming wedding!
Jennifer Lawrence's Engagement Ring
Cooke proposed to Jennifer with a stunning emerald-cut diamond. The bauble reportedly cost around $100K.
Jennifer Lawrence and Cooke Maroney's Engagement Party
Three months after getting engaged, Jennifer and Cooke celebrated with a glamorous bash in NYC. The actress looked radiant in a peach gown and matching heels, while Cooke dressed up in a navy suit.
Jennifer Lawrence's Wedding Dress
While we don't know what Jennifer's dress actually looks like yet, the actress recently told Catt Sadler on her podcast, NAKED with Catt Sadler, that she already has her gown. "I saw a dress I liked, I was like, 'That's the dress,'" she said. If it's anything like her engagement party dress, it's sure to be dazzling!
Where Are Jennifer Lawrence and Cooke Maroney Getting Married?
After Jennifer told Catt that she and Cooke had already chosen their wedding venue, People confirmed that they'll be exchanging vows at the Belcourt mansion in Newport, Rhode Island. "Their vision is traditional with a relaxed and causal ceremony, they mainly just want to share their love with friends and family and to express their happiness to those closest to them," ET reported. "They are both very low-key and down to earth and want nothing more than to avoid a stuffy, pretentious atmosphere." According to TMZ, the menu will consist of sweet potato flat cakes, Brussels sprouts with cured egg yolk, smoked pork belly with pickled apple, salt cod beignet, and s'mores. Jennifer's pals Amy Schumer and Emma Stone are expected to attend.
When Are Jennifer Lawrence and Cooke Maroney Getting Married?
According to People, Jennifer and Cooke are tying the knot on Saturday, Oct. 19.