Sarah Jessica Parker and Kim Cattrall Fallout Details
What Is Going On? A Timeline of Sarah Jessica Parker and Kim Cattrall's Sex and the City Drama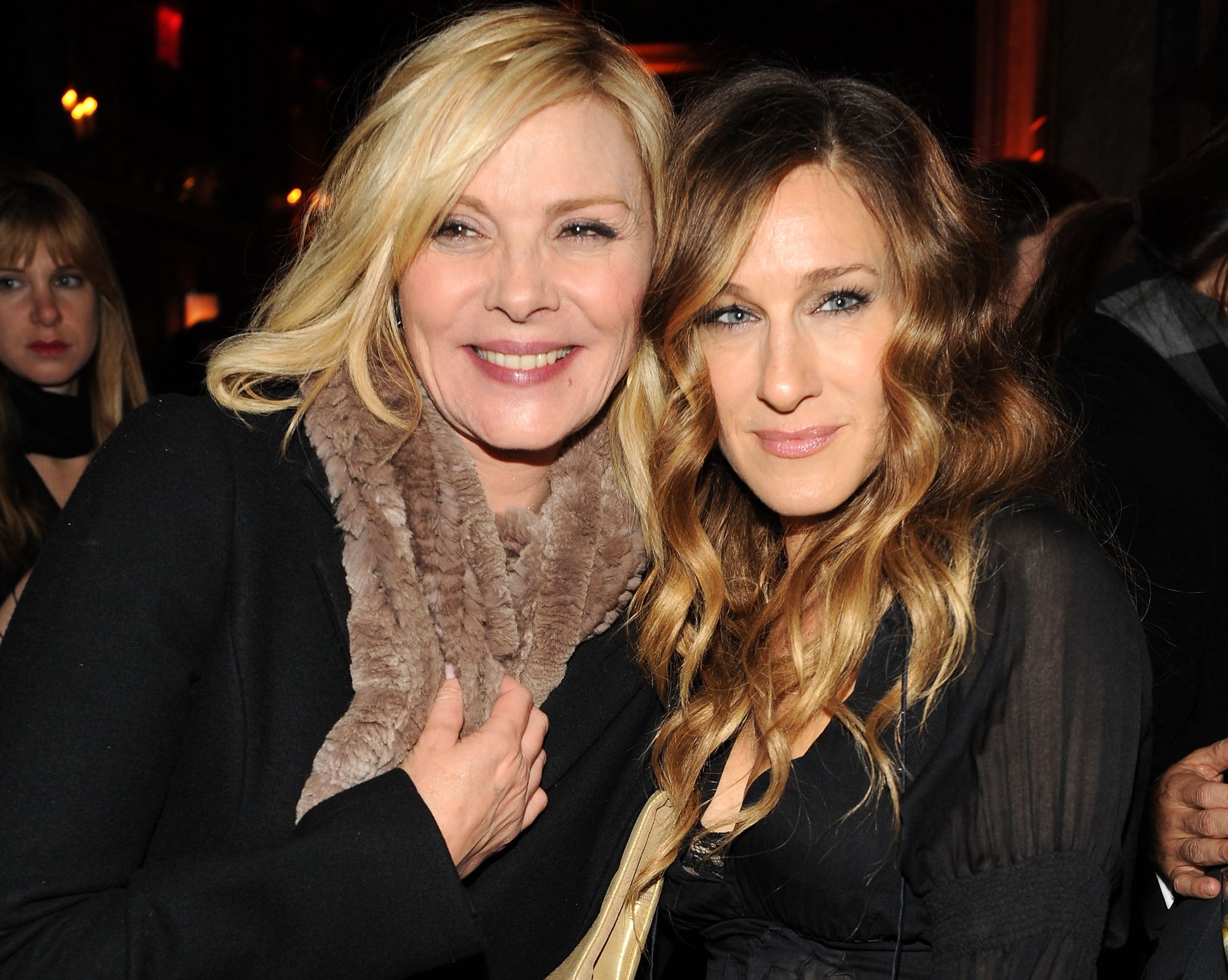 Sex and the City star Kim Cattrall (Samantha Jones) sent fans into a frenzy recently when she called out Sarah Jessica Parker (Carrie Bradshaw) on Instagram for "exploiting" the recent death of her brother, Chris. But this isn't the first we've seen of Kim and Sarah's beef. There have long been rumors of a feud between the two actresses, and despite Sarah's efforts to diffuse them, Kim finally confirmed that they were true after it was announced that a third Sex and the City movie was no longer happening. Although it breaks our hearts, we've been following all of the drama that's unfolded since then. Keep reading to get caught up.
Sept. 28, 2017: Sarah announces there will be no Sex and the City 3. After much speculation, Sarah confirmed to Extra that the third movie adaptation of the beloved HBO series would no longer be happening. "It's not halted, it's over. We're not doing it," she said. "I'm disappointed. We had this beautiful, funny, heartbreaking, joyful, very relatable script and story. It's not just disappointing that we don't get to tell the story and have that experience, but more so for that audience that has been so vocal in wanting another movie."
Sept. 28, 2017: The Daily Mail reports that Kim's "outrageous demands" were to blame. According to the publication, Kim made "demands" and "ultimatums" to Warner Bros. that caused the film to be shelved. Willie Garson, who played Stanford Blatch, later seemed to confirm the reports when he retweeted the Daily Mail's article, writing, "And that, is that. And sadly, the reasons are true. Period."
Sept. 29, 2017: Kim speaks out. Shortly after, the actress responded to the reports on Twitter.


Woke 2 a @MailOnline 💩storm! The only 'DEMAND' I ever made was that I didn't want to do a 3rd film....& that was back in 2016

— Kim Cattrall (@KimCattrall) September 29, 2017

Oct. 3, 2017: Kim tells her side of the story. During an appearance on Piers Morgan's Life Stories, Kim denied rumors that she made any demands and talked about her relationship with Sarah. "It's quite extraordinary to get any kind of negative press about something that I've been saying for almost a year of 'no' that I'm demanding or a diva," Kim stated. "This is really where I take to task the people from Sex and the City and specifically Sarah Jessica Parker in that I think she could have been nicer. I don't know what her issue is, I never have." Kim also revealed that she was never actually friends with the cast. "We've never been friends," she explained. "We've been colleagues and in some way, it's a very healthy place to be."
Jan. 10, 2018: Sarah makes light of the drama. While promoting her show Divorce on The Late Show, Sarah joked that Stephen Colbert could take on the role of Samantha. "According to just very recent documentation about why we're not making it [Sex and the City 3] is because the part usually played by Kim Cattrall has been vacated," Sarah explained. "Perhaps you'd want to play Samantha?"
Jan. 17, 2018: Sarah also offers the role to Ellen DeGeneres. During a stop on The Ellen DeGeneres Show, Sarah proposed that Ellen audition for the role of Samantha. "There's a period of grief, a mourning process, and then perhaps we'll be able to consider, say for instance, you playing Samantha," Sarah said. "I'll offer you the same opportunity."
Jan. 17, 2018: Kim gets word of Sarah's suggestion. Following Sarah's appearance on Ellen, Kim responded to the news on Twitter, writing, "She'd be fabulous! 👍👍."


She'd be fabulous! 👍👍

— Kim Cattrall (@KimCattrall) January 17, 2018

Feb. 8, 2018: Sarah sends her condolences to Kim following her brother's death. After finding out that Kim's brother passed away in February, Sarah offered her condolences to Kim and her family. "I can't begin to know how her family is managing such a loss," Sarah told Extra. "We all send her our love and condolences and grant her the privacy that she's asked for."
Feb. 10, 2018: Kim lashes out at Sarah. Just days after Sarah publicly reached out, Kim called out Sarah on Instagram, claiming her support was insincere. "My Mom asked me today 'When will that [Sarah], that hypocrite, leave you alone?'" Kim wrote. "Your continuous reaching out is a painful reminder of how cruel you really were then and now." She also included a link to the New York Post's article that chronicled "the mean-girls culture that destroyed" the show.


Feb. 14, 2018: Sarah says there is "no fight" between her and Kim. In People magazine's latest issue, Sarah denied that there was ever a fight between her and Kim because she never actually responded to Kim's comments. "I never talked about it, except [to say] that some of us were disappointed [about the movie not happening]," Sarah said. "But I never responded to the conversation Kim had with Piers Morgan, where she said things that were really hurtful about me. We had this experience and it was amazing, and nothing will ever be like it. We had a connection with an audience, and we had a connection with the city and with this crew, and we got to tell these crazy stories with each other. So I don't want to mess with that. I couldn't imagine anyone else playing that part. So there was no fight; it was completely fabricated, because I actually never responded. And I won't, because she needed to say what she needed to say, and that is her privilege."
Feb. 21, 2018: Jason Lewis weighs in. The actor, who played Samantha Jones's boyfriend Smith Jerrod, was asked about the ongoing drama between Sarah and Kim in an interview with KTLA. "Sarah was so always so lovely and such a consummate professional," he said. "I think that people should remember their graciousness and the things that have been given to them. And I'm gonna stop there because I've got nothing good to say."