Tiffany Haddish Selfie With Beyonce
That 1 Time Beyoncé Had to Stop Tiffany Haddish From Opening a Can of Whoop-Ass
Tiffany Haddish knows how to tell a good story. Her swamp tour account with Will and Jada Pinkett-Smith did land her a deal with Groupon, after all. Recently, the Girls Trip actress spoke to Vulture about that epic selfie she took with Beyoncé, revealing that there was more to the story than what met the eye. "OK, so what had happened was, something had went down with somebody at the party, right? I'm not at liberty to say what had went down at the party, but Beyoncé was just telling me to have a good time," Tiffany shared. "[And] I was like, 'No, I'm gonna end up fighting this b*tch!' She was like, 'No, have fun, Tiffany,' and I said, 'I'm only going to have fun if you take a selfie with me.'"
So what did the Lemonade singer do? Exactly what any angel would. She saved the day by taking the photo with Tiffany. "We took the picture and I was like, 'Is my wig slipping?' And she was like, 'Mmm-hmm,'" Tiffany joked. But what's a lopsided wig matter when Queen Bey knows your name? "She knew who I was!" Tiffany recalled. "She came up to me and was like, 'I think you are so funny, Tiffany Haddish.' I was like, 'What? You know me?!' [and she] said, 'I'm Beyoncé.' I KNOW!"
And there you have it, folks. That's the backstory of how Beyoncé stopped Tiffany from opening a can of whoop-ass. Thankfully we have the epic selfie to forever remember when Tiffany and Beyoncé first met. Now hopefully we can get them in a movie together, am I right?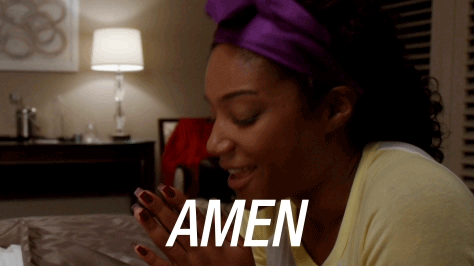 Image Source: Universal Pictures