Tiffany Haddish Groupon Interview 2018
Tiffany Haddish on Trevor Noah's Dimples, Meryl Streep as Her Mom, and Buying a Bidet on Groupon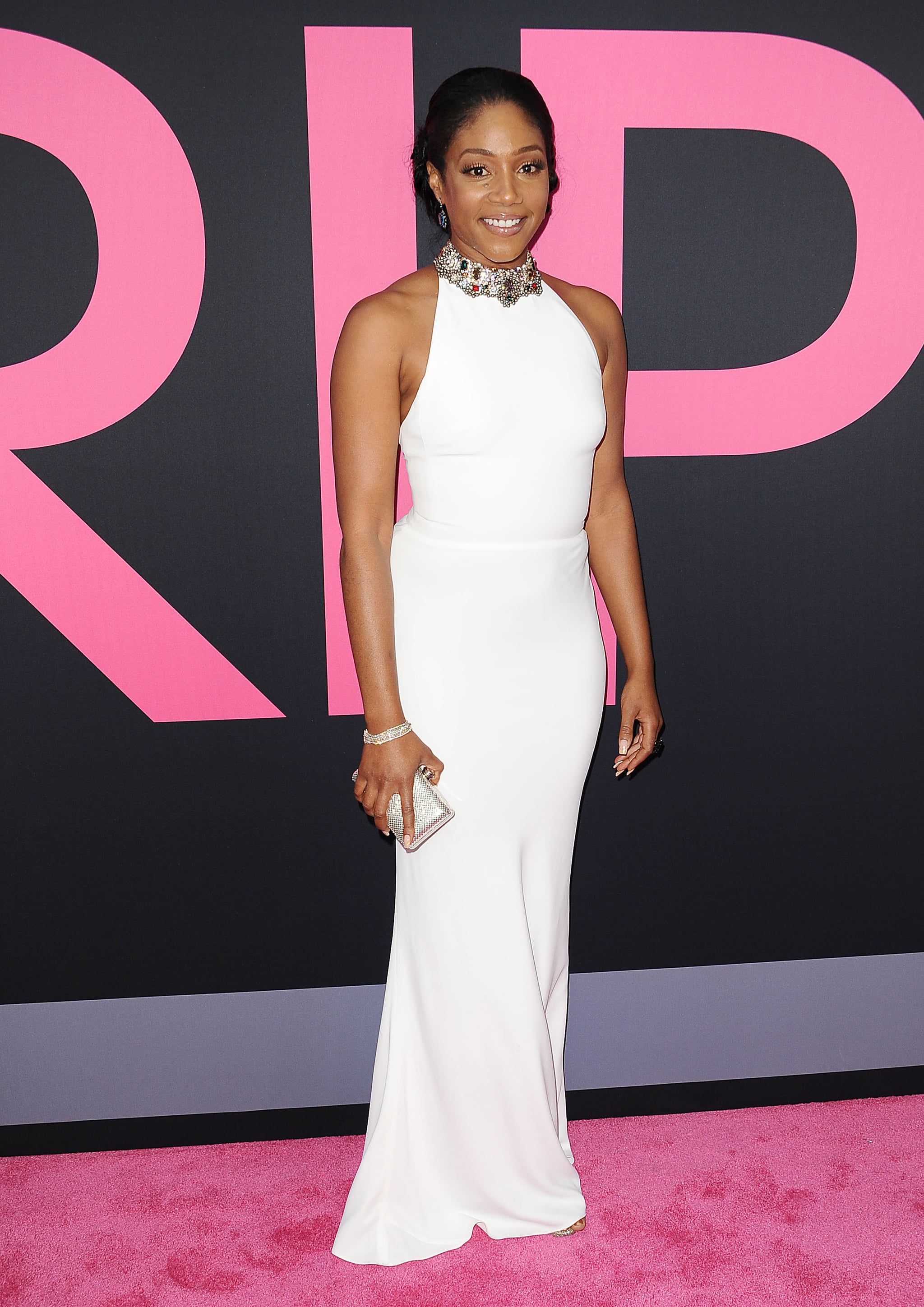 Image Source: Getty / Jason LaVeris
It's a good time to be Tiffany Haddish. The Girls Trip star is fresh off of scoring an exciting partnership with Groupon, inking a first-look deal with HBO, and becoming a New York Times bestselling author. As if that weren't enough, Tiffany already has two other projects lined up: The Last O.G., a TV series with Tracy Morgan set to premiere in April, and Night School, a comedy about troublemakers forced to attend night school in order to receive their GEDs, costarring Kevin Hart (in theaters this September). While her rise to superstardom might seem sudden, Tiffany is no overnight success.
The 38-year-old Los Angeles native got her start as an "energy producer" at bar mitzvahs and has worked her way up from telling jokes at the Laugh Factory as a teenager to becoming the first black female comedian to host Saturday Night Live. Tiffany has built quite an impressive résumé on screen as well, acting alongside Jordan Peele, Queen Latifah, and Jada Pinkett-Smith. You might recall Tiffany took the latter actress on a Groupon-assisted swamp tour, which lead to her current deal with the e-commerce website. We caught up with the hilarious actress to discuss love for Groupon, why she wants Meryl Streep to play her mom in Girls Trip 2, and her thoughts on the #MeToo movement. Get ready to fall in love with Tiffany all over again.
POPSUGAR: You're starring in a new Super Bowl ad for Groupon. What's the best Groupon deal you've ever scored?
Tiffany Haddish: I got a bidet for $298. Yup! Best thing I ever bought.
PS: Why was that?! [Laughs]
TH: It's a bidet! Man, I spent so much money on toilet paper and whatnot. And then . . . you don't even really need no man when you got a bidet. I mean, come on. It's the best.
PS: We all remember the hilarious Groupon story you shared about Will and Jada Pinkett-Smith, but if you could go on another Groupon date with any other celebrity, who would you go with and where would you take them?
TH: I would love to take Trevor Noah to a nice dinner and then to some sort of resort. Or, you know what — no, we would go to a nice dinner and then we would go to one of those pottery classes where you work with the clay. And I would be like, 'Come on, let's bring back [the movie] Ghost,' and then he would be like, 'Tiffany, it's not that kind of friendship,' and I would be like, 'But it is now!' [Laughs]
PS: One of the things people love about you is the fact that you're so open about your life. I read your memoir, The Last Black Unicorn, and you shared that you had trouble reading as a kid.
TH: Mmhmm.
PS: Eventually, you did learn, and now you're a New York Times bestselling author. How does that feel when you think about it in that context?
TH: Man, sometimes I just wanna cry because . . . I still feel like that little girl sometimes. Like the Oscars nominations event had me feeling just like that little girl again that couldn't read, that didn't wanna read in front of everybody.
"With a life full of so many mistakes and fails, I really do enjoy and appreciate the wins."
I was just constantly saying to myself, 'Tiffany, you were able to read your whole book; you're a bestseller. You can read all books. You've been reading books for the last 20 years. You can handle this.' Those names were so hard. I'm super proud of myself. If I could kiss the 15-year-old Tiffany on the forehead and tell her I'm proud of her. 'Look what you did!' I would. You know what, I'm gonna give myself a kiss right now. With a life full of so many mistakes and fails, I really do enjoy and appreciate the wins.
PS: OK, speaking of the Oscars nominations. Most people loved seeing you up there. Some people were upset, but sh*t happens. Would you be down to host next year if asked?
TH: Yes, I would be down to host! I wanted to tweet: 'If you think I said it wrong, I'd like to see you go on that stage [and do it].' [Laughs] But I didn't take the petty route. I didn't do it!
PS: There's been a lot of talk about sexual harassment this award season. Are you hopeful that the #MeToo movement and Times Up initiative will bring change to the industry?
TH: I'm sure that there is going to be change. There's already a lot of change happening. I definitely think there will be more women in power. I feel and believe in my heart that less people will be abused. Never be afraid to speak out. Once I started speaking my mind about my experiences, I feel like I was less likely to be a victim because people were like, 'Oh no, she talks too much! I ain't going to mess with her like that.'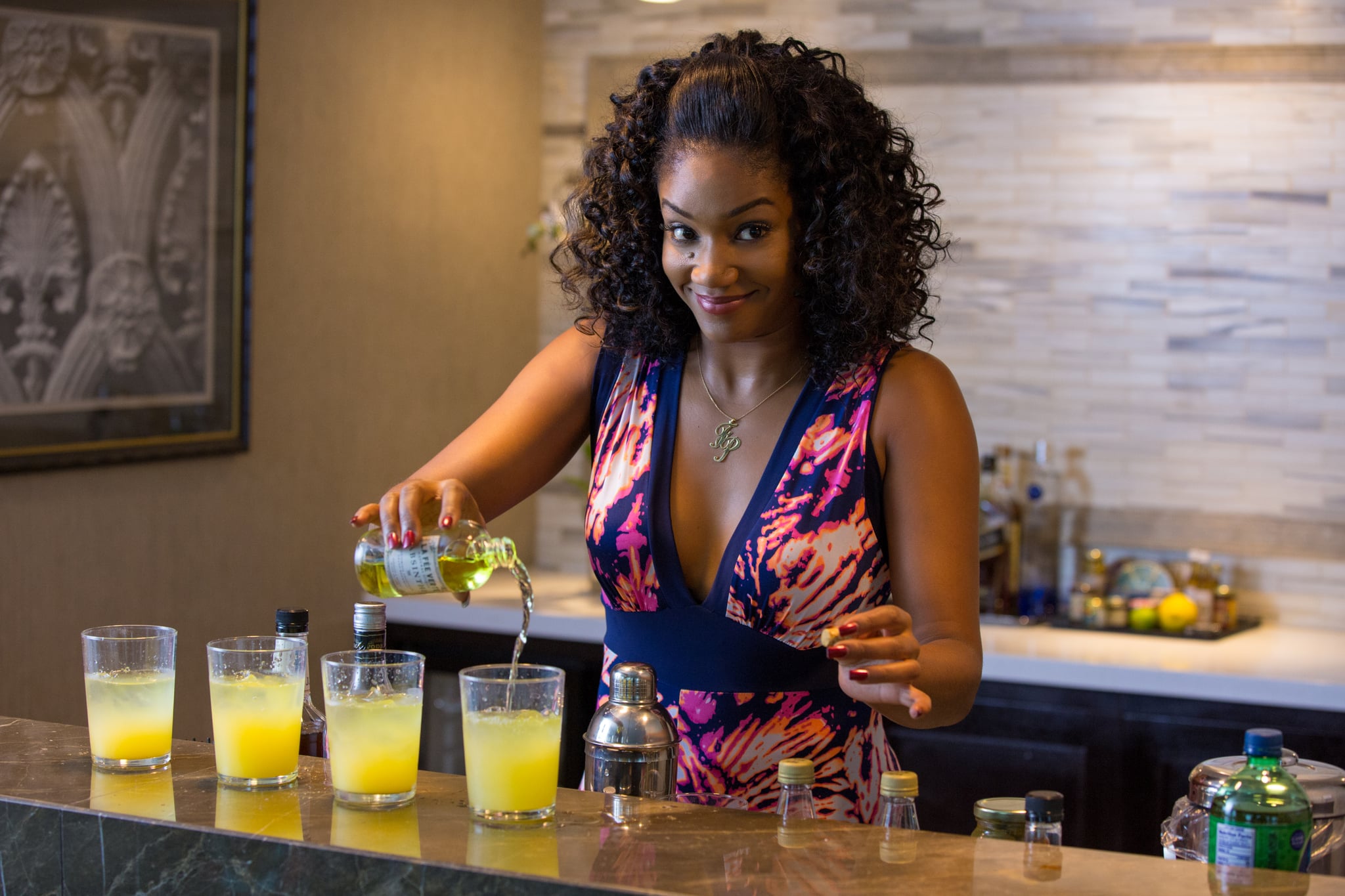 Image Source: Universal Pictures
PS: Switching gears a bit, you were the breakout star of Girls Trip. The movie was a mega success. You joked before that you would want Meryl Streep to play your mom in a potential sequel. If you could pitch that fabulous idea to her right now, what would you say?
TH: I would say, 'OK, Meryl, I got an idea for you. Can I call you Meryl? Because I'm calling you Meryl. Here's the idea: you're my momma, but you [were] married to my daddy. You from the hood. This is something you've never done before, Meryl. You'd be tapping into a whole new audience. Man, you already got all the audiences; everybody loves you. But I want you to be able to show the world that you can do anything. Now just say it with me, Meryl: "She readyyy!"' And then that's it. She'd be on.
PS: You're also set to star in Night School with Kevin Hart. Were there any funny behind-the-scenes moments that you can tell us about?
TH: Aw, man, we had so many funny behind-the-scene moments. We would be up really late — like, for-real night-school style — and Kevin would always catch me sleeping. I would be dozing off at the desk and he would come over and film me. I have PTSD, and he came over one time and I almost beat him up. I ended up just flipping him off, but I was about to jump him. [Laughs] Do not wake me up, because I will fight you!
PS: Speaking of male costars, Valentine's Day is coming up. I can't let you go without asking: who is your celebrity crush?
TH: Michael B. Jordan is one of my celebrity crushes. He's super cool to talk to. He's very handsome. He looks really good in Creed. But also he's just a down-to-earth, cool dude. I would hang out with him anytime. And Trevor Noah, because his brain is so smart! He has such a good brain and cute dimples. And he hit on me when I wasn't even thinking about him. Even though he might not say he was hitting on me, in my eyes, he hit on me. If you saw the interview, you know what I'm talking about. [Laughs]
Catch Tiffany's Groupon Super Bowl commercial "Who Wouldn't" airing during the big game this Sunday on NBC!