Arnold Schwarzenegger Says He and Maria Shriver Bring Kids "Together As a Family" for Special Days
Arnold Schwarzenegger has been a household name for almost six decades, and through the years, he's earned dozens of titles, including actor, bodybuilder, politician, businessman, and philanthropist. He received possibly his most important title in 1989 when he became a dad for the very first time. He went on to welcome four more children, with his youngest being born in 1997.
He shares four children — two sons and two daughters — with ex-wife Maria Shriver. News of his fifth child did not come until 2011 when he revealed he had fathered another son, Joseph Baena, with his longtime housekeeper Mildred Baena, per The Hollywood Reporter. Mildred had given birth to Joseph the same year Maria and Arnold welcomed their youngest son, Christopher, together.
Arnold opened up about the impact having an affair had on everyone in his life in his May 2023 Netflix docuseries, "Arnold," calling it one of his biggest failures. "I think that I have caused enough pain for my family because of my f*ck up. Everyone had to suffer. Maria had to suffer. The kids had to suffer. Joseph. His mother. Everyone," he said, adding, "I am going to have to live with it the rest of my life. People will remember my successes, and they will also remember my failures. This is a major failure. I had failures in the past in my career, but this is a whole different ball game, dimension of failure."

He stressed, however, that Joseph is very much a loved and welcome part of his life. "It was wrong what I did," he explained in "Arnold." "But I don't want to make Joseph feel that he is not welcomed in this world — because he is very much welcomed in this world. I love him and he has turned out to be an extraordinary young man."
Despite the fact Maria filed for divorce shortly after the news of Arnold's fifth child was made public, per People, the former couple have continued to be very involved and supportive parents of their adult children, even showing up together for special occasions. In a December 2017 interview with Men's Journal, Arnold shared that he thinks about his affair "every so often," noting that he's done his best to move forward for his children.
In May 2023, Arnold spoke to The Hollywood Reporter about how he and Maria handled their divorce and put their kids first. "I love my wife. She and I are really good friends and very close, and we are very proud of the way we raised our kids," he explained. "Even though we had this drama, we did Easter together, Mother's Day together, the Christmases together, all birthdays — everything together. If there's Oscars for how to handle divorce, Maria and I should get it for having the least amount of impact on the kids. The sweetness and kindness you see in them, that's from my wife. The discipline and work ethic is from me."
In "Arnold," he expanded on his and Maria's continued partnership as parents, explaining, "There is nothing more important than to have a good partner by your side, and every step of the way Maria was that. We have a really great relationship," he said. "Any type of special day, we are all together as a family. But it's not what it was when we were all together under one roof as a family. That's not the case anymore."
To find out more about Arnold's tight-knit family, scroll through this gallery.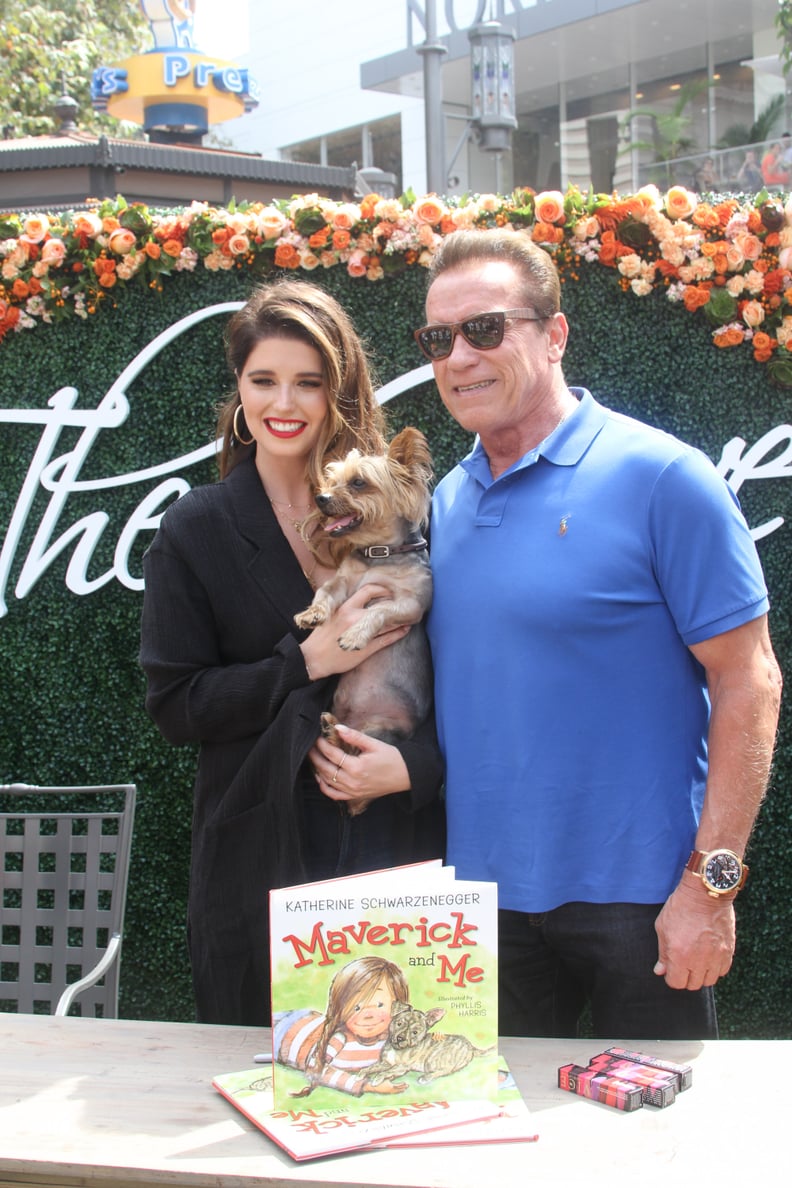 Katherine Schwarzenegger
Katherine was born on Dec. 13, 1989. She is best known for her work as an author and has written six books, both in the self-help and children's genres. In 2019, Katherine married actor Chris Pratt. The couple have two children together, Eloise and Lyla, who join Pratt's son, Jack, from his previous marriage to Anna Faris.
"It's nice to see your kids having kids themselves and to watch this new dimension," Arnold told People in May 2023. "You see them growing up and you see them going to school and getting smart and getting their degrees, getting their jobs and all this, but now seeing them be a parent? It's fantastic. It's really great."
The doting dad and grandpa also gushed over being able to spend time with his family. "I just love when [Katherine] comes over to my house or when I go over there, but most of the time she comes to my house because I have all the animals," he shared. "The grandchildren love the animals. I have a pig so now they want to come over there and feed the pig all the time, hang out with the little pig. It's really fun to watch and hang out with her now and to see the way she'll react to the kids because she is so great with them."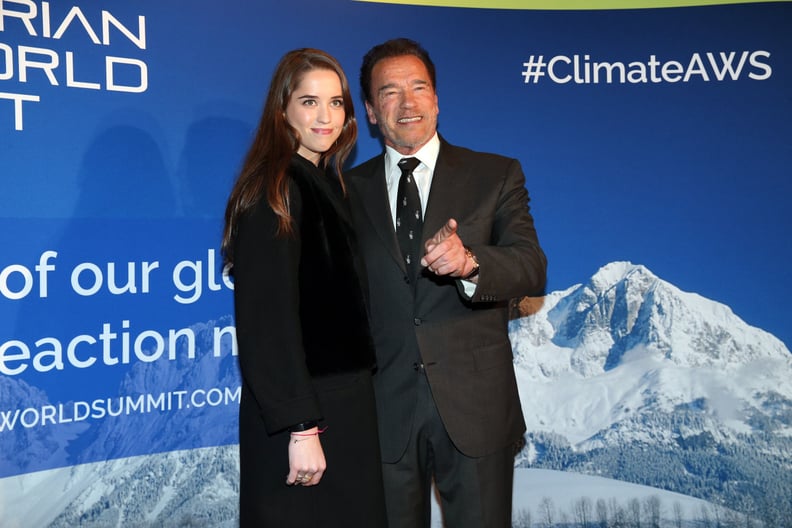 Christina Schwarzenegger
Christina was born on July 23, 1991. She has worked as an executive producer on the Netflix franchise "Take Your Pills" and was formerly a health and wellness editor at Goop for three years. Christina also serves as a council member for the Special Olympics, where she was a founding member of the organization's Founder's Council.
"I love shining a light on those who feel outside the margins and bringing their experiences to light," Christina said in a quote on the Special Olympics' website. "The result is that we all feel validated and, ultimately, see that our differences are in fact, our superpowers."
Christina attended and graduated from Georgetown University, where her mom, Maria, also went to school, per People. Like all of his kids, Arnold is proud of Christina's personal accomplishments and loves to praise her on social media. "Happy birthday, my little sweetheart (schpatzl)! I can't believe you're 30!" he wrote in a post in 2021. "From your unbelievable work on enlightening documentaries to giving back by helping Special Olympics to your fantastic artwork that blows mine out of the water. I enjoy nothing more than hanging out with you, whether we are training together or traveling the world. You will always be my little Leo and I love you!"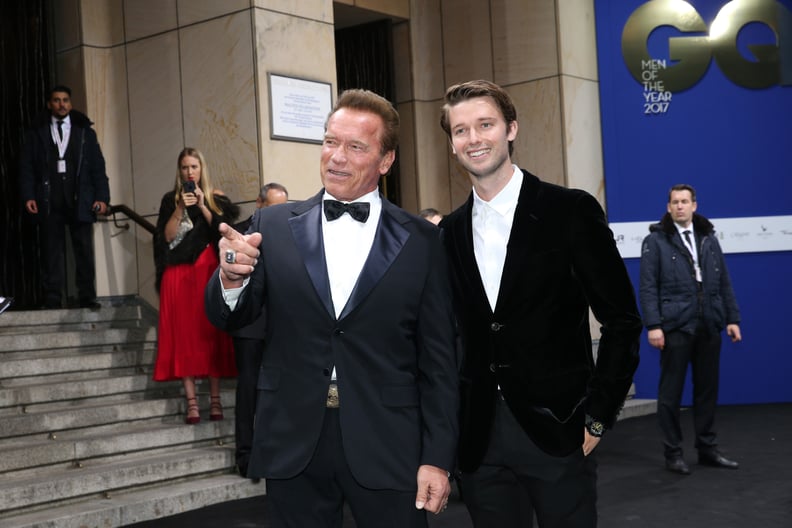 Patrick Schwarzenegger
Patrick was born on Sept. 18, 1993. Over the years, he has created a career for himself in both acting and modeling. He also cofounded a charitable clothing company named #Project360 and a protein-bar brand called MOSH.
In May 2022, Patrick talked to Insider about how his dad was a huge fan of "The Staircase," a true-crime drama in which he starred as Todd Peterson, though he did not go to Arnold for advice on the role. "A lot of sons go to their father for advice with anything," Patrick said. "I definitely go to him like that, but I didn't go to him for this specific character."
In 2021, Arnold honored Patrick on his birthday, writing, "Happy birthday @patrickschwarzenegger! I love you, I'm proud of you, and watching you grow every day in every way is one of my greatest joys. Your business is booming, your acting career is taking off, but most importantly, you never forget to reach out and help others."
In his personal life, Patrick has been in a long-term relationship with model Abby Champion, whom he often gushes over on Instagram, showcasing their romance and fun travels.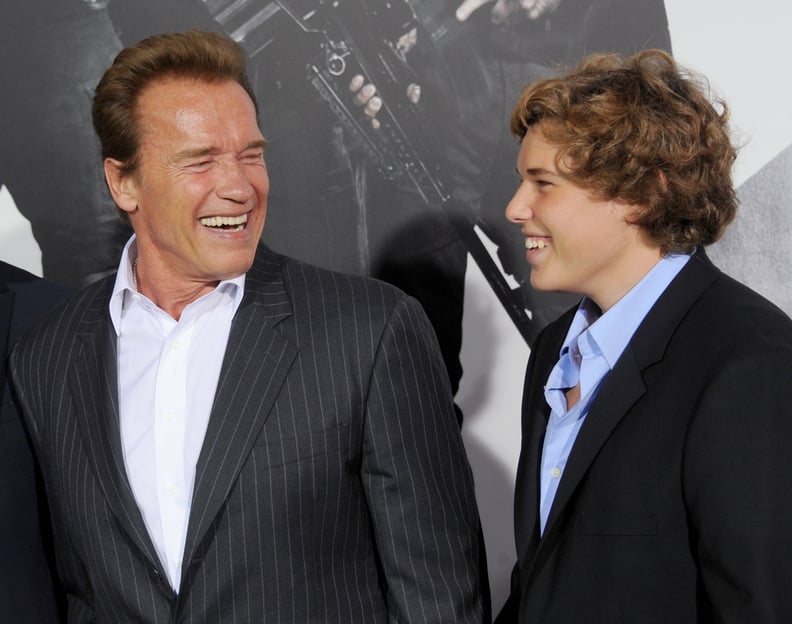 Christopher Schwarzenegger
Christopher was born on Sept. 27, 1997. While he primarily keeps private, it's known that he graduated from the University of Michigan in 2020. "Christopher, you are a champion and I love you," Arnold wrote in a celebration post on Instagram at the time, per People. "I know your graduation from Michigan wasn't the big celebration you dreamed about for years, but walking across a stage isn't what makes me so proud of you: it's your compassion, your hard work, your vision, your critical thinking, and your selflessness that make me burst with pride. I can't wait to watch you keep climbing and succeeding."
The following year, Arnold also gushed over Christopher on his birthday, writing on Instagram, "Happy birthday Christopher! I love you and I'm proud of you every day! You're so smart, and you have such a big heart. Between your boxing classes, your weightlifting classes, your stretching classes, your cycling classes, and on and on, I can't even keep up with you! I can't wait to see what you accomplish this year."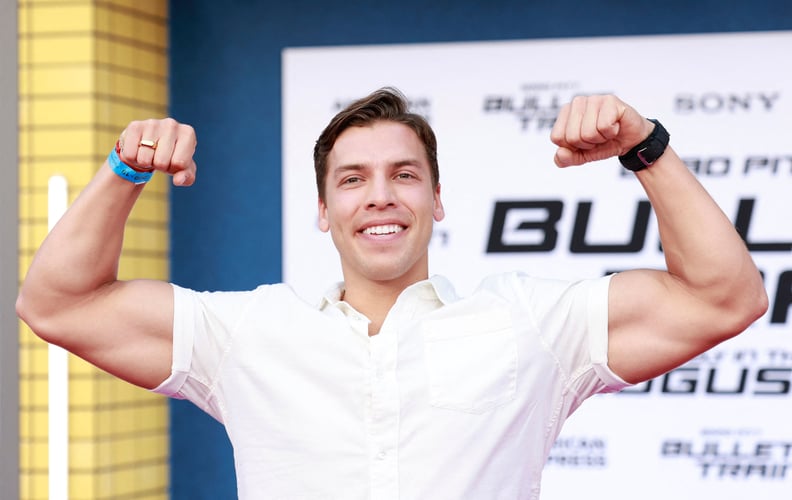 Joseph Baena
Joseph was born on Oct. 2, 1997. As previously mentioned, it wasn't until 2011 that Arnold went public with the news that he had fathered Joseph, whose mother was the bodybuilder's longtime housekeeper. Over the years, Arnold and Joseph's relationship has continued to flourish and become more public. Joseph has followed in Arnold's footsteps, working as both a bodybuilder and actor.
In May 2023, Joseph walked the red carpet with his dad at the premiere for Netflix's action-spy comedy "Fubar." Speaking to Variety, Joseph shared, "It's always cute seeing his vulnerable, little fatherly side. I love it." Joseph also spoke about the advice his dad gives him, saying, "The main thing he always tells me is, 'You gotta put the reps in. It's practice, practice, practice.'"
In 2021, Arnold praised Joseph on Instagram, writing, "Happy birthday @projoe2! I am so proud of you and I love you! You are crushing it in the gym, in your real estate career, and in acting. I know this will be another fantastic year."
More Photos of Arnold Schwarzenegger's Kids